If you're heading to Prague, get ready for some fun shopping for everything from Prague souvenirs, to Czech garnet jewelry, wooden toys, nesting dolls, Bohemian crystal, and more. And I share a few insider tips so you have the best experience possible!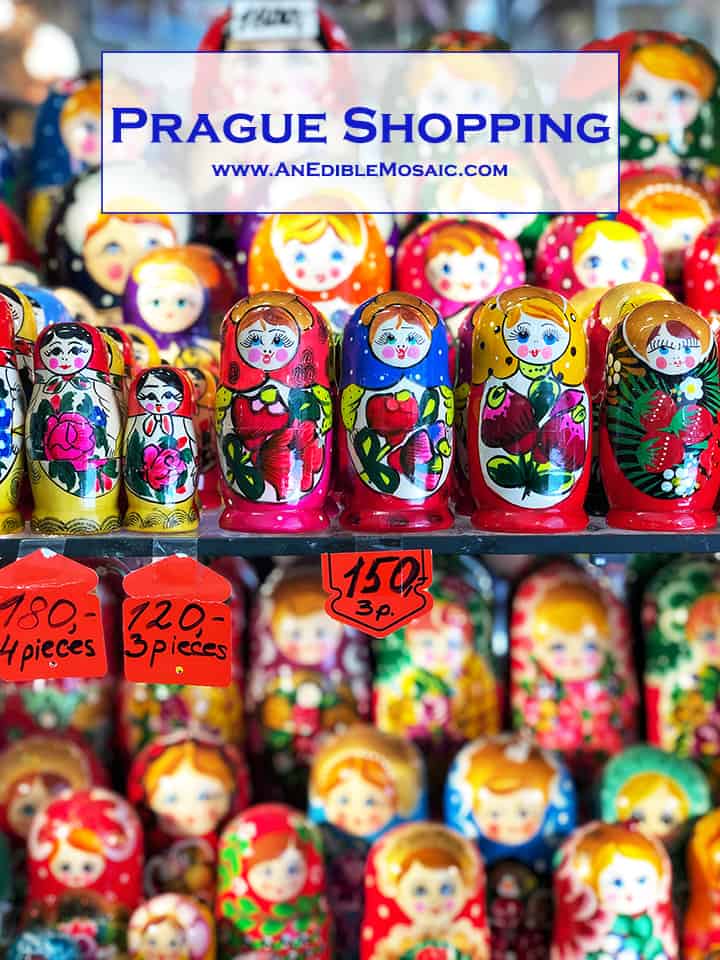 One of the things I love most about Prague is that it's not too big. A lot of the famous landmarks and shopping districts are all within walking distance of each other. This means Prague is very manageable on foot when the weather is nice!
And with its fairytale-like architecture, I think you'll enjoy walking around Prague and taking it all in as much as I did! (Take a look at the photos I shared in my article on Prague attractions to see what I mean about the stunning architecture.)
A huge perk of being able to walk around a city is that you can stop wherever you want for food and drinks, or to shop. If you walk around a few of the popular tourist areas in Prague, such as Old Town, Wenceslas Square, and the Charles Bridge, you'll discover lots of outdoor markets and shopping in Prague.
When you're on vacation, it's always fun to do a little shopping, even if it's just window shopping. Or splurge and buy something that the region is famous for! Or keep your spending on a budget and just buy a couple souvenirs.
Whatever it is you're looking for, you'll find that Prague shopping has something for everyone no matter what your budget!
Please note that I took all the photos in this post in July 2019.
Prague: What to See and Do Video
Prague Shopping - There's Something for Everyone
I want to share a few of the best things to buy in Prague if you're looking for something traditional from the area. These things make wonderful gifts for friends and family, or souvenirs for yourself.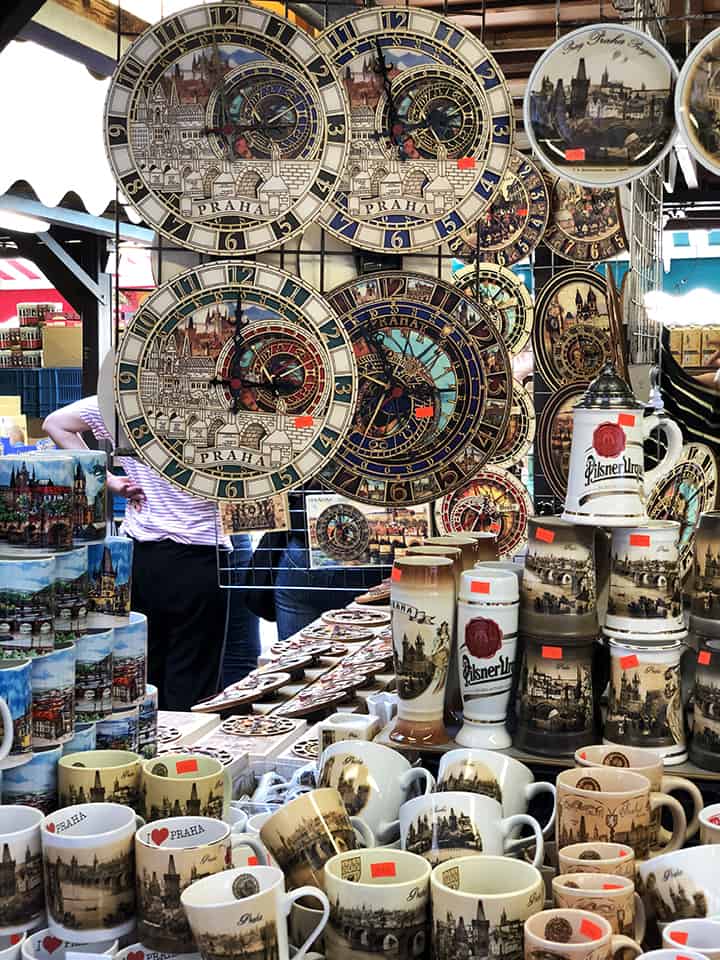 Prague Souvenirs
The fun thing about souvenir shopping in Prague (like anywhere else), you'll find a ton of items that feature what the region is famous for.
For example, the Prague Astronomical Clock is a big tourist attraction. You can find lots of magnets, postcards, keychains, and miniature replicas of this clock in just about any souvenir shop.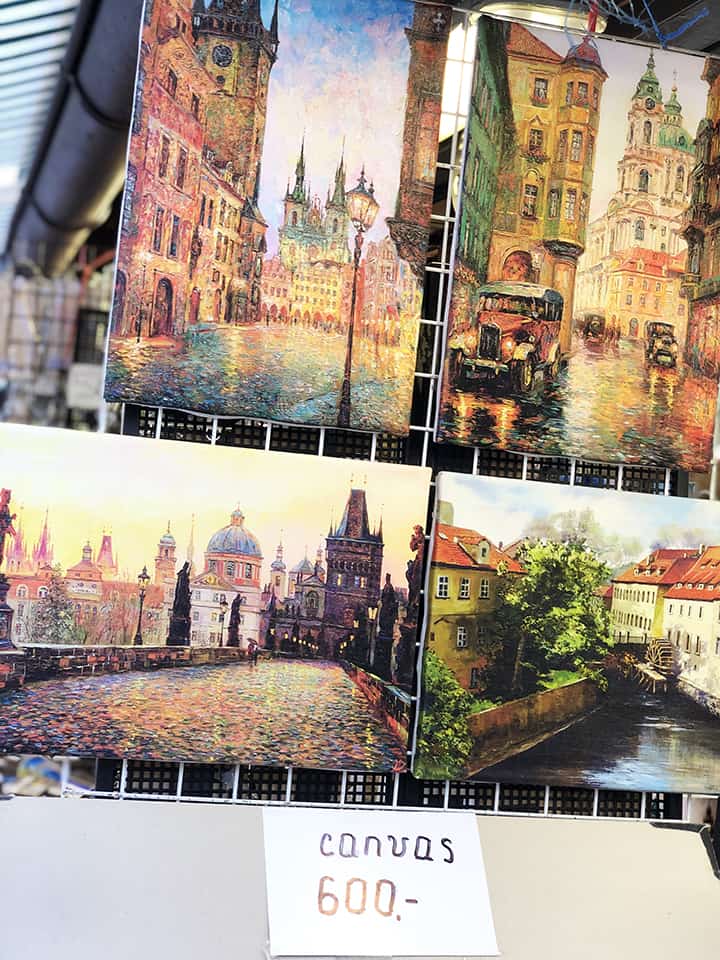 Also, local artwork makes a beautiful souvenir from Prague, and is often very affordable!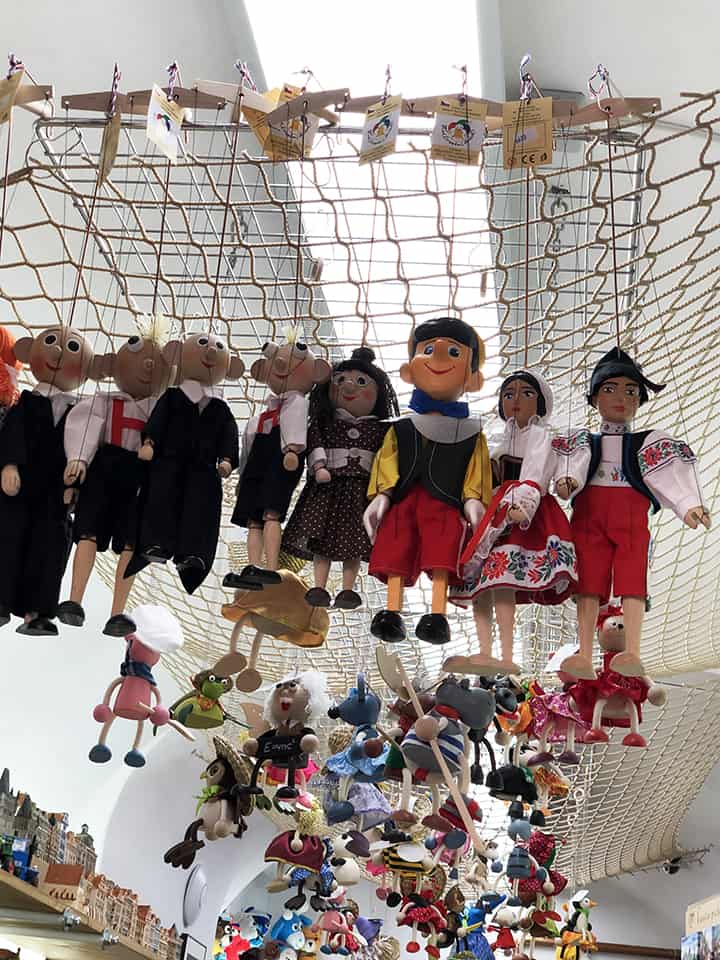 Wooden Toys Prague
Czech Republic is known for their handcrafted wooden toys. These toys are a work of art, created by artisans. Walking around Prague, I saw a few collectible shops carrying a variety of wooden toys, including Pinocchio puppets.
Above: Street with Garnet shop in Praha.
Garnet Prague
Czech garnet, also known as Bohemian garnet, Turnov garnet, and Prague garnet, is what is known as Pyrope garnet. It's a dark wine-red color, and it's mined in the town of Turnov in northern Czech Republic.
Garnet has been mined in Bohemia for centuries. During Imperial times, it was used to decorate furniture, cutlery, jewelry, etc. Traditional Czech garnet jewelry features many small garnets set closely together covering the piece. In more modern jewelry pieces, a single larger garnet is showcased in a simple setting.
There are two things to be careful of when you're buying Czech garnets in Prague. Firstly, make sure that you're buying authentic Bohemian garnet, not fake! Secondly, try to get the best deal you can. Note that touristy areas and high-end shopping areas are likely to have higher prices for garnet jewelry.
Pro Tip: When you're shopping for garnet in Prague, you can barter and the seller may come down in price. Be sure to barter respectfully, and never be rude!
Get more information about Czech garnet in Prague:
Bohemian Glass and Bohemian Crystal
If you're shopping for glass or crystal in Prague, you'll also notice that it's also called Czech glass and Czech crystal. During the Renaissance, Bohemia became renowned for its beautiful glass.
The difference between crystal and glass changes in different countries. All glass contains some amount of lead. However, the amount of lead is what designates crystal.
In the European Union, only glass products that contain at least 24% lead oxide can be referred to as "lead crystal". Products with less lead oxide, or glass products with other metal oxides used in place of lead oxide have to be labeled "crystallin" or "crystal glass".
In the United States, glass is defined as "crystal" if it contains 1% lead.
You can find Czech glass in various colors. Blue and green are the most famous, but you'll also find red and brown Czech glass. Engraved Czech glass and cut glass is also common. It adds a decorative design and improves light quality.
Walking around Prague, you'll come across many shops selling Czech glass and crystal. You can even find it in souvenir shops along with postcards and magnets!
Here are a few tips to help if you want to buy real Czech crystal instead of glass:
Buy from a reputable crystal shop.
Pick up the item (carefully!). Crystal will be quite a bit heavier than glass because of its lead content.
Hold the item up to a light source. If it's crystal, you will see rainbow.
Tap the item. Crystal will have a somewhat musical sound to it.
Find out more about Bohemian crystal and glass:

Matryoshka Dolls
These fun dolls are also called nesting dolls, Babuska dolls, Russian dolls, and stacking dolls. These beautiful dolls are a work of art. Each wooden figure is typically hand-painted by an artisan.
Matryoshka dolls open at the middle to reveal another doll that is slightly smaller and painted similarly. This second doll also opens at the middle. Once you open it, you find another doll inside, and so it continues.
You can find these nesting dolls for sale in just about any souvenir store in Prague.
Above: Zelezna Street in Prague is great for shopping!
Prague Markets
One of my favorite places to shop is at old markets and flea markets no matter where I am. Prague has its fair share of markets, whether you're looking for something modern or more traditional.
Above: Old Town Square in Prague.
Prague Old Town Shopping
In Prague's Old Town Square, you'll notice many restaurants tucked in between all the landmarks, beautiful buildings, and charming architecture. However, if you're looking for souvenirs, clothes, Czech garnet, Bohemian crystal, you can find many shops on streets nearby Old Town Square.
Wenceslas Square Shops
Just a 10 minute walk from Old Town Square, you'll find Wenceslas Square. Unlike Old Town Square, Wenceslas Square is full of modern shops, including stores like Sephora, Nike, and H&M. Here you'll also find Bohemian crystal shops, bookstores, and souvenir shops.
Palladium Prague
This shopping mall in the middle of Prague has 5 floors with 170 stores and 30 restaurants. It's truly a one-stop shopping destination if you enjoy mall shopping!
Location of Palladium Praha: Nám. Republiky 1, 110 00 Petrská čtvrť, Czechia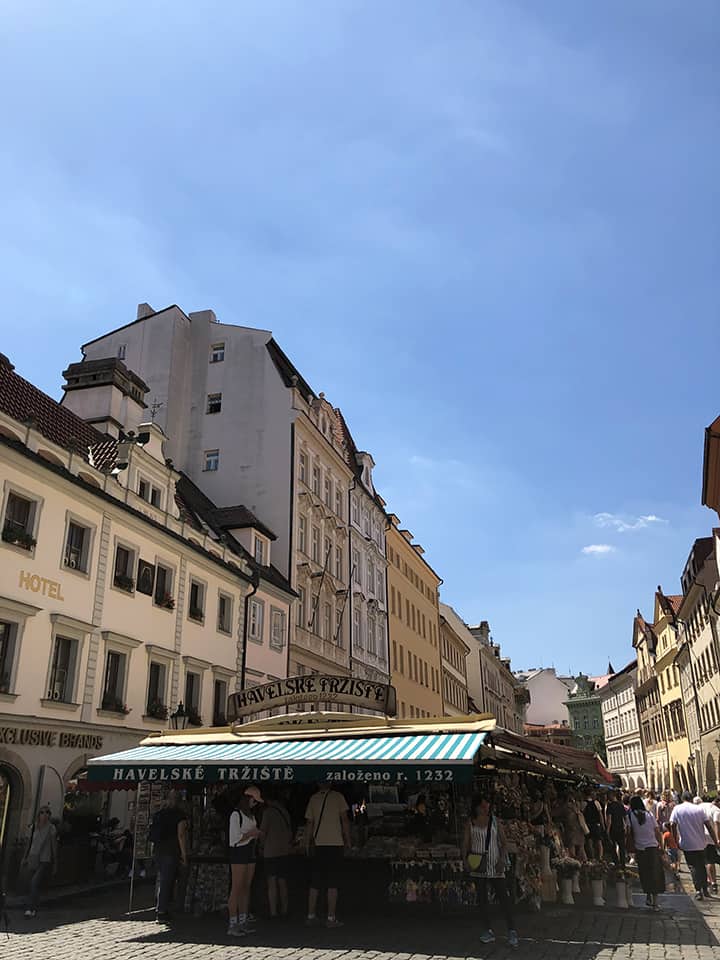 Above: Havelské Tržiště
Havelské Tržiště – Havel's Market
This urban market dates back to 1232. It is located in Prague 1, just a 5 minute walk from Old Town Square. Havel's Market is a fun outdoor market with covered stalls. It's perfect for window shopping or picking up a few trinkets as souvenirs.
At Havel's Market you can find all kinds of souvenirs, including t-shirts, magnets, mugs, keychains, and postcards.
You'll also find beautiful art by local artists.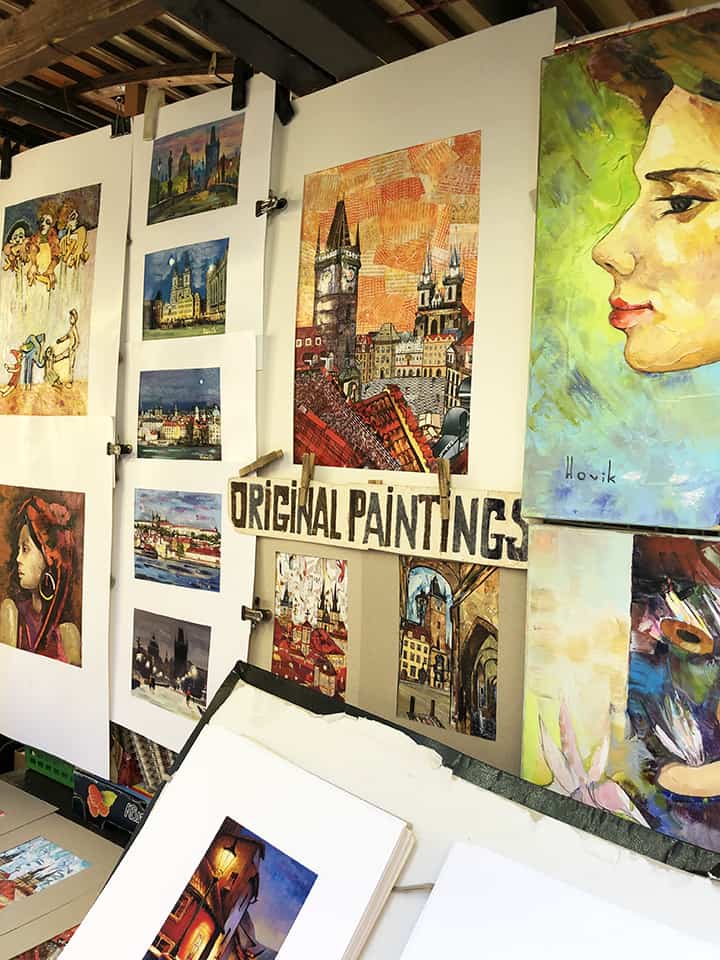 Above: This vendor at Havel's Market was so nice - he wanted me to take a picture of his bear skin!
There are also other items crafted by local artisans (such as purses and bear skin rugs), and fresh fruit and vegetables.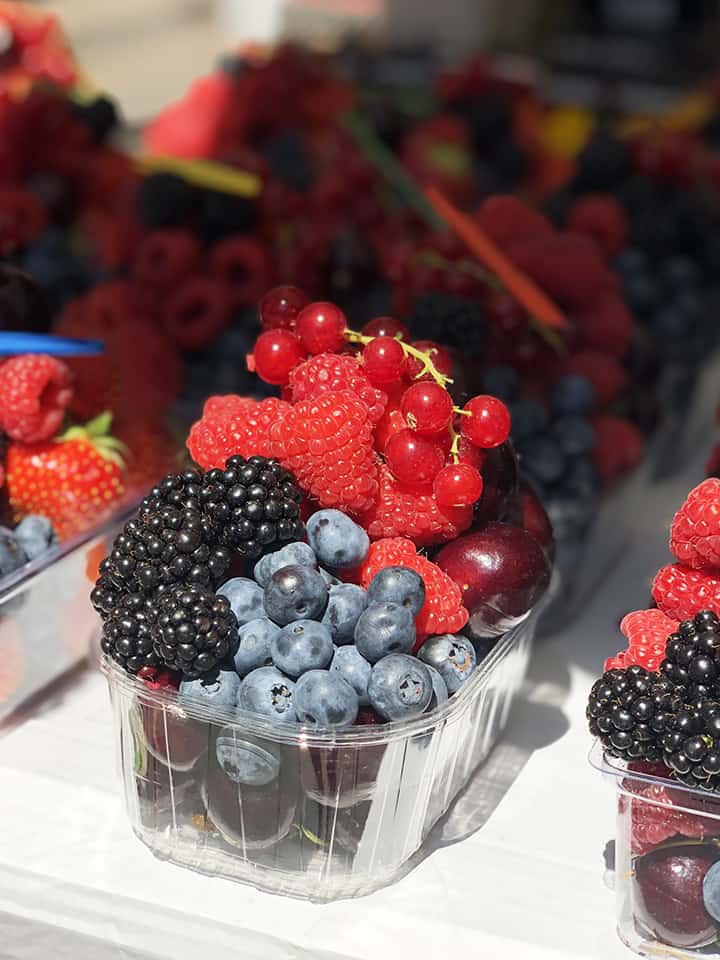 Above: Fresh berries for sale at Havel's Market.
Above: Berries for sale with the price listed at Havel's Market.
A basket of the beautiful berries is quite tempting! Just note that the price you see listed is typically the price per 100 grams, not the price for the entire basket.
Pro Tip: Be sure to ask a vendor before taking photos of their goods, especially if it's artwork, such as paintings.
Location of Havelské tržiště: Havelská 13, 110 00 Staré Město, Czechia
Shopping on Charles Bridge Prague
Above: Artwork for sale on Charles Bridge with Old Town Tower Bridge in the background.
Charles Bridge crosses the Vlatava River and connects Old Town with the Lesser Town of Prague. It's only about a 10 minute walk from Old Town Square to Charles Bridge. When you're walking on the bridge, in addition to beautiful views, you'll notice lots of vendors in the warmer months.
On the bridge, they sell things like jewelry, keychains, and artwork. If you want a caricature done, Charles Bridge is a great place for it!
Malá Strana Shopping – Lesser Town Prague
When you cross over the Charles Bridge into Lesser Town, you'll notice that it's a bit more casual. I also noticed a bit more litter in this area than I noticed in other areas around Prague.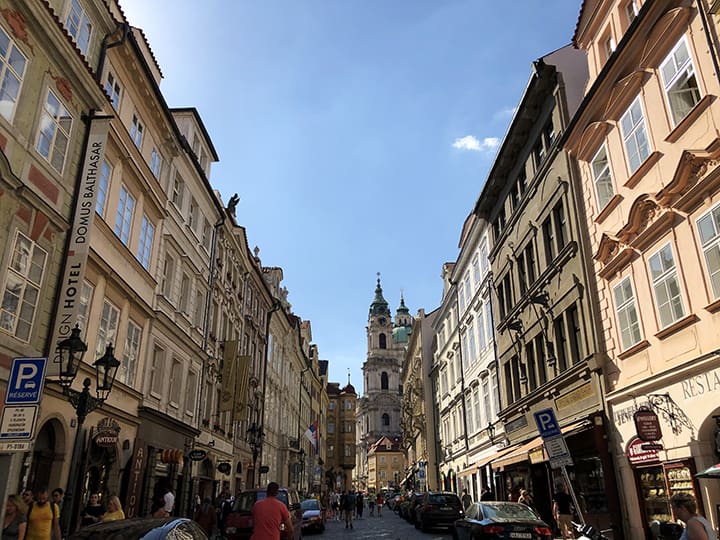 Above: Heading into Lesser Town Prague.
Here you'll find street food restaurants and sit-down restaurants lining the streets, as well as souvenir shops, art shops, Bohemian crystal and glass shops, Czech garnet jewelry stores, and more.
Pařížská Street – Luxury Shopping Prague
If you're looking for high end luxury shopping in Prague, you won't want to miss Pařížská Street, which means Czech Paris Street. This street runs through Prague's historic Jewish Quarter and connects Staroměstské Náměstí (Old Town Square) with Čechův Bridge.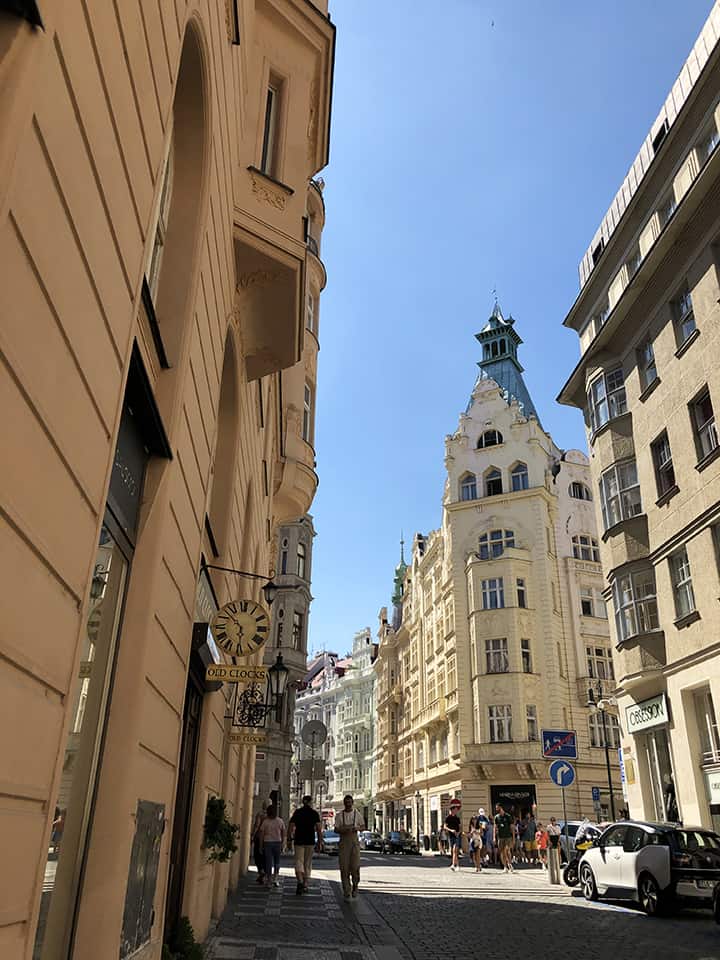 Above: Luxury shopping one street over from Pařížská Street in Praha.
Along Pařížská Street you'll find lots of prestigious boutiques, including Cartier, Valentino, Gucci, Tiffany & Co., Rolex, Fendi, Burberry, Louis Vuitton, and Prada, to name just a few. If you're looking for designer fashion in Prague, this is the avenue for you!
Location of Pařížská Street: Runs through Prague's historic Jewish Quarter and connects Staroměstské Náměstí (Old Town Square) with Čechův Bridge.
Read more about Pařížská Street:
Luxury Outlet Prague
If you're looking for more affordable or bargain-friendly luxury, you may want to check out Luxury Outlet Prague.
Location of Luxury Outlet Prague: Na Příkopě 853/12, 110 00 Nové Město, Czechia.
More Travel Tips if You're Planning a Trip to Prague
Did you enjoy this article or make one of my recipes? Please rate it and leave a comment below because I love hearing from you! You can also tag @anediblemosaic on social media. To stay up-to-date FOLLOW ME on Instagram, Twitter, and Facebook. Xoxo, Faith