For anyone planning a trip to Prague, you'll want to bookmark this post. Here are the BEST things to do in Prague, including must-see attractions!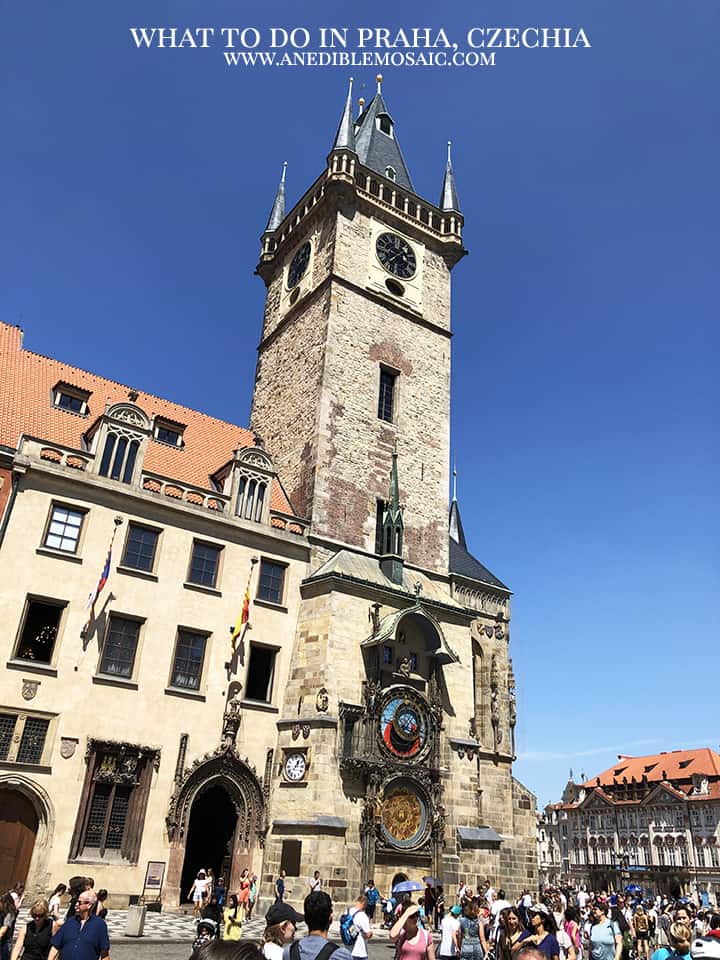 I visited Prague in July 2019, and because I didn't have a lot of time I wanted to make the most of my stay there! After doing some research online, talking to locals, and exploring on foot, I discovered the best things to do in Prague. I'm sharing my list of Prague attractions to help you plan your trip!
This list of attractions in Prague, Czech Republic will help you make sure you don't miss seeing Prague's famous landmarks and historical places. Additionally, there are a lot of free things to do in Prague. You don't have to break the bank to have fun!
Please note that I took all the photos in this post in July 2019.
Above: The architecture was amazing walking around Prague Old Town.
Prague: What to See and Do Video
Prague Attractions – The BEST Things to Do in Prague
Here are a few attractions, including historical places, architecture, landmarks, and museums that Prague is famous for. You can select which ones you don't want to miss based on your personal interests.
In this article:
Historical Places and Landmarks in Prague
If you're on a budget and want to find free things to do in Prague, I recommend walking around and looking at historical landmarks and monuments! It's free to see them from outside, and the architecture is amazing. However, note that there may be an admission fee to enter inside.
Above: The western-facing side of Old Town Bridge Tower (Staroměstská mostecká věž).
Charles Bridge (Karlův most)
This historic pedestrian bridge was built to replace the Judith Bridge, which suffered flood damage in 1342. Construction on the Charles Bridge began in 1357 and was finished in 1402. However, in 1870 it was named the Charles Bridge. The bridge crosses the Vlatava River and connects Old Town with the Lesser Town of Prague, and it has beautiful towers on both sides.
Above: The eastern-facing side of Old Town Bridge Tower.
If stones could talk, the Charles Bridge would surely have a lot to say! Throughout history, it's witnessed several floods, as well as multiple events, including the Thirty Years' War, and it was rebuilt several times.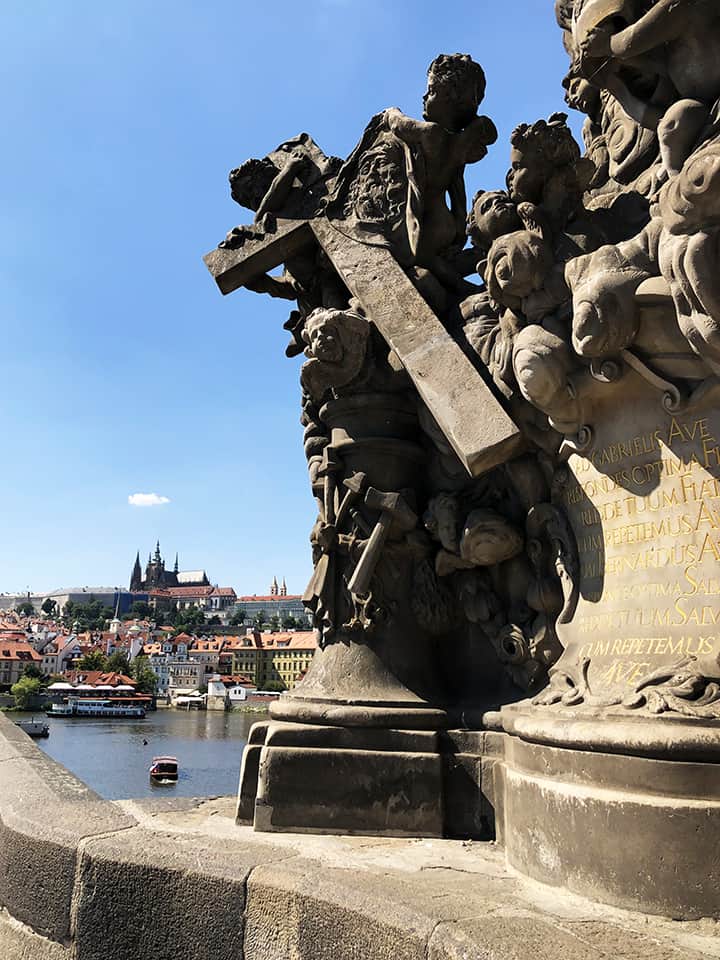 Above: Statues on Charles Bridge.
Today, the balustrade showcases nearly 30 mostly baroque statues of saints, most of which were erected between 1683 and 1714.
Get more info about Charles Bridge:
Above: Prague Old Town Square.
Old Town Square in Prague (Staroměstské náměstí)
Located between Wenceslas Square and Charles Bridge in Praha, Old Town Square is a popular tourist area. It was founded in the 12th century, and it showcases both gothic and baroque architectural styles.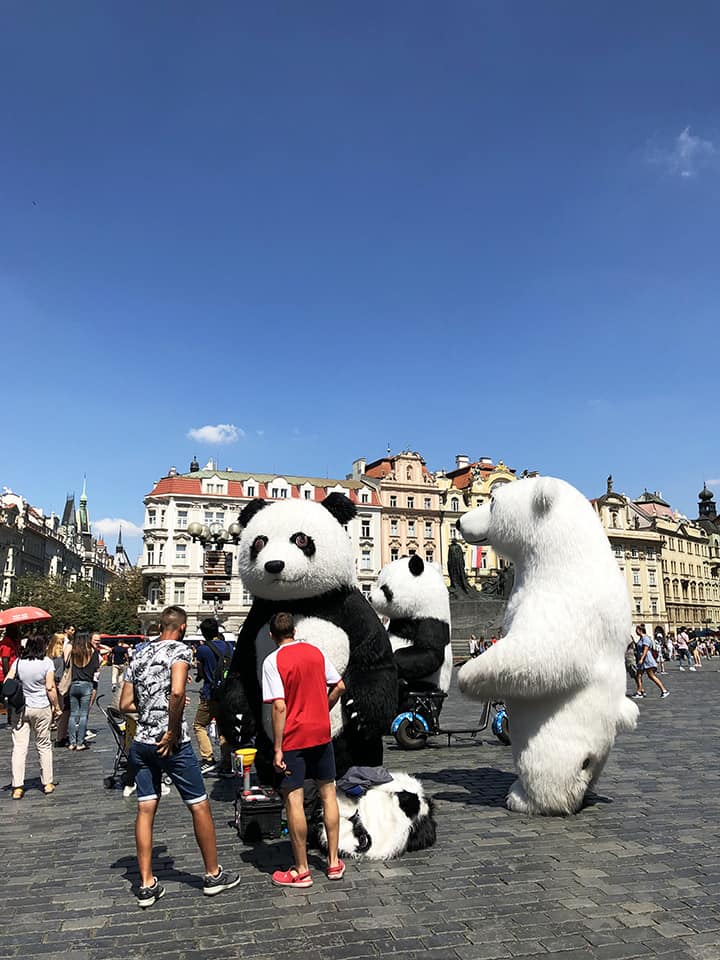 Above: Giant bears in Old Town Square, Prague, Czechia.
Above: Old Town Hall in Old Town Square, Prague, Czech Republic.
Walking around the square itself, you'll find various street musicians and performers, as well as lots of restaurants and cafes. Additionally, Old Town Square is home to a medieval astronomical clock, Old Town Hall, and Kinský Palace, as well as a few statues and memorials.
Find out more about Prague's Old Town Square:
Above: Astronomical Clock Tower in Prague.
Astronomical Clock in Prague or Prague Orloj (Pražský orloj)
The Orloj is found on the southern side of Old Town Hall Tower. This medieval astronomical clock was installed in 1410. It is the third oldest in the world, and the oldest one still working today!
This clock is one of the most famous landmarks in Praha. If you're trying to decide what to do in Prague, this attraction is a must-see!
The clock is a perfect blend of function and beauty. It has three mechanisms: the astronomical dial, the calendar dial, as well as "The Walk of the Apostles". The astronomical clock also features statues; four "vices" (or "evils") located next to the astronomical dial and four "virtues" next to the lower calendar dial.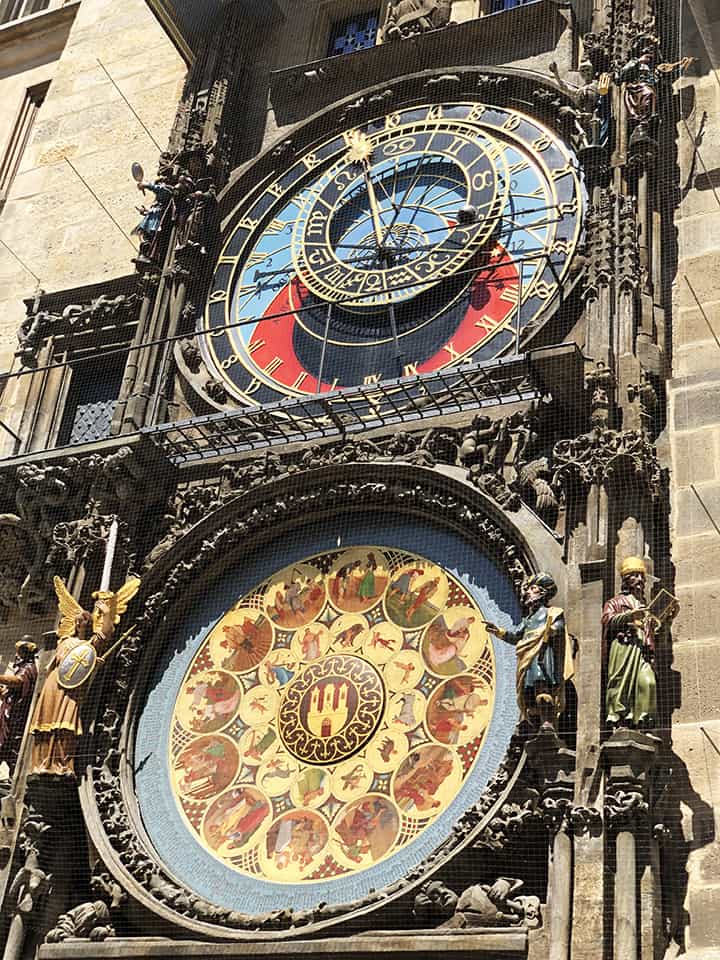 Astronomical Dial
Located on top, the astronomical dial is quite intricate. It represents the position of the sun and moon, as well as other astronomical details. It depicts the following:
A series of glyphs representing ancient Czech time on the outermost ring.
Moving inward on the dial, a series of Roman numerals that indicate 24 hour time.
Red and blue areas that indicate events such as sunrise, daybreak, daytime, nighttime, and also certain geographical information, such as the location of the equator.
The center of the dial is the observer's position, the earth.
The Zodiacal ring is superimposed on the dial, and it shows the various zodiac signs and marks the sun's location.
Calendar Dial
The calendar dial is located below the astronomical dial. It shows various medallions, each representing a calendar month. The subject of each painted medallion indicates the month and season. Additionally, there's a smaller set of images located toward the center, each representing a zodiac sign.
Above: Astronomical Clock in the foreground with the Church of Our Lady Before Týn in the background.
The Walk of the Apostles
Every hour on the hour from 9 a.m. until 11 p.m. (or ending earlier in winter months), the procession of the 12 apostles is set in motion. This is known as "The Walk of the Apostles". During the hourly show, the two blue doors located above the astronomical dial open to reveal the statues procession. The animation also includes Death, as depicted by a skeleton, ringing a bell.
There's a lot more to know about the Prague Orloj (the Prague astronomical clock) if you want to read about it:
Above: Jan Hus Memorial with Kinský Palace in the background.
Jan Hus Memorial
This memorial, located in the center of Old Town Square, commemorates Jan Hus, a Protestant reformer born in 1369. Hus condemned the Catholic church's corruption and indulgence, and was burned at the stake in 1415.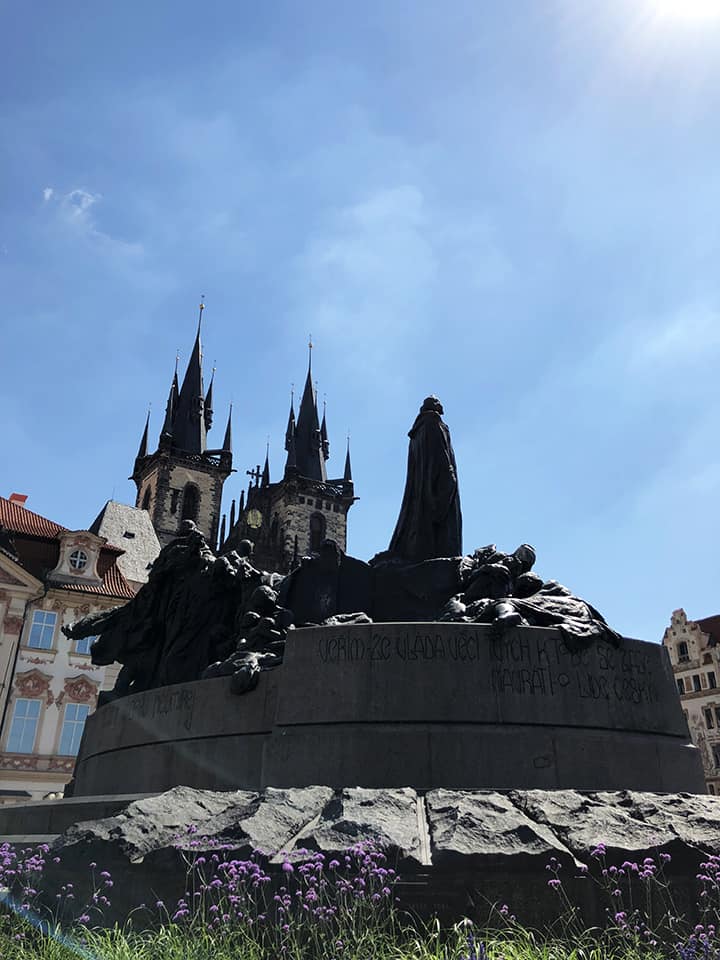 Above: Jan Hus Memorial with the Church of Our Lady Before Týn in the background.
More about Jan Hus and the memorial:
Above: St. Nicholas Church in Old Town Square, Prague.
St. Nicholas Church (Kostel svatého Mikuláše)
This baroque church was built in the 18th century, and is the main church of the Czechoslovak Hussite Church.
Read more about St. Nicholas Church in Old Town Square:
Above: Church of Our Lady Before Týn in Prague Old Town Square.
Church of Our Lady Before Týn (Chrám Matky Boží před Týnem)
The name of this church is also translated as "Church of Mother of God Before Týn". Construction for this gothic church began in the 14th century, and the building itself finished construction in the 1450s. In 1679, lightning struck the church and it and a resulting fire damaged the old vault, which was replaced with a lower baroque vault.
Above: The back of Týn Church is just as beautiful as the front.
More on Church of Our Lady before Týn:
Above: Kinský Palace in Prague, which is now home to the National Gallery Museum.
Kinský Palace (Kinských)
You can easily spot Kinský Palace; it's made of stucco and is painted pink and white! This palace was originally built for the Golz family between 1755 and 1765. However, in 1768, the Kinský family purchased it. Since 1949, this building has been used as an art museum (the National Gallery).
Discover more about Kinský Palace:
Above: Walking from Old Town Square to New Town in Prague.
New Town (Nové Město)
In 1348, Charles IV founded New Town Prague. This area includes both baroque and gothic churches, secular buildings, educational buildings, as well as its most famous landmark, Wenceslas Square.
Find out more about New Town Prague:
Wenceslas Square (Václavské náměstí)
Originally built as a horse market in the Middle Ages, today Wenceslas Square is a center for tourism. In this square you'll find a variety of shops, restaurants, bars, nightclubs, and hotels. It is named after the patron saint of Bohemia, Saint Wenceslas.
Get more information about Wenceslas Square Prague:
Dancing House (Tančící dům)
Croatian-Czech architect Vlado Milunić and Canadian-American architect Frank Gehry designed the "Dancing House". Construction lasted from 1992 through 1996, and it's lovingly nicknamed the "Fred and Ginger" building after Fred Astaire and Ginger Rogers because the building looks like a pair of dancers.
Read more about Prague's Dancing House:
Above: Buildings in Prague's Jewish Quarter.
Jewish Quarter (Joesfov)
Jewish people began settling in Prague during the 10th century. Eventually, Jewish people were ordered out of their homes and forced to live in this area, which was then referred to as the "Jewish Ghetto".
At the end of the 19th century, Joesfov was demolished as part of a plan to model the city after Paris. During WWII, Prague's Jewish people were transported to camps across Nazi-occupied Europe.
Despite the destruction of WWII, much of the architecture in Prague's Jewish Quarter remained intact. It's said that this is because Hitler wanted to establish a "Museum of an Extinct Race" after the war (which I can't even type without sobbing). To that end, thousands of Jewish artifacts were transported here from all over Europe.
Above: Jewish Town Hall in Prague's Jewish Quarter.
The Jewish Quarter today includes:
Six synagogues, including Maisel Synagogue, the Spanish Synagogue, and the Old-New Synagogue
The Old Jewish Cemetery
Jewish Ceremonial Hall
The Old Jewish Town Hall
The Jewish Museum includes many of these monuments, which you can read more about below.
Above: Jewish Ceremonial Hall in Prague's Jewish Quarter.
Find out more about Prague's Jewish Quarter:
Above: Malá Strana Bridge Tower (Malostranská mostecká věž), as seen when walking into the Lesser Town of Prague (Malá Strana).
Lesser Town of Prague (Malá Strana)
Malá Strana is commonly called "Lesser Town", meaning "Little Side". It refers to the little side of the Vlatava River. If you're wondering what to do in Prague, you don't want to miss Lesser Town!
King Ottokar II of Bohemia founded Malá Strana in 1257. During the Middle Ages, German craftsmen and merchants largely inhabited this area. Since the 16th century, Italians living in Prague have also made their home in this area.
Above: Malá Strana, Praha, Czechia.
Find out more about the Lesser Town of Prague:
Above: Lesser Town Square, Praha.
Lesser Town Square (Malostranské náměstí)
Lesser Town Square is the center of the Lesser Town of Prague. Here you will find cafes and restaurants, shops, baroque buildings, and international embassies. Additionally, note that St. Nicholas Church divides the square into lower (eastern) and upper (western) parts.
Get more information on Lesser Town Square (Malostranské náměstí):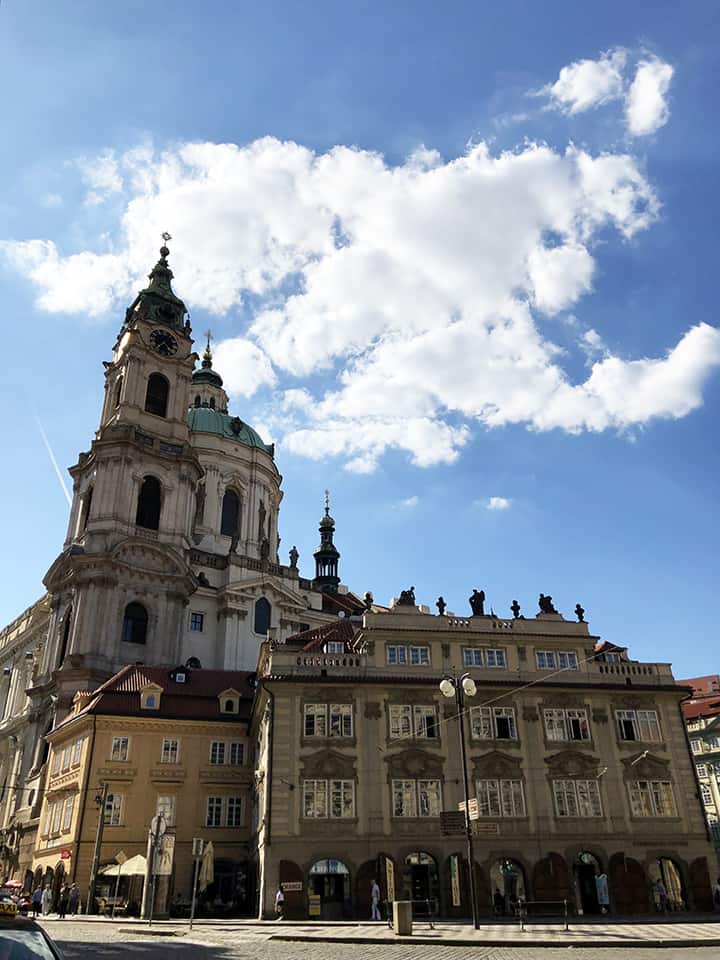 St. Nicholas Church in Malá Strana (Kostel svatého Mikuláše)
Supposedly, this church is the best example of Prague baroque. Its construction started in 1703 where a 13th century gothic church was previously located. In 1787, Wolfgang Amadeus Mozart played the organ here!
Discover more about St. Nicholas Church in Malá Strana:
John Lennon Wall
This graffiti wall is located at Velkopřevorské náměstí (Grand Priory Square), across from the French Embassy in Prague. After John Lennon's assassination in 1980, an unknown artist painted an image of Lennon along with some of his lyrics on the wall. Since then, authorities have repainted the wall several times; however, it shows up painted again with graffiti the next day. Because of this, the John Lennon Wall is continuously changing and has become a symbol of love and peace.
More about the John Lennon Wall in Prague:
Above: Prague Castle (top left), as seen while walking across the Charles Bridge.
Prague Castle (Pražský hrad)
Prague Castle is rich in both history and architecture. The castle complex includes the gothic St Vitus Cathedral and the Romanesque basilica of St. George, as well as a monastery and several palaces, gardens, and towers of defense. As you walk across Charles Bridge, you can see this iconic castle on a hill over to the right.
This 9th century castle will take your breath away, both from its beauty and its size! According to the Guinness Book of World Records, Prague Castle is the largest ancient castle in the world.
The Prague Castle serves as the official office of the president of the Czech Republic. It has also been home to kings of Bohemia, Holy Roman emperors, and Czechoslovakian presidents. The Prague Castle also houses the Bohemian Crown Jewels, also called the Czech Crown Jewels, which are located in St. Vitus Cathedral.
Read more about Prague Castle:
Must-See Prague Sculptures
Walking around Prague, you'll find lots of statues and sculptures. However, I'm only going to mention a couple here.
Above: Adam and Eva statues in Jungmann Square, Prague.
Adam and Eve
Located in Jungmann Square, this sculpture by Kryštof Hošek is a symbolic reference to mankind's origins.
Find out more about the Adam and Eve statues:
Above: Statue of St. John of Nepomuk on Charles Bridge, Praha.
Statue of St. John of Nepomuk
This baroque bronze statue is located on the north side of Charles Bridge. Saint John of Nepomuk was the priest to King Wenceslaus IV of Bohemia. Legend has it that the king had the priest thrown off the bridge into the Vlatava River because the priest refused to tell the king about his queen's confession! Who knows if it's true or not, but it's interesting enough to be the stuff legends are made of.
People line up to touch this statue because superstition says it's said to be good luck, and it will ensure that one day you'll return to Prague.
Get more info about the statue of St. John of Nepomuk:
Famous Geographic Areas in Prague
Above: Vlatava River with a view of the Prague Castle.
Vlatava River
Commonly called the "Czech National River", the Vlatava is the longest river in the Czech Republic and runs through Prague. The Vlatava separates Old Town and New Town on the eastern side, from the Lesser Town of Prague on the western side.
Above: Vlatava River and Charles Bridge.
Read more about the Vlatava River:
Above: Petřín hill, as seen while walking on the Charles Bridge. You can see the Petřín Lookout Tower on the hill in the distance, which is modeled after the Eiffel Tower.
Petřín
Petřín hill is located in the Lesser Town of Prague. Previously, it was one of King Charles' vineyards. Here you'll find breathtaking panoramic views of Prague, as well as several attractions.
Above: Walking up Petřín hill in the Lesser Town of Prague.
An interesting bit of information is that much of the stone that was used to build the historical sights around Prague was quarried from Petřín hill!
I noticed three different types of trees walking through the orchards up Petřín hill...
Above: Plum trees on Petřín hill.
Photo Above: Cherry trees on Petřín hill.
Above: Apple trees on Petřín hill.
How to Get to Petřín Hill
There are two ways to get to the summit of Petřín hill:
Walk up the hill! This is what I did, and it was lovely. It's a bit steep, but it's only about a 30 minute walk, and views get prettier as you go higher. Also, it bears noting that you'll be walking through various fruit orchards, which are lovely in their own right.
Take the funicular! Find the entrance on Újezd Street (you can get there by tram 9, 12, 20, or 22 and get off at Újezd). The funicular operates daily from 9 a.m. to 11:30 p.m. (April through October) or 9 a.m. to 10:20 p.m. (November through March). It runs every 10 to 15 minutes. Don't forget you'll need a public transportation ticket to ride!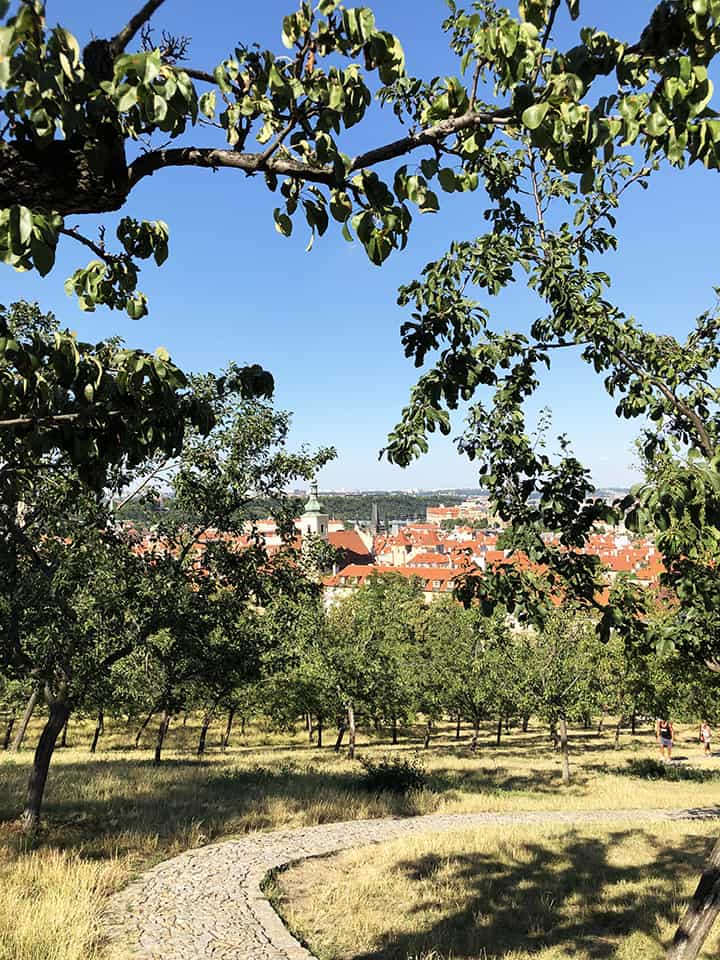 Above: Petřín hill orchards and beautiful views.
What to Do in Petřín
Once you're at the summit, there are a lot of activities!
Lookout Tower, modeled after the Eiffel Tower
Mirror Maze
Rosarium (Rose Garden), as well as other gardens
Štefánik's Observatory, an astronomical observatory
Cathedral of Saint Lawrence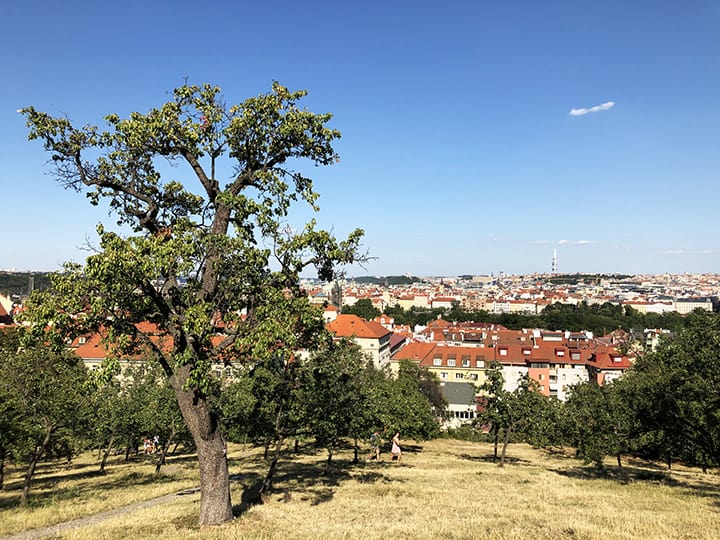 Explore more about Petřín:
Prague Museums
As far as Prague attractions, there are a ton of museums to choose from! If you only have limited time for museums in Prague, here are a few of my recommendations on what not to miss.
Jewish Museum (Židovské Muzeum v Praze)
The Jewish Museum, located in Prague's Jewish Quarter, includes the following: four historical synagogues (Maisel Synagogue, Klausen Synagogue with the Ceremonial Hall, Pinkas Synagogue, and Spanish Synagogue); the Old Jewish Cemetary; and Robert Guttmann Gallery.
Museum of Communism
From 1948 to 1989, the Communist Party of Czechoslovakia ruled the country. The Museum of Communism showcases life during that era, and includes genuine historical documents, photographs, artworks, artifacts, and more.
Address: V Celnici 1031/4, 118 00 Nové Město, Czechia
Phone Number: +420 224 212 966
Email:

[email protected]

Hours: Daily from 9am – 8pm
Admission Costs: Range from 290 CZK for a student to 380 CZK for an adult
Website: https://muzeumkomunismu.cz/en/
Franz Kafka Museum
Franz Kafka was born to a Jewish family in Prague, which was at that time the capital of the Kingdom of Bohemia. Kafka was educated as a lawyer, and also was a novelist and short-story author. This museum is home to several first edition books by Kafka, as well as his original letters, diaries, and drawings.
National Gallery (Národní Galerie Praha)
This is a unique collection of Czech and international modern and contemporary art. There are works by Pablo Picasso, Georges Braque, Auguste Renoir, Vincent van Gogh, Gustav Klimt, to name a few.
Czech Beer Museum (Muzeum piva Praha)
If you're interested in exploring the history behind and secrets of Czech beer, this is the place to do it! It features lots of historical artifacts, in authentic surroundings, including 13th century cellars, a 13th century showroom pub, as well as a communist-era showroom pub.
Address: Husova 241/7, 110 00 Staré Město, Czechia
Phone Number: +420 778 072 337
Email:

[email protected]

Hours: Open daily 11 a.m. – 8 p.m.
Admission Costs: The tour with tasting costs 280 CZK per person; the Beer Tour Experience costs 480 CKZ and includes: entrance, tasting of 4 beers, certificate, and bottling your own beer. (Tasting is only for people over 18 years of age.)
Website: http://beermuseum.cz/
Discover more museums in Prague:
More Prague Travel Information
Did you enjoy this article or make one of my recipes? Please rate it and leave a comment below because I love hearing from you! You can also tag @anediblemosaic on social media. To stay up-to-date FOLLOW ME on Instagram, Twitter, and Facebook. Xoxo, Faith