This Prague food guide includes several of the best must-try foods when you're visiting Czechia! Their local cuisine includes everything from traditional Czech goulash, to fried cheese, to sweet chimney cake, to local brews.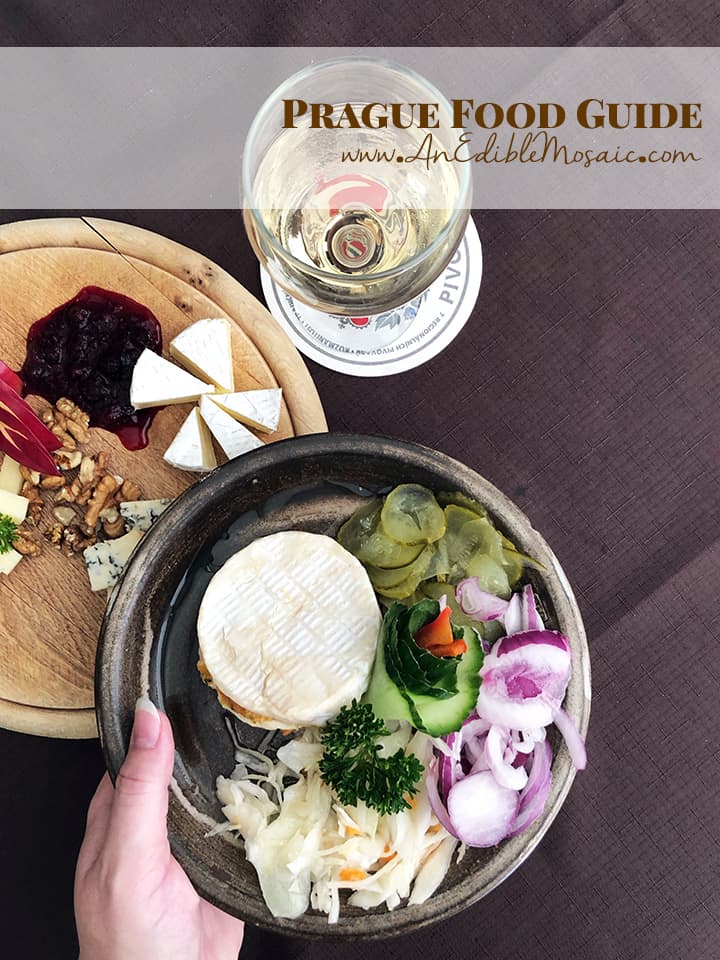 One of the best things about traveling is getting to experience local cuisine. I first learned this years ago during my time spent in the Middle East. Because cuisine and culture are so intertwined, it's nearly impossible to separate them.
Czech Republic is a truly beautiful place with a rich culture and history. And Czech cuisine is incredible, from pub fare to street food!
From their simple, hearty soups, to their braised meats and stews served with dumplings, to their local cheeses, beer and wine, and delicious desserts. You won't want to miss any of it.
If you're planning a trip to Prague and you want to go all out and really want to immerse yourself in the food scene, you can always take a Prague food tour.
Pro Tip: If you prefer more flexibility, instead of paying for a guided Prague food tour, just walking around the city you can make your own food tour.
Please note that I took all the photos in this post in July 2019.
Prague: What to See and Do Video
Prague Café – Prague Coffee Shops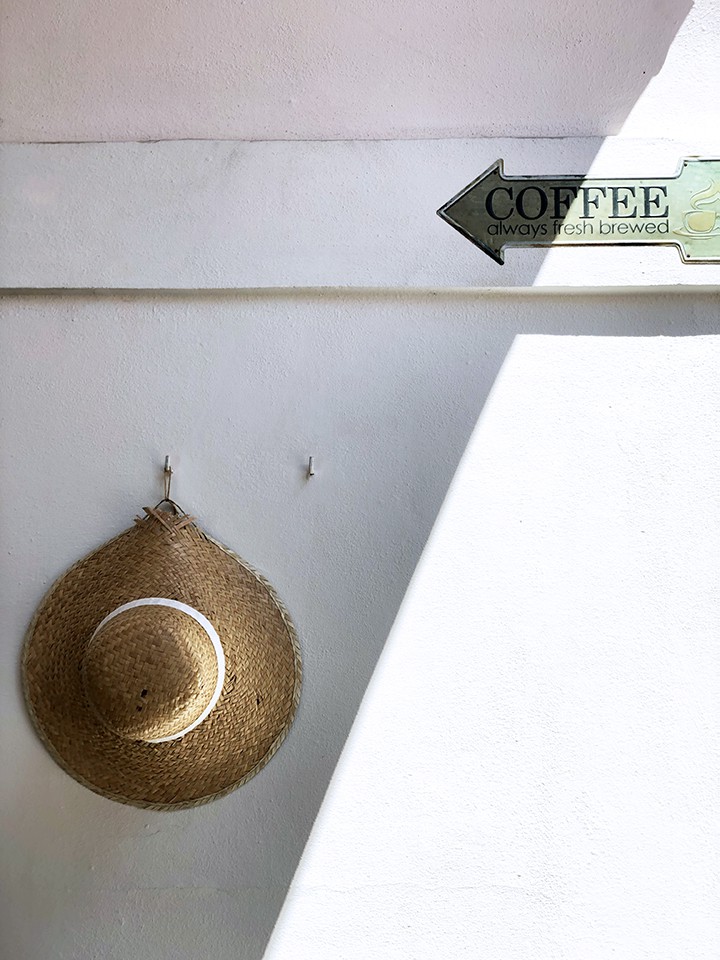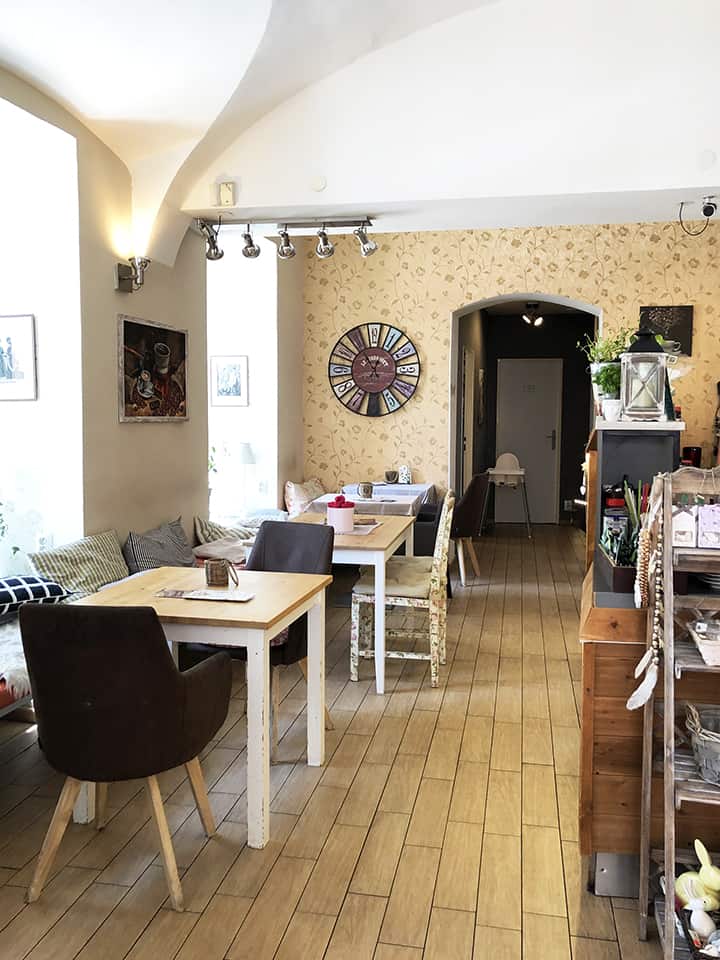 Above: Coffee shop interior in Prague.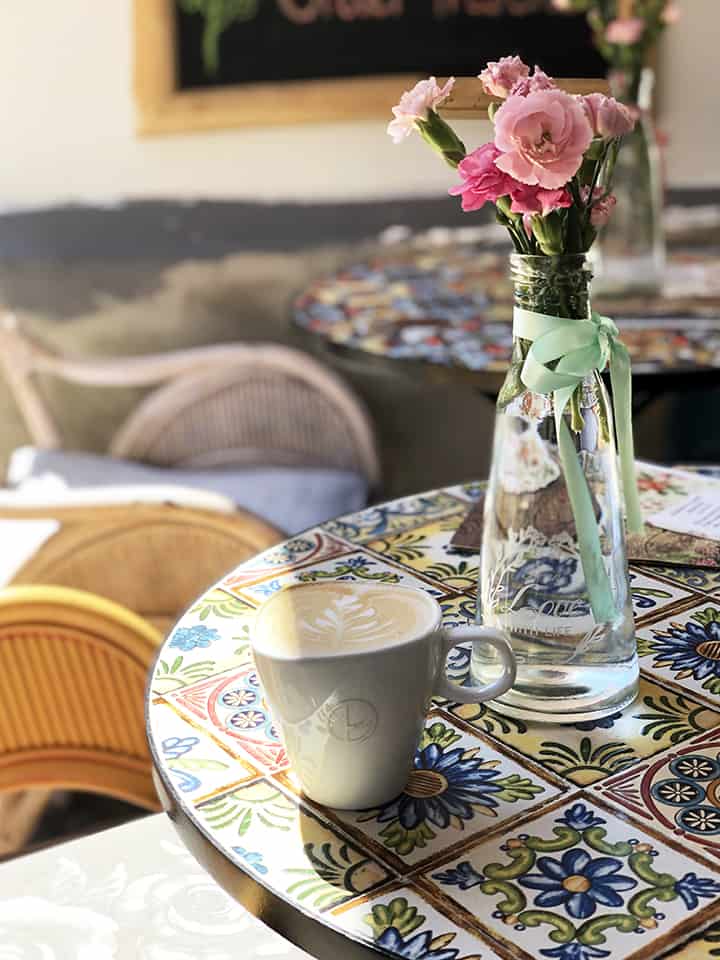 Above: Coffee shop exterior in Prague.
Walking around Prague, you'll find a ton of quaint little cafés and coffee shops. I was surprised at how good most of the coffee in Prague was!
Other than Italy, Prague had the best coffee I had in Europe.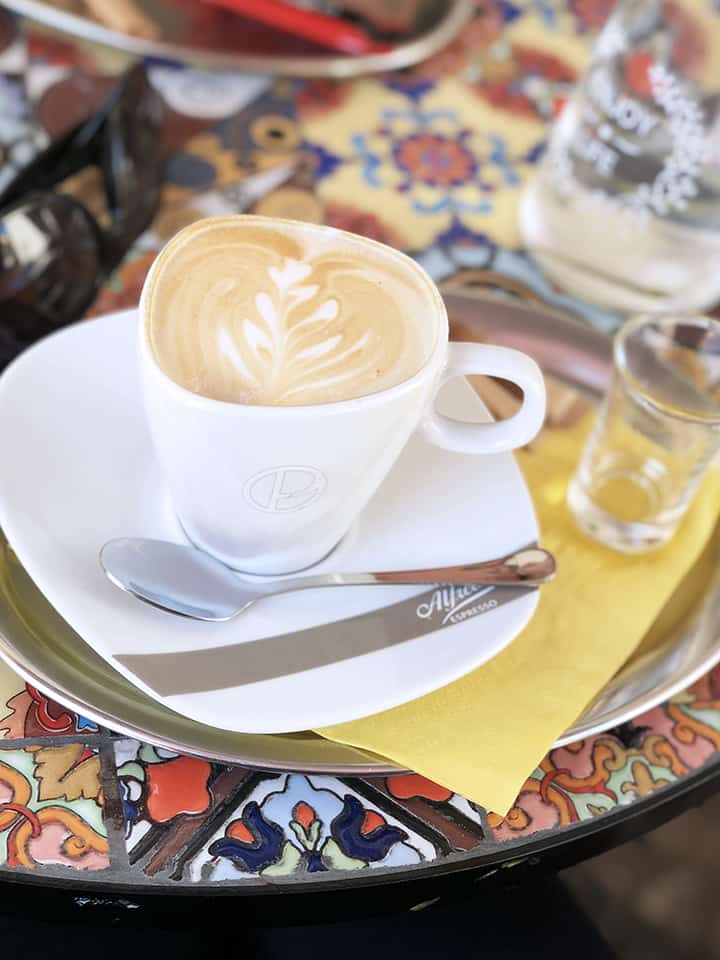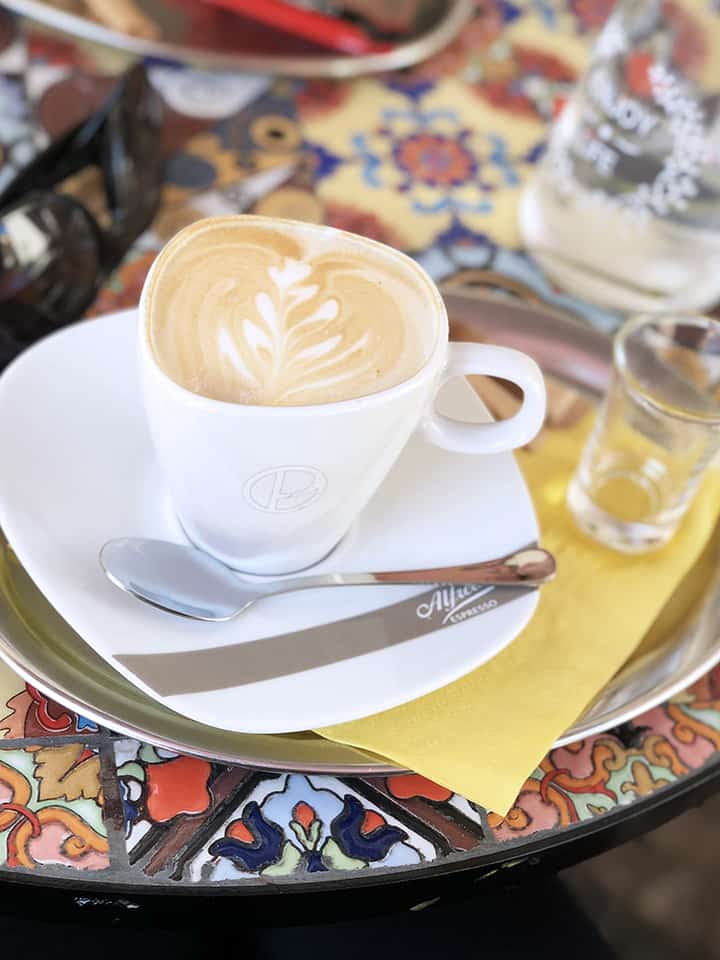 Sit down and grab a latte (the latte art was beautiful at a lot of cafés in Prague) or cool down with an iced coffee. If you're trying to keep it low carb, ask ahead of time if they have cream.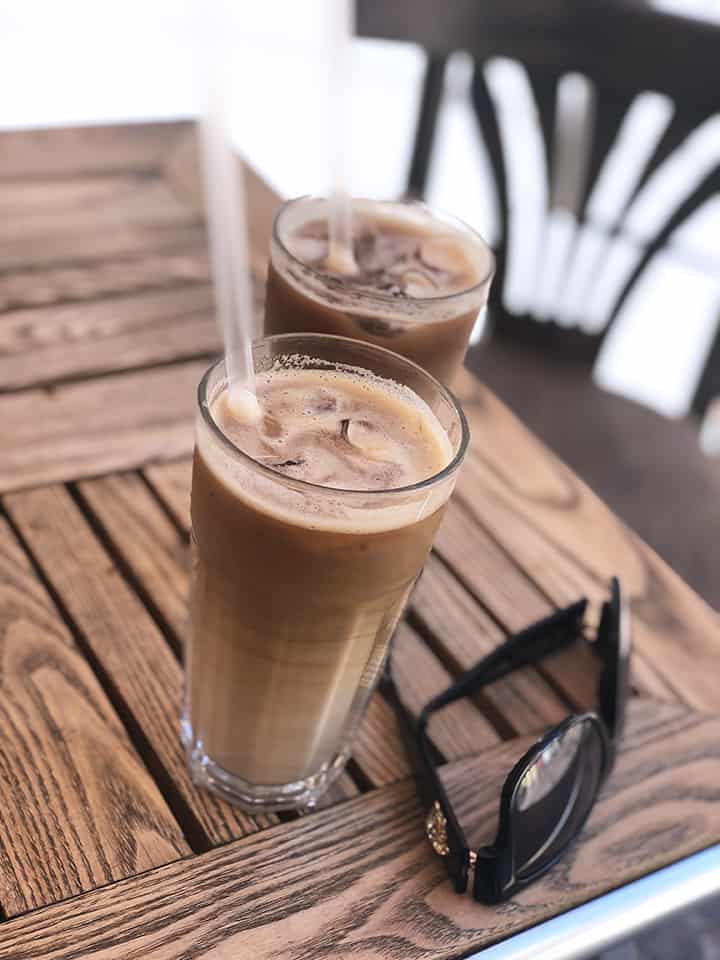 I found that a lot of places in Europe don't have heavy cream for coffee. However, they might at least have light cream or whole milk.
Breakfast in Prague
A traditional Czech breakfast in Prague may consist of tea or coffee with bread or rolls served along with butter and/or jelly. It might also include sliced luncheon meats and cheeses, eggs, and/or sausages.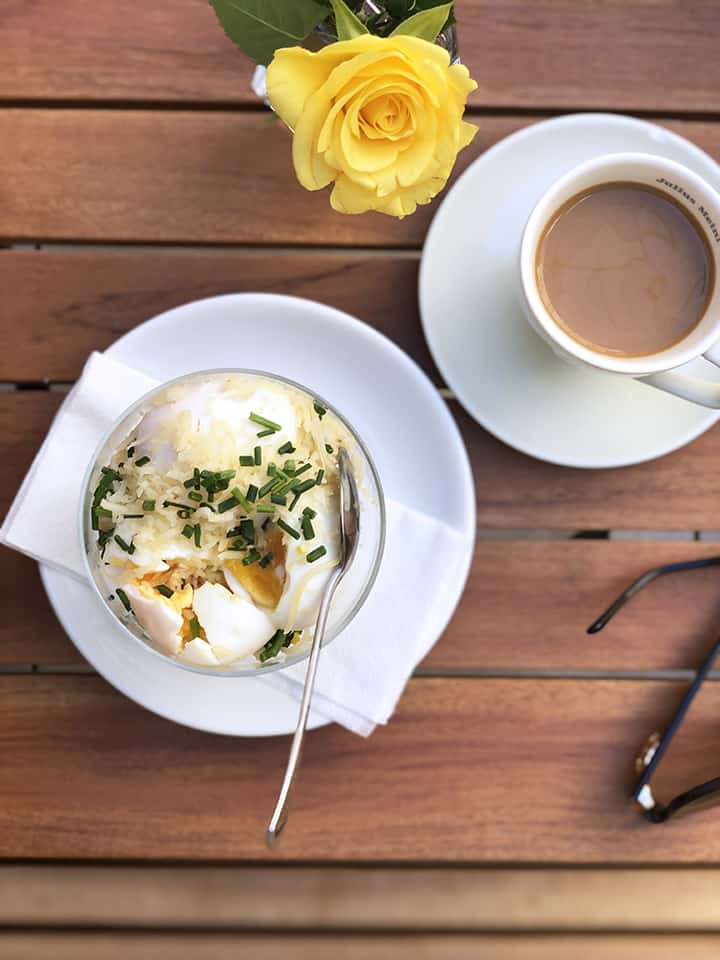 Above: Hard-boiled eggs with cheese for a keto spin on a classic Czech breakfast on the rooftop at Café Louvre.
When I was in Prague, I went to a famous restaurant called Café Louvre for breakfast. It's a well-known historic restaurant, and they've served very notable guests, including Karel Čapek, Albert Einstein, and Franz Kafka.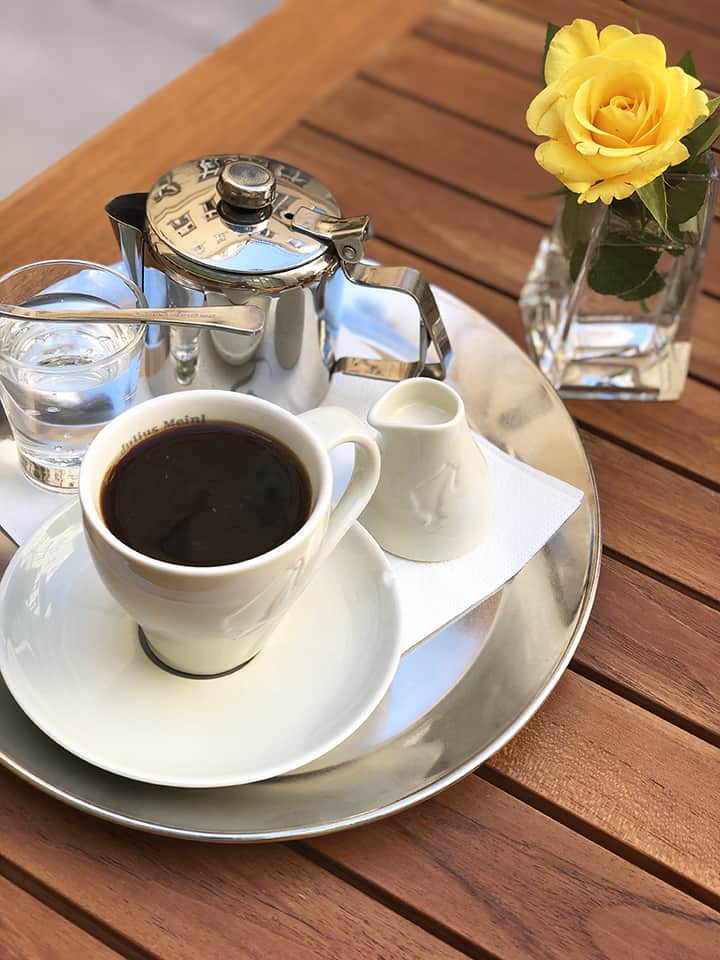 Above: Coffee at Café Louvre.
I eat low-carb and keto-friendly for the majority of the time (even when I travel), so I had hard-boiled eggs topped with cheese and chives, as well as coffee for breakfast. It was delicious, and served in beautiful surroundings.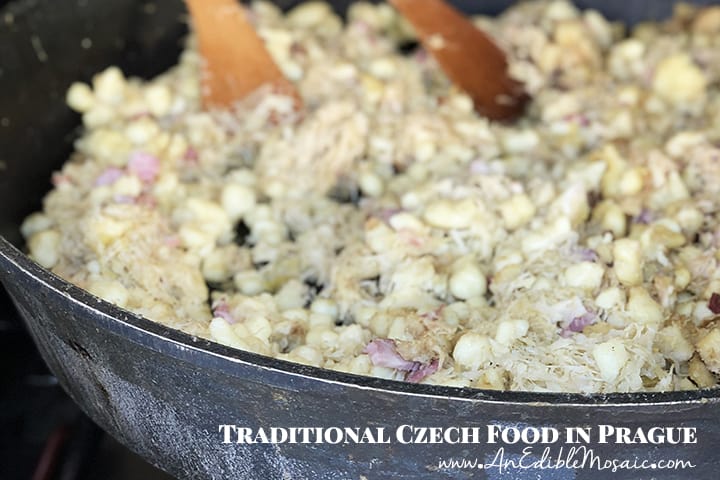 What is Traditional Food in Prague? What is Traditional Czech Food?
You will find a lot of traditional Czech foods in Prague. Pubs typically have traditional cuisine, and Prague is full of them. Here are a few classic Czech foods to look for.
(Side Note: A lot of classic Czech food contains pork, so unfortunately I wasn't able to try a lot of it. However, I tried to get a photo whenever I could!)
Kielbasa Sausages (Klobásy)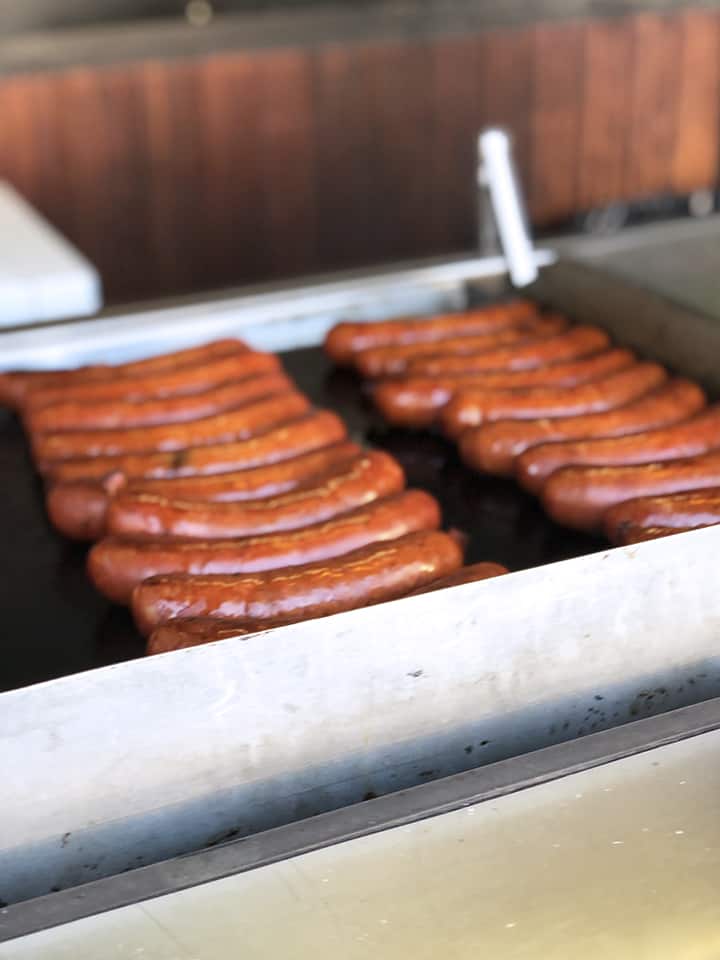 Sausage is classic street food in Prague! Walking around touristy areas (especially in Wenceslas Square, which is known for their sausages) you'll see food vendors selling sausage, the same way you'd see hot dog vendors in New York City.
There are a few different types of sausage to choose from. To make it an affordable, portable full meal, top your sausage with sauerkraut and pair it with a hunk of brown bread. And don't forget the Czech beer to complete the experience.
I have yet to find a Czech sausage that didn't contain pork, so unfortunately I wasn't able to try these myself!
Halušky (Potato Dumplings with Cabbage and Bacon)
This classic Czech food looks like pure comfort food! With potato dumplings, cabbage, and bacon it seems like it's perfect winter fare, but I saw it for sale as street food in Prague in the middle of July.
Variations on this dish sometimes include sauerkraut in place of cabbage, and ham in place of bacon. Additionally, some recipes add onion.
Pork Knuckle aka Pork Knee aka Ham Hocks (Pečené Vepřové Koleno)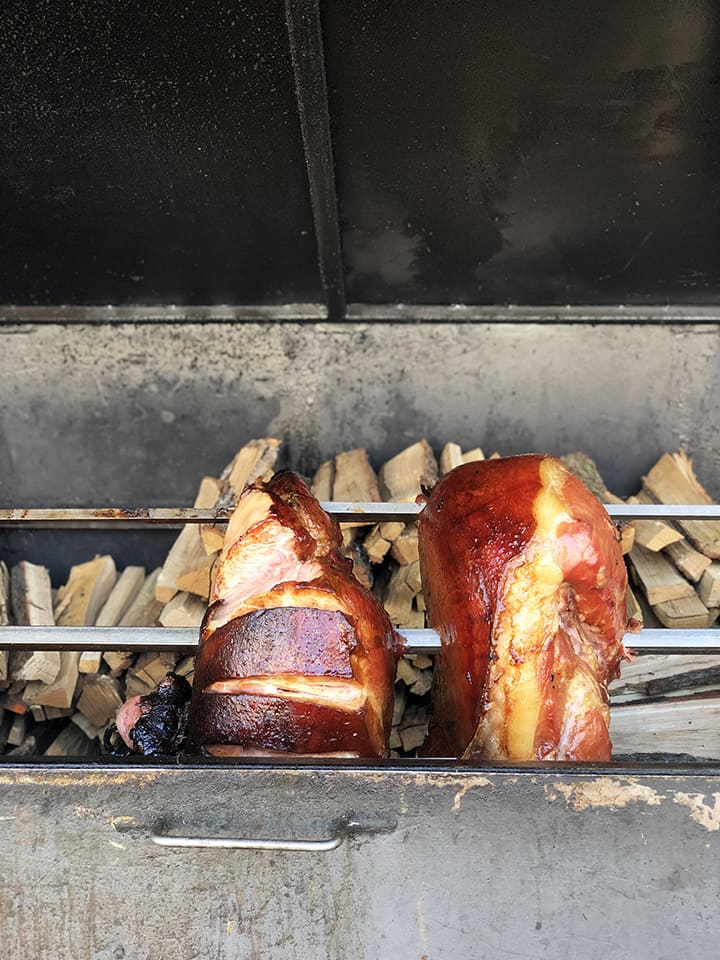 Pork Knuckle in Prague is a pretty big piece of bone-in meat. It's roasted on a spit, and the outside is crispy with tender meat inside.
Dark beer, aromatics like bay leaves, and spices like nutmeg are used to marinate pork knuckle before roasting. To make it a meal, I hear this pairs perfectly with potato, and of course Czech beer.
Kulajda – A Traditional Czech Soup
I was in Prague in July, but warmer temperatures didn't stop me from trying this delicious soup! Kulajda is a creamy potato soup featuring mushrooms, poached egg, and dill.
It's quite tangy, thanks to the addition of vinegar. The tangy flavor is pleasant though, and not overwhelming, and it helps balance the soup's richness.
This soup is not only delicious, but quite decadent. It filled me up for a good four hours of walking around Prague!
Czech Beef Goulash (Hovězí Guláš)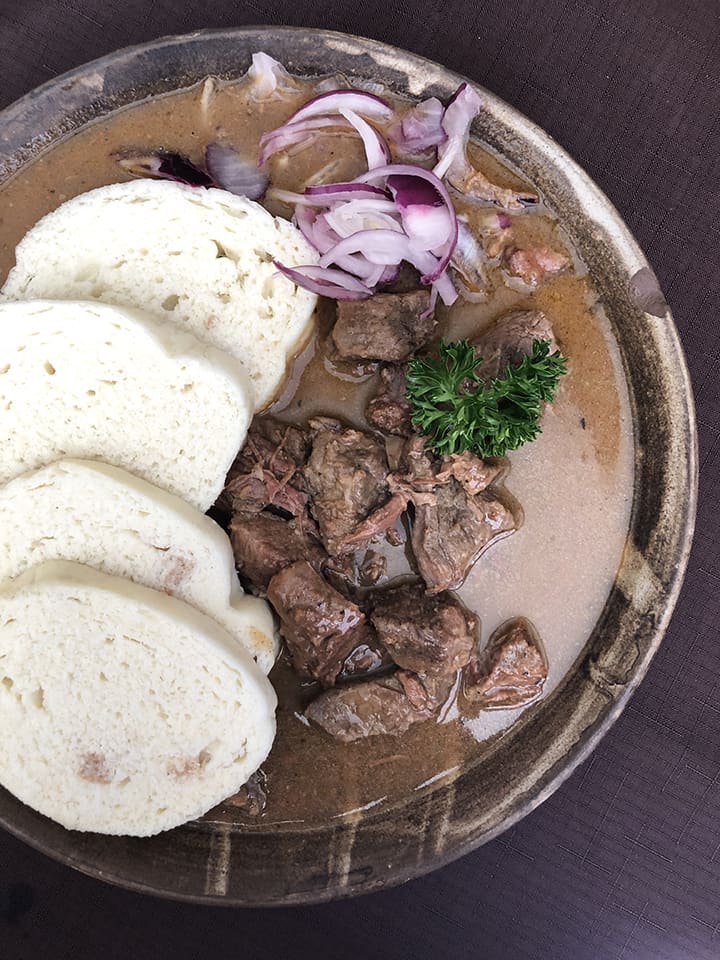 Above: My favorite beef goulash in Praha.
This richly spiced meat dish is commonly found in pubs. When in Prague, I had two versions of beef goulash and the variation served with sliced bread dumplings was my favorite! It's redolent with paprika, and the Czech recipe adds marjoram.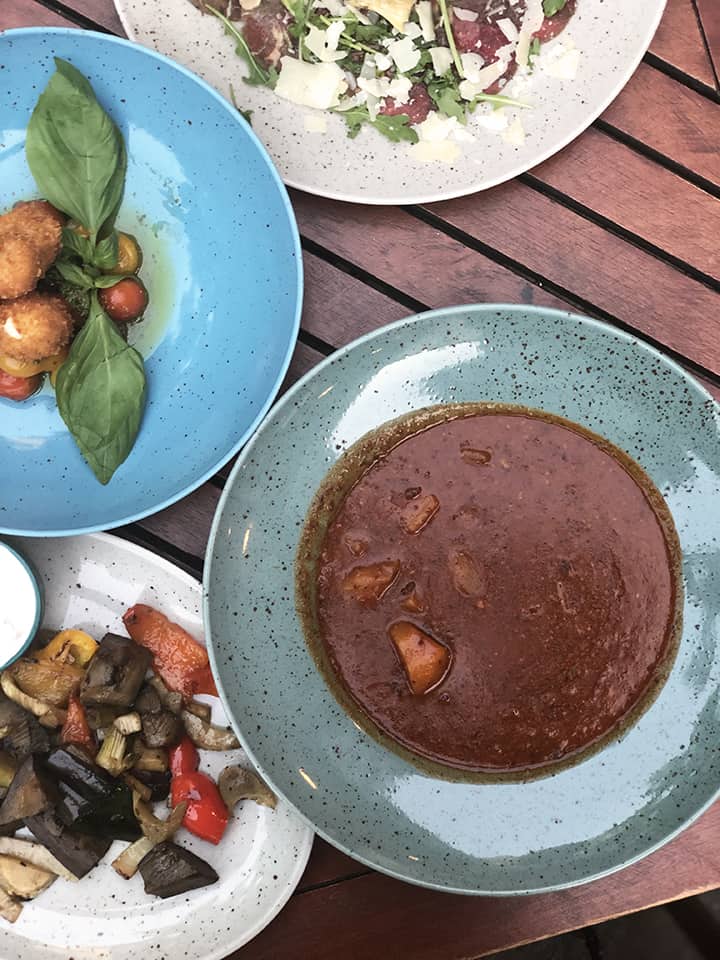 Above: Another version of beef goulash in Prague that reminded me of a Chili-flavored soup.
The other version of beef goulash I had in Prague used ground beef instead of beef stew meat. It had large chunks of potato, as well as a more tomato-y flavor. And it somehow reminded me of the flavor of Chili (but not as thick), maybe because of the spices they used.
No trip to Czechia would be complete without trying their Guláš; it's a traditional Czech food!
Local Cheese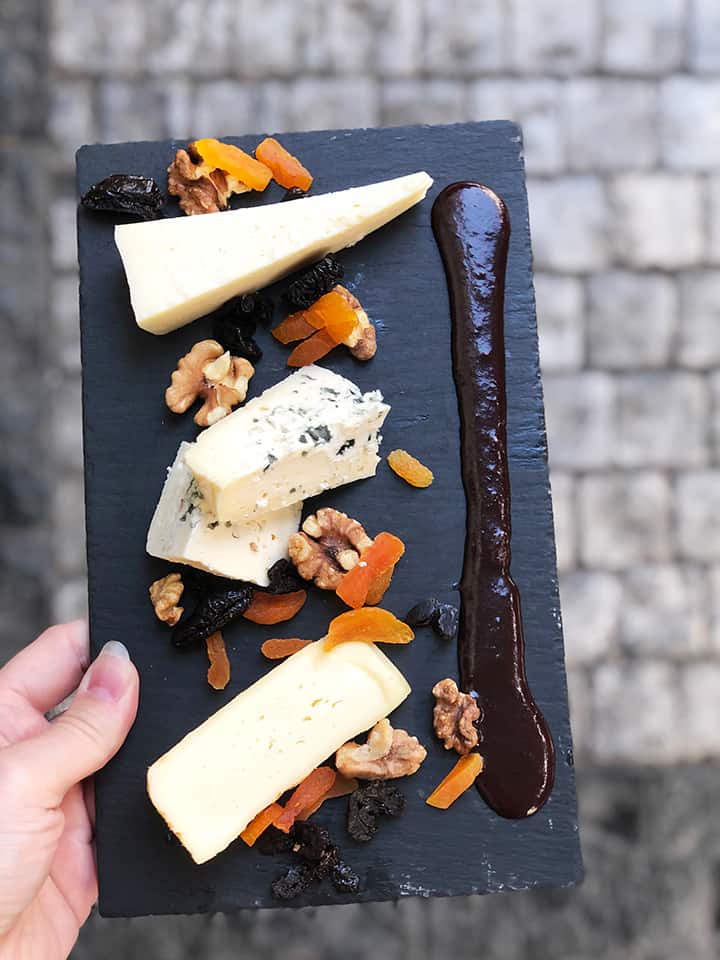 I'm only going to mention a few of the popular cheeses in Prague!
Hermelín is similar to Camembert and used to make Pickled Cheese (read more about that below).
Abertam is a hard sheep's milk cheese made in the Karlovy Vary region with a tangy flavor.
Olomoucké tvarůžky (Olomouc cheese) is made from skim (cow) milk and comes from Loštice, Moravia, Czech Republic. It's a soft cheese with a pungent taste.
My favorite Czech cheese is Jihočeská Niva, which is a cow's milk blue cheese similar to Roquefort. Its texture is semi-soft and crumbly, and it's aromatic with a salty, subtly nutty flavor.
Pickled Cheese aka Marinated Cheese (Nakládaný Hermelín)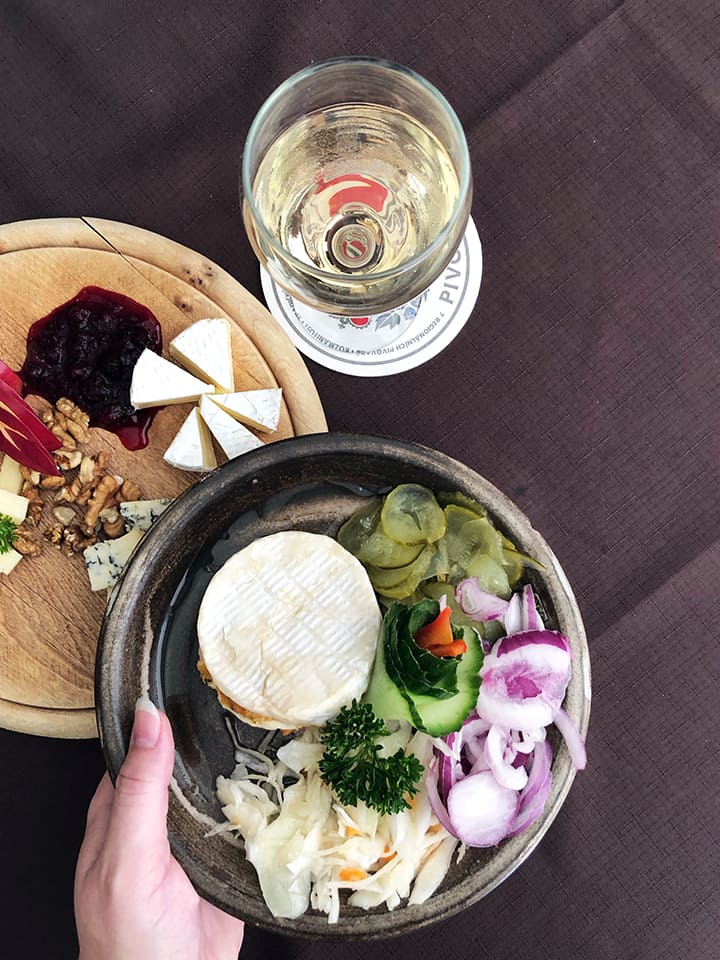 Sometimes you'll see this on a menu as Pickled Cheese and sometimes it's called Marinated Cheese. Whatever name it's under, when you see it on a pub menu in Prague, get it!
If you like cheese as much as I do, I think you'll consider this one of the best foods in Prague.
First things first, Hermelín cheese is traditionally used for Czech Pickled Cheese. This is a soft and creamy Czech cheese with a bloomy rind, quite similar to Camembert. And secondly, it bears mentioning that this specialty isn't actually pickled because there's no vinegar involved.
Rather, Hermelín cheese rounds are sliced in half, stuffed with flavorings, and cured in oil. But you'll find that it's most commonly called Pickled Cheese.
As far as flavorings for Pickled Cheese, garlic, onion, and paprika are always present, as well as a few herbs (notably rosemary and/or thyme) and aromatics (like juniper berries and bay leaves). And for spices, peppercorns are popular, and you'll also sometimes find allspice.
And in the version I had at a pub in Prague, I could swear I tasted ginger too, as well as a hint of spicy chilies.
Pro Tip: Pickled Cheese is the ultimate keto pub food in Prague!
Fried Cheese (Smažený Sýr)
The flavor of Czech fried cheese reminded me of mozzarella cheese sticks that are prevalent in the U.S.
Similarly, Czech fried cheese is dredged in flour, coated in egg, and covered in bread crumbs before being fried. The cheese typically used is Edam, but you can also find it made with other cheeses.
Chimney Cake (Tredelník)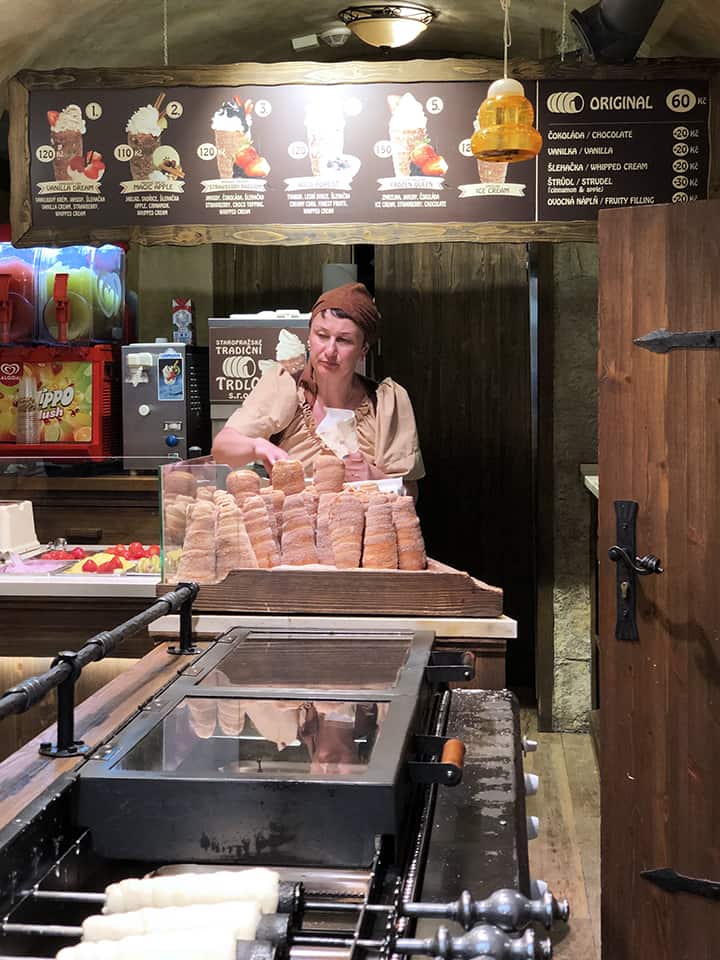 Above: Woman selling Tredelník filled with ice cream.
Above: Tredelník roasting on a spit above coals.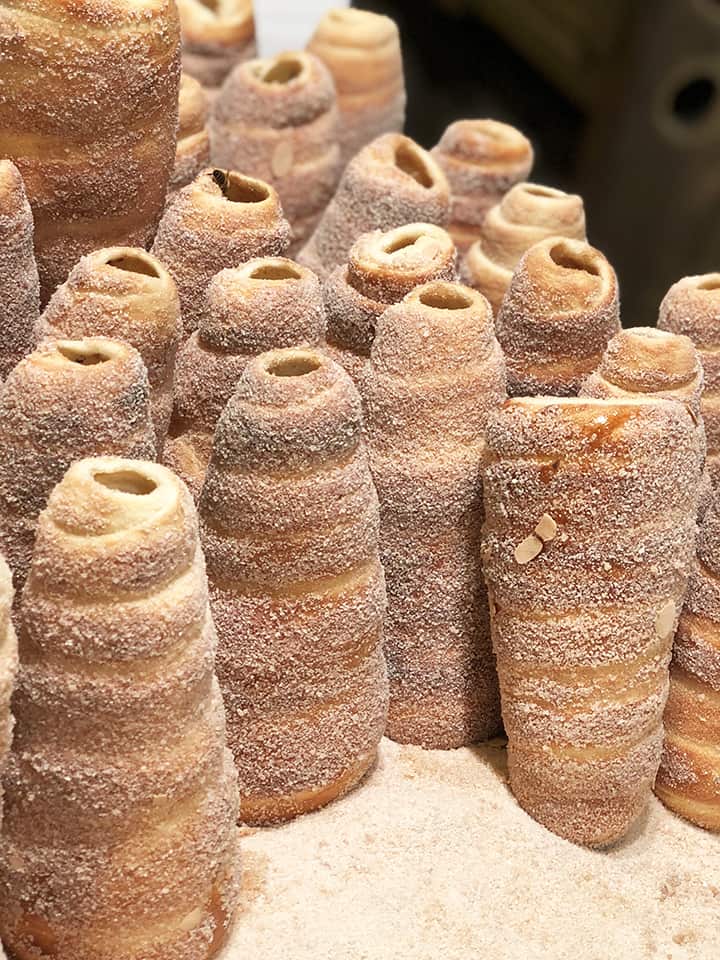 This sweet pastry is made from dough that's wrapped around a stick (basically a spit) and grilled. Once it's cooked, Tredelník is coated in cinnamon sugar or cinnamon and walnuts. The end result is a hollow cone that's perfect for filling ice cream!
Above: Thank you to my hand model (and travel partner) Lara from laraclevenger.com! I didn't try it, but she enjoyed the Tredelník.
You can find Tredelník for sale in any touristy area in Prague. It's one of the most popular Czech street food desserts!
Sachertorte
The original Sachertorte hails from the Sacher Hotel in Vienna, Austria. Franz Sacher, an Austrian Jewish pastry chef invented this elegant dessert, which became quite popular.
Sachertorte is chocolate cake that's layered with apricot jam, coated with chocolate icing, and served with unsweetened whipped cream.
I saw Sachertorte available at several coffee shops and pastry shops around Prague; give it a try if you see it!
Moravian Wine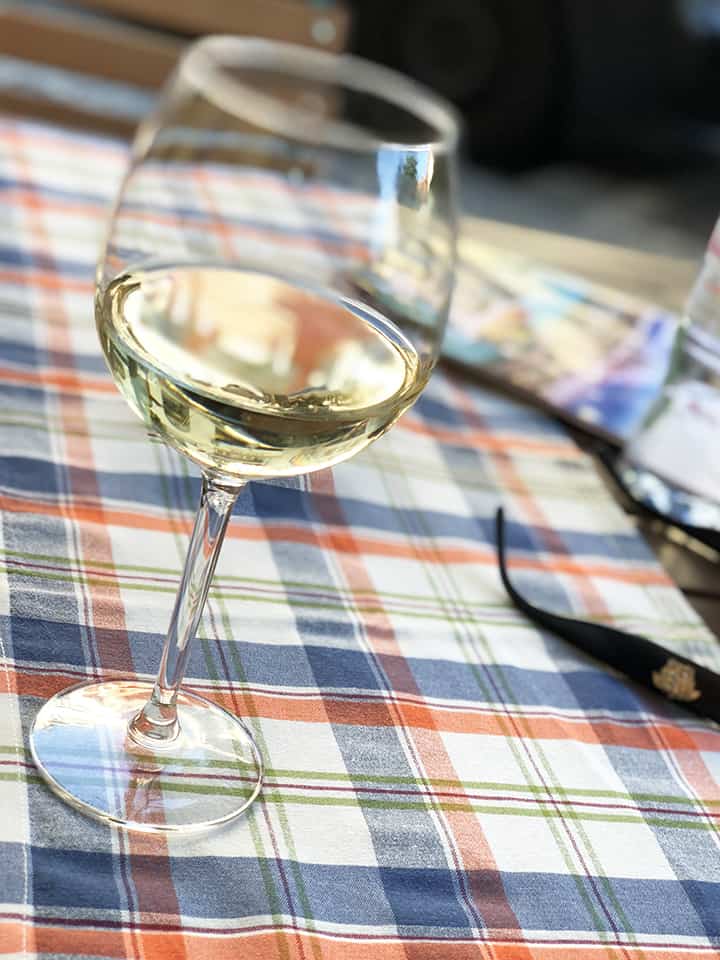 Much of the wine in Prague comes from Moravia. According to Wikipedia, about 96% of vineyards in the Czech Republic are in Moravia.
Moravia is about 150 miles away from Prague, bordering Austria and Slovakia. And it's full of lush vineyards!
When I was in Prague, because it was summer and the weather was (pleasantly) warm, I got a white wine. It delicious and refreshing, not overly sweet, but also not dry. I can't remember what kind of wine I got, but my favorite wine is Sauvignon Blanc, a varietal that they actually do grow in Moravia, so I'm guessing it was that!
Wine production in Moravia is quite interesting if you'd like to read more about it:
Czech Beer
Czech Republic is famous for beer, and for good reason! Their history of beer is very interesting, and dates even further back than the Slavic migration there in the 6th century.
In Prague, Břevnov Monastery was brewing beer in 993. The city of Brno was brewing in the 12th century. And in the 13th century, the cities of Plzeň and České Budějovice (Pilsen and Budweis in German) had breweries.
Golden lager pilsner-style beers are the most common type of Czech beers.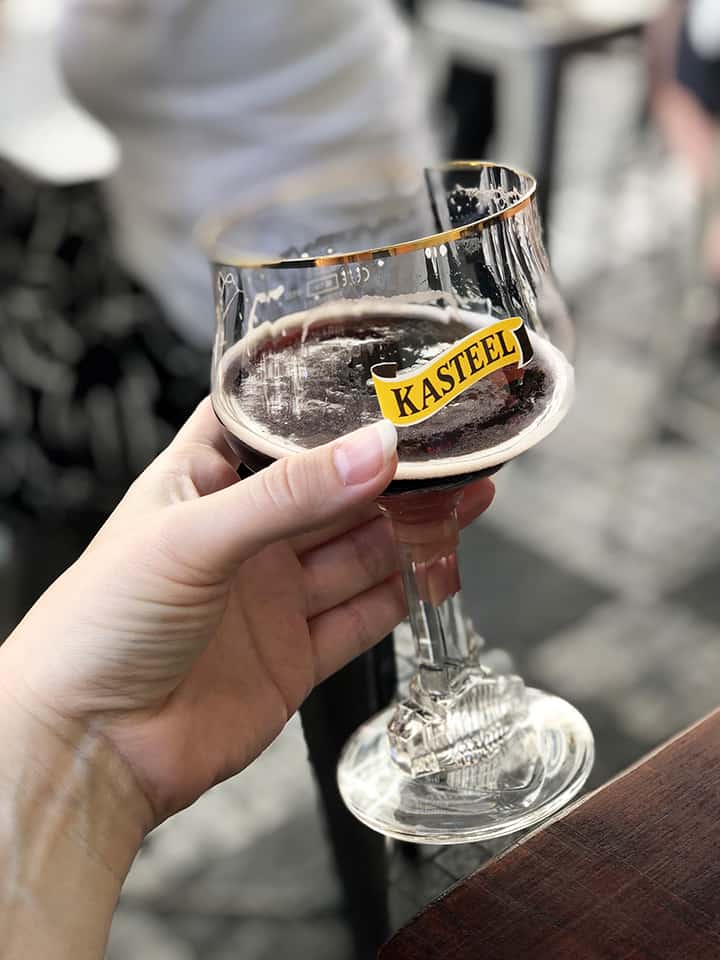 Above: Kasteel Rouge, a Belgian blend of Kasteel Donker and cherry liquor that I enjoyed at a pub in Prague.
However, when I was in Prague I tried a Kasteel Rouge, which is a Belgian beer. It's a blend of Kasteel Donker and cherry liquor, and it was absolutely delicious!
Read more about Czech beer:
Prague Food Prices – How Expensive is Food in Prague?
Compared with London, Paris, and other places in Europe, I found the food in Prague, Czech Republic was very reasonably priced and affordable!
The currency in Czech Republic is called "Czech Koruna". The currency code is CZK and the currency symbol is Kč. At the time of writing this article (January 2020), the currency exchange rate is 1 USD = 22.64 CZK.
Take a look at the menu board photo and menu photo (both photos are below), so you can see the prices for a few items. For example, the Kulajda soup in this post cost 129CZK, which was around 5.70USD.
Above: Restaurant menu in Malá Strana area of Prague.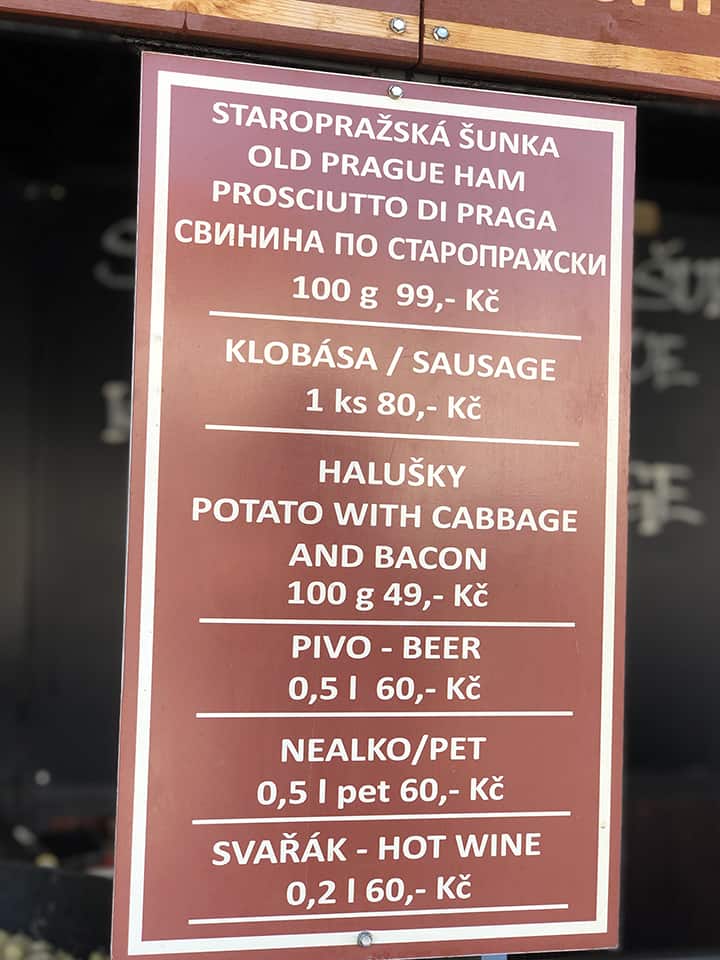 Above: Street food menu board in Old Town Square, Prague, Czech Republic.
More of the Best Traditional Czech Food in Prague
In this article I shared quite a few traditional Czech foods that you definitely don't want to miss in Prague! However, there's so much more that I didn't even get to try.
Next time I go back to Prague, here's my list of traditional Czech foods to try:
Česnečka (Garlic "Hangover" Soup)
Chlebíčky (Open-Faced Czech Sandwiches)
Koláče (Czech Sweet Rolls)
Svíčková (Beef with Root Vegetable Puree and Dumplings)
More Prague Travel Information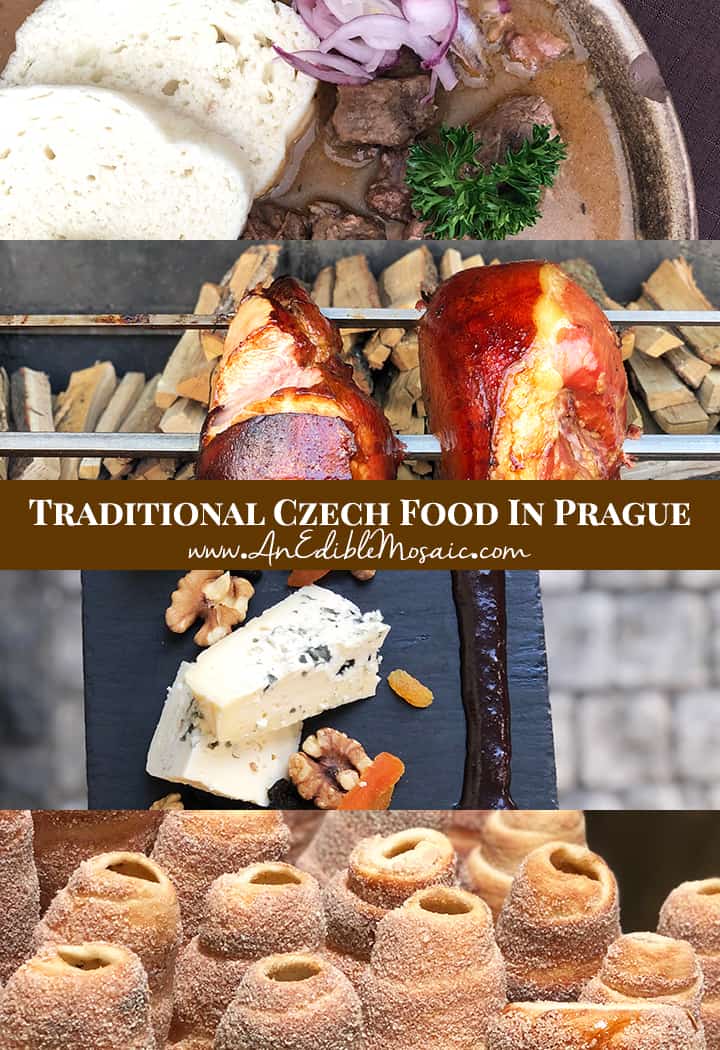 Did you enjoy this article or make one of my recipes? Please rate it and leave a comment below because I love hearing from you! You can also tag @anediblemosaic on social media. To stay up-to-date FOLLOW ME on Instagram, Twitter, and Facebook. Xoxo, Faith