Dukkah (Egyptian Nutty Herb and Spice Mix) is a savory, nutty herb and spice blend that's surprisingly addictive.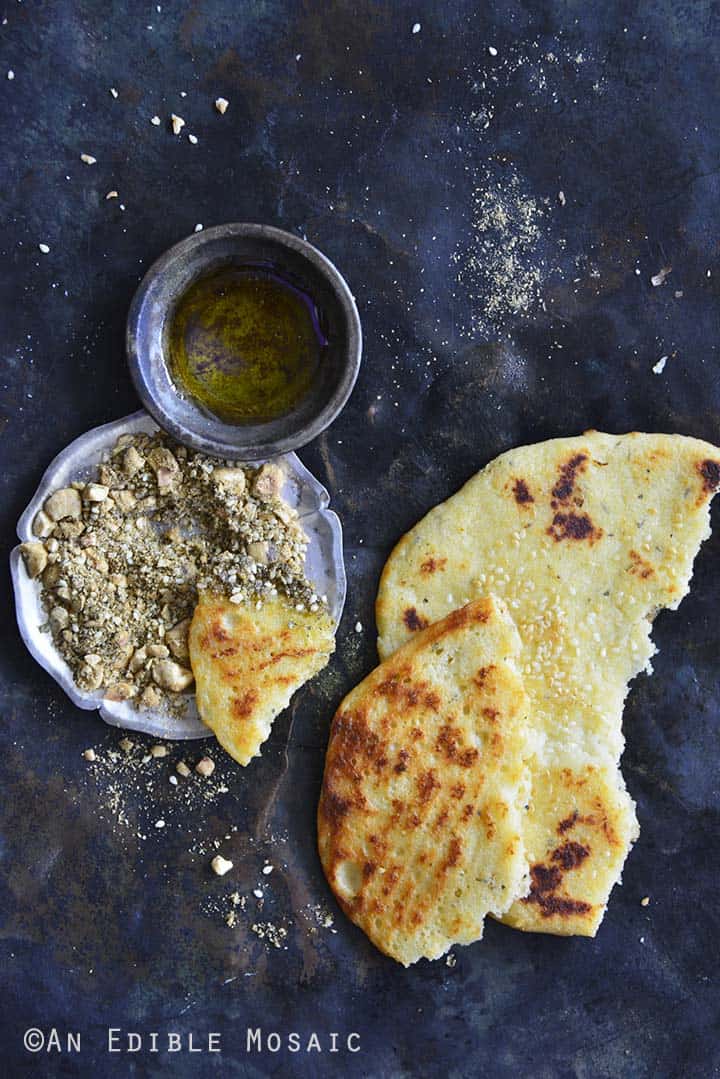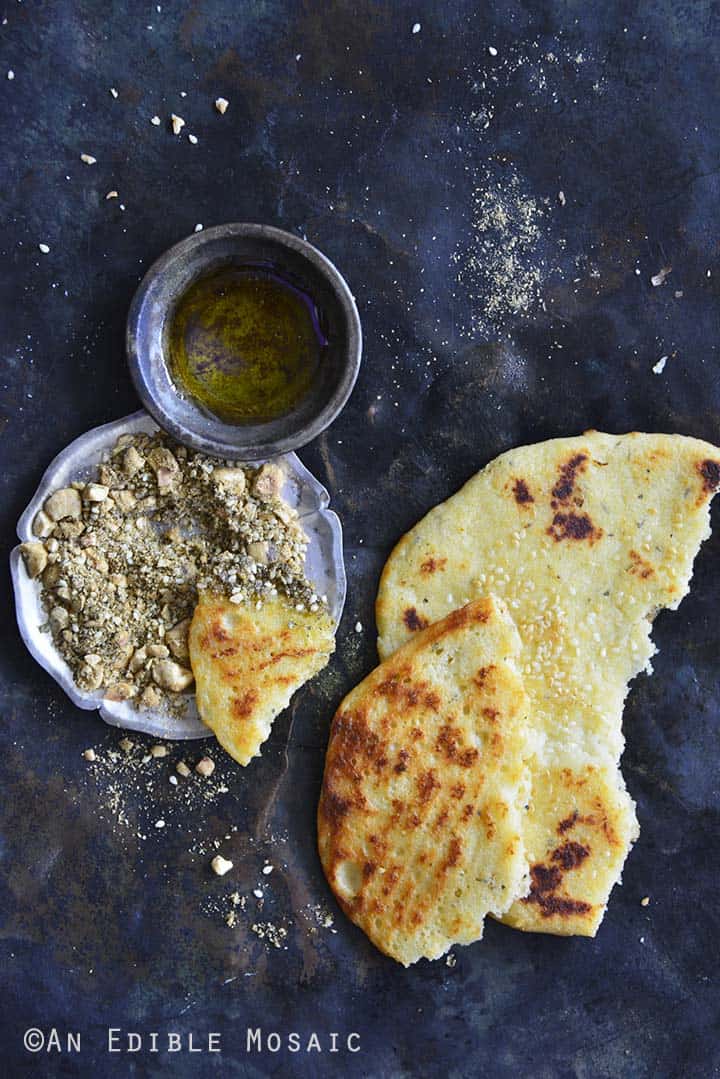 The flatbread pictured above is low-carb! It's a recipe I developed for www.TheKetoQueens.com and I'll be sharing it on that site soon. Once the recipe is up, I'll add the link here. My Paleo Flatbread would also be delicious!
When I lived in and visited the Middle East, one of my favorite things to shop for was spices. The spice shops were vibrant; full of heady, exotically-spiced air, a rainbow of colors, and of course all the usual clamor that goes along with your typical lively marketplace. They sell all manner of leaves, barks, and flowers in addition to spices, and they use them to make the most magical things.
I was recently looking through my travel photos and I came across a few pictures I took of spice markets in Damascus, Syria in March 2011. The area was a Palestinian refugee camp called Yarmouk. The people, their land, and their culture quickly found a way into my heart (you can read more about my thoughts on living in the Middle East in this post), and I wanted to share a few of my pictures from the spice markets.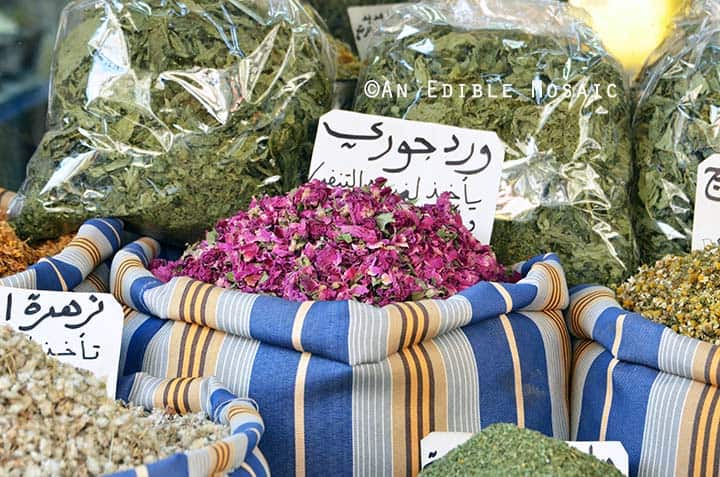 Middle Eastern spice shops specialize in a custom spice blend for just about anything and everything; a few of the more popular ones I've seen are meat spice mix (for red meat), chicken spice mix, fish spice mix, shawarma spice mix, cake spice mix (for sweets like mamoul), and a thyme mix called Za'atar (perfect for eating with flatbread dipped in olive oil). They even add spice (cardamom) to their coffee (and it's delicious!).
Dukkah is a mix hailing from Egypt. It shares a few of the same components as Za'atar, such as thyme and sesame seeds, and like Za'atar, recipes for Dukkah vary slightly by region and family. I've seen Dukkah mixes that use different nuts, such as almonds, pistachios, or hazelnuts, or leave them out entirely. I went with hazelnuts here, because that's what intrigued me most (although pistachio was next on my list). Feel free to swap out the hazelnuts for whatever strikes your fancy though. I've even seen versions of this spice mix that add fennel seeds, shredded coconut, or sweetener. I am definitely intrigued!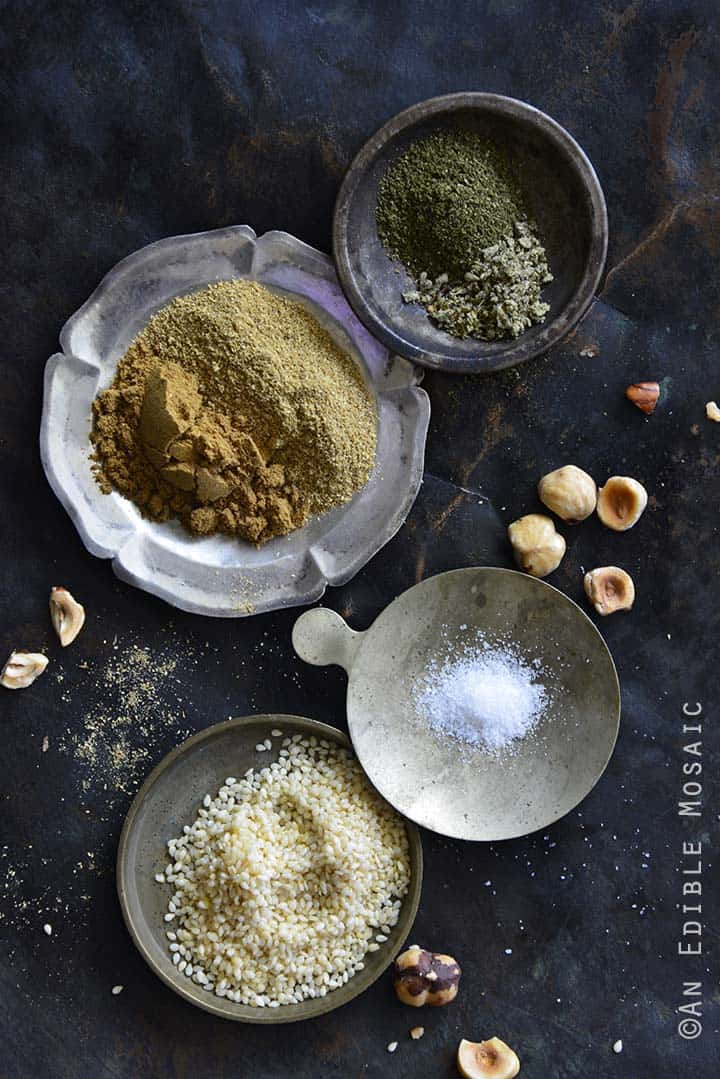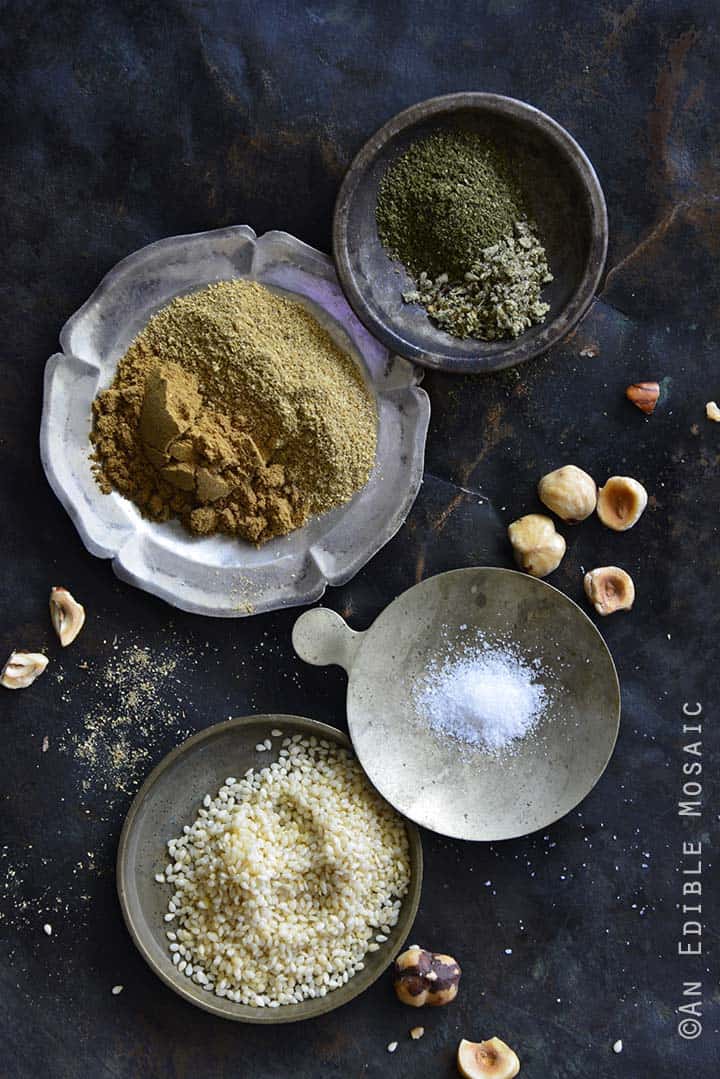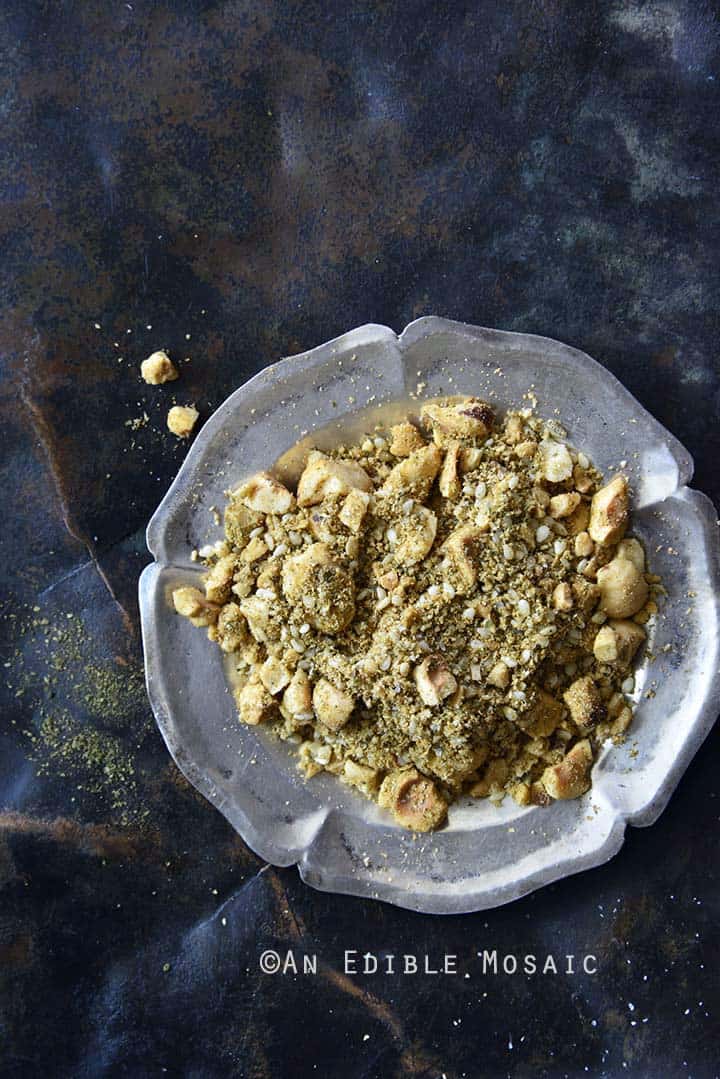 I was unsure as to how the use of mint would fare in the mix, but it's one of my favorite components. It adds a vibrancy and almost sweetness, without actually adding sweetener. I know it might sound like an odd addition, but don't skip it!
Now that I've made Dukkah, how do you use it?, you ask. It's one of those things that I continuously find new purposes for. A few of my favorites include: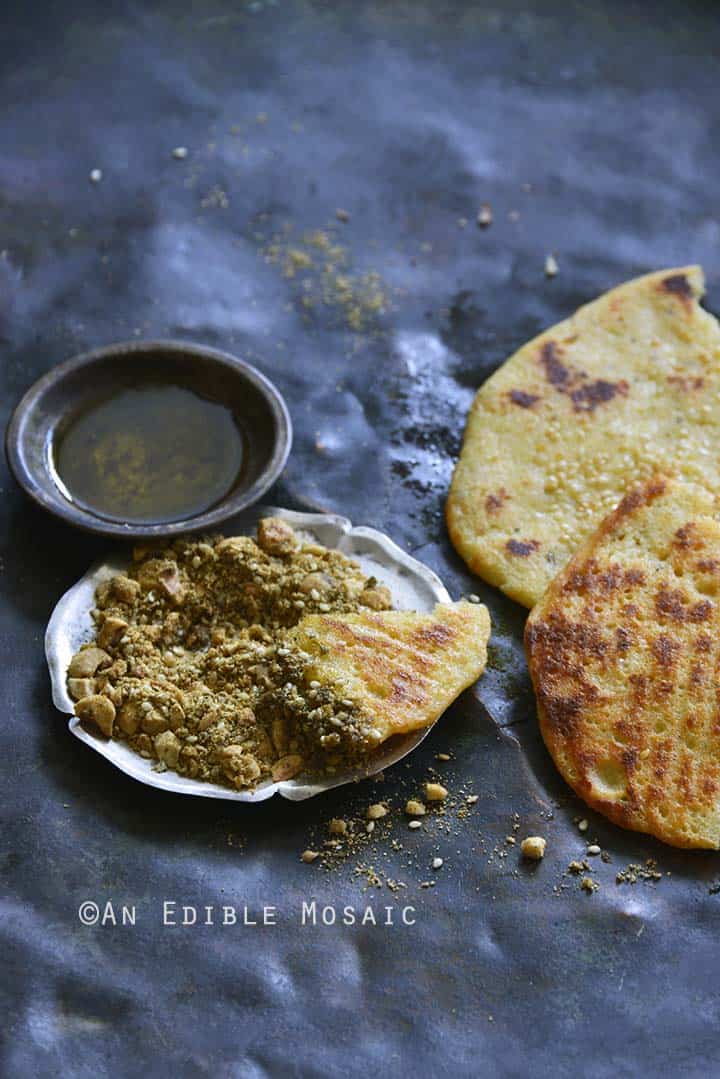 A few more ways to use Dukkah:
What's your favorite spice mix?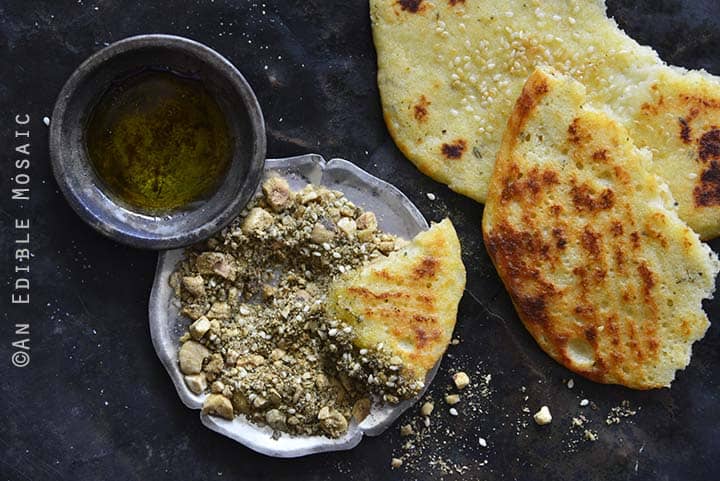 Dukkah (Egyptian Nutty Herb and Spice Mix)
Dukkah (Egyptian Nutty Herb and Spice Mix) is a savory, nutty herb and spice blend that's surprisingly addictive.
Ingredients
6 tablespoons dry-roasted unsalted hazelnuts, coarsely crushed in a food processor or mortar and pestle
1 tablespoon ground cumin
1 tablespoon ground coriander
1 tablespoon sesame seeds, lightly toasted (coarsely crushed if desired, but I leave them whole)
2 teaspoons ground mint (see Note)
½ teaspoon ground thyme
¼ teaspoon sea salt
Instructions
Mix together all ingredients and store in an airtight container at room temperature for up to 1 month.
Notes
Mint:
If you have trouble finding ground mint, you can usually find
dried mint leaves
and grind them easily in a spice grinder.
Disclosure: This post contains Amazon affiliate links to products I believe in, which means that even though it doesn't cost you anything extra, I will receive a small amount of money from the sale of these items, which helps me keep this site alive – thank you for helping to support An Edible Mosaic!