This Dukkah recipe (Egyptian Herb and Spice Mix) is a savory, nutty herb and spice blend that packs a punch of flavor and crunch.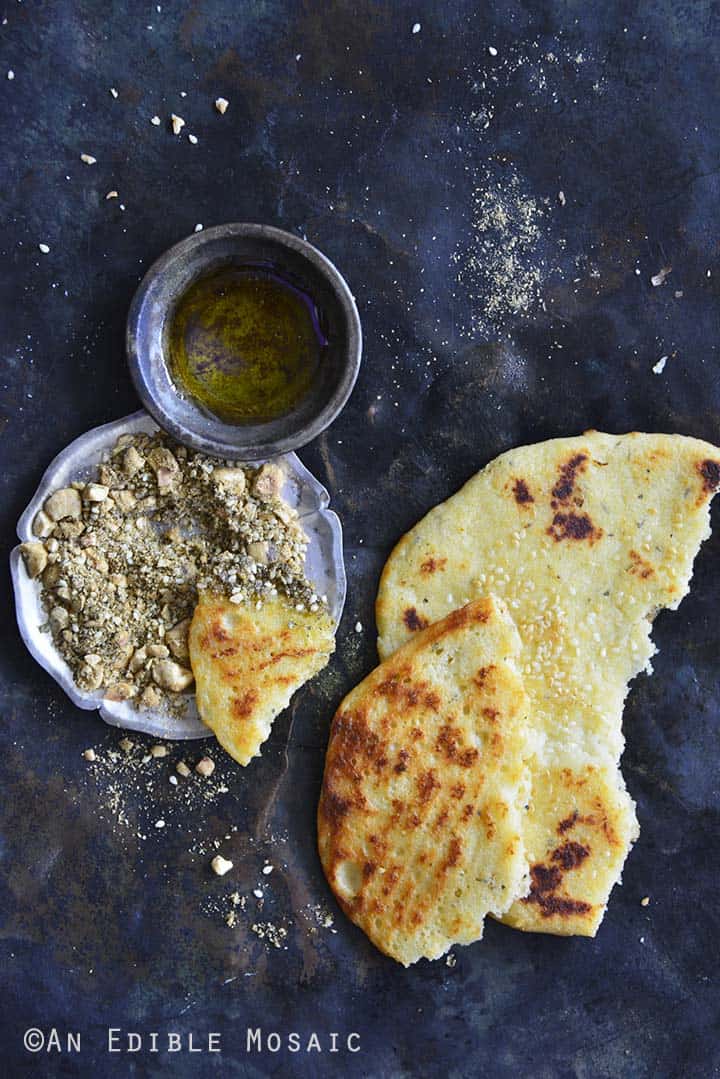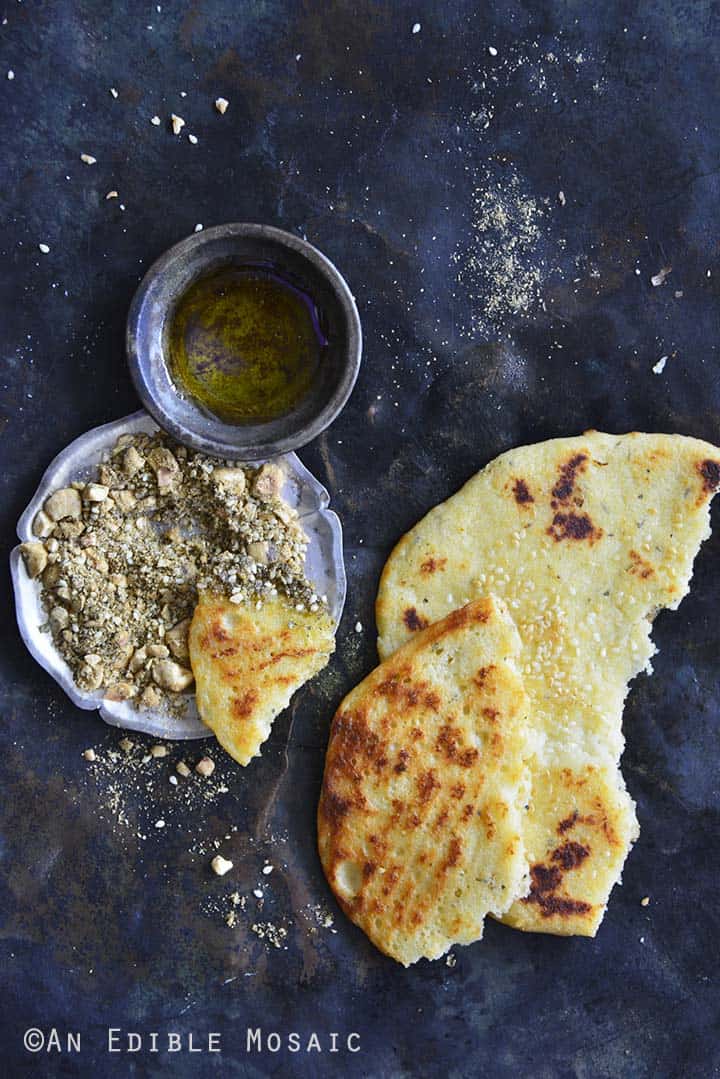 Pictured above is my Low Carb Flatbread recipe from The Keto Queens. Paleo Flatbread would also be delicious!
When I lived in and visited the Middle East, one of my favorite things to shop for was spices. The spice shops were vibrant; full of heady, exotically-spiced air, a rainbow of colors, and of course all the usual clamor that goes along with your typical lively marketplace.
Spice shops in the Middle East sell all manner of leaves, barks, and flowers in addition to spices, and they use them to make the most magical things.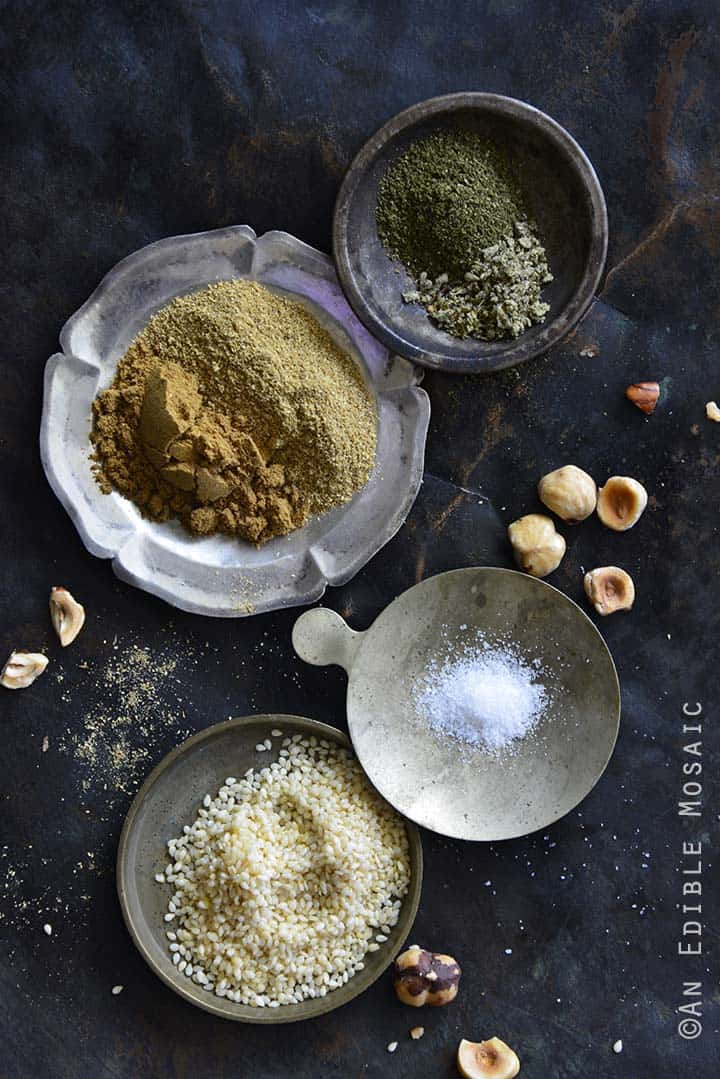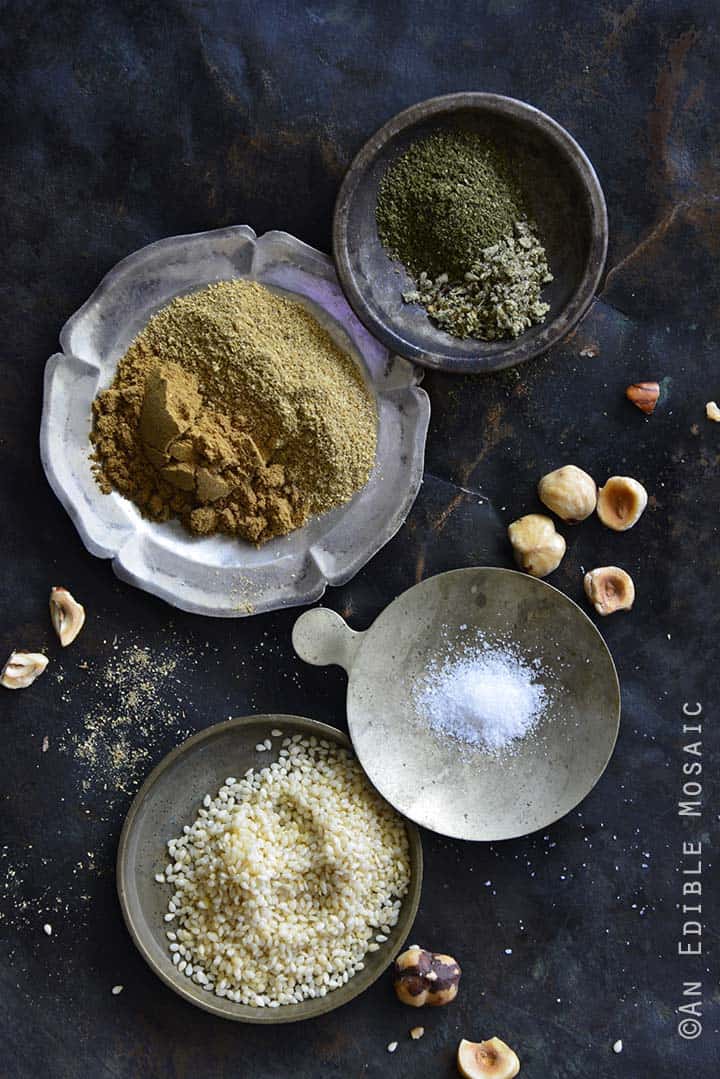 Middle Eastern spice shops specialize in a custom spice blend for just about anything and everything.
A few of the more popular spice blends I've seen are meat spice mix (for red meat), chicken spice mix, fish spice mix, shawarma spice mix, cake spice mix (for sweets like mamoul), and a thyme mix called Za'atar (perfect for eating with flatbread dipped in olive oil).
They even add spice (cardamom) to their coffee (and it's delicious!).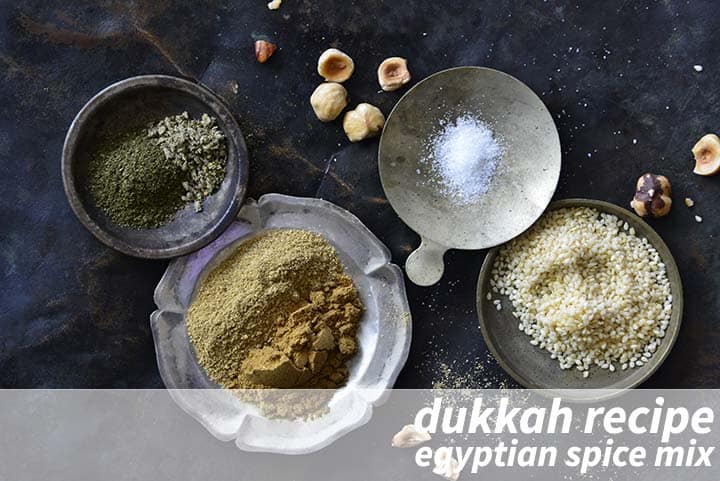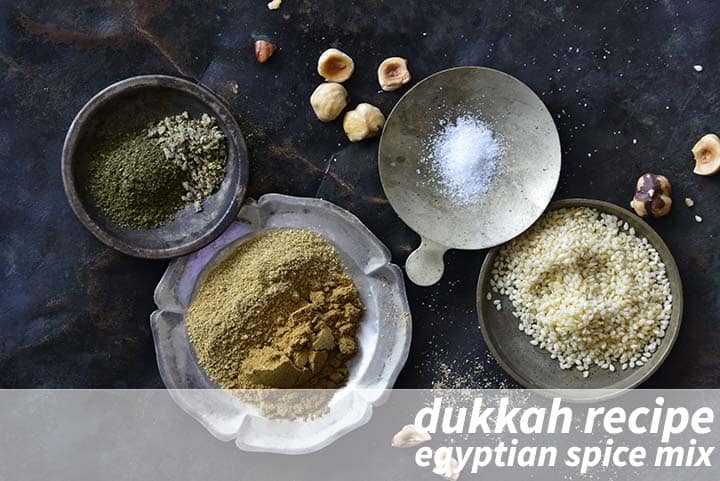 What is Dukkah?
Dukkah (also transliterated duqqa and dukkha) is an herb and spice mix hailing from Egypt. Similar to Za'atar, recipes for Dukkah vary slightly by region and family.
Authentic Dukkah Spice Mix Recipe
If you're wondering what's in Dukkah?, that question isn't necessarily an easy one to answer. Common ingredients include toasted nuts, sesame seeds, and savory spices like cumin and coriander.
I've seen Dukkah mixes that use different types of nuts, such as almonds, pistachios, or hazelnuts, or leave them out entirely. I went with hazelnuts here, because that's what intrigued me most (although pistachio was next on my list). Feel free to swap out the hazelnuts for whatever strikes your fancy though.
I was unsure as to how the use of mint would fare in this Dukkah recipe, but it's one of my favorite components. It adds a vibrancy and almost sweetness, without actually adding sweetener. I know it might sound like an odd addition, but don't skip it!
I've also seen versions of this spice mix that add fennel seeds, shredded coconut, or sweetener. I am definitely intrigued to experiment with the recipe!
Egyptian Dukkah Ingredients
Dry roasted unsalted hazelnuts - swap these out for almonds or pistachios if you prefer; be sure to toast them for the richest, deepest flavor
Cumin - cumin has an earthy warm flavor with a hint of peppery, citrusy notes
Coriander - coriander adds a bright lemony flavor
Sesame seeds - sesame seeds are mildly sweet and nutty with a touch of bitterness
Dried mint - mint is subtly sweet and grassy with a mild cooling effect
Ground thyme - thyme is loved for its citrusy, lemon notes, as well as its earthy, subtly mint-like flavor
Sea salt - to enhance the flavor of everything else
How to Make Dukkah
Mix together all ingredients.
Storage
Store Dukkah in an airtight container at room temperature in a cool, dark place (such as your spice cabinet) for up to 1 month.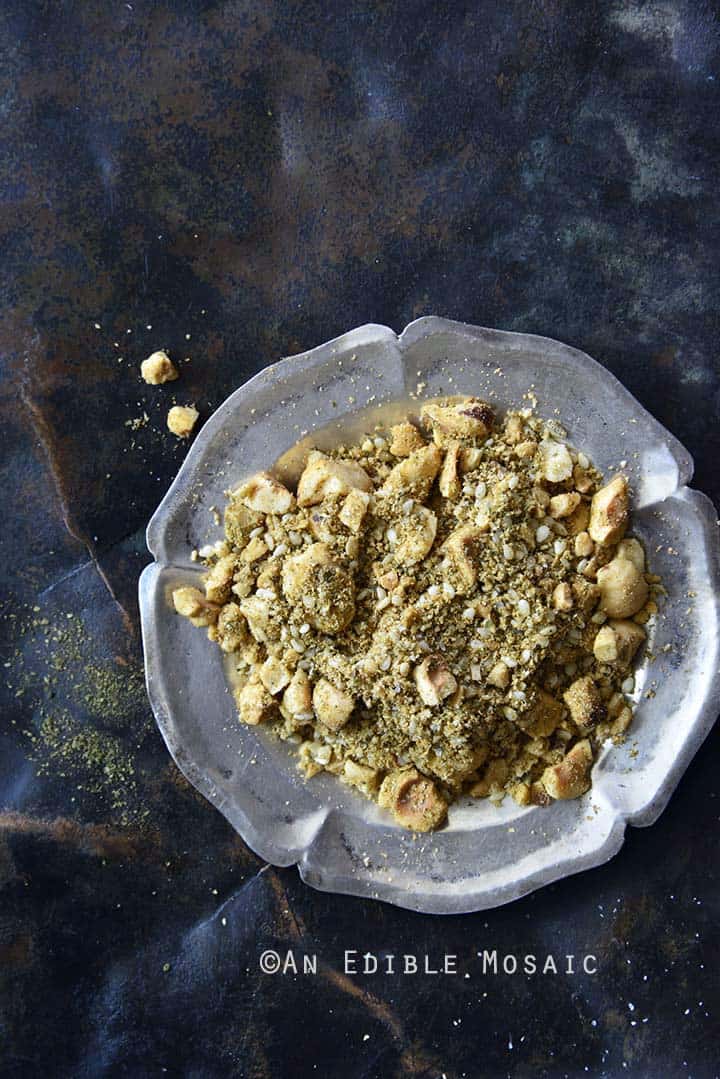 Egyptian Dukkah FAQs
Is Dukkah the Same as Za'atar?
Dukkah shares a few of the same components as Za'atar, such as thyme and sesame seeds. However, Dukkah and Za'atar are different spice blends.
What Does Dukkah Taste Like?
Dukkah spice has a toasted, nutty flavor with bright citrusy notes, savory undertones, and a hint of earthy sweetness.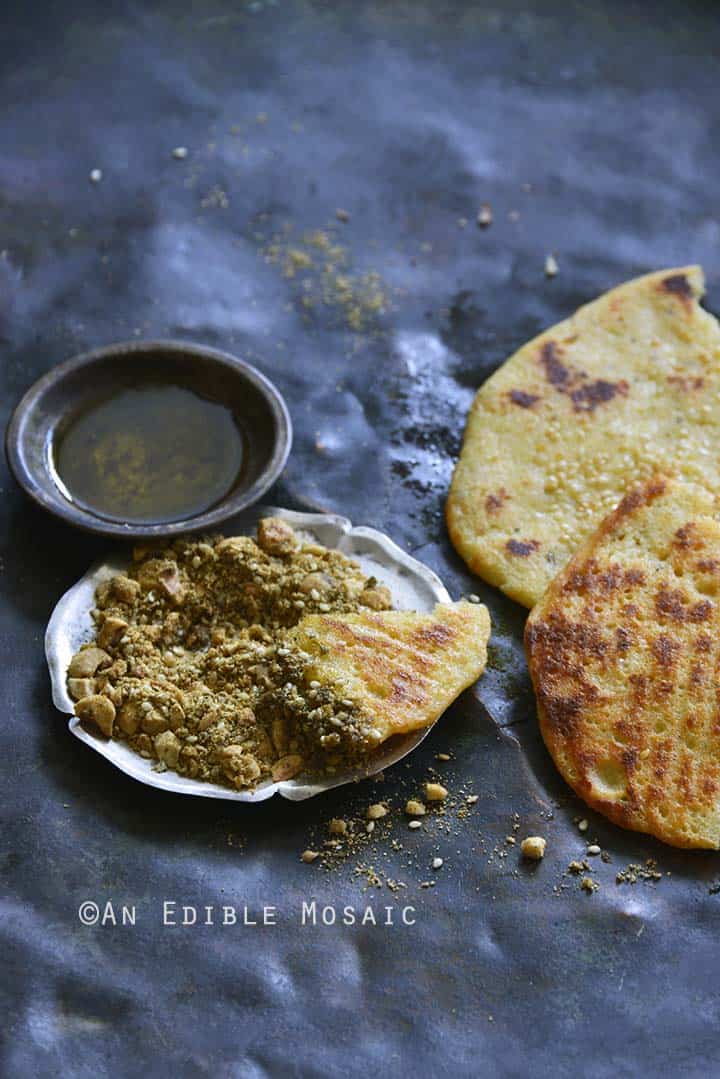 How Do You Use This Dukkah Spice Mix Recipe?
There are so many uses for this Dukkah spice blend!
Egyptian Dukkah is one of those things that I continuously find new purposes for. A few of my favorites include:
More Spice Mixes to Try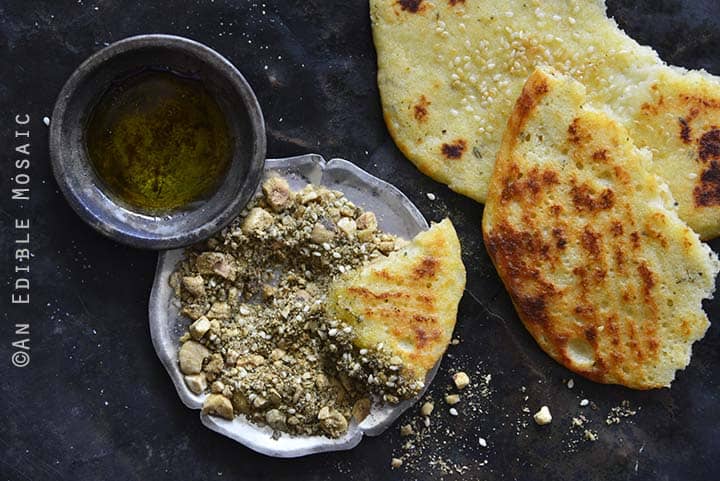 Let's Connect


Did you make this recipe? Please rate it and leave a comment below. You can also tag @anediblemosaic on social media.
To stay up-to-date, follow me on Facebook, Instagram, Pinterest, and Twitter!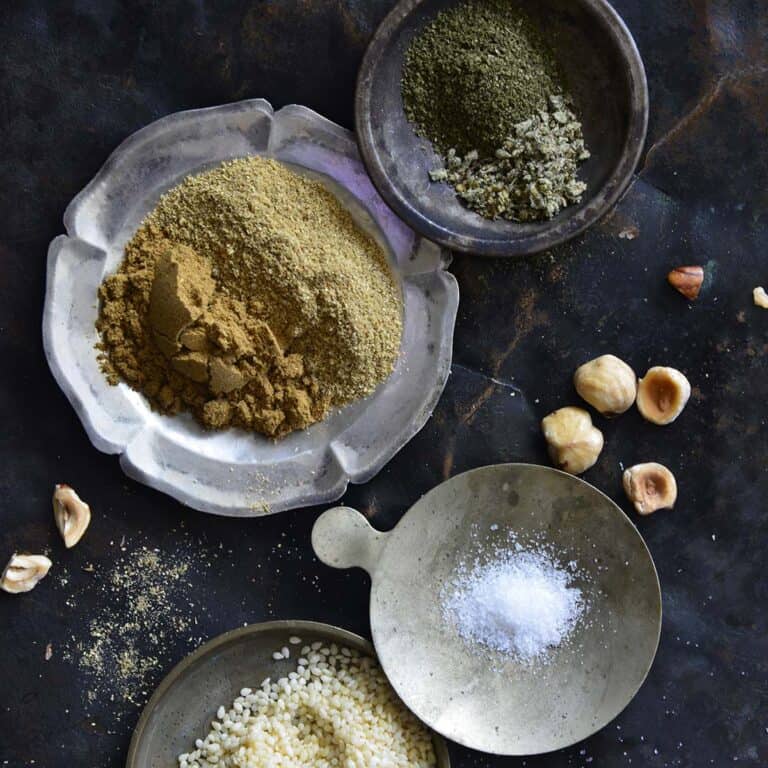 Dukkah Recipe (Egyptian Herb and Spice Mix)
This Dukkah Recipe (Egyptian Herb and Spice Mix) is a savory, nutty herb and spice blend that packs a punch of flavor and crunch.
Instructions
Mix together all ingredients.

Store in an airtight container at room temperature for up to 1 month.
Faith's Tips
Net Carbs: 1g per serving
Recipe Yield and Serving Size: Each serving is 1 tablespoon. This recipe makes about ½ cup, for 8 (1-tablespoon-sized) servings.
Nutrition
Nutrition Facts
Dukkah Recipe (Egyptian Herb and Spice Mix)
Amount Per Serving (1 tablespoon)
Calories 58
Calories from Fat 45
% Daily Value*
Fat 5g8%
Sodium 74mg3%
Potassium 77mg2%
Carbohydrates 2g1%
Protein 2g4%
Vitamin A 10IU0%
Vitamin C 1mg1%
Calcium 30mg3%
Iron 1mg6%
* Percent Daily Values are based on a 2000 calorie diet.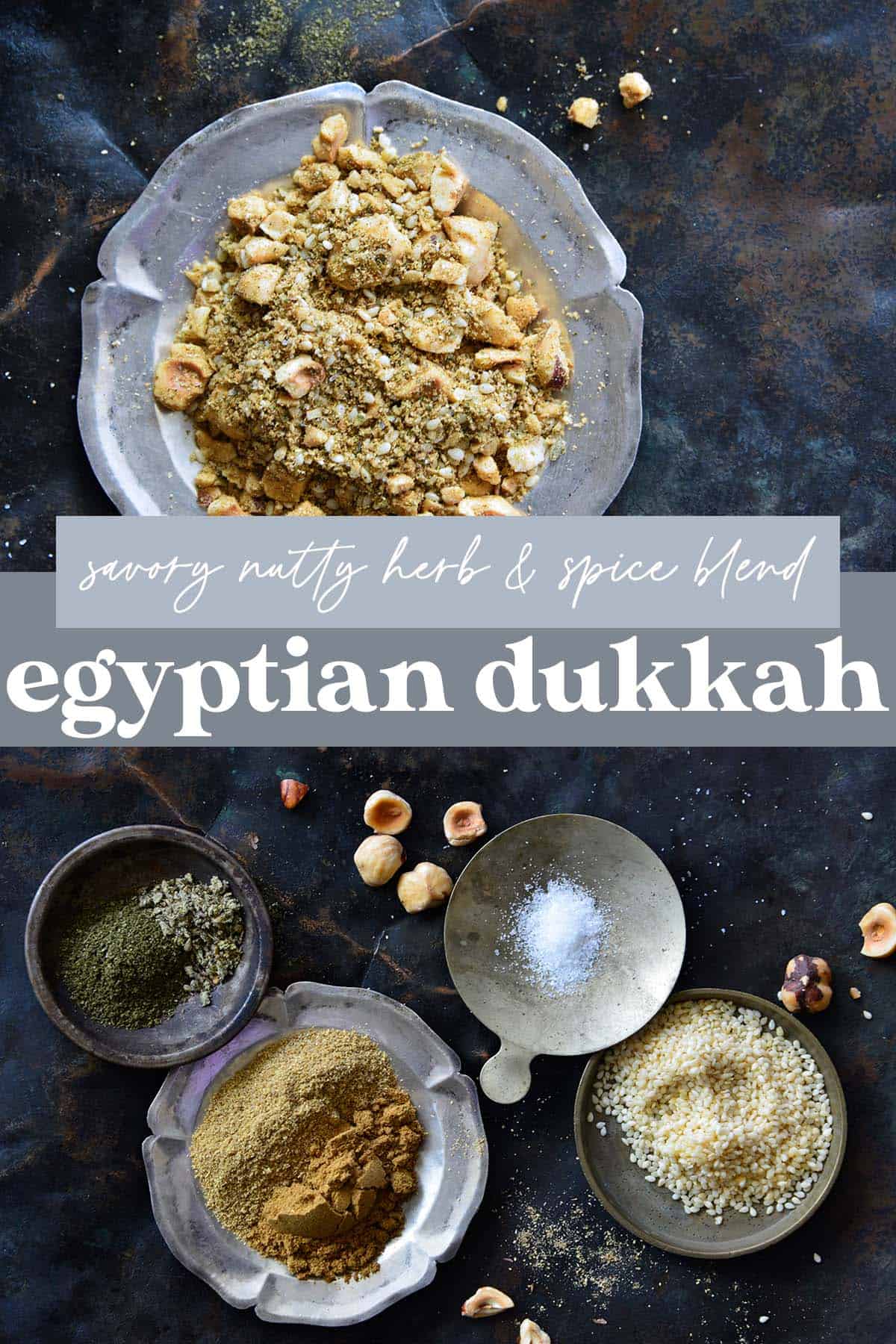 Spice Market Photos from Yarmouk in Damascus Syria in March 2011
I was recently looking through my travel photos and I came across a few pictures I took of spice markets in Damascus, Syria in March 2011. The area was a Palestinian refugee camp called Yarmouk.
The people, their land, and their culture quickly found a way into my heart. (If you're interested, you can read more about my thoughts on living in the Middle East in this post.) I wanted to share a few of my pictures from the spice markets there.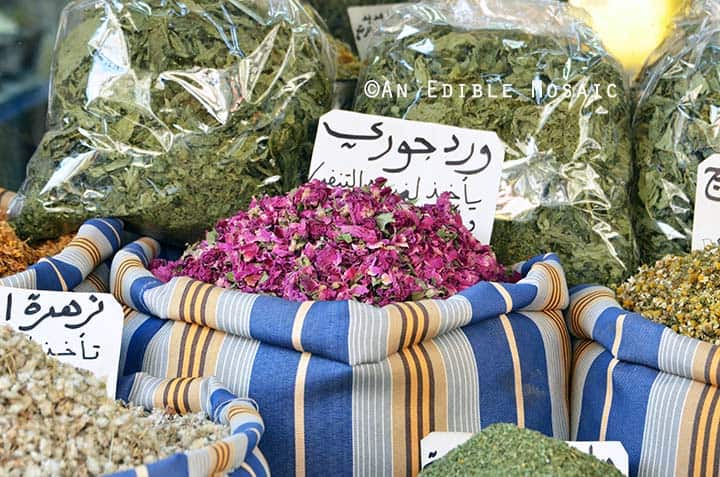 This post was first published on An Edible Mosaic on March 23, 2018. I updated it with more information on July 10, 2023.