Dukkah-Crusted Blackened Salmon is packed with flavor, easy to make, and perfect for weeknight dinner.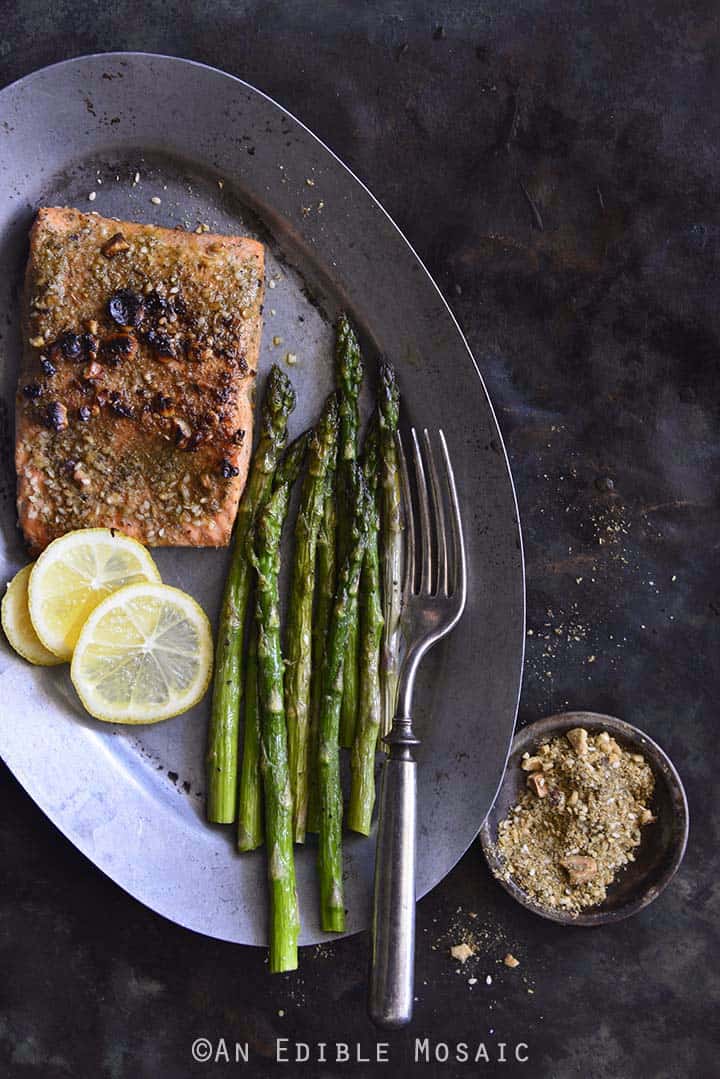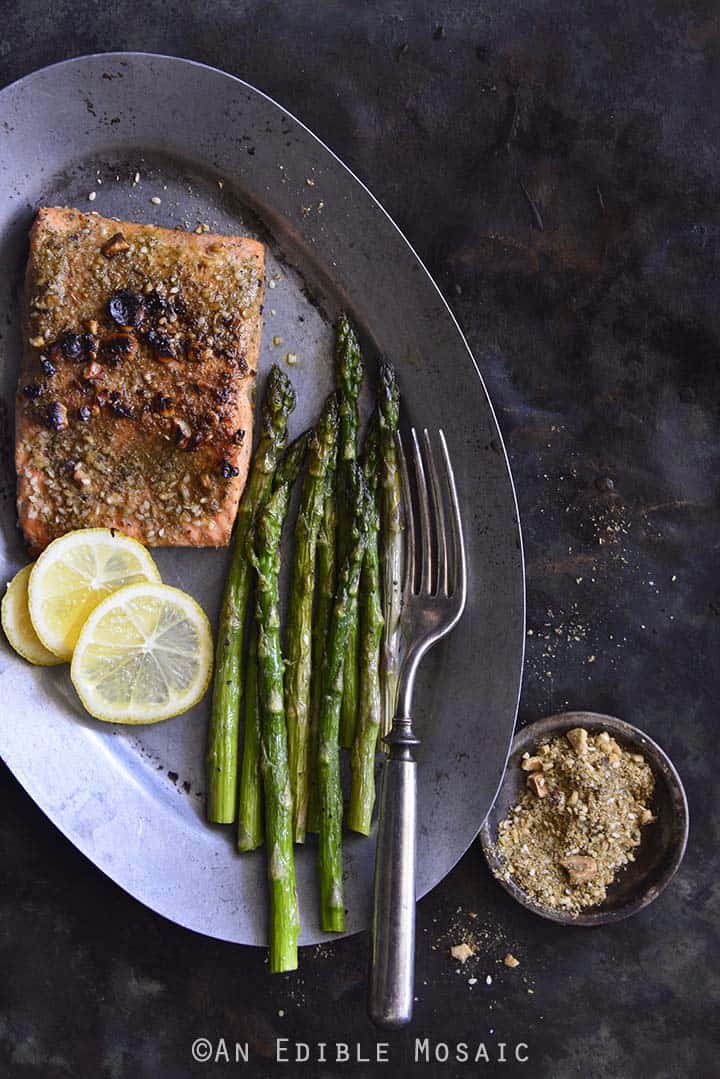 How often to you eat salmon? A few years back, my doctor told me to eat it once or twice a week to try to improve my "good" HDL cholesterol, and for a while I was on top of my game!
Salmon was a weekly thing for me; every Tuesday, dinner was pan-seared salmon with spicy garlic and olive oil broccoli. It might sound monotonous (which it kind-of was, lol), but it was easy, delicious, and a great way to make sure I didn't forget. It's so much easier to keep momentum going once you have a routine established; the hard part is reestablishing a habit once you've stopped for a while.
Anyway, something eventually came up and disrupted my routine. Since then, it's been hit or miss for me with remembering to get my salmon in. I think maybe one of the biggest issues I have about getting back into my salmon habit is that even though I love pan-seared salmon, I do need to switch up the flavors a little.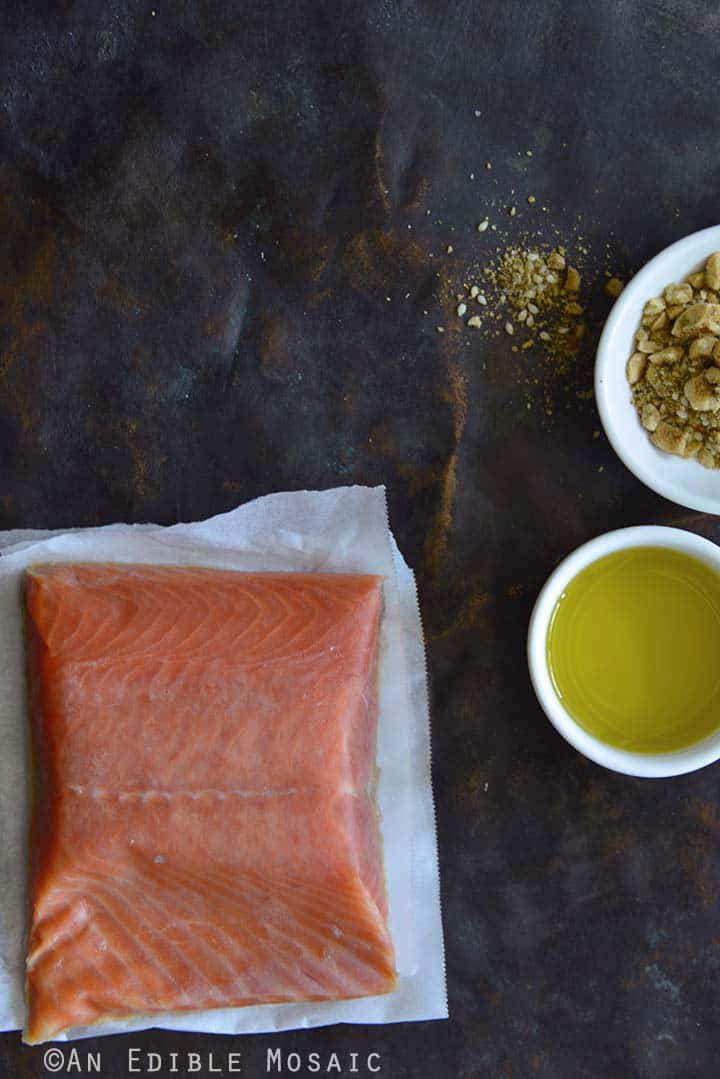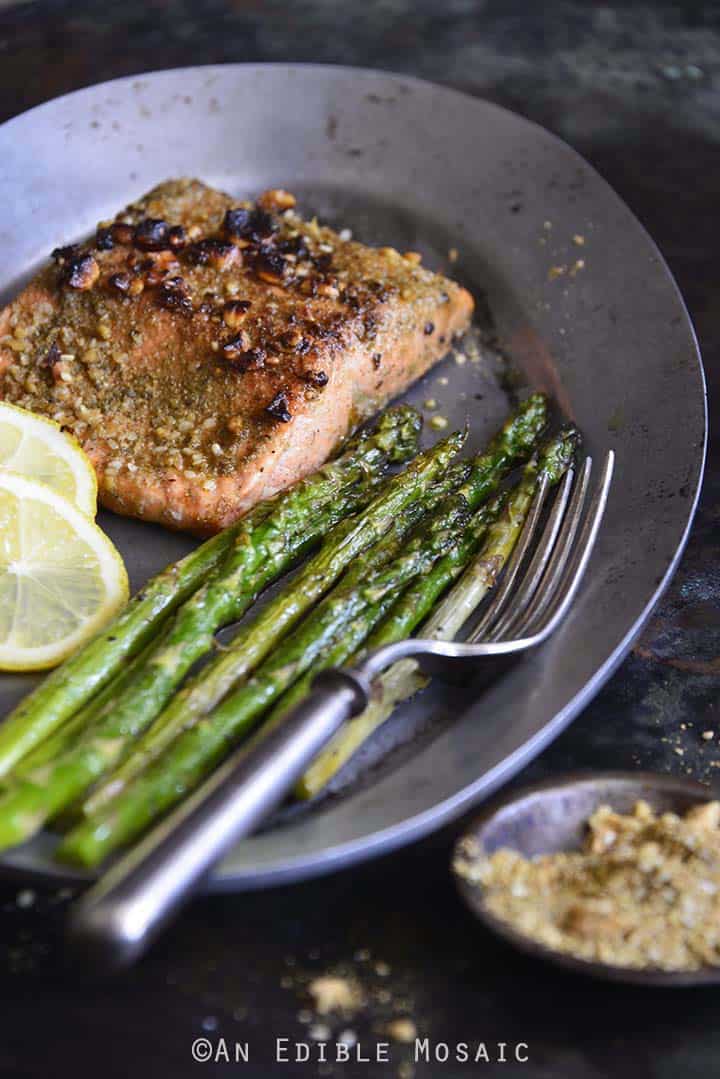 Blackened salmon is always a winner, and it's so easy to change up the flavor profile just by using different spice mixes. Here I went with Dukkah (because I'm obsessed with it right now), which I shared a recipe for last week. Or if you're pressed for time and prefer pre-made, this mix looks good!
More salmon inspiration:
Do you like salmon and if so, what's your favorite way to make it?
Dukkah-Crusted Blackened Salmon
Prep time:
Cook time:
Total time:
Dukkah-Crusted Blackened Salmon is packed with flavor, easy to make, and perfect for weeknight dinner.
Ingredients
4 tablespoons Dukkah spice mix (store-bought orhomemade)
4 (4 to 6 oz) boneless, skin-on wild salmon fillets (I used Greensbury Wild Sockeye Salmon)
2 tablespoons avocado oil, ghee, or another healthy oil with a high smoke point
Fresh lemon, for serving
Instructions
Sprinkle 1 tablespoon Dukkah onto the flesh side of each salmon fillet, gently pressing to help the spices stick.
Heat a large, heavy-bottomed skillet over medium-high heat. Once hot, add the ghee and once melted, add the salmon (spiced side down, skin side up). Cook until golden on the first side, about 2 to 3 minutes, and then flip and cook until the skin is golden and crisp, about 2 to 3 minutes more.
Turn the heat off and cover the skillet with a lid or piece of foil and let the salmon rest for 5 to 10 minutes.
Serve with fresh lemon to squeeze on top.
Disclosure: I received a sampling of Greensbury products for free; as always, opinions stated are my own. This post contains Amazon affiliate links to products I believe in, which means that even though it doesn't cost you anything extra, I will receive a small amount of money from the sale of these items, which helps me keep this site alive – thank you for helping to support An Edible Mosaic!