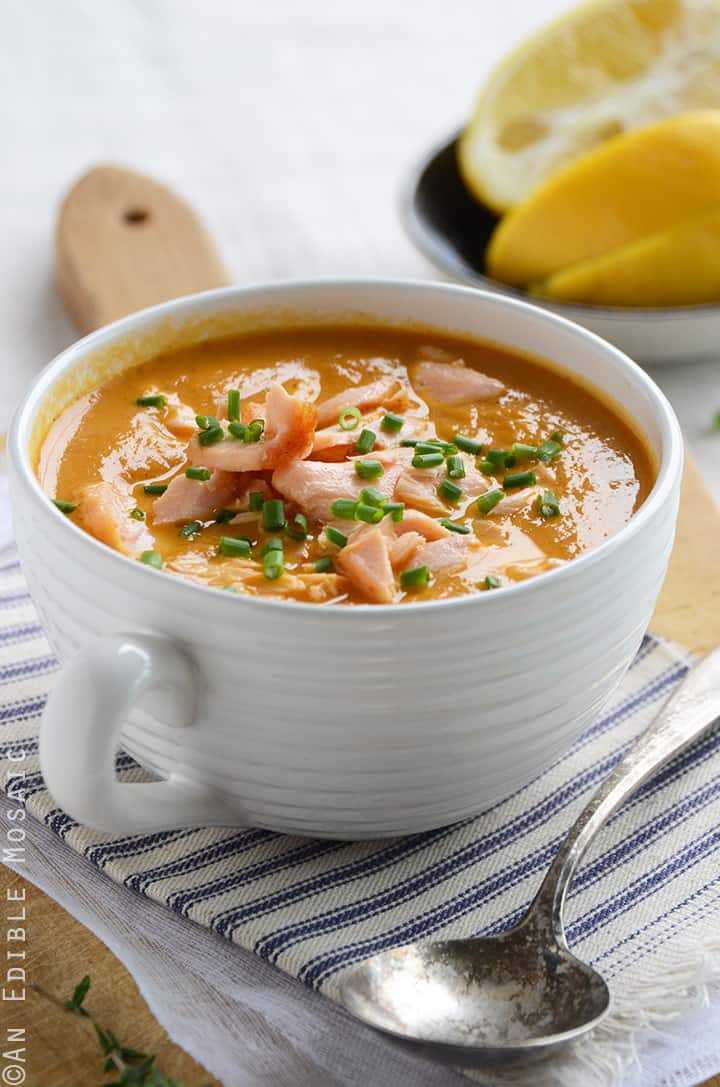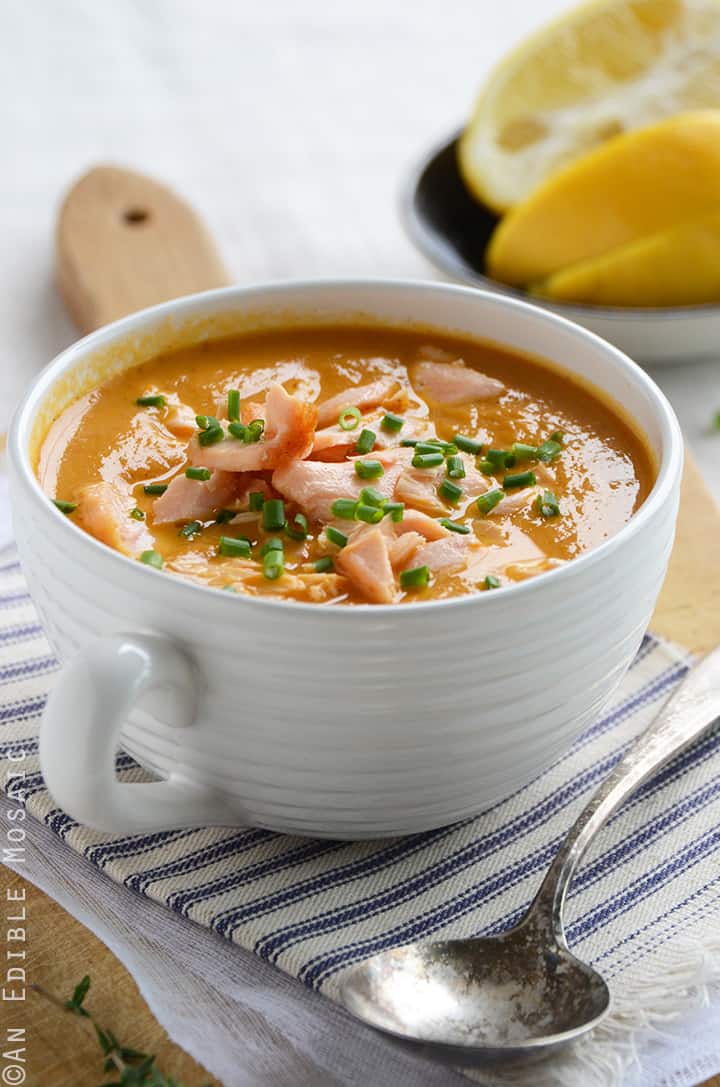 The way I remember a particular dish is by what was happening when I made it. In my mind, this will always be the soup of seven phone calls.
It was a chilly day a couple weeks ago (we had a cold front blow in that brought temps in the 50's and 60's with it…sounds strange for this time of year, but it really is par for the course with our crazy Upstate New York weather…and now we've had temps in the 80's/90's for the past few days!) when I made this soup, start to finish, without a single call. I set up my styling, plated my soup, and positioned my camera. I was about to take the first picture when the phone rang.
It was someone calling for Marco's Styling Salon, a hair salon down the street. Their phone number is one digit away from mine and I get wrong numbers from their clients all the time. Ok, that only took a second, back to work. Not two minutes later the phone rang again. It was a friend who needed life advice. I'm not one to turn away a friend in need, so we talked it out. Once we hung up, about five minutes went by and one of Marco's clients called again. (Darn it, Marco…I'm about to start scheduling appointments and charging you for secretarial services, lol!)
It went on like this the entire time I was trying to photograph this soup…I got four more calls in the time span of about an hour. And then, of course, once I finished photographing, the phone was silent until the next day.
The great thing about this bisque is that it only uses three tablespoons of cream; most of its rich, creamy texture comes from pureeing a mix of veggies. The flavor is brightened with fresh lemon, thyme and chives. If you have picky eaters who don't like salmon, this soup is perfect because the soup gets topped with salmon flakes, so just leave it off for people who don't like it…more for those of us who like salmon. ;)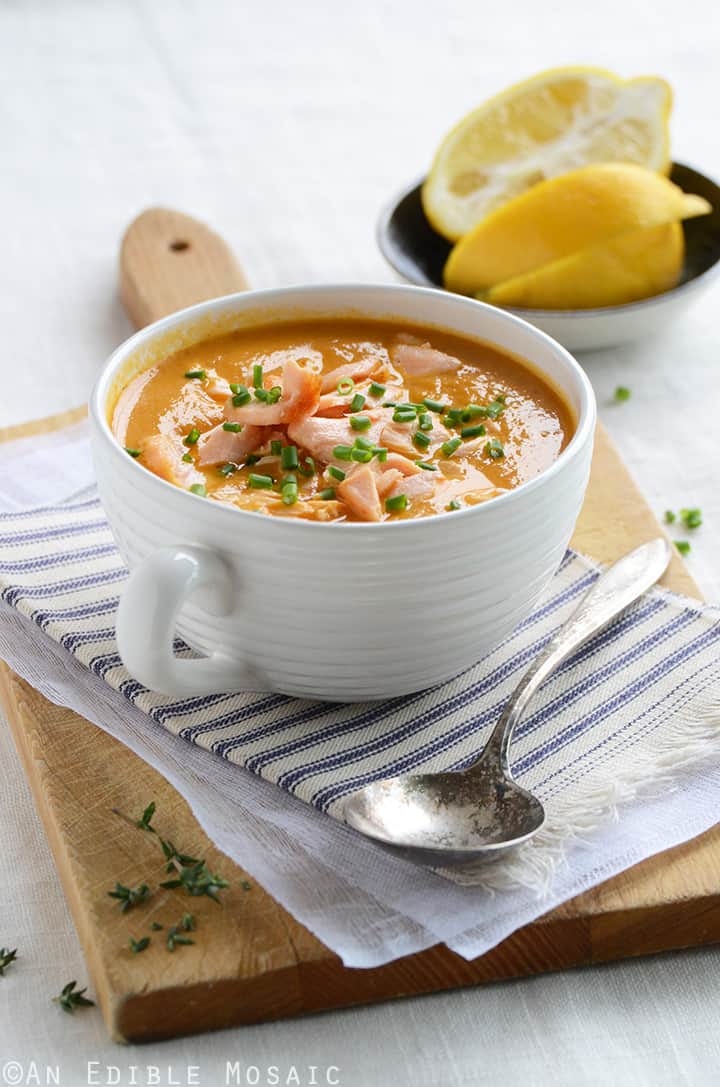 A Note on Cooking the Salmon: You can basically cook the salmon any way you like for this dish; grilling, poaching (see this post for instructions on how to poach salmon), pan-searing, broiling, or baking all work fine. I like to pan-sear the fish since it's quick and gives it bit of color on the outside; here's how to do it: lightly coat the bottom of a nonstick skillet with olive oil; heat the skillet over medium-high heat; season the salmon with salt and pepper and add the salmon when the oil ripples; cook the fish until golden on both sides, flipping once (about 2 to 4 minutes per side, depending how big your fillets are); put a lid on the skillet, turn off the heat, and leave it for 3 minutes to steam the inside of the fish.
Salmon Bisque
Prep time:
Cook time:
Total time:
A deliciously (healthy) rich and creamy salmon bisque that's made with only three tablespoons of cream and lots of veggies!
Ingredients
2 tablespoons butter
1 tablespoon canola oil
1 medium-large onion, chopped
2 large carrots, chopped
2 large stalks celery, chopped
3 cloves garlic, minced
1 tablespoon minced fresh thyme leaves (or 1 teaspoon dried thyme)
2 bay leaves
¼ cup dry white wine
5 cups low-sodium fish, chicken, or vegetable stock
2 tablespoons tomato paste
1 teaspoon Worcestershire sauce
1 teaspoon sweet paprika
½ teaspoon salt
¼ teaspoon black pepper
1 tablespoon fresh lemon juice
3 tablespoons heavy cream
1 lb wild salmon fillets, cooked and flaked
2 tablespoons minced fresh chives, for garnish
Instructions
Heat the butter and oil in a medium saucepan over medium heat; add the onion, carrot, and celery and cook until starting to soften and brown in spots, about 7 to 10 minutes, stirring occasionally. Add the garlic, thyme, and bay leaves and cook 1 minute more, stirring constantly. Turn the heat up to high, add the wine, and cook until evaporated, about 3 to 5 minutes, stirring frequently. Add the stock, tomato paste, Worcestershire sauce, paprika, salt, and pepper; bring to a boil, then turn heat down to low and simmer until veggies are very tender, about 20 minutes, stirring occasionally. Turn off heat and cool slightly.
Remove the bay leaves. Transfer half the soup to a blender and puree until smooth (take out the cap in the center of the lid and place a kitchen towel over the hole so steam can escape as you puree the soup); puree the other half of the soup the same way. Add the soup back to the saucepan along with the lemon juice and heavy cream; cook a couple minutes over low heat until warm throughout, stirring constantly (do not let it boil).
Transfer the soup to serving bowls; top with the flaked salmon and chives and serve immediately.