This dense, moist, and sticky sweet Gluten-Free Coconut Almond Flour Cake is subtly scented with rose water (or vanilla, if you prefer). It was inspired by the Middle Eastern Cake Harissa, Basbousa, or Namoura.
If it snowed where you live over the weekend, I hope you stayed safe and warm and had the chance to enjoy the snow. Or at least bake something delicious!
Mike and I are in DC and we've been hunkered down since Friday enjoying the snow. This weekend we had our second snowfall, which was actually a doozy: winter storm Jonas! Being from Buffalo, I am in my element. Although we were starting to go a little stir-crazy by Sunday afternoon, we actually had a lot of fun.
Friday night, against my better judgement, Mike convinced me that a drive in the snow would be fun. He was right!
For the first time ever in DC we had the roads (and thruway!) nearly to ourselves. (It bears noting that there was a travel advisory, but no travel ban in effect; we aren't that much of rebels, lol. And there were just a select few people who were as crazy as us out there, and they may very well have been displaced Buffalonians as well.)
We drove to downtown DC and saw the monuments in the blizzard, which was a beautiful sight. (Take note, even this was not a smart thing to do, so kids – and adult kids – please don't try this at home. I will say though, Mike's car handles the snow pretty fabulously.)
Saturday morning (despite the fact that it was still snowing), we had a full brunch out on our snowy balcony.
Our Snowy Brunch
And of course this wintry weekend brought baking too! Asweet friend and fellow blogger, the very talented Dolphia of Story of Cooks, inspired me. (I made her amazing Masala Wraps not long ago!)
Last week, Dolphia messaged me on Facebook with a question about my recipe for Coconut Semolina Cake from my cookbook. After that I mentioned the cake to Mike and he asked me to make it. It had been a very long time since I made it, and I guess this set off a craving, lol!
Basbousa, Namoura, or Harissa - The Inspiration for This Almond Flour Cake
This cake is traditional in the Levant area of the Middle East. Mike has always called it Harissa (a term he learned from his Damascene mother), but it also goes by the names Basbousa and Namoura, depending on who you're talking to and where you are.
The original version of Basbousa cake uses semolina flour as its base. Semolina is a coarse flour made from durum wheat that's typically used to make things like pasta, couscous, and certain cereals. I have no trouble finding it at my Middle Eastern grocery store and I was planning to pick it up last Friday. However, long story short, the storm nixed that idea.
No problem; I decided I would just find an alternative to semolina flour! I've been using almond flour for years to make gluten-free and/or paleo-friendly baked goods, so that idea came to mind and I ran with it. It ended up working really well!
Not only does this Coconut Almond Flour Cake have great texture, but it browns gorgeously on the top and sides, which is exactly what you want here.
Mike liked it so much, he told me to make this cake with almond flour instead of semolina from now on!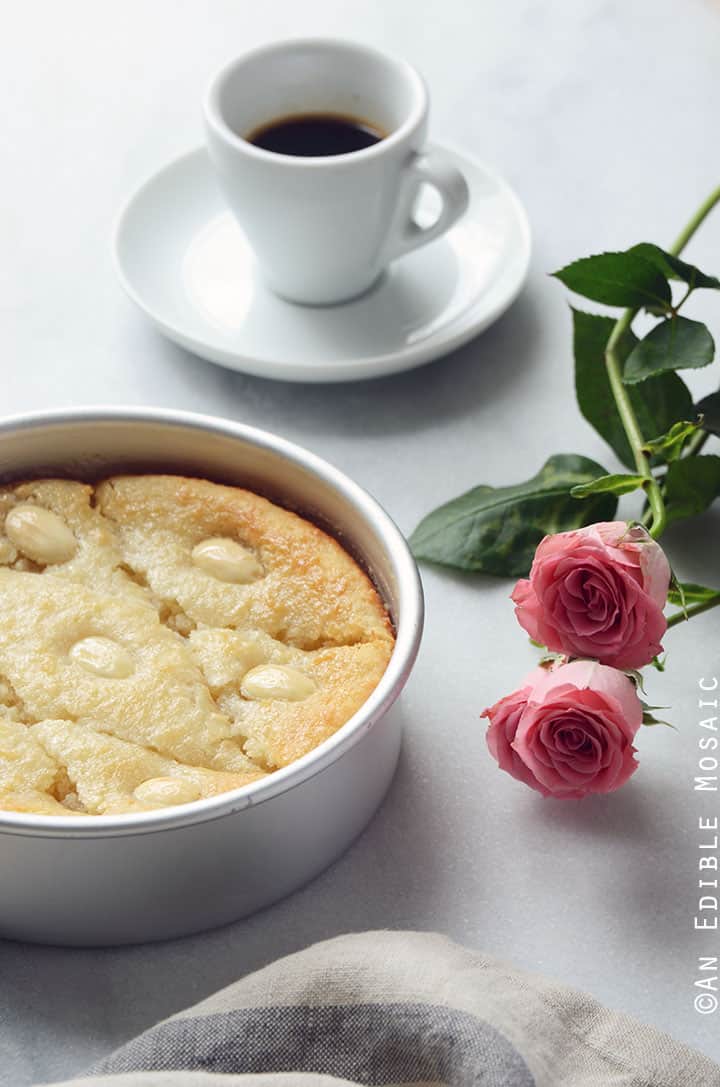 Almond Flour Cake Recipe
The batter for this cake is fairly stiff and the cake itself should be dry. This is what we want! Because of this, it's the perfect vessel for soaking up some beautifully-scented sugar syrup.
Sugar syrup is surprisingly easy to make. If you can boil water, I promise, you'll have no trouble making it! I flavored my syrup (which is called Qater or 'Atr in Arabic) classically with orange blossom water, but you can switch it up to suit your tastes. However, Mike is partial to orange blossom water, as that's how he remembers his mom making this dish.
Pro Tip: For the sugar syrup, you can use orange blossom water, rose water, a mix of rose water and orange blossom water, vanilla extract, or any other flavor extract you like.
Another change I made from the original recipe that's in my cookbook was to cut it in half. It's just two of us, and being snowed in I definitely didn't want a full-sized cake lying around!
It was easy to cut the recipe in half, and I baked it in a cute little 6-inch pan. An 8 ½ by 4 ½-inch loaf pan should work too, but you may need to slightly adjust the baking time. And it was a pretty good thing I didn't make a bigger cake because Mike polished off the entire thing (save one teensy slice I had) in a day and a half!
Cutting Cake Into Diamond Shapes
Namoura cake is traditionally cut into pretty little diamond shapes, and so I also cut my Gluten-Free Coconut Almond Flour Cake into diamonds.
There are a couple things to keep in mind:
Keep the pieces small because they are very rich.
You may want to practice how you'll cut the cake drawing a circle with pen and paper first! And if you want to keep your lines straight, cut along a ruler or straightedge.
In the end, your diamond-shaped slices will still have a homemade look to it, which I admit, I sort-of love. (Mine always do anyway! This is what we food bloggers like to call "rustic", lol.)
How to Grease a Cake Pan
Because it's a little different than the norm, I want to mention that I used tahini to grease the pan for this cake.
Butter, clarified butter (ghee), or coconut oil are more common for American cakes. However, my Syrian mother-in-law taught me to grease the cake pan for this type of cake with tahini, so that's what I always do.
I really enjoy the slight nuttiness that tahini lends to the bottom and sides. I think it's a good balance to the overall sweetness. However, clarified butter or coconut oil will both work fine here!
To grease a cake pan, simply dip a paper towel (or clean fingers) into tahini and rub in in inside (bottom and sides) of a cake pan.
More Middle Eastern Dessert Recipes:
Did you make this recipe? Please rate it and leave a comment below because I love hearing from you! You can also tag @anediblemosaic on social media. To stay up-to-date FOLLOW ME on Instagram, Twitter, and Facebook. Xoxo, Faith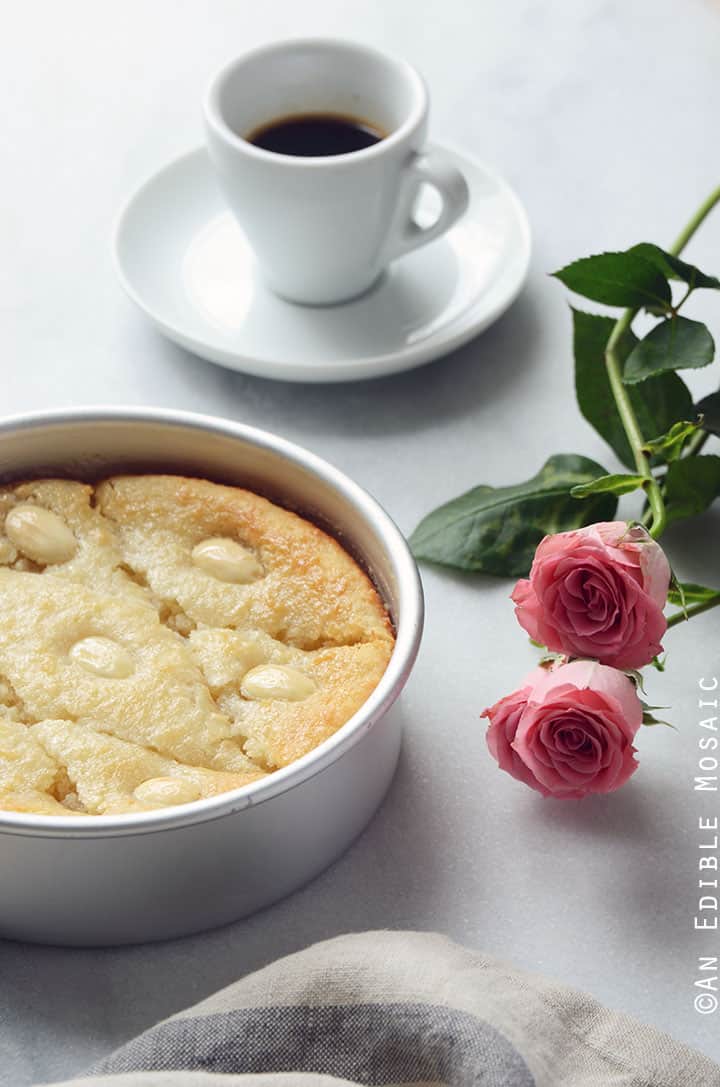 Gluten-Free Coconut Almond Flour Cake (Inspired by Middle Eastern Cake Harissa)
This dense, moist, and sticky sweet Gluten-Free Coconut Almond Flour Cake is subtly scented with rose water (or vanilla, if you prefer). It was inspired by the Middle Eastern Cake Harissa, Basbousa, or Namoura.
Instructions
Prepare the Scented Sugar Syrup first. To do so, add the sugar, water, and lemon juice to a medium, thick-bottomed saucepan, and bring to a boil over medium heat, giving the pan an occasional swirl and skimming off any foam on the surface. Turn the heat down slightly and boil 2 minutes. Turn off the heat and stir in the rose water or orange blossom water; let it cool to room temperature while you make the cake.

For the cake, preheat oven to 375F; brush the tahini on the inside of a 6-inch (15.25 cm) round baking pan.

Whisk together the almond flour, arrowroot starch, tapioca starch, baking powder, salt, and sugar in a large bowl. Stir in the butter and then the milk until combined, and then fold in the coconut.

Transfer the batter to the prepared pan and spread it out evenly; let it sit for 10 minutes.

Score the batter into 1-inch (2.5 cm) square or diamond shapes with a sharp knife, periodically dipping the knife in hot water and drying it off before continuing to score the batter; place 1 almond in the center of each diamond.

Bake until the sides and top are golden brown, about 30 minutes. (If the sides are brown but the top isn't, you can broil the cake for a couple minutes to brown the top.)

Once out of the oven, cut the cake along the lines you scored. Slowly pour the cooled syrup onto the hot cake. Let the cake sit at room temperature 2 hours to absorb the syrup before serving.
Faith's Tips
Recipe adapted from the recipe for Coconut Semolina Cake (Harissa) in my cookbook, An Edible Mosaic: Middle Eastern Fare with Extraordinary Flair (Tuttle Publishing; Nov. 2012).
If you can't find blanched almonds, you can easily make them yourself with whole almonds. (1) Place fresh, shelled (raw and unsalted) almonds in a heat-safe bowl; (2) pour in enough boiling water to fully cover the almonds; (3) let the almonds sit for 1 minute, then pour into a mesh sieve, rinse under cold water, and drain; and (4) hold one almond at the wide end between your thumb and forefinger and gently squeeze – the skin should slip right off.
For the scented sugar syrup, you can use orange blossom water, rose water, vanilla, or any other extract you like.
For the milk in the cake, I've successfully used whole milk, 2%, and plain unsweetened almond "milk".
If you don't have tahini to grease the cake pan, you can use clarified butter or coconut oil instead.
Nutrition
Nutrition Facts
Gluten-Free Coconut Almond Flour Cake (Inspired by Middle Eastern Cake Harissa)
Amount Per Serving
Calories 320
Calories from Fat 189
% Daily Value*
Fat 21g32%
Cholesterol 20mg7%
Sodium 22mg1%
Potassium 123mg4%
Carbohydrates 32g11%
Protein 5g10%
Vitamin A 242IU5%
Vitamin C 1mg1%
Calcium 90mg9%
Iron 1mg6%
* Percent Daily Values are based on a 2000 calorie diet.
Disclosure: This post contains Amazon affiliate links to products I believe in, which means that even though it doesn't cost you anything extra, I will receive a small amount of money from the sale of these items, which helps me keep this site alive – thank you for helping to support An Edible Mosaic!