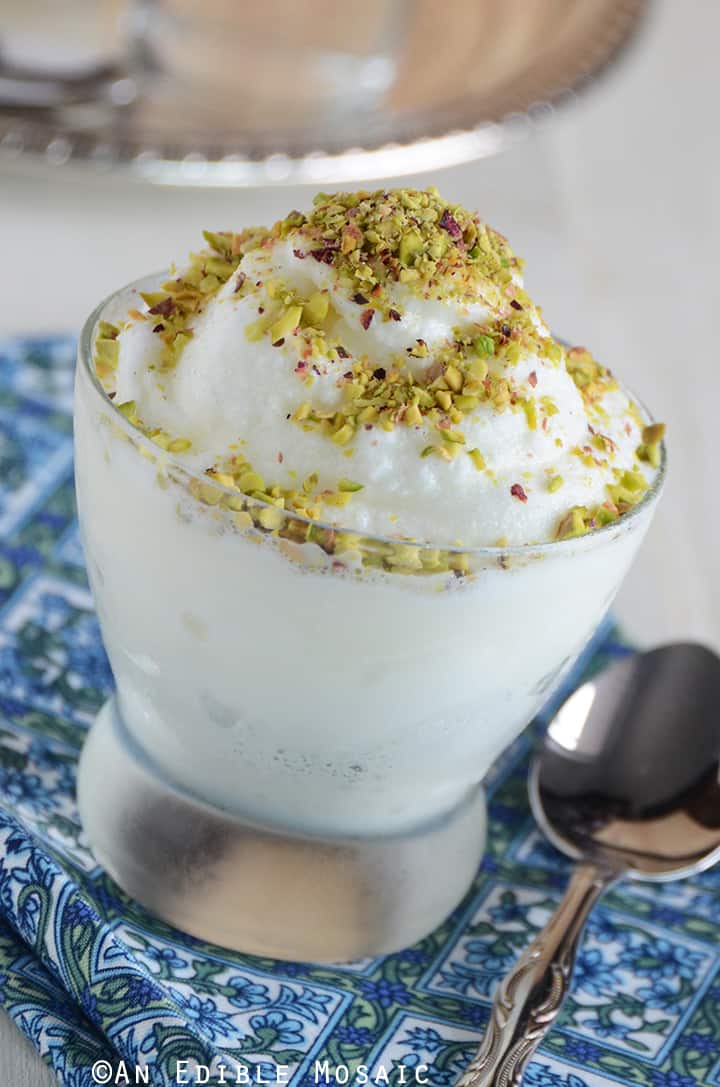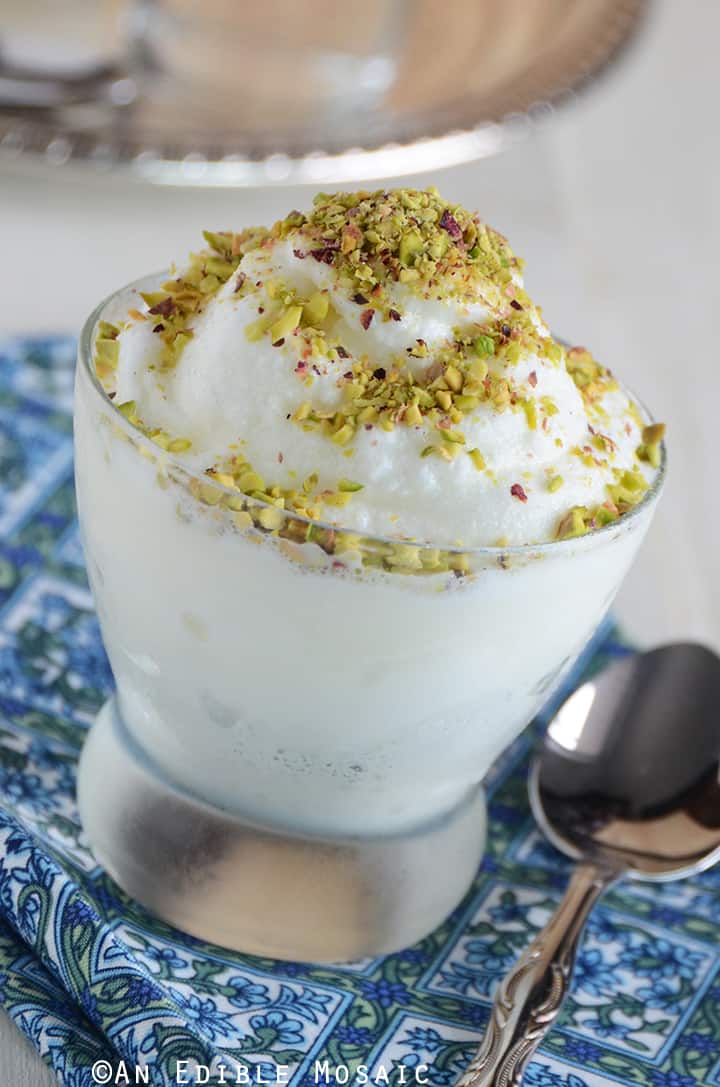 At the end of the month-long fast of Ramadan comes a three-day holiday called Eid al-Fitr, which means "The Festival of Fast-Breaking". People greet each other by saying Eid Mubarak ("Blessed Festival"), and during this time charity is given to needy families, gifts are given to children, and people get dressed up and visit family and friends. As you can imagine, food of every kind (but especially sweets) is abundant.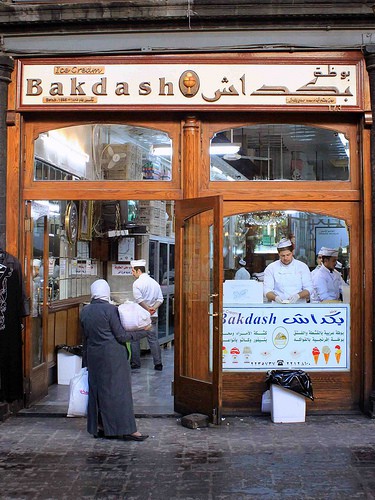 Bakdash Ice Cream Parlor, Souk Al Hamidiya, Damascus, Syria (Image Source)
The first time I enjoyed Syrian ice cream (which is called Éma'a) was where it originated - at Bakdash Ice Cream parlor in the Souk Al Hamidiyah in Damascus. It is so much fun to head to Bakdash and watch this being made. It's pounded with large wooden mallets and then pulled and stretched, owing its taffy-like consistency to an ingredient called mastic gum.
I recently had a craving for this ice cream, and because Mike and I aren't planning a trip back to Syria for a while, I knew I would have to come up with a recipe myself. And what better time to make it than for the Eid?
My very sweet mother-in-law told me the main ingredients in Éma'a, which are fairly well-known: milk, mastic gum, sugar, sahlab, and rose water (plus of course the pistachio coating!).  There are two ingredients that are somewhat uncommon – mastic gum and sahlab – but both are available in Middle Eastern grocery stores or on Amazon.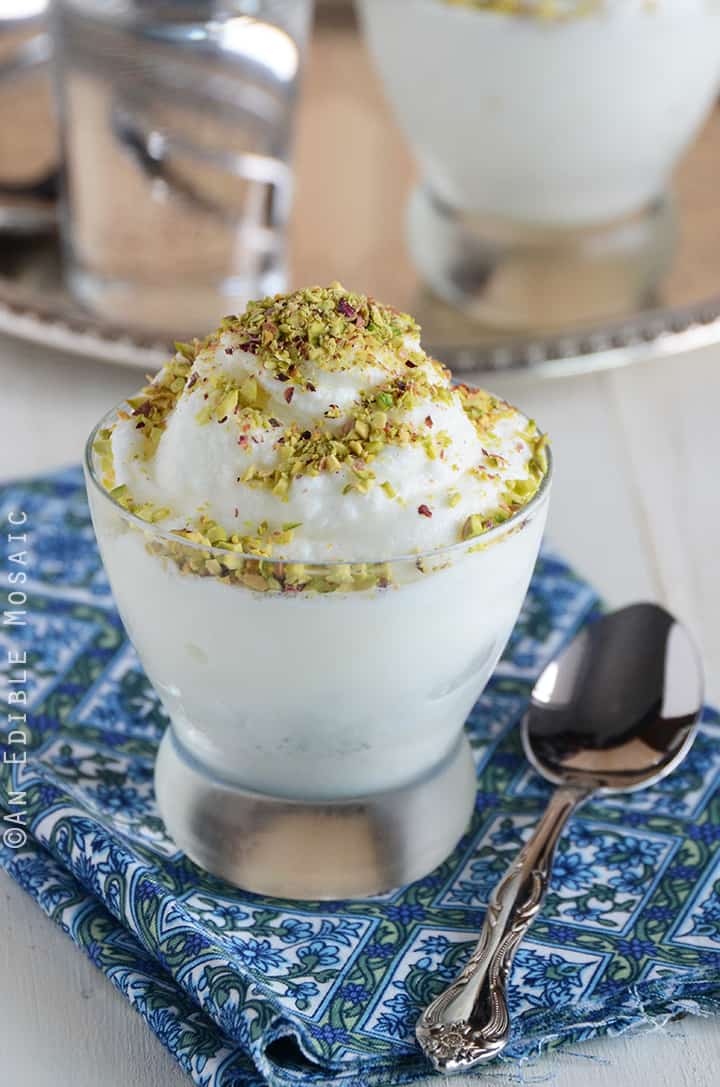 Mastic gum is a really interesting ingredient. It comes in little yellow crystals (the medium-sized pieces are about ½ cm wide by 1 cm tall) called tears, and has the look and feel of beach glass. It has a strong perfume-y smell, and I actually think it smells just like Tide laundry detergent. Here is what it says about mastic on the back of the package: "[Mastic is] a unique product with many beneficial qualities and wide-ranging uses since antiquity. Nowadays, it is used in pharmaceuticals, perfumes, cosmetics, beverages, baking goods, sweets, as well as in cooking. Mastiha is the natural resin of pistacia lentiscus variety Chia, a tree which grows only on the Aegean island of Chios, Greece. Scientific research shows that Chios Mastiha has anti-microbial, anti-inflammatory and healing activity. It contributes to a healthy gastrointestional system and has beneficial effects for both oral hygiene and skin care."
Sahlab is a mixture of cornstarch, sugar, and sahlab (roots of orchids mascula). If you can't find sahlab, you can substitute an equal part of cornstarch plus a couple drops of orange blossom water.
After we bought these ingredients, the hardest part was figuring out the proportions of each. After some trial and error I came up with a recipe that Mike and I both feel is a pretty close replication of the original. I use 9 parts whole milk and 1 part heavy cream, but feel free to use all whole milk if you prefer.
Eid Mubarak to all celebrating!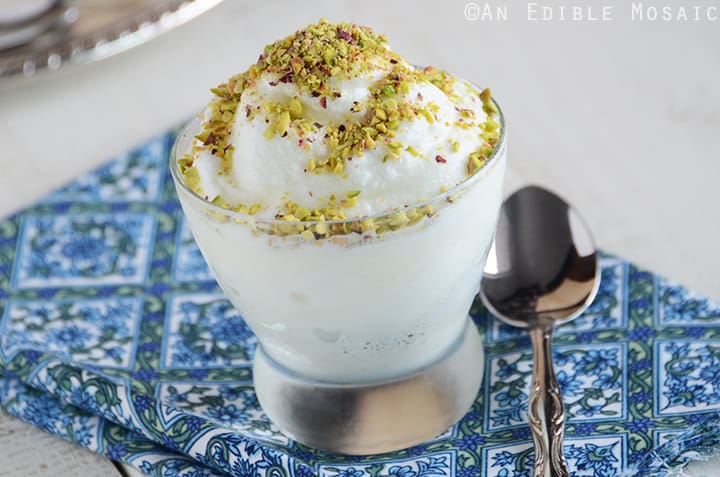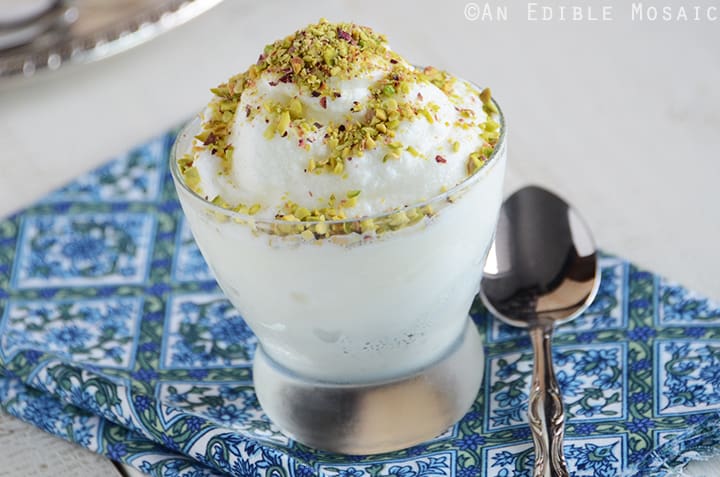 Syrian Ice Cream (Éma'a)
Prep time:
Cook time:
Total time:
This unique ice cream has a taffy-like consistency, creamy texture, subtly floral aroma, and nuttiness from its pistachio coating.
Ingredients
9 cups plus ¼ cup whole milk, divided
1 cup heavy cream
4 medium pieces (about ¼ teaspoon) mastic gum (also called Arabic gum)
2½ cups sugar
5 teaspoons sahlab
¾ teaspoon rose water
Chopped pistachios, for serving
Instructions
In a small bowl, whisk together ¼ cup milk with the sahlab; set aside.
Grind the mastic into a powder; the best way to do this is to put the mastic between 2 pieces of parchment paper or inside a plastic bag and pound it with a heavy object, such as a rolling pin.
Add the remaining 9 cups of milk, the cream, and the mastic to a large pot over medium heat; bring to a boil, stirring frequently.
Once boiling, slowly whisk in the sugar and bring back up to a boil, stirring constantly. Whisk in the sahlab mixture and boil vigorously 5 minutes, then turn off the heat and add the rose water.
Cool to room temperature, then refrigerate until well chilled, about 4 to 6 hours.
Transfer the chilled mixture to an ice cream machine and process according to the manufacturer's directions.
Once processed, put the ice cream in a freezer-safe bowl and transfer to the freezer to set.
Serve topped with chopped pistachios.
Here are a few photos of Bakdash we took while we were in Damascus in 2011...