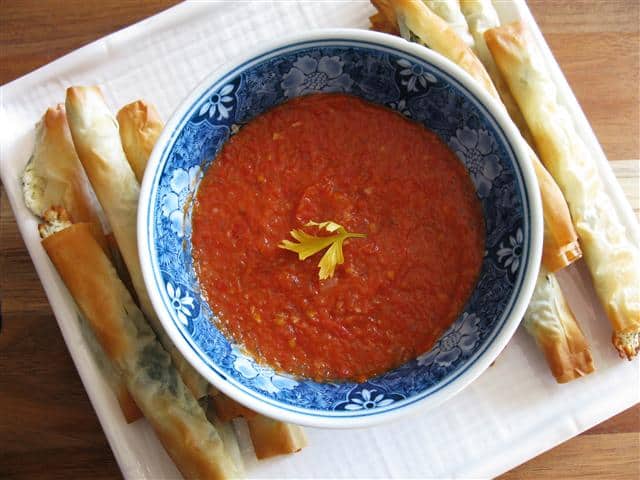 ***There's still time to enter my latest giveaway! For a chance to win a $65 CSN gift card, check out this post.***
Turkish Cigarette Böreks are a fast, delicious, and elegant-looking appetizer. They are cigarette-shaped phyllo pastries stuffed with cheese (usually feta) and herbs (such as dill and parsley); they can also contain veggies and/or meat. In this recipe, I lightened up the traditional version by baking the böreks instead of deep frying them. Also, because it's what I had in my fridge, I used a mixture of spinach and garlic instead of parsley in the cheese stuffing and I thought they were fantastic. I made a Roasted Tomato Sauce to serve alongside for dipping, and the sweetness and slight spiciness of the sauce paired well with the salty feta in the stuffing.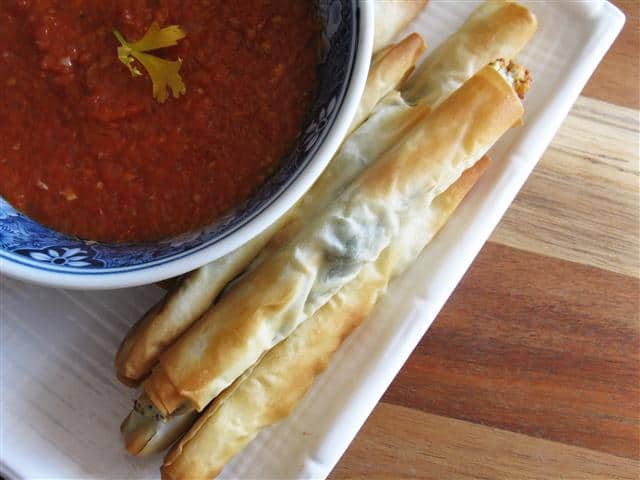 Turkish Cigarette Börek (Sigara Böreği) with Roasted Tomato Sauce
(Yield: 12 pastries, about 4 appetizer-sized servings)
Cigarette Börek:
3 (13 by 13-inch) square sheets packaged phyllo dough*
1 TB canola oil
1 clove garlic, grated
2 c (lightly packed) baby spinach, coarsely chopped
¼ teaspoon dried dill (or ¾ teaspoon fresh dill)
Pinch black pepper
¼ lb feta, crumbled
Cooking spray
Roasted Tomato Sauce:
2 small-medium tomatoes, diced
1 small onion, diced
1 clove garlic, minced
1 TB olive oil
1 teaspoon balsamic vinegar
¼ teaspoon sugar
¼ teaspoon red pepper flakes (more or less to taste)
1 TB tomato paste
For the Roasted Tomato Sauce: Preheat the oven to 450F. In a small-medium oven-safe casserole dish, combine all ingredients except the tomato paste. Cover the dish with aluminum foil and bake for 30 minutes, stirring once halfway through. Remove from the oven, stir in the tomato paste, and cool slightly. Transfer to a blender or food processor and pulse a few times until it reaches your desired consistency. Set aside.
For the Börek Filling: Taste a small piece of the feta; if it is too salty, soak it in cold water for 5 minutes, drain it, then taste again. If it is still too salty, you can repeat this process until it reaches your desired level of saltiness; when you're done soaking it, be sure to drain it and gently pat it dry before using. In a medium-sized skillet over medium-low heat, then add the oil and garlic and sauté until fragrant (30 seconds to 1 minute), stirring constantly. Add the spinach and sauté until wilted (about 1 minute). Turn off the heat and add the dill and a pinch of black pepper. Let the spinach cool slightly, then mix in the feta.
To Assemble the Böreks: Preheat oven to 375F. Cut each sheet of phyllo dough into 4 equal squares. Cover the phyllo with a piece of plastic wrap, and then lay a slightly damp towel on top of the plastic wrap. To make each börek, take out one piece of phyllo. Lightly spray one side of phyllo with cooking spray, then put it down on your cutting board (or countertop) with the side with cooking spray facing down. Place 1 TB of the spinach/feta mixture on the phyllo slightly toward the lower half of the phyllo. Wrap the bottom half up of the phyllo over the filling and gently continue until you are left with a little roll that looks like a cigarette. Repeat until all the filling is gone (you should get 12 böreks). Bake for 11-13 minutes, until crispy and golden. Serve with Roasted Tomato Sauce.
*I couldn't find round phyllo dough. If round phyllo dough is available to you, you can cut it as you would a pie so that you end up with triangular-shaped pieces; place the stuffing at the wide end of each piece, then roll up and bake as normal.