Fritters are a the perfect summertime dish to help use up veggies from your garden. They're super versatile – you can substitute any veggies that you like or have on hand. Serve them as appetizers, or they make a delicious side dish along with fish or chicken off the grill, but in the summer when I'm in the mood for a light meal I think they make a fantastic lunch or dinner by themselves.
I'm sending this recipe to Reeni of Cinnamon & Spice for her Side Dish Showdown. July's theme is Anything Goes!
I'm also sending this recipe off to Chaya of Sweet and Savory for My Meatless Mondays!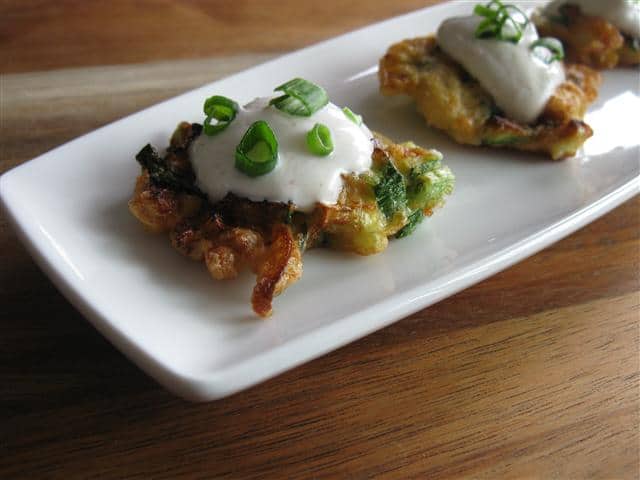 Vegetable Fritters
(Yield: Serves 4 as a side dish or 2 as a main)
1 medium zucchini, diced small (about 2 c diced)
1 small ear cooked corn, cut of the cob (about 1/2 c to 3/4 c corn)
3 spring onions (white and green parts), thinly sliced (reserve 2 TB of the thinly sliced green parts)
1/4 c all-purpose flour
1/2 tsp salt
1/4 tsp pepper
2 large eggs, beaten
1/2 c low-fat sour cream
1/4 c plain, low-fat yogurt
1/4 tsp seasoned salt
Canola oil (for shallow frying)
Large skillet
Preheat the oven to 200F. In a small bowl, toss together the zucchini, corn, spring onions, flour, 1/2 tsp salt, and 1/4 tsp pepper. Stir in the beaten eggs just until combined. Pour enough oil into a large skillet to generously coat the bottom. Heat the skillet over medium to medium-high heat, then drop the vegetable batter by the rounded tablespoonful into the hot oil and cook until golden brown on both sides, flipping once (about 5 minutes per side). Turn the heat down if the fritters start to brown too quickly.
Once the fritters are cooked, transfer them to a paper towel-lined plate to drain any excess oil, then transfer them to a baking sheet and keep them in warm the oven until all the fritters are made. Repeat this process until all the batter is gone.
In a small bowl, combine the sour cream, yogurt, seasoned salt, and 1 TB sliced spring onion greens.
Serve the fritters garnished with the sour cream mixture and the remaining 1 TB of sliced spring onion greens.