Peach Burrata Salad with Bacon, Butter Lettuce, Basil, and Pistachio comes in a clutch during the summer months when you have more fresh peaches than you can devour! This salad is a lovely balance of sweet and savory flavors, and creamy and crunchy textures.
I've been a little peach-crazed lately, buying them by the bagful and then trying to eat my way through them! When they're in season, a perfectly ripe, sweet, juicy peach is bliss.
My favorite way to eat them is just as they are. However, when I buy more than I can eat out-of-hand, I have to get a little creative.
That's when I start thinking of other outside-the-box uses for peaches.
If I'm not eating a peach as-is, usually I make it into something sweet, like my Low Carb Almond Vanilla Chia Pudding with Peach Pie Topping or Gluten Free Shortcake with Easy Peach Topping. Peaches are also delicious grilled with a drizzle of honey and a sprinkle of nuts.
But there's only so much dessert a girl can eat before she starts craving something savory!
Savory Peach Recipes
Like so many fruits, peaches are as delicious in savory recipes as they are in sweet recipes.
Try making a peach relish with a sweet/tart flavor profile to serve on top of chicken or shrimp. Grilled peaches topped with goat cheese and balsamic reduction is always a favorite. Use peaches as the base of BBQ sauce to make pulled chicken or beef BBQ sandwiches. Add diced peaches to a rice or quinoa pilaf for sweet little bursts of flavor.
And of course peaches pair really well with cheese, like in this pretty burrata peach salad!
What Is the Difference Between Fresh Mozzarella and Burrata?
Fresh mozzarella is a fresh, semi-soft cheese made from cow's milk or water buffalo's milk. It has a milky flavor and elastic texture. It's best eaten within 48 hours of being made, although it can be kept refrigerated in a brine for about a week. Fresh mozzarella is easy to find, and can also be made at home (check out this tutorial on how to make fresh mozzarella on Epicurious if you're interested).
Burrata, which is derived from the word burro, meaning butter in Italian, has an outer layer of mozzarella, with an inner layer of stringy, soft mozzarella scraps and fresh cream. When it's cut open, burrata sort of oozes its milky, creamy texture.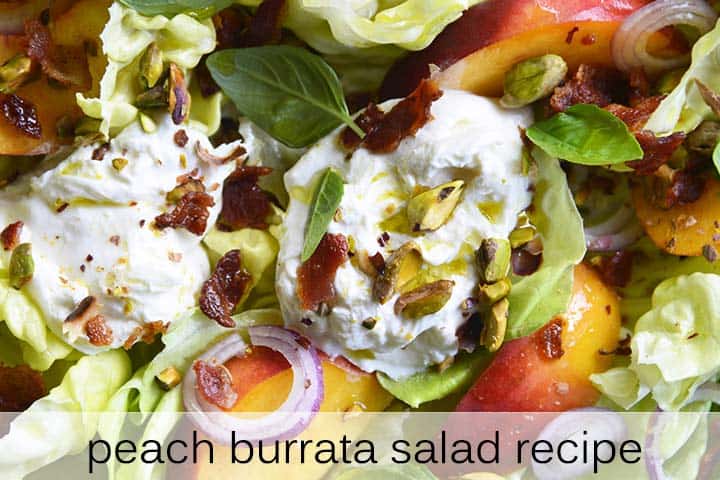 How to Serve Burrata Cheese
The flavor of burrata is highlighted well with a sprinkling of salt and a drizzling of olive oil.
Or I like to pair sweet cherry tomatoes, fresh basil, and a little bit of balsamic with burrata (for me, this is a full meal as-is).
Additionally, burrata is wonderful spread onto crusty bread or crackers, or as a beautiful finish atop a bowl of pasta or a hot pizza.
Here, the sweetness of peaches and saltiness of bacon balance the creamy richness of burrata. Pistachios and crisp butter lettuce add crunchy textural contrast.
More Savory Salad Recipes That Have Fruit:

Did you make this recipe? Please rate it and leave a comment below because I love hearing from you! You can also tag @anediblemosaic on social media. To stay up-to-date FOLLOW ME on Instagram, Twitter, and Facebook. Xoxo, Faith
Burrata Peach Salad with Bacon, Butter Lettuce, Basil, and Pistachio
Burrata Peach Salad with Bacon, Butter Lettuce, Basil, and Pistachio is a lovely balance of sweet and savory flavors, and creamy and crunchy textures.
Ingredients
1

medium

head butter lettuce

leaves torn off the head

6

ounces

ball of fresh burrata cheese

1

medium

ripe peach

thinly sliced

1

small

shallot

thinly sliced

3

tablespoons

pistachios

chopped

2

slices

crisped bacon

crumbled

2

tablespoons

extra-virgin olive oil

1/2

tablespoon

white wine vinegar

1

handful

fresh basil leaves
Instructions
Arrange the lettuce on the bottom of a platter.

Cut the burrata into 3 pieces and place them on top of the lettuce.

Arrange the peach slices and shallot around the lettuce.

Sprinkle the pistachios and bacon on top.

Drizzle on the olive oil and white wine vinegar, and sprinkle on the fresh basil leaves.
Faith's Tips
Net Carbs: 7g per serving
The bacon in this recipe is used mainly for salty flavor, although it also adds a bit of crunchy texture. You can use whatever kind of bacon you like; beef bacon is my favorite. If you use turkey bacon, cook it down in a bit of olive oil. Or to keep this dish vegetarian, omit the bacon and instead sprinkle a bit of sea salt on top.
Nutrition
Nutrition Facts
Burrata Peach Salad with Bacon, Butter Lettuce, Basil, and Pistachio
Amount Per Serving
Calories 354
Calories from Fat 297
% Daily Value*
Fat 33g51%
Cholesterol 50mg17%
Sodium 99mg4%
Potassium 229mg7%
Carbohydrates 9g3%
Protein 14g28%
Vitamin A 709IU14%
Vitamin C 4mg5%
Calcium 308mg31%
Iron 1mg6%
* Percent Daily Values are based on a 2000 calorie diet.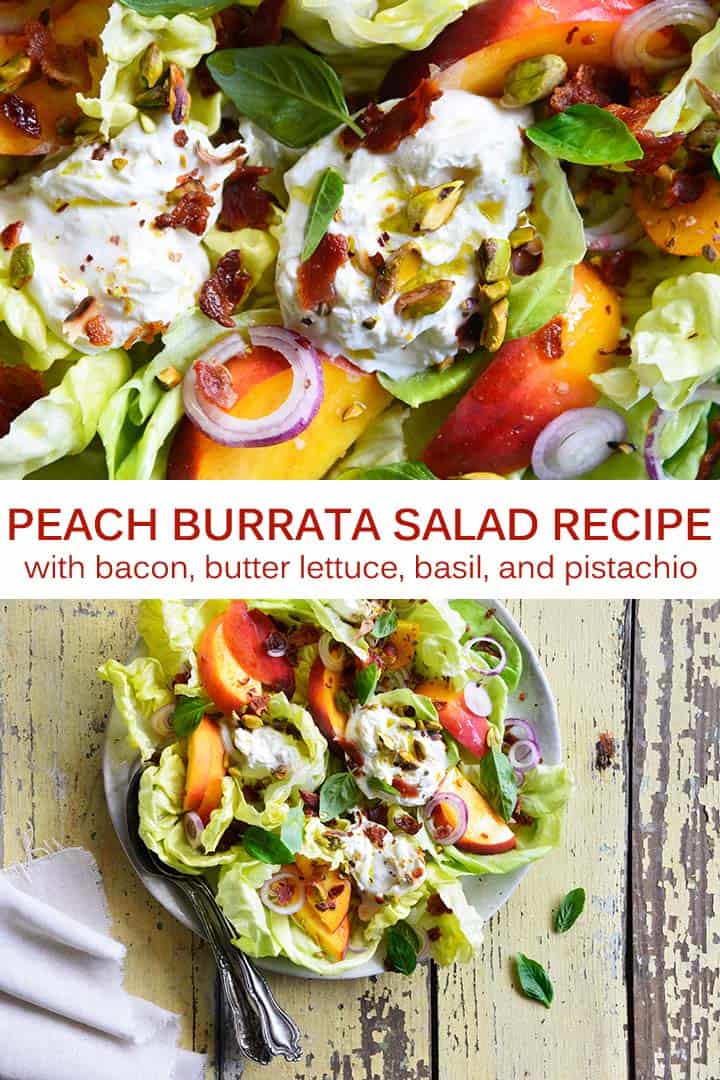 This post was first published on An Edible Mosaic on August 24, 2018. I updated it with more information on May 24, 2020.
Disclosure: This post contains Amazon affiliate links to products I believe in, which means that even though it doesn't cost you anything extra, I will receive a small amount of money from the sale of these items. Thank you for helping to support An Edible Mosaic!