Creamy Coleslaw with Tart Cherries, Blue Cheese, and Toasted Walnuts is as easy to make as regular coleslaw, but with way more flavor!
When Mike and I were on our honeymoon in Jordan it was my first time in the Middle East. Those were (as every honeymoon should be) lazy days, and since it was Mike's home turf he was in charge of things like food.
We ate out a lot, mostly things that are considered fast food over there like chicken shawarma, roast chicken, falafel, hummus, etc. He was a college student there at the time, so the takeout way of life was familiar to him. I was in law school at the time, and even so, I was used to homemade meals with a few more fresh vegetables involved.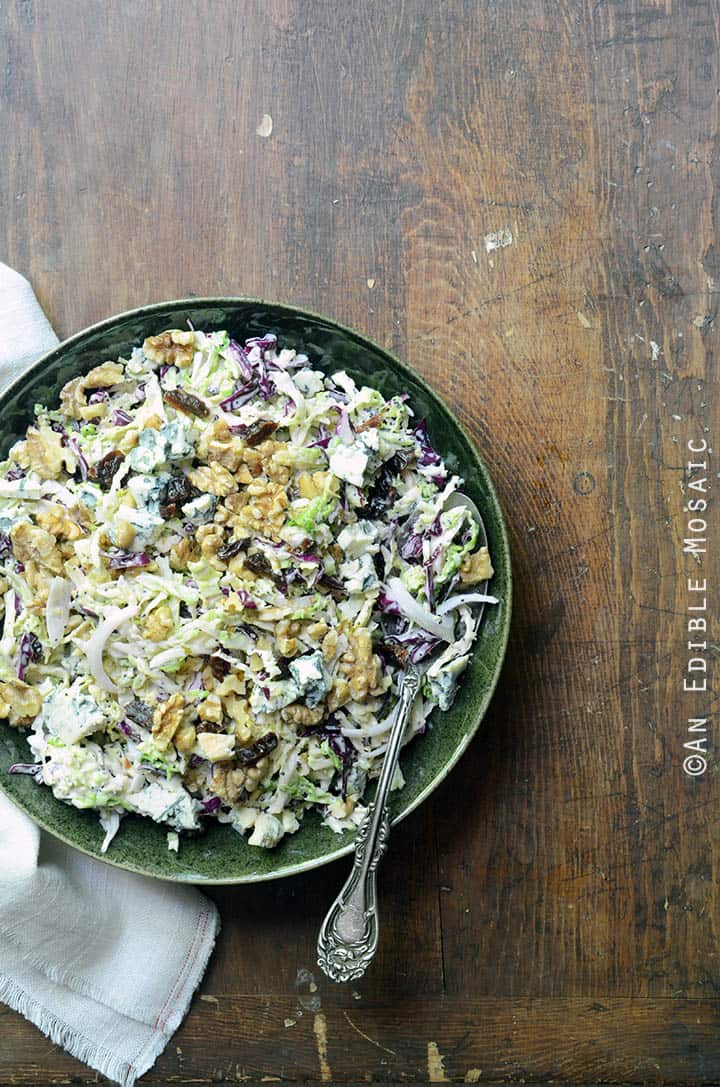 One night when Mike was about to go pick up dinner, he asked me what I was in the mood for and I told him a HUGE salad. I was envisioning a thing of beauty; a salad with fresh dark leafy greens adorned with lovelies like snap peas or green beans, red bell pepper, crispy raw broccoli, cherry tomatoes, grassy-fresh parsley or mint, and green onion, maybe with a handful of strawberries or blueberries for sweetness, some nuts for crunch, crumbled feta or blue cheese for creamy texture and salty flavor, and a simple bright-flavored olive oil and vinegar dressing. Apparently he was in the mood for fried chicken because he came home with half a bucket and some fries for himself and a bowl of mushy coleslaw for me!
It was a far cry from what I had hoped for, but he said it was the only kind of "salad" they had. The two vegetables in the sad little slaw were cabbage and carrot, and the dressing was thick, goopy, and nearly sickly sweet. Ugh, lol. If I remember correctly, dinner for me that evening was an apple and a square of dark chocolate.
Any time I make coleslaw I remember that honeymoon salad Mike brought me and it brings a smile to my face. This gorgeous slaw is in no way like that horrible coleslaw, except for the fact that they both contain cabbage.
The creamy mayo-based dressing here is balanced with apple cider vinegar, honey, and Dijon mustard. I kept the salad itself super simple, with the addition of just a few things that come together for something that is so much more delicious than the sum of its parts. Dried cherries add sweetness, walnuts give it nutty crunch, and blue cheese adds creamy texture and umami flavor. And don't skip the onion because it adds the perfect savory touch!
It would be a great addition to your Labor Day menu, and speaking of which, here are a few other delicious looking salads that would also be perfect:
Creamy Coleslaw with Tart Cherries, Blue Cheese, and Toasted Walnuts
Yield:
6 to 8 side-dish servings
Creamy Coleslaw with Tart Cherries, Blue Cheese, and Toasted Walnuts is as easy to make as regular coleslaw, but with way more flavor!
Ingredients
Dressing:
½ cup mayo (homemade or store-bought)
2 tablespoons organic raw unfiltered apple cider vinegar
1 tablespoon raw local honey
2 teaspoons Dijon mustard
2 teaspoons poppy seeds
½ teaspoon salt
¼ teaspoon ground black pepper
Salad:
1 small head Savoy cabbage, thinly sliced (about 4 cups sliced)
1 cup thinly sliced red cabbage
1 small white onion, halved and thinly sliced
½ cup toasted walnuts, coarsely chopped
¼ cup dried tart cherries, coarsely chopped
1 oz (30 g) good-quality blue cheese, crumbled
Instructions
Whisk together all ingredients for the dressing in a large bowl.
Stir in the Savoy cabbage, red cabbage, and onion. Cover and refrigerate up to 24 hours before serving, if desired.
Right before serving, sprinkle the walnuts, cherries, and blue cheese on top.