The only kind of juice Mike likes is carrot.
I don't like to make it for him every day (a friend of a friend's cousin's mom swears that her baby turned orangish from feeding her carrots every day!), but I make him a fresh glass of it a couple times a week in the morning when I make my own juice blend.
One morning I made his carrot juice, set his glass on the counter, and then started on my own brew. I make a different combo for myself every morning, but that day I juiced a blend of carrot, grapefruit, apple, celery, and ginger, which came out with a ruddy orangish hue.
I washed out the juicer, grabbed my glass (which was redolent with the aroma of celery), and started my morning. Juice in hand, I went to wake up Mike.
Half asleep, he thought I was bringing him his carrot juice. He grabbed my juice out of my hand and took a big swig before I could tell him that his juice was on the counter. He looked at me crossly and stated "You're trying to trick me."
I don't blame him for thinking this (he knows me too well and probably still has nightmares about this escapade), so instead of trying to defend myself I just laughed and told him that his carrot juice was on the counter.
So I get that not all juice is for everyone.
This Sparkling Citrus Pineapple Ginger "Sangria" Mocktail though? Yup, for anyone and everyone. It starts with sweet fresh fruit juice, is kept chilled with frozen grapes, and is topped off with a little bubbly water. I used half a grapefruit for this recipe, but I also love it with an orange and a lime instead. And don't skip the ginger because it adds a nice little zing!
This healthy, refreshing drink is perfect for adults and kiddos. Sangria was my inspiration here, but I wanted to keep things non-alcoholic so I did a little switch up. Instead of wine, I used fresh juice and integrated grape flavor with grapes as the fruit that's normally found in sangria; plus, I froze the grapes first so they'd double as edible ice cubes. Fun, right?
If you're new to juicing, here are a few tips I have:
Do a little research to make sure you're using the best type of juicer for your needs and for the kind of produce you'll be juicing. This article from HuffPost Taste explains in detail the two common types of juicers (slow masticating/cold press juicers and fast centrifugal juicers).
Even though I use a centrifugal juicer (which isn't typically as efficient as a masticating juicer at juicing leafy greens), I find that if I sandwich greens in between hard fruit (like apples) or vegetables (like carrot), it's easier for the machine to juice the greens.
Drink your juice on an empty stomach if possible (I like to have it first thing in the morning) so your body can quickly and easily absorb the nutrients from the juice.
Drink your juice as soon as you can after you make it, not only for the best flavor, but also for the benefits of the live enzymes in the juice.
Use organic produce when possible (at least for the dirty dozen!).
Some produce should be peeled, including: 1) anything that isn't organic, and 2) anything with a bitter peel, rind, or pith (like melons and citrus).
Don't be afraid to try new flavor combos to find out what you like best! And although juicing is so much more, it is always a great way to use up produce that's on its last legs.
What's in your favorite fresh juice blend?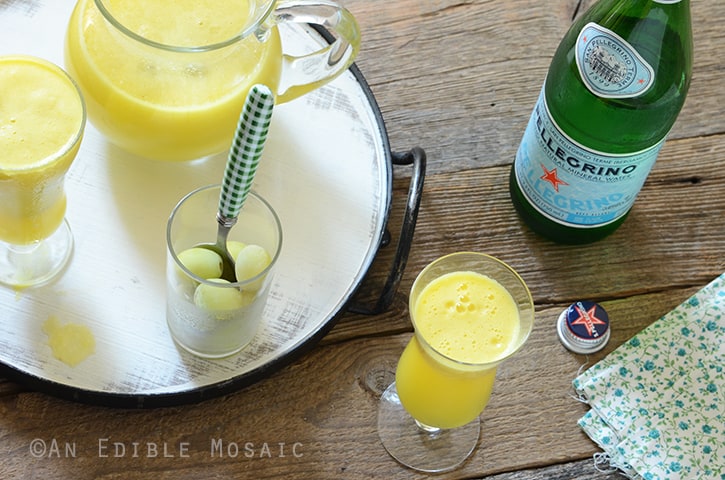 Sparkling Citrus Pineapple Ginger "Sangria" Mocktail
Ingredients
1 cup organic green grapes, rinsed and frozen
1 large pineapple, peeled if not organic
½ large organic grapefruit, peeled and white pith removed so the juice doesn't end up tasting bitter
1-inch piece fresh ginger, peeled if not organic
1 cup unflavored sparkling water
Instructions
Freeze the grapes the night before you want to make this.
Juice the pineapple, grapefruit, and ginger together.
Stir in the sparkling water.
Add the frozen grapes to 4 glasses and pour the sparkling juice on top.
Serve.
Please note that this post is NOT sponsored in any way, and it does NOT contain affiliate links. As always, opinions stated are my own.