So friends, have you hopped on the kombucha bandwagon yet?
I jumped on so hard I feel like I could be riding shotgun.
After dabbling a little bit in lacto-fermentation with my homemade pickle recipe (from my cookbook) and my homemade apple vinegar recipe (also in my cookbook!), I have been wanting to expand my lacto-fermented repertoire. Sauerkraut, kimchi, maybe homemade ginger ale (ok, definitely homemade ginger ale!), and of course kombucha, because being able to make custom flavors just sounds like so much fun.
But...I haven't started yet (I am hanging my head in shame). The good news is that my incredibly talented friend Julia (from The Roasted Root) just released an absolutely beautiful cookbook called Delicious Probiotic Drinks: 75 Recipes for Kombucha, Kefir, Ginger Beer, and Other Naturally Fermented Drinks, and now I have absolutely no excuse not to give homemade kombucha a go. (The cookbook has kombucha flavors like blackberry sage, jasmine, pineapple, and fig…oh, I die.)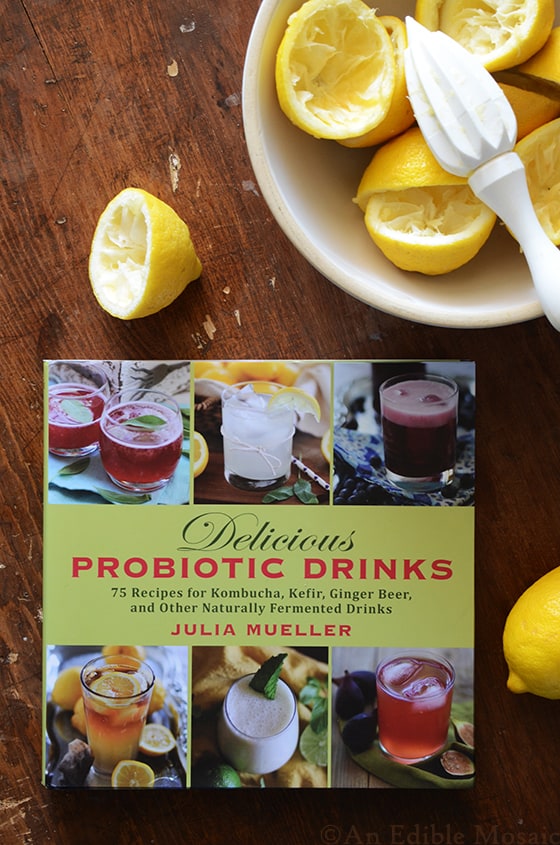 If 'booch isn't your thing, this book is still for you…there are also chapters on cultured vegetable juice, rejuvelac, jun, lacto-fermented lemonade, ginger beer (!!), kefir, and yogurt. And for the record, how amazing do peach & honey kefir, orange ginger soda, and grapefruit rosemary ginger beer sound? I know I will be busy for quite a while brewing up the recipes in this book.
Thank you to Julia for answering a few questions I had for her! I think you'll enjoy reading this Q&A just as much as I did…
1. What inspired you to start your blog, The Roasted Root?
I have enjoyed cooking and baking since I was a teenager and became even more interested in experimenting in the kitchen while I was in college. After I graduated with my degree in Finance, I began my job search and had some extra time on my hands. I figured I would start a food blog in order to share the recipes my friends and family always asked me for. As I began blogging more and more, I realized how passionate I am about recipe development and photography. I love connecting with people through my blog and find blogging to be very rewarding!
2. You have two stunning cookbooks (Delicious Probiotic Drinks and Let Them Eat Kale!) that are being released this year! (Huge congrats!!!) Can you tell us what that experience has been like for you? (How did you get your book deals?, How did you handle working on two cookbooks?, How did you keep up with your blog while writing your cookbooks?, etc.)
Why, thank you!
Writing and publishing cookbooks has been a completely surreal and exciting experience for me. It has also been one of the most challenging things I've ever done! I was approached by my publisher just over a year ago after she came across my blog post for Lavender Kombucha. She asked if I wanted to write a whole book on probiotic drinks and I happily accepted without batting an eye.
One month before I turned in Delicious Probiotic Drinks, I suggested to my editor that we do another book together, which is how Let Them Eat Kale came into the picture. Luckily, I had very little overlap between developing recipes for the two books. My editor and I were revising the first book while I was beginning the second book, so the timing on the books was tight, but it worked out well.
As you mentioned, I continued blogging while writing the books, and I also had a part-time job. My time was pretty well spoken for, so I simply tried to keep myself as organized as possible. To-do lists, spreadsheets, and using my time efficiently was how it all came together. With that said, the process of writing a cookbook can feel like a never-ending marathon, so I definitely had periods of high stress. Seeing my first cookbook available on the market and knowing that the second one is just around the corner is incredibly gratifying and has made all the work well worth it.
3. What does a typical day of eating look like for you?
It looks a lot like a ravenous hyena gorging on its prey. Just kidding…but seriously, this girl loves food! Breakfast is either a vegetable scramble or fruit, Greek yogurt, and nuts. I almost always have an enormous salad for lunch, which I change up with seasonal veggies and various cheeses, nuts, and homemade dressings. For dinner, I typically do some sort of animal protein (salmon, shrimp, and chicken are my favorite) with either stir fry or roasted vegetables. While it sounds like I eat the same thing every day, I actually eat a huge variety. Eating in season using various spices, herbs, and sauces is what keeps my diet fun and exciting.
4. What are the benefits of adding naturally fermented drinks into your diet?
Probiotic drinks help promote healthy microflora in your gut. This helps with digestion, nutrient absorption, and also prohibits bad bacteria from attaching to your gut. The end result is digestive regularity, a stellar immune system, higher energy, and increased brain function (it's true: your brain is linked to your gut! A happy gut = a happy brain!). The symptoms of many digestive disorders can be alleviated through regular consumption of probiotic drinks. In addition, these drinks are filled with vitamins, minerals, and enzymes which make them incredibly healthful elixirs.
5. How difficult (or easy) is it to make naturally fermented drinks at home?
Brewing probiotic drinks at home is really easy! Just like trying anything new, it takes some time to grasp how fermentation works, but once you get it, brewing all of the drinks is a cinch. I will say, it is important to be mindful of sanitation and to pay attention to your probiotic culture in order to make sure it stays healthy. A little attention to detail is all it takes. Other than that, the time and expense required is minimal, but the outcome is amazing and delicious!
6. What's the white stuff at the bottom of a probiotic drink?
While brewing certain probiotic drinks, particularly lacto-fermented lemonade and ginger beer, you will notice a white substance collect at the bottom of the jug. This is completely normal and actually, it's a sign your drink is brewing correctly! Put simply, the white substance is the natural probiotics, yeasts, and enzymes growing and reproducing, so it's no cause for alarm. You do, however, want to be careful with mold. While mold is fine on the surface of cultured vegetables (such as sauerkraut, or beet kvass), if you see it on your kombucha SCOBY, or the surface of ginger beer, lacto-fermented lemonade, or rejuvalac, you need to toss the beverage and start over.
7. If someone could only make one drink from Delicious Probiotic Drinks, which recipe would you recommend, and why?
The Blackberry Sage Kombucha, which is so tasty and unique! You can't get anything like it at the store. I have a soft spot for kombucha because it is the first probiotic drink I ever brewed. I drink it every day (no joke), and I find its health benefits to be superior to many other probiotic drinks.
8. Where can people buy Delicious Probiotic Drinks?
Delicious Probiotic Drinks is available for sale through Amazon, Barnes & Noble, and WalMart.
9. Do you have plans for more cookbooks, and if so, can you give us the inside scoop?
I would love to do a third cookbook but have no contract signed for it as of yet. The topic also remains to be seen. I'm looking forward to book three and can absolutely see myself continuing to write cookbooks.
10. What advice would you give to someone who wants to write a cookbook?
The best piece of advice I can offer to anyone who wants to write a cookbook is to pace him/herself, and to be patient. While there are strict deadlines in book publishing, rushing through recipes leaves ample room for error. It may feel as though you need to crank out as many recipes as possible and keep your nose to the grindstone, but maintaining a consistent pace ensures you don't make mistakes in writing, testing, or photographing your recipes. If there is one lesson I re-learned during the process of writing a cookbook, it's that a stitch in time saves nine. It really does. Also, have fun with the process! Like most things in life, the more relaxed and passionate you are about what you're doing, the better the result!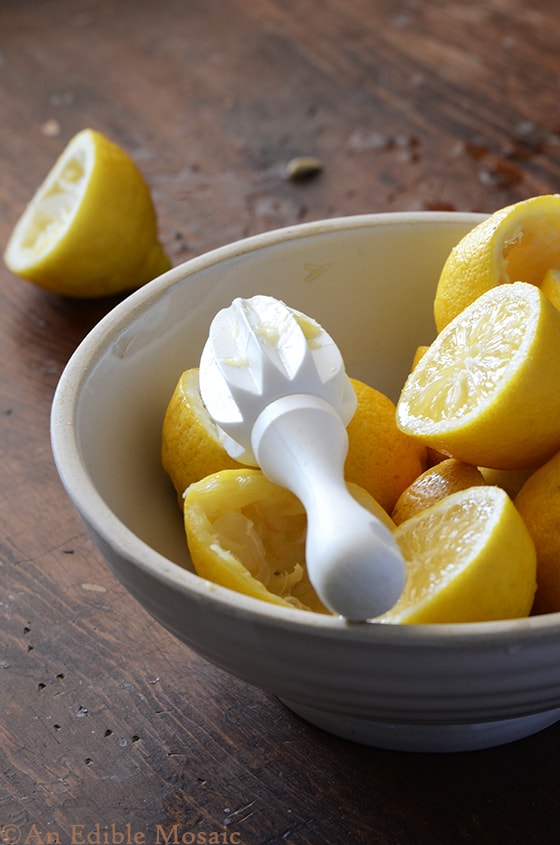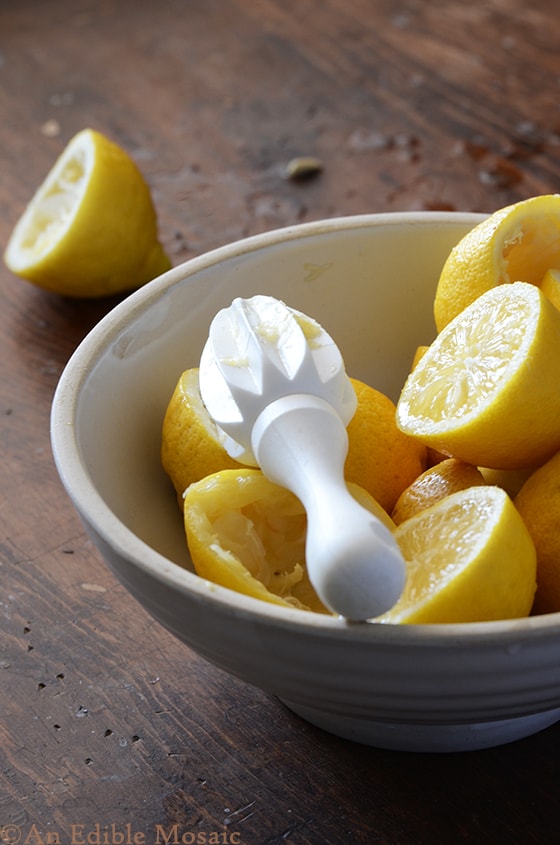 For those of you who want to try your hand at lacto-fermentation at home, but aren't sure where to start, I highly recommend Lacto-Fermented Lemonade from Julia's cookbook, turned into a Probiotic Arnold Palmer by the addition of iced tea. It doesn't get any more refreshing, and it's such a pretty drink. Head over to my post on Culinary Covers for the full recipe!
And be sure to pick up a copy of Julia's gorgeous cookbook for more fabulous probiotic drink inspiration!
Disclosure: I received a free review copy of Delicious Probiotic Drinks (Skyhorse Publishing; 2014); as always, opinions are my own. This post contains Amazon affiliate links to products I believe in, which means that even though it doesn't cost you anything extra, I will receive a small amount of money from the sale of these items, which helps me keep this site alive – thank you for helping to support An Edible Mosaic!