Sweet Pea Salad with Scallion, Bacon, and Lemon Cream Dressing is a quick, easy, and beautiful spring side dish!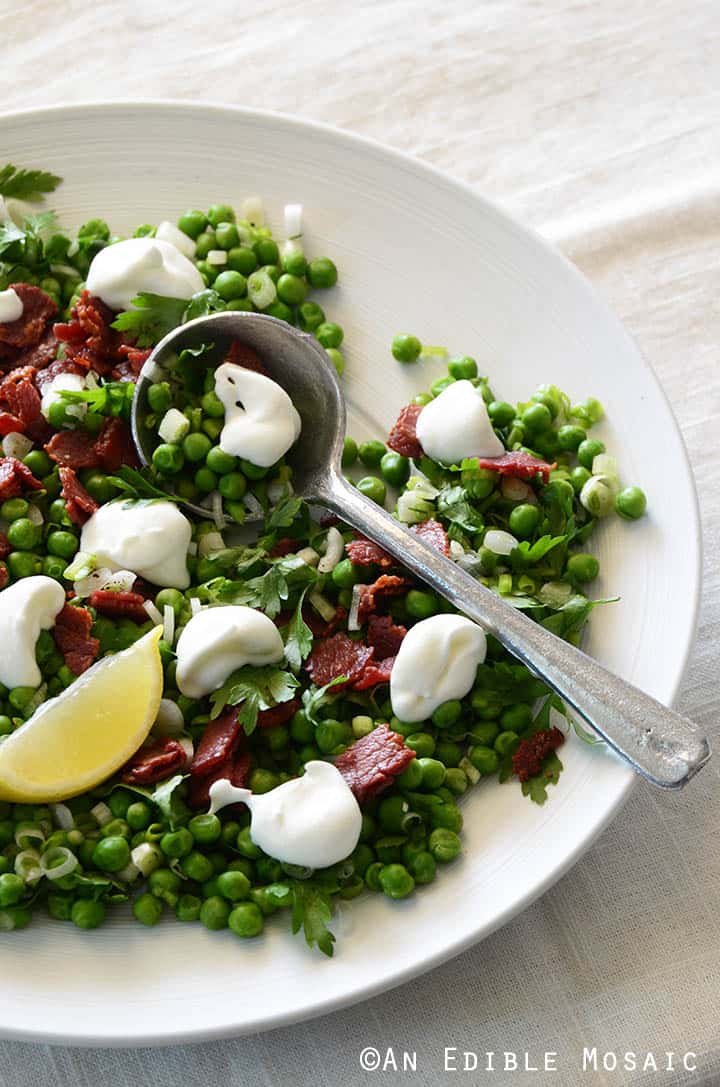 When I think of spring – as far as food goes – green peas immediately come to mind.
I think it's because green peas are not only one of my favorite springtime foods, but also because they remind me of the green buds on trees. And if you live in a place where it snows, you will know exactly what I mean when I say that buds on the trees in spring are a most welcome sight.
This salad is so easy to make it's barely a recipe, and even though it has just a few ingredients, it's not lacking flavor at all. With a lot of my recipes, I say that it's fine to go ahead and make the dish if you're missing an ingredient or two, but with this salad, each component brings an essential flavor to the mix.
The highlight is the lemon cream, which is used to dress the salad. It sounds so similar that you might not realize it's not your typical creamy lemon salad dressing; no, this is something else entirely. This is whipped cream flavored simply with lemon and a touch of sugar and salt for balance. It adds a surprisingly light feel, but at the same time richness to the dish. This airy dressing dissipates on your tongue, leaving you with a bit of richness that's pleasantly contrasted by the lemon. It is the perfect way to simply dress peas.
Fish or chicken are both lovely pairings with this dish as a side, but you can also make this pea salad into a light meal for two by serving it with some crusty bread and/or a nice cheese.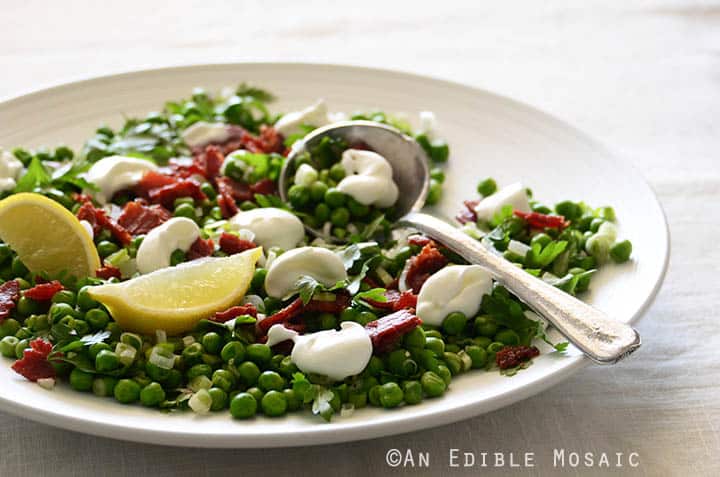 Sweet Pea Salad with Scallion, Bacon, and Lemon Cream Dressing
Prep time:
Cook time:
Total time:
Yield:
4 side dish-sized servings
Ingredients
Salad:
1½ tablespoons olive oil
6 slices turkey bacon, chopped
10 oz (285 g) frozen sweet green peas (not thawed)
3 scallions, green and white parts, thinly sliced
½ cup flat-leaf parsley leaves, pulled from the stems
Salt and black pepper
Dressing:
¼ cup (60 ml) whipping cream
1 teaspoon lemon juice
½ teaspoon lemon zest
¼ teaspoon sugar
1 pinch salt
Instructions
Heat the oil in a medium skillet over medium-high heat; add the bacon and fry until crispy, about 4 to 5 minutes, stirring occasionally. Transfer the bacon to a paper towel-lined plate to cool and drain off the excess oil.
Fill a medium saucepan half-full with water and bring it to a rolling boil; add a generous sprinkling of salt. Stir in the frozen peas and time them for 45 seconds. Strain the peas and let them cool.
Combine the bacon, peas, scallion, parsley leaves, and a pinch of salt and pepper in a large bowl, and then pour it onto a serving dish; chill until serving.
For the dressing, whip the cream until thickened enough so that when you spoon a dollop, it stays without spreading out too much. Whisk in the lemon juice, lemon zest, sugar, and salt.
Right before serving, dollop the Lemon Cream Dressing onto the salad.