In my wildest dreams it never dawned on me that delicious dinners could be made with only five ingredients. Breakfast with five or less is easy with things like Greek yogurt topped with berries and a drizzle of honey, a bowl of oats with milk, fruit, and nuts, or a bagel with lox, cream cheese, red onion, and capers...even a veggie omelet for the most part probably has less than five ingredients, but I think dinner with five ingredients is pretty impressive. That's why I was intrigued when I recently was offered a review copy of Robin Miller's Robin Takes 5, which is a cookbook of 500 recipes with five ingredients or less and 500 calories or less.
Looking through the book, quite a few of the recipes stood out to me, like Seafood Stew in Saffron Broth, Grilled Cheese Pizza with Smoked Paprika (this one really sounded unique…I think I'll be making a version of it soon!), and Chicken, Roasted Corn, & Pimento Salad…and even desserts like Frozen Creamsicle Pie, Maple Brown Rice Pudding, and Orange Marmalade Tart with Chocolate-Covered Almonds.
It's obvious that Robin is super creative…but how does she pair a mere five ingredients to come up with a flavorful meal? I've noticed that she makes every single component count. She uses doubly-flavorful ingredients like garlic-flavored olive oil (which combines garlic and olive oil), fire-roasted tomatoes (for a smoky flavor with tomatoes), and prepared store-bought polenta (so you don't need all the ingredients that would go into making homemade polenta). Additionally, she uses certain cooking methods to really make the most use out of one ingredient (such as roasting corn instead of steaming it before adding it to a dish).
I think this book would be perfect for someone who is just starting out cooking, or maybe someone who wants to cook at home but doesn't have a lot of time to commit to it; however, I also think it has its uses for people who cook regularly. For me, this book was a great source of meal inspiration. Even though I'll probably flesh out many of the recipes by adding an additional ingredient or two (even if it's just an onion or another veggie, a dash of my favorite spice, or a bit of one of my favorite prepared sauces – like Worcestershire or Dijon), or I may make the homemade version of an ingredient (such as polenta or roasted garlic) instead of grabbing a pre-made component at the grocery store, I think the recipes in this book serve as a good basic structure for meals.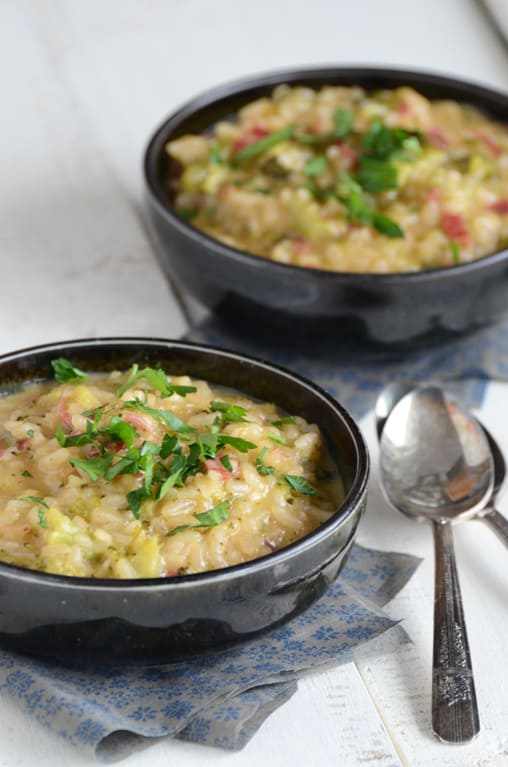 Another great thing about this book is how versatile the recipes look. The recipe that inspired my Broccoli-Cheddar Risotto was actually Risotto with Cheddar, Bacon, and Scallions. Robin's original recipe called for olive oil, Arborio rice, chicken broth with roasted garlic (another double-duty ingredient!), cheddar cheese, bacon, and scallions. That's all. (Pretty impressive, right?) I made a couple substitutions: turkey bacon instead of pork bacon because we don't eat pork, and fresh parsley instead of scallion because that's what I had on hand. I also made a couple of additions: onion, lemon juice, and garlic (because I always make my risotto with them) and broccoli (because I had it in my fridge to use up). It ended up being really tasty. The best part is, going through the book it looks like many recipes can be adjusted similarly to suit your preferences.
A Note on the Broccoli in This Recipe: I wanted the broccoli to sort of melt right into the background of the risotto, so I cooked it right along with the rice (as described below). If you prefer your broccoli to stand out a little more, you can blanch the broccoli florets until crisp-tender and stir them in to the cooked risotto right after you stir in the cheese and turkey bacon.
Broccoli-Cheddar Risotto (Inspired by Robin Miller's recipe for Risotto with Cheddar, Bacon, and Scallions in her book Robin Takes 5; published by Andrews McMeel Publishing, LLC)
Serves 4 to 6 as a side dish
4 cups low-sodium chicken or vegetable stock
2 tablespoons olive oil
6 slices turkey bacon, minced
1 medium onion, diced
1 cup Arborio rice
1 ½ tablespoons fresh lemon juice mixed with 2 ½ tablespoons water
2 large cloves garlic, minced
2 cups broccoli florets, chopped small
⅛ teaspoon black pepper
3 oz sharp cheddar, grated
2 tablespoons minced fresh parsley leaves, or any fresh herb you like (optional; for garnish)
Bring chicken stock to a simmer in a medium saucepan over medium heat; turn heat down to low so it stays hot as you cook the risotto.
Heat the oil in a separate medium saucepan over medium heat; add the turkey bacon and cook until crispy, about 5 minutes. Remove the turkey bacon with a slotted spoon and set aside for now. Add the onion to the oil you cooked the turkey bacon in and cook until soft but not brown, about 5 minutes, stirring occasionally. Add the rice and cook until slightly browned and nutty smelling, about 3 to 4 minutes, stirring occasionally. Add the lemon juice/water mixture and cook until evaporated, about 1 minute. Stir in the garlic, broccoli, and black pepper.
Turn heat down to medium-low. Add ½ cup of the hot stock to the rice, stirring constantly until the liquid is almost completely absorbed, then adding more stock in the same manner. Continue this way until the risotto is tender with just a slight bite to it, about 20 to 25 minutes. (You may need slightly more or less liquid to achieve this; if you run out of stock, you can just simmer some water.)
Turn off heat and stir in the cheese and turkey bacon; add salt and pepper to taste. Sprinkle parsley on top (if using) and serve immediately.