Endive-Citrus Slaw is bursting with bright flavor and nutrition.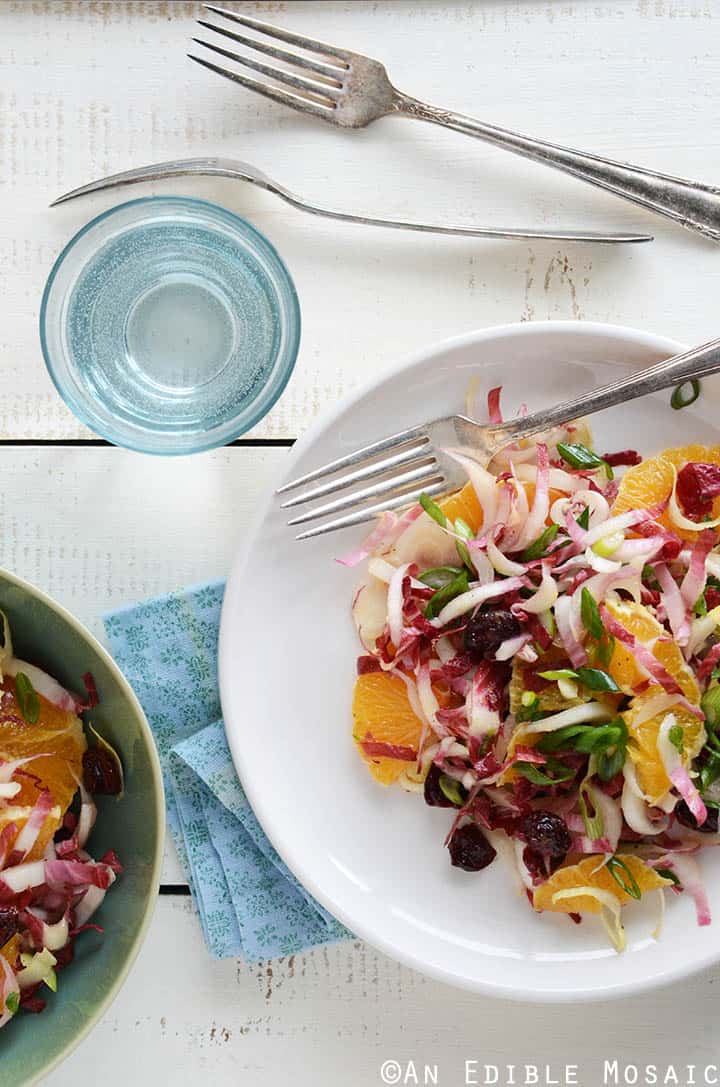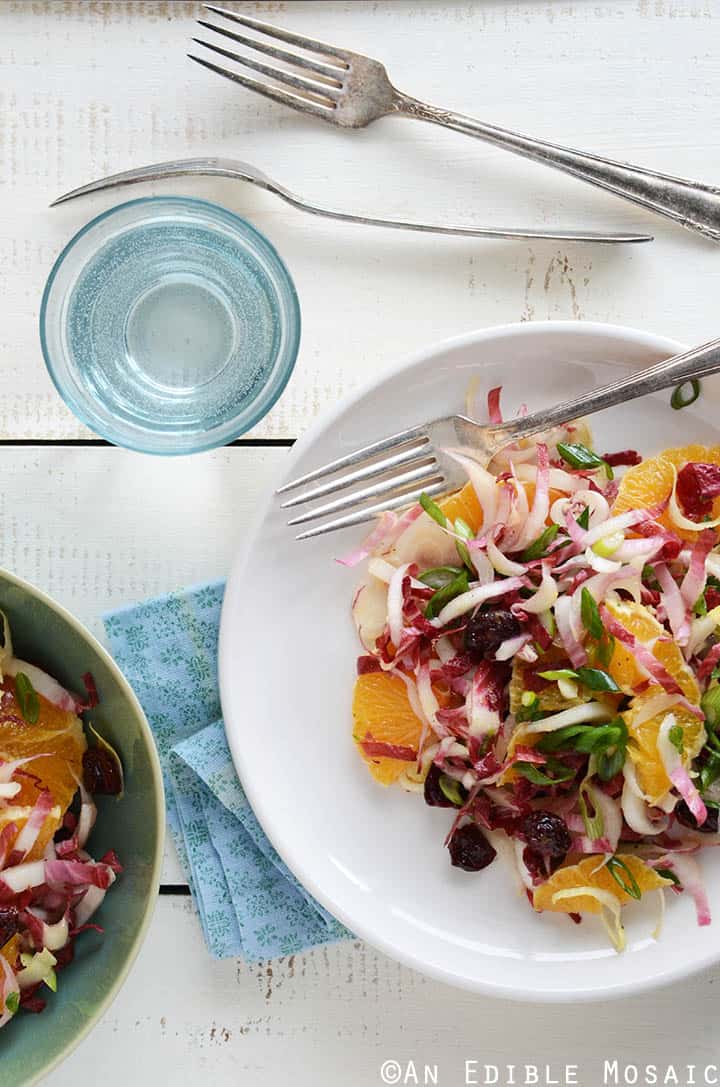 If you want to make someone's day, send them a package of goodies, but don't tell them that you're sending it. Expect an elated email or phone call from the recipient within the next couple days.
Last Thursday I made a quick produce run to the grocery store (I was out of oranges to feed Mike's addiction and spinach to feed mine) and was back within 20 minutes. When I got home there was a note stuck on the door from the UPS guy saying he had tried to make a delivery…I wasn't even expecting anything!
I had better luck the next day; the delivery was a big box of fresh California endive from the wonderful people at Discover Endive! The package included an endive bouquet, which is a beautiful bunch of endive still attached to their root ends…
Trim the root ends off (I know the roots look a little like dirty parsnips, but if you think you can use them like you would parsnips – which was my initial thought – you'd be wrong. I was told they're much too bitter to be edible, but are sometimes used to make chicory coffee), and you're ready to go after you remove any torn or damaged leaves and trim off the bottom. According to the Discover Endive website, you don't even need to rinse the leaves since have never been exposed to soil, and are harvested and packed under sanitary conditions.
I was thrilled to receive endive because not only is it delicious, but it's one of those things that I don't usually buy unless I need it for a specific dish, so it was a real treat to work with. (And speaking of treats, endive has a whole host of nutritional benefits…yes, I consider that a treat, lol.) The first thing I made was this beautiful slaw, which was brightly flavored with citrus. I balanced the bitterness of endive with the sweetness of honey, fresh orange, and dried cherries for a refreshing slaw.
Endive-Citrus Slaw
Bright and balanced in flavor, this refreshing slaw is as delicious as it is healthy.
Ingredients
¾ to 1 lb endive (about 3-4 endives; I used a mix of red and white California endive)
1½ tablespoons lemon juice
1 tablespoon olive oil
½ tablespoon honey (more or less to taste)
1 teaspoon lemon zest
¼ teaspoon coarse salt
1 pinch black pepper
1 naval orange, peeled, halved, and thinly sliced horizontally
4 scallions, white and green parts, thinly sliced on a diagonal
2 tablespoons dried cherries (or any dried fruit you like), coarsely chopped
Instructions
Trim the bottom off each endive, and then cut each in half lengthwise; cut out the core the same way you would with a head of cabbage. Thinly cut each endive cross-wise into about ⅛-inch thick slices.
Whisk together the lemon juice, olive oil, honey, lemon zest, salt, and pepper in a medium-sized bowl.
Gently toss the endive and all remaining ingredients in the dressing; serve.
Disclosure: I received a box of endive for free from Discover Endive; as always, opinions stated are my own.