In many cultures, meat in general and lamb in particular is what you serve to guests…especially guests you really like! (Since it's usually the most expensive part of the meal, serving meat demonstrates your hospitality.) I ate more lamb in the Middle East in just a couple months than I ate in the rest of my life combined. (Middle Easterners are a generous, hospitable group of people…lamb was on the menu often! Plus my hubby has a lot of family members, and each one wanted the chance to host us.)
Stateside Mike and I generally don't eat as much lamb, except during the Eid right after Ramadan. But really, the biggest reason that we don't eat is very often is because we haven't been able to find a good supplier.
That is, until we recently tried the American lamb from Superior Farms. Mike is a huge lamb lover and I tolerate it well enough, but we were both blown away by this lamb. It was tender, juicy, and flavorful without having that distinctively overpowering "lamb-y" flavor. It was incredible; without a doubt the best lamb I've had outside the Middle East, and it even rivals some of the lamb I've had there. Best part is, it's certified halal. From now on I think I know where we'll be getting our lamb from, lol.
A couple days ago I made a feast of roasted boneless leg of lamb and a few side dishes; we enjoyed good food and great company.
Our table was pretty in a very simple way. The color scheme was blue and white with a few splashes of yellow and green, thanks to fresh lemons and limes. Not only did the citrus make a vibrant little centerpiece, but it was also perfect for those who wanted a squeeze of fresh flavor.
We don't drink alcohol, so water with citrus was our beverage of choice. So refreshing.
Here's our feast, which featured Roasted Boneless Leg of Lamb, Greek Salad, Greek Roasted Potatoes, and Couscous with Roasted Vegetables. It was a meal fit for a king – or better yet, a meal fit for guests. Three of the recipes (all except the Greek Roasted Potatoes) were inspired by recipes from Superior Farms' Spring Supper Club Recipe Guide. I treated the recipes as guidelines rather than hard-and-fast-rules and I used what I had on hand, which is why my pictures don't match the recipes exactly. Cooking is so much easier when you make it flexible, don't you think?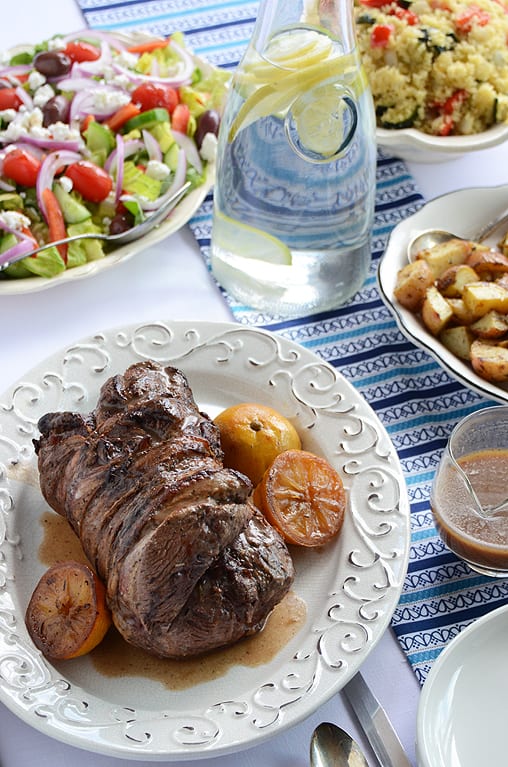 Clockwise From One O'clock: Couscous with Roasted Vegetables, Greek Roasted Potatoes, Roasted Boneless Leg of Lamb, and Greek Salad.
Here's my plate…I had two more helpings of the Couscous with Roasted Vegetables and Greek Salad! Everything was fantastic, but that couscous in particular was my favorite.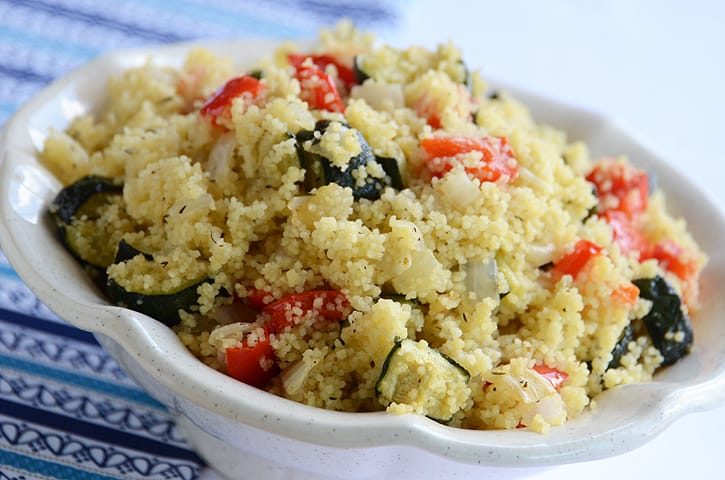 Couscous with Roasted Vegetables
Couscous with Roasted Vegetables (Recipe found in Superior Farms' Spring Supper Club Recipe Guide; reprinted with permission.)
Serves about 6
1 small eggplant, cut lengthwise into 8 wedges
3 small zucchini, each cut lengthwise into 4 wedges
2 large leeks (white and pale green parts only), halved lengthwise, cut crosswise into 2 ½-inch pieces
1 red bell pepper, cut into ½-inch wide strips
1 yellow bell pepper, cut into ½-inch wide strips
10 large garlic cloves, unpeeled
3 ½ tablespoons olive oil
2 tablespoons balsamic vinegar
1 tablespoon chopped fresh rosemary
Fresh ground salt and pepper to taste
Couscous:
2 ½ cups chicken broth
1 10-ounce box couscous
Dressing:
1 cup pitted brine-cured black olives (such as Kalamata), halved
¼ cup olive oil
6 tablespoons fresh lemon juice
3 tablespoons thinly sliced fresh basil
Preheat oven to 400°F. Divide first 6 ingredients between 2 heavy large baking sheets. Brush vegetables with 3 tablespoons oil and balsamic vinegar. Sprinkle herbs over. Sprinkle with salt and pepper. Roast until tender, turning occasionally, about 45 minutes. Cool.
Remove and discard peels from garlic. Coarsely chop garlic. Cut roasted vegetables into ¾-inch pieces. Set aside.
Bring 2 ½ cups of chicken broth to boil in medium saucepan. Stir in couscous. Remove from heat. Cover; let stand until water is absorbed, about 5 minutes. Fluff couscous with fork. Transfer to large bowl.
Gently mix roasted garlic and vegetables, ¼ cup oil, olives, lemon juice, and basil into couscous; season with salt and pepper to taste.
Lola's Leg of Lamb
Chef Liam Spence, Lola – Seattle, Washington (Recipe found in Superior Farms' Spring Supper Club Recipe Guide; reprinted with permission.)
Serves 6 to 8
1 boneless leg of American lamb (about 3 lbs)
½ bunch of Greek oregano, crushed
½ bunch of rosemary, finely chopped
4 tablespoons kosher salt
2 tablespoons pepper
Juice of 2 lemons
2 ounces extra-virgin olive oil
Combine the oregano, rosemary, salt and pepper in a small bowl. Rub the mixture onto the lamb. Refrigerate for one day before roasting for optimum flavor.
Preheat oven to 325°F. Roast leg of lamb until it reaches an internal temperature of 130°F, basting every half hour with olive oil and lemon juice. After the lamb reaches 130°F, let sit in a cool oven for 20 minutes before slicing.
A Couple of My Notes on Roasting a Boneless Leg of Lamb: (1) Marinating: For best flavor, make sure to refrigerate your lamb in the marinade for at least 1 day but up to 3. I added the following to the marinade ingredients: 2 tablespoons apple cider vinegar; 4 cloves garlic, peeled and cracked; 1 medium onion, peeled and quartered; rind from 2 juiced lemons, quartered. (2) Tying: After marinating, a boneless roast should be tied using butcher's twine; this step-by-step photo tutorial on All Recipes or this video on Epicurious are useful resources if you aren't sure how to do this. (3) Searing: Once the roast is tied, I like to sear it on the stovetop on all sides before roasting it, similar to the method I used to make my Spiced Sirloin Roast for Two. (4) Testing for Doneness: The best way to tell if a roast is done is by checking the internal temperature with an instant-read digital thermometer. The temperature of 130F recommended in Chef Spence's recipe above will yield a medium-rare roast, but don't forget that the temperature will rise as the meat sits before slicing. This article on What's Cooking America has a useful chart that shows the temperatures relating to the degrees of doneness for lamb roasts. (5) I like to make a quick pan sauce with the drippings from the roast; to do so, skim off as much of the fat as you can, then de-glaze the roasting pan with stock, reduce it, and add 1 to 2 tablespoons of butter along with seasonings to taste.
Greek Salad (Recipe found in Superior Farms' Spring Supper Club Recipe Guide; reprinted with permission.)
Serves about 6
2 heads Romaine lettuce, torn into bite-sized pieces
2 cups cherry tomatoes, sliced in half
1 English cucumber, coarsely chopped
1 medium red onion, sliced into very thin rings
1 small green pepper, diced
¾ cup (pitted) Kalamata olives
¾ cup crumbled feta cheese
Combine all salad ingredients (except cheese) in large bowl. Toss with ½ cup of your favorite vinaigrette or olive oil dressing. Sprinkle cheese on top and serve.
Yogurt with Honey & Nuts
Yogurt with Honey & Nuts (Recipe found in Superior Farms' Spring Supper Club Recipe Guide; reprinted with permission.)
Serves 6
6 cups Greek yogurt
6 tablespoons honey
6 tablespoons raisins
6 tablespoons slivered almonds, toasted
Divide yogurt into 6 individual dessert cups. Sprinkle each with equal amounts of honey, raisins, and almonds; serve.
After dinner we had spice cookies, cinnamon tea, and Turkish coffee over good conversation. And then as the weather cooled off outside, we moved to the balcony for our last round – Yogurt with Honey & Nuts. Truly a meal and a night to remember.
Disclaimer: I received the lamb mentioned in this post for free from Superior Farms; however, I was under no obligation to give a favorable review (or any review at all) of their product on my blog. As always, opinions stated are my own.