So, granola. I won't even try to sell you on it because I know you're probably already a fan. And if you are, you will probably be interested in my Pumpkin Spice Granola, which is one of my all-time favs.
And if you're not, I'd say avert your eyes or X out of this window…but I'm not going to say that because this granola is so unlike a traditional granola that you might just like it.
For starters, it is completely grain-free, meaning it doesn't even have oats! (I know, a granola without oats is almost criminal, isn't it? But just taste it…)
You're probably thinking since there aren't any grains in it, I had to go with nuts; but nope, it's also nut-free, making it the perfect choice for people with nut allergies. With four different kinds of seeds it is a nutritional powerhouse that is the perfect way to start your day.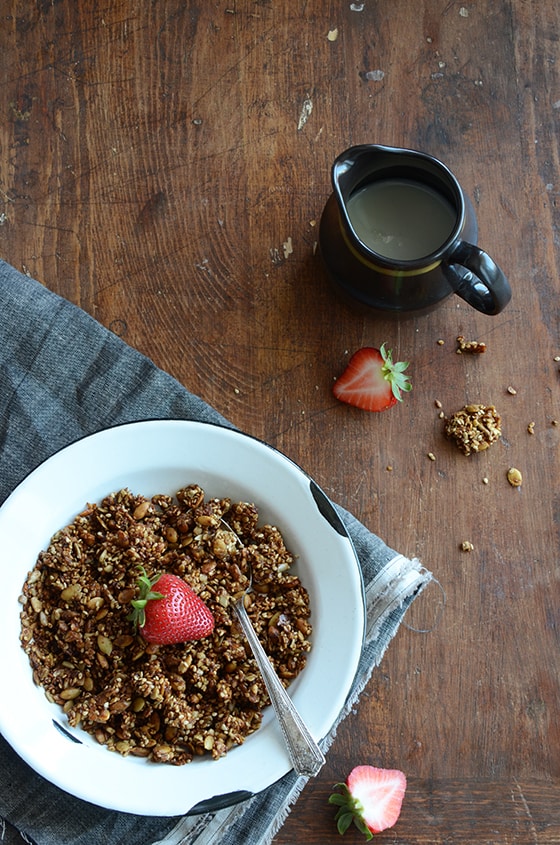 Paleo Maple-Cinnamon Granola
Prep time:
Cook time:
Total time:
Yield:
Yields about 10 cups, or about 20 (½-cup) servings
Ingredients
2 cups (300 g) raw unsalted sunflower seeds
1¾ cups (250 g) raw unsalted pumpkin seeds
1⅓ cups (150 g) golden flaxseed meal
1 cup (150 g) unhulled sesame seeds (or an extra 1 cup (150 g) sunflower seeds)
⅔ cup (150 g) coconut oil or ghee (clarified butter)
¾ cup (180 ml) pure maple syrup
1 tablespoon pure vanilla extract
1 tablespoon ground cinnamon
½ teaspoon sea salt
Instructions
Preheat oven to 375F; line a large baking sheet (a half-sheet pan) with parchment paper or a silpat liner.
Add the sunflower seeds to a food processor and pulse until coarsely chopped (it should look similar to granola). Pulse in the pumpkin seeds to break up the pumpkin seeds a little, leaving most whole. Pour this mixture along with the flaxseed meal and sesame seeds into a large bowl and set aside.
Add the coconut oil or ghee, maple syrup, vanilla extract, cinnamon, and salt to a small saucepan. Heat over medium heat until the coconut oil is melted, about 2 minutes, stirring occasionally.
Pour the coconut oil mixture over the sunflower seed mixture and stir to combine.
Spread the granola out onto the prepared baking sheet in an even layer and bake until golden, about 35 to 45 minutes, tossing well once every 15 minutes.
Cool completely and then gently toss to break up the granola.
Store in an airtight container at cool room temperature up to 3 weeks.