This Carrot Cake Oatmeal is a great recipe to help you get your vegetables in early! Dessert for breakfast, anyone?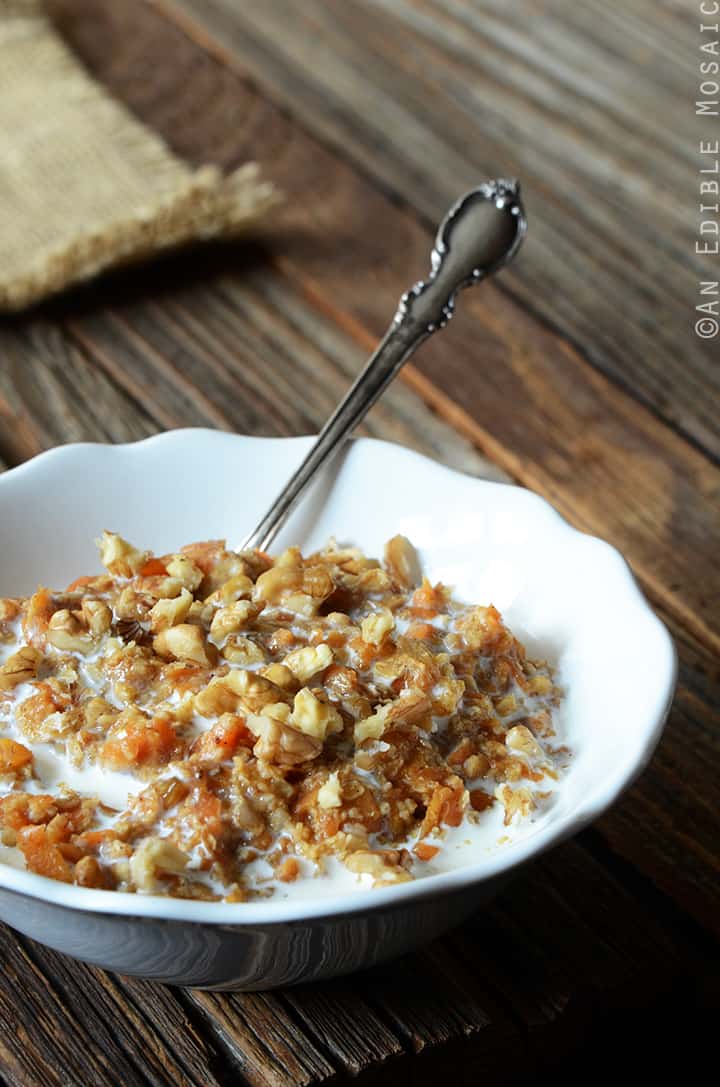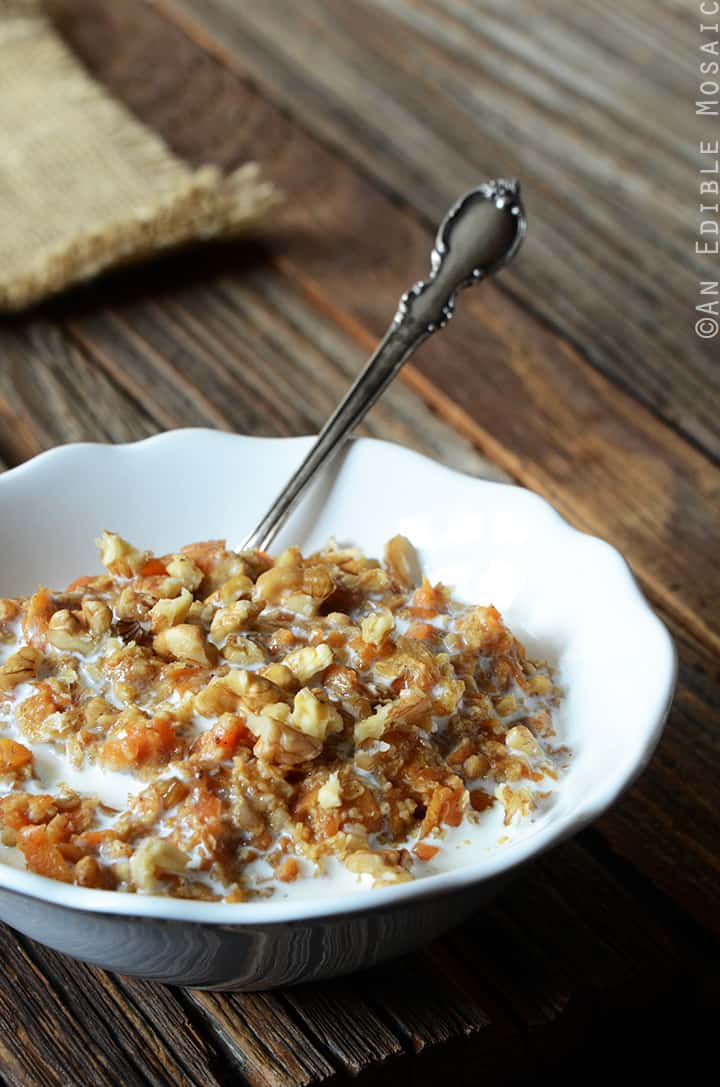 Special days require cake for breakfast, like birthdays or holidays.
Other days (you know those cold, dark, or stormy winter days), the allure of cake for breakfast is the only thing that will get you out of bed in the morning.
Either way, cake for breakfast should be embraced instead of frowned upon. After all, cake can be healthy, right?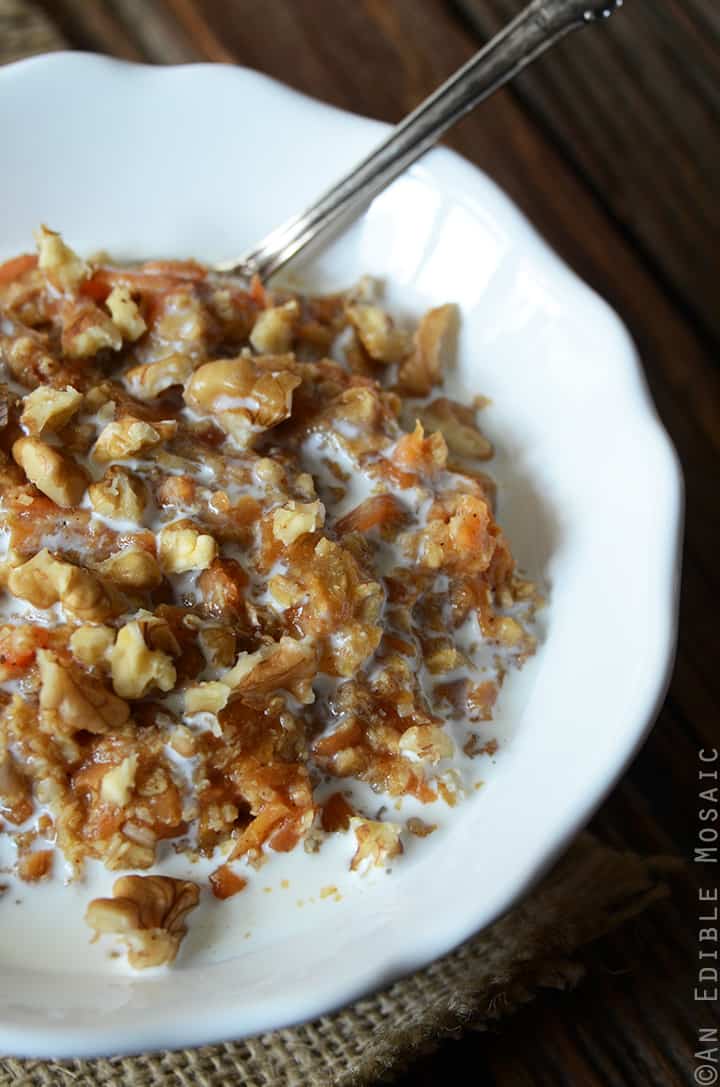 This beautiful bowl of oatmeal sure is. It's full of vitamins, minerals, fiber, and protein, and won't leave you crashing off a sugar high mid-morning the way normal cake would. In fact, the sweeteners I used come straight from nature: carrot, raisins, and honey. This oatmeal will leave you feeling happy and energized straight through until lunchtime.
So go ahead and indulge.
And the next time someone jokingly mentions cake for breakfast, you can let them in on your little secret.
Carrot Cake Oatmeal
Prep time:
Cook time:
Total time:
Ingredients
1 small carrot, peeled and shredded (about ¼ cup, packed)
1 cup (235 ml) hot water
⅓ cup (30 g) quick-cooking oats (see note below)
1 tablespoon raisins (I used golden raisins, but any kind is fine)
2 tablespoons unsweetened, desiccated coconut (optional)
2 tablespoons chopped walnuts, divided
½ teaspoon ground cinnamon
1 pinch ground nutmeg
1 pinch ground cloves
1 pinch ground ginger
1 pinch sea salt
1 tablespoon honey or maple syrup (more or less to taste; see vegan note below)
½ teaspoon pure vanilla extract
1-2 tablespoons heavy cream or coconut milk (see vegan note below)
Instructions
Add the carrot and water to a small saucepan; bring to a boil over medium heat, then boil 3 minutes (uncovered), stirring occasionally.
Stir in the oats, raisins, coconut, 1 tablespoon walnuts, cinnamon, nutmeg, cloves, ginger, and sea salt. Cook until the oats absorb the liquid, about 1 minute, stirring constantly. Turn off the heat and stir in the honey and vanilla.
Transfer to an individual-sized serving bowl, and top with the heavy cream and the remaining 1 tablespoon walnuts.
Notes
Quick-Cooking Oats: These are old-fashioned rolled oats that have been chopped a little bit finer. If you only have old-fashioned rolled oats on hand and you want to make this recipe, you can do one of two things: 1) pulse old-fashioned rolled oats a couple times in a food processor until they look like quick-cooking oats; or 2) use old-fashioned rolled oats and increase both the cooking time and water amount as needed.

To Make This Recipe Vegan: Use maple syrup instead of honey and coconut milk instead of heavy cream.

Gluten-Free: Remember, if keeping this dish gluten-free is a concern, be sure to buy oats that are certified gluten-free!
Update (November 12, 2013): I made this dish again and perfected the recipe so I updated this post.