Savory Oatmeal Breakfast Bowls with Smoky Garlic Greens and Chipotle-Honey Vinaigrette is a delicious way to get in a serving of whole grains and vegetables early in the day!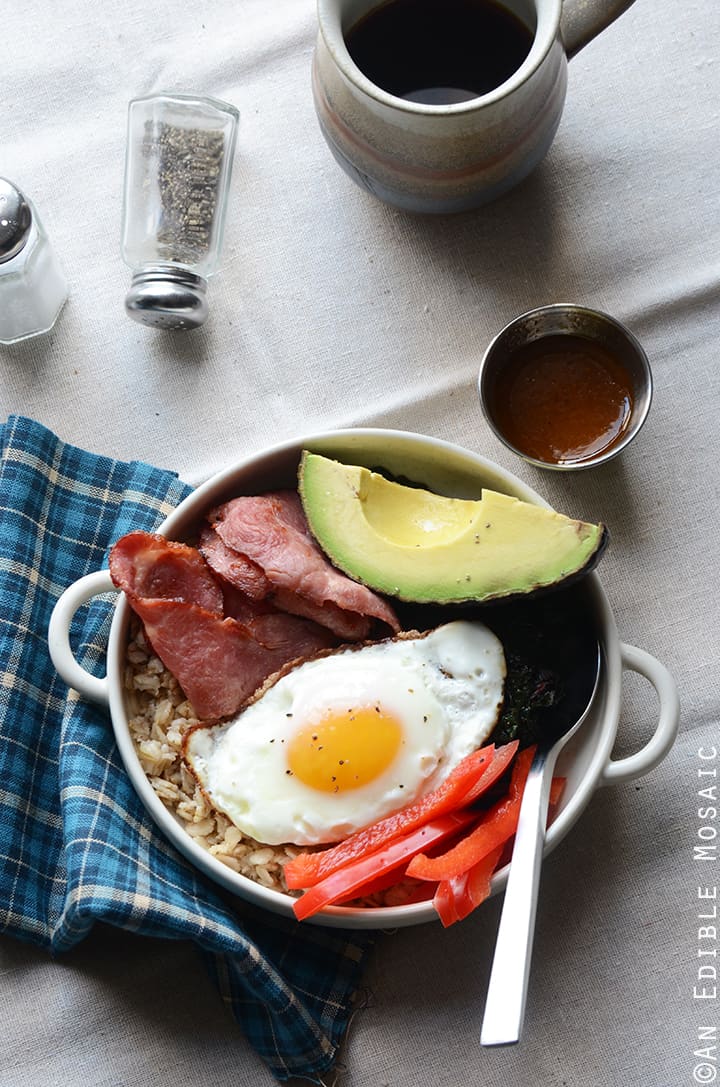 I'm really not fussy about my oats. I'll take them just about any way I can get them: savory or sweet, whipped, steel-cut, made into granola, baked into muffins, and of course in cookie form. But one day I stumbled on a way of making oats that was a bit of a revelation for me.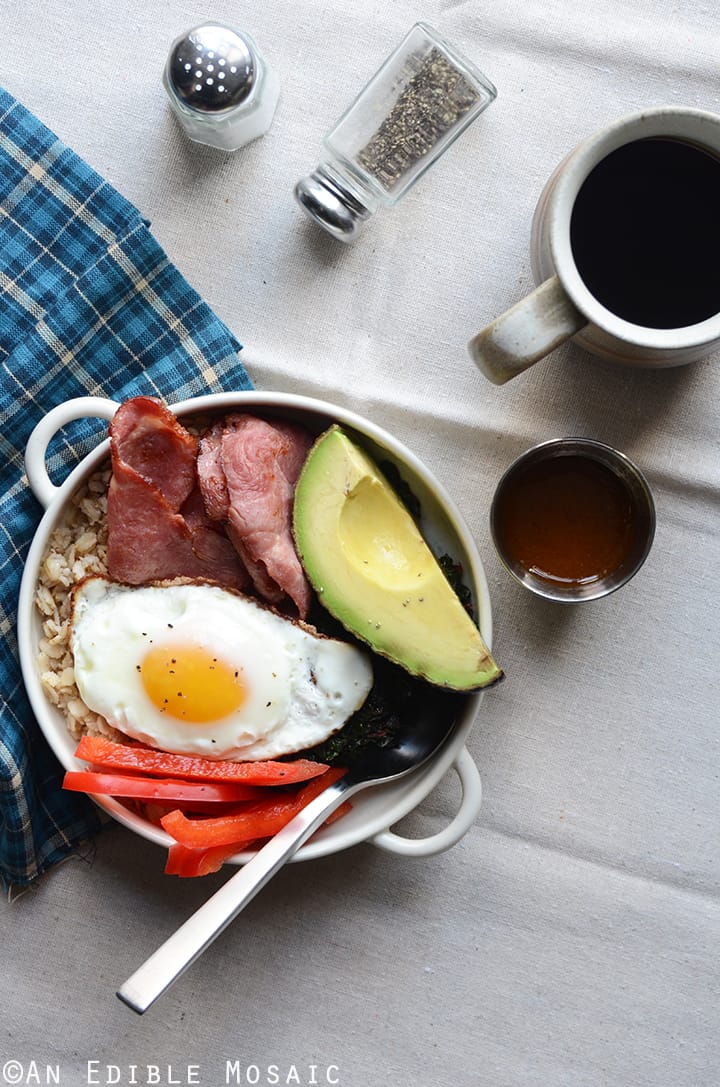 One random chilly winter morning, I put a little saucepan of oats on the stovetop for breakfast and completely forgot to stir. I returned to the pot five or so minutes later (important: kids, never leave a pot unattended on the stovetop!). Expecting the normal consistency of oatmeal (creamy/mushy), I was surprised to see that I had somehow ended up with flaky oats that were chewy, more similar in texture to fluffed rice or al dente pasta than oatmeal porridge! It was a revelation.
After that happy accident I was determined to make al dente oats again.
I share my method for chewy al dente oats in this recipe; it is super easy and completely foolproof, yielding perfectly flaky oats every time. It's basically cooking the oats the same way you'd cook pasta, but for much less time! You can dress these oats up any way you like; add a splash of milk, a pat of butter, and a sprinkle of brown sugar for a classic breakfast, or make them into a savory side dish instead of rice or pasta with the addition of roasted vegetables and any spices you fancy. Any way you serve them, this cooking method will revolutionize the way you eat oats.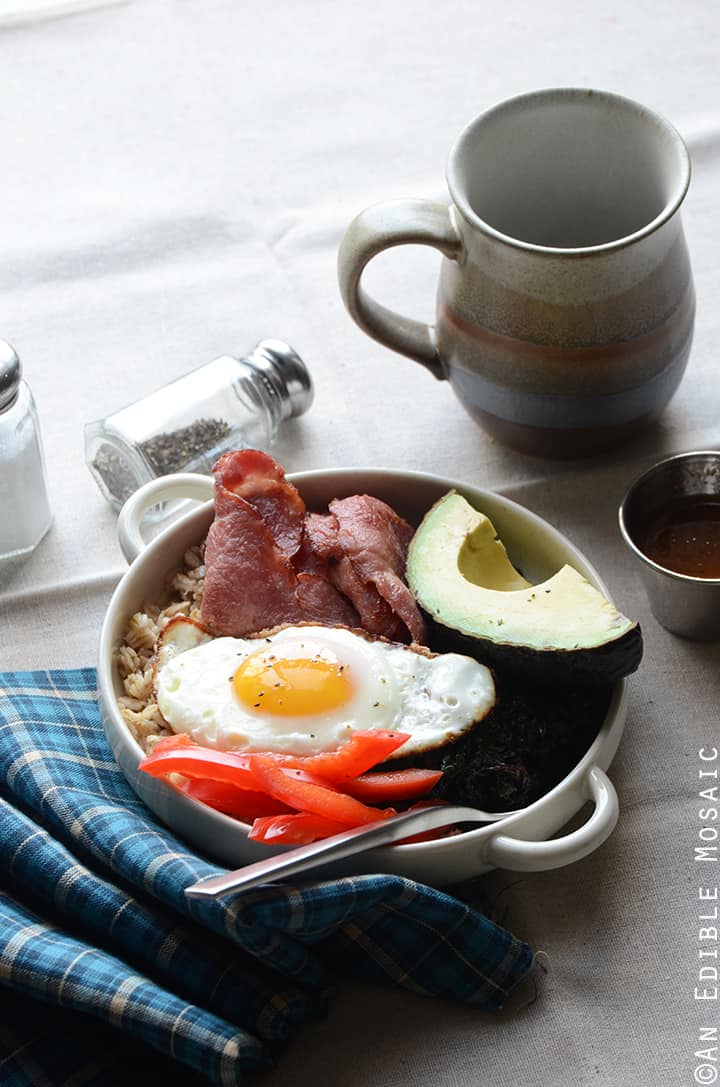 Here I served my flaky oats as a savory breakfast bowl featuring egg, turkey bacon, and greens (because there's no better feeling than getting some green veggies into your diet early on in the day!). Using chipotle chili powder in the greens and in a quick little Chipotle-Honey Vinaigrette adds dimension and pulls the flavors together. (But if chipotle isn't your thing, smoked paprika instead is also delicious here.)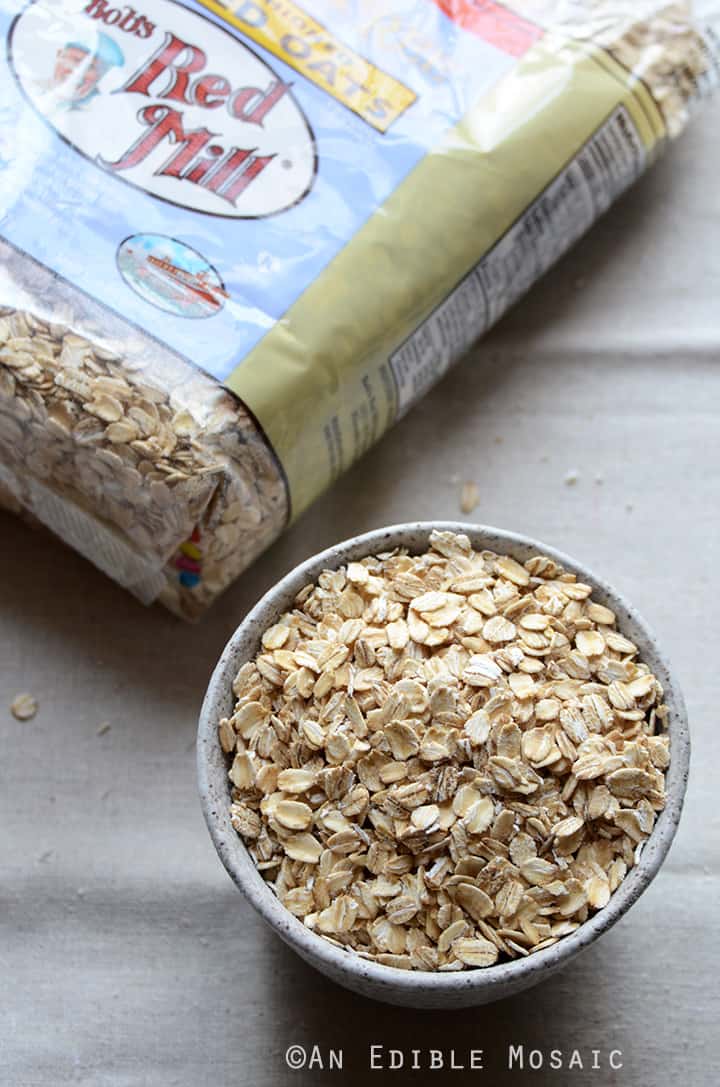 I used Bob's Red Mill Old Fashioned Rolled Oats in this recipe, which yielded the perfectly chewy texture I was looking for. I've talked about Bob's Red Mill products on my blog before (and I've even given you a closer look at Bob), and it's because I've consistently found their products to be of the highest quality (you can read about their commitment to quality here) and when you're cooking for loved ones, that's huge. I couldn't be happier to announce that this year I'm partnering as a brand ambassador with Bob's Red Mill, so I'll be showcasing a few of their various products in recipes throughout the year.
Back to this recipe though. I want to mention that this meal doesn't stop at breakfast; if you're a fan of breakfast for dinner (and who isn't?!), this is perfect.
Have you tried savory oats?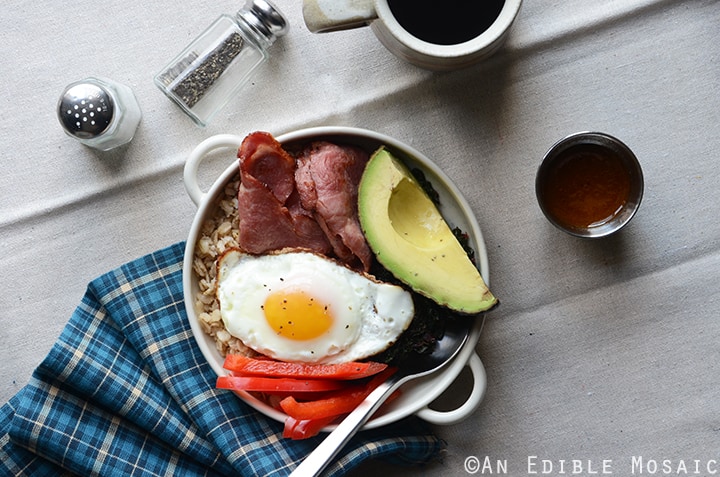 Savory Oatmeal Breakfast Bowls with Smoky Garlic Greens and Chipotle-Honey Vinaigrette
Prep time:
Cook time:
Total time:
Savory Oatmeal Breakfast Bowls with Smoky Garlic Greens and Chipotle-Honey Vinaigrette is a delicious way to get in a serving of whole grains and vegetables early in the day!
Ingredients
Chipotle-Honey Vinaigrette:
2 tablespoons extra-virgin olive oil
2 tablespoons organic raw, unfiltered apple cider vinegar
1 tablespoon raw, local honey
1 teaspoon Dijon mustard
¼ teaspoon chipotle chili powder (or more to taste)
⅛ teaspoon each salt and black pepper
Savory Oatmeal Breakfast Bowls with Smoky Garlic Greens:
2 cups (200 g) Bob's Red Mill Old Fashioned Rolled Oats
2 tablespoons avocado oil or light olive oil
10 to 12 cups (300 to 360 g) chopped greens, such as collard, beet, or chard
6 to 8 tablespoons low-sodium chicken or vegetable stock (or water)
3 medium cloves garlic, minced
¼ teaspoon each salt, black pepper, chipotle chili powder, and cumin
½ red bell pepper, thinly sliced
1 avocado, quartered
4 eggs, cooked any way you like
8 slices turkey bacon, cooked
Instructions
Whisk together all ingredients for the vinaigrette and set aside.
For the oats, fill a medium-sized saucepan ¾ full with water and bring to a rolling boil; salt the water, add the oats, and boil 1 minute and 30 seconds. Turn off the heat, cover the saucepan, and let the oats sit in the hot water until al dente, about 3 minutes. Drain well and set aside.
Meanwhile, for the greens, heat a large, deep-sided skillet over medium to medium-high heat. Add the oil, greens, and stock or water; cover the skillet and cook until the greens are wilted and the liquid is evaporated, about 4 to 6 minutes, stirring occasionally. Add the garlic, salt, black pepper, paprika, and cumin, and cook 1 minute more, stirring constantly.
To serve, divide the oats between 4 bowls. Top each with ¼ of the greens, ¼ of the red bell pepper, ¼ of the avocado, 1 egg, and 2 slices turkey bacon.
Serve the bowls immediately along with the vinaigrette for drizzling on top.
Notes
To Make the Oats Ahead: Cook the oats as directed above; stir in a little neutral-flavored oil (such as avocado oil) and refrigerate up to 3 days. Before serving, reheat the oats in the microwave or for 30 seconds in boiling water.
Disclosure: I'm thrilled to partner with Bob's Red Mill as a brand ambassador. I received the Bob's Red Mill product that I used in this recipe for free, and I also received compensation for this post. I am happy for the opportunity to share brands that I believe in with my readers, and I hope you enjoy my recipe. As always, opinions stated are my own.