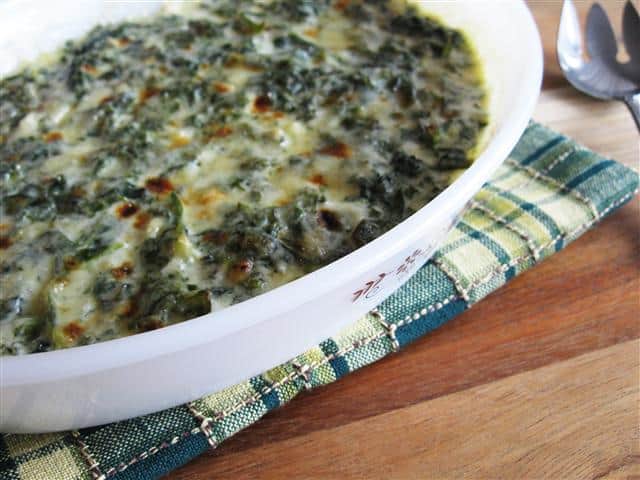 With Thanksgiving swiftly approaching, many people are turning their thoughts to holiday fare.  Every year my family has a few ever-present staples (things like cranberry chutney, cornbread stuffing, mashed potatoes, and mapled squash) to go along with the turkey, but we're always looking for a few new favorites to grace our table as well.  Enter this lovely kale gratin.  I can't resist a beautiful bunch of kale, it really sings to me!  I love its heartiness, earthy flavor (especially when paired with garlic), and versatility.  I know a lot of people have to travel to be with loved ones this Thanksgiving…just a heads up that this gratin travels and reheats excellently!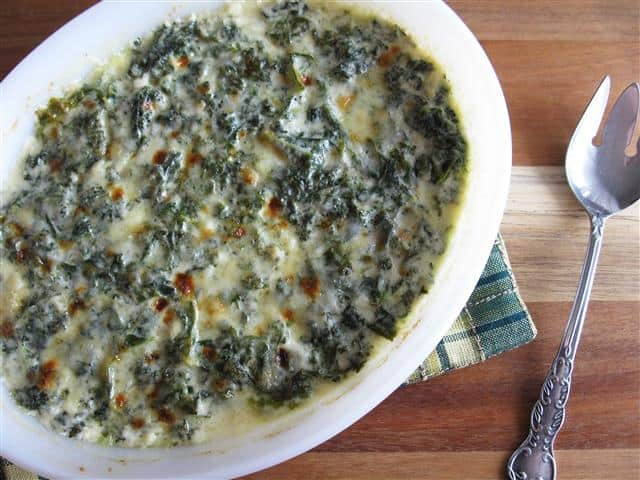 Kale Gratin
Serves about 6
1 tablespoon canola oil
2 large cloves garlic, minced
8 cups chopped, de-stemmed kale (about 8 oz)
1 1/2 tablespoons butter, plus more to grease the pan
1 1/2 tablespoons all-purpose flour
1 1/2 cups milk
1 pinch freshly grated nutmeg
2 oz Gruyère cheese, finely shredded or grated (I use a microplane)
1 oz Parmigiano-Reggiano cheese, finely shredded or grated (I use a microplane)
Salt and pepper
Preheat oven to 375F; grease an 8 by 8-inch pan (or equivalent) with butter.
Heat the oil in a large, deep-sided skillet over medium heat. Once hot, add the garlic and sauté 30 seconds.  Add 1 cup water, turn heat up to between medium-high and high, and add the kale.  Add 1/3 teaspoon salt and 1/8 teaspoon pepper; cover the pan and cook 5 minutes, stirring occasionally.  Drain the greens well and then put them back into the pan they were cooked in.
Mix the shredded cheeses together in a medium bowl, setting aside 1/2 cup to use as topping.  Melt the butter in a medium saucepan over medium heat; whisk in the flour and cook 1 minute.  Whisk in the milk and nutmeg; bring up to a boil, then turn heat down and simmer 1 minute.  Turn off heat and whisk in the shredded cheeses, except the reserved 1/2 cup for topping.  Taste the cheese sauce and add salt and pepper as desired.
Pour the cheese sauce onto the greens and stir to combine.  Transfer to the prepared gratin dish and spread out in an even layer; top with reserved 1/2 cup cheese.  Bake until the casserole is hot and the cheese is bubbling, about 20 minutes.  Preheat the broiler and broil a couple minutes until the cheese is browned in spots on top.
To Reheat:  Preheat oven to 350F.  Cover gratin with aluminum foil and bake until warmed throughout and bubbling on the edges.