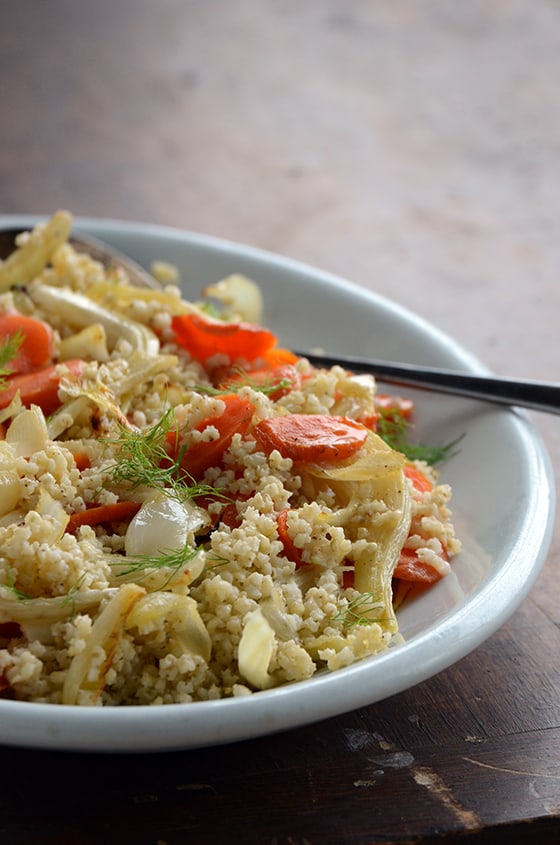 Millet is one of those things that doesn't get a lot of action on the dinner table; actually, it's probably more likely to be found in your birdfeeder.
But (I'm going to try to convince you that) it's a wonderful addition to mealtime too.
Millet is an ancient gluten-free grain with a slightly nutty flavor. It does well as a pilaf, but I also occasionally make it into a creamy porridge. It's delicious no matter how you prepare it, and its health benefits alone make it worth trying, even if you're a bit skeptical.
Millet is an alkaline food (yes, this is a good thing, lol! Evidence suggests that eating more alkalizing foods can reduce the risk of chronic diseases; you can read more about alkalizing foods on WebMD or the Journal of Environmental and Public Health). Additionally, millet is easy on the stomach and it can help improve heart health, reduce the risk of type 2 diabetes, and lower the risk of breast cancer. It is also a good source of protein and high in antioxidants and nutrients like magnesium, phosphorous, zinc, and niacin. (For more information on the health benefits of millet, check out The World's Healthiest Foods, Care2, and Livestrong.)
For this pilaf, I roasted a pan of veggies – carrot, fennel, and onion – to toss with the millet; these veggies kept the flavors light and the look fresh, but any pan of your favorite roasted veggies will do quite nicely. I dressed this pilaf very simply with fresh lemon juice and hazelnut oil.
This dish makes beautiful side for fish, or even just a nice light meal on its own.
Here are a few other millet recipes for some more inspiration:
Millet Salad with Sweet Corn and Avocado from Cooking Light
Turmeric and Vegetable Millet from Spicie Foodie
Springtime Stir-Fried Millet from Cookie + Kate
Warm Millet and Broccoli from Eden Kitchen
Savory Millet Cakes from Eating Well
Millet Pilaf with Roasted Carrot + Fennel
Prep time:
Cook time:
Total time:
Yield:
Serves 6 as a side dish
Ingredients
2 tablespoons ghee (clarified butter)
¾ cup (150 g) hulled millet, briefly rinsed in a colander under cold running water
1¼ teaspoon coarse kosher salt, divided
2 cups (475 ml) boiling water
4 medium carrots, thinly sliced on the diagonal
1 medium bulb fennel (with a few of the fronds reserved for garnish), halved and thinly sliced
1 medium onion, halved and thinly sliced
⅛ teaspoon ground black pepper
2 to 3 tablespoons fresh lemon juice
1½ tablespoons hazelnut oil (or pistachio oil, or even just extra virgin olive oil)
Instructions
Preheat oven to 450F; line a large baking sheet with parchment paper or a silpat liner.
Melt the ghee in a medium saucepan over medium heat; transfer half of the melted ghee to a large bowl and set it aside for now. Add the millet to the saucepan with the remaining ghee and toast until fragrant, about 3 minutes, stirring frequently. Add ¾ teaspoon salt and the boiling water; turn heat up to high and bring to a rolling boil, then turn heat down to low, cover the saucepan, and cook the millet until tender, about 20 to 25 minutes, stirring occasionally. Once tender, immediately pour the millet into a fine mesh sieve to drain off the excess water (do not squeeze it though).
While the millet cooks, roast the vegetables. Add the carrot, fennel, onion, remaining ½ teaspoon salt, and black pepper to the bowl with the reserved ghee and toss to combine. Spread the veggies out in a single layer onto the prepared baking sheet; roast until tender and starting to brown, about 25 minutes, tossing once halfway through.
Toss the millet, roasted vegetables, and lemon juice together in a large bowl, then transfer to a serving dish. Drizzle the hazelnut oil on top and sprinkle on the reserved fennel fronds.
Serve warm, room temperature, or chilled (but I like it best warm!).
Notes
If You Have Leftovers: I like to reheat leftovers and add a couple of fried eggs on top; it makes a quick, delicious lunch!