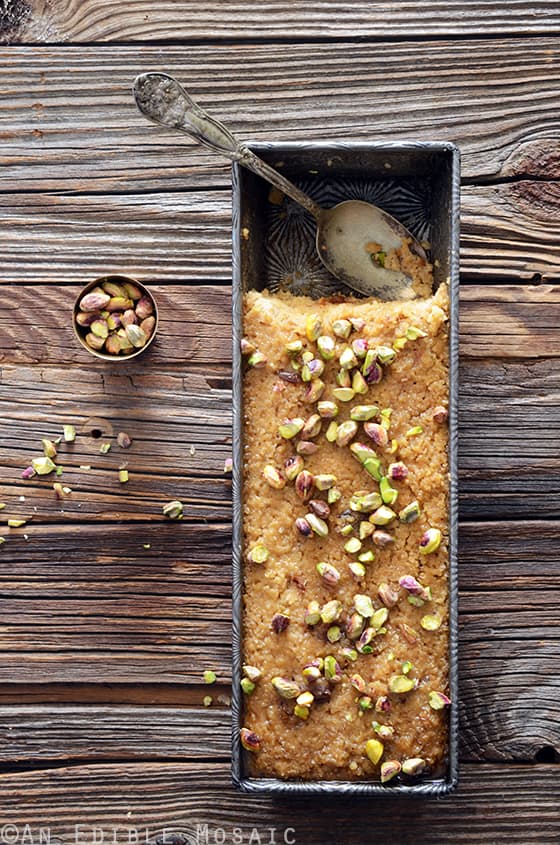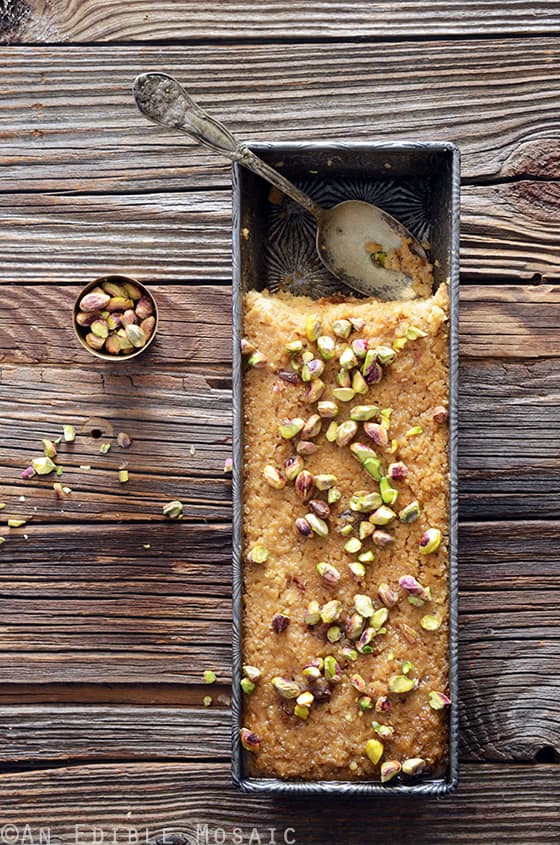 In the Middle East Mother's Day is in March.
Since my husband is – in some ways – quite a typical guy and tends to forget things like Mother's Day, Valentine's Day, and dentist appointments, I make note of two Mother's Day dates every year so that my sweet Syrian mother-in-law isn't forgotten in March and my own mom isn't forgotten in May.
This beautifully aromatic dish is something I'd happily serve to either of them for brunch on their special day.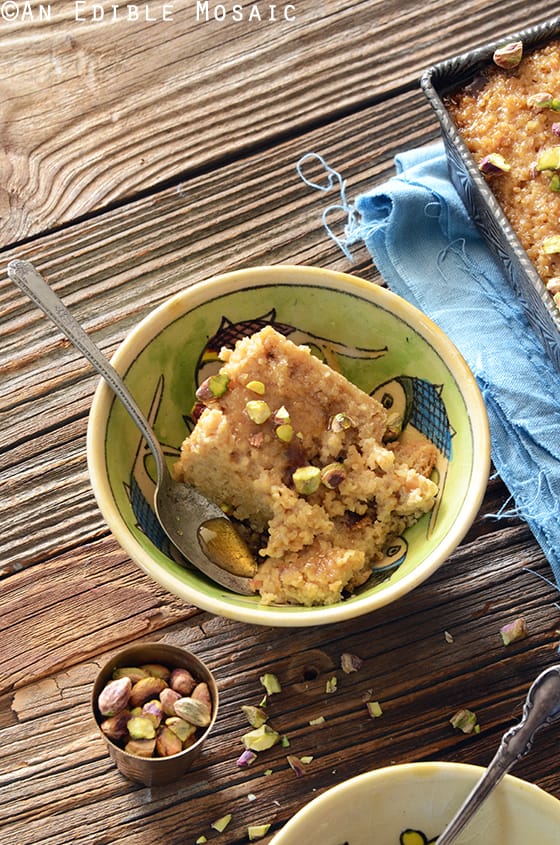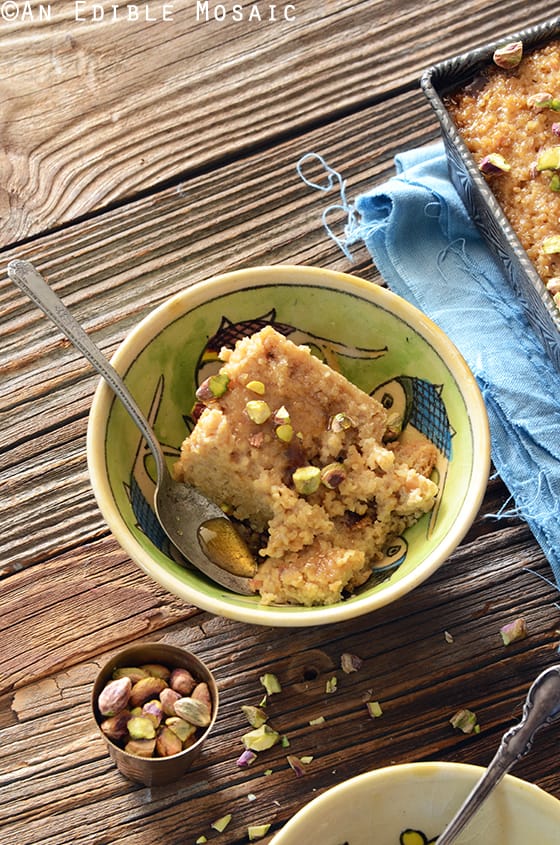 I was recently turned on to the tahini/date combo by a friend on Instagram. I had posted a picture of one of my favorite snacks (dates with almond butter), and she recommended I try dates with tahini. I took one bite and had one of those aha moments where I kick myself for not knowing about something so delicious sooner. With the natural sweet, caramel flavor notes in dates and the nutty richness of tahini, the two were meant to be together. I knew I wanted to incorporated those flavors into a dish.
This casserole is kind-of like bread pudding and kind-of like baked oatmeal. It's custardy, which makes it really comforting and indulgent-feeling. An exotic blend of Middle Eastern spices with a special emphasis on cardamom perfectly seasons the dish, and a garnish of pistachios and honey perfectly accentuates it.
The bulk of this dish is made up of bulgur wheat, which is a whole grain that's high in fiber and protein, low in calories, and is a good source of vitamins (particularly B vitamins) and minerals. For sweeteners, I used coconut palm sugar, dates, and a drizzle of honey at the end. A bit of tahini adds balance and a nutty flavor dimension.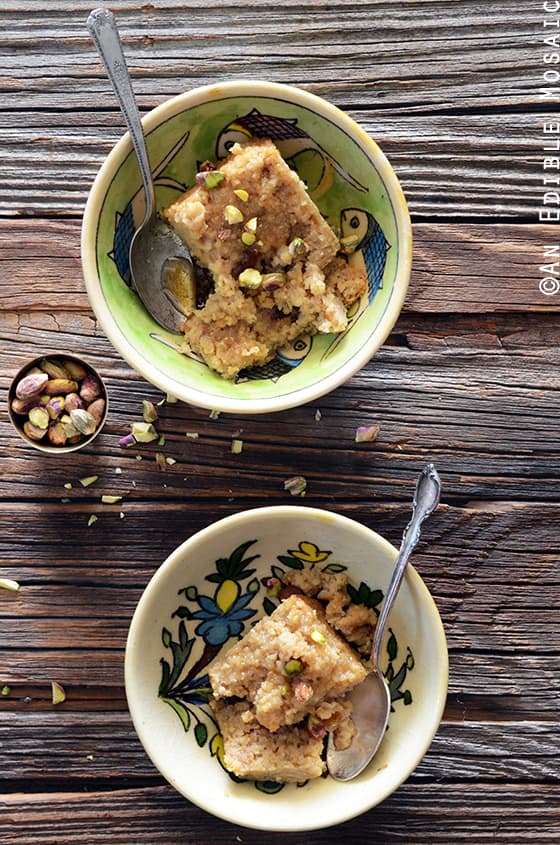 This is a really nice breakfast treat to make on a special occasion like Mother's Day or another holiday when you want to serve brunch. It can be made up to three days ahead of time and kept in the fridge until baking, so the morning of the event it requires minimal effort (just pop it in the oven!).
Served with yogurt, fresh figs, and Turkish coffee, I think this casserole would be a simple but satisfying complete special occasion brunch. Or you could go the dessert route and serve it with a scoop of vanilla bean ice cream or a dollop of whipped cream and a few slices of fresh fig. Either way you'll have people taking seconds and probably asking you for the recipe.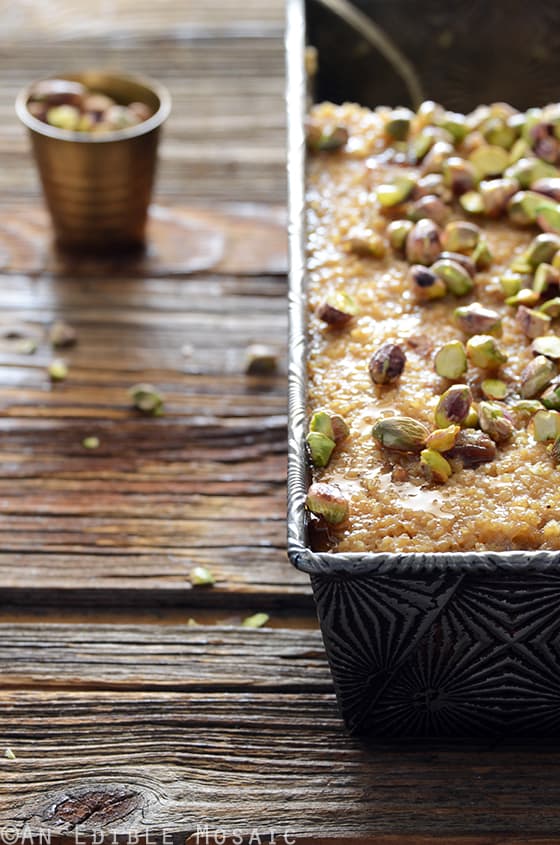 Just a quick note on the spice blend I use; I keep my pantry stocked with a few homemade spice blends and this is one of them. It's called Middle Eastern Cake Spice Mix (Baharat Kaak), and it's the main spice mix in Ma'amoul (Middle Eastern Date-Filled Cookies); the recipe for it is in my cookbook. I give a substitution below the recipe that will yield a tasty result, but for the best, most intriguing flavor, use the spice mix if possible.
No matter when you celebrate Mother's Day, I want to wish all the mothers a fabulous day that's the start of a beautiful year to come. May your day be filled with family and great food!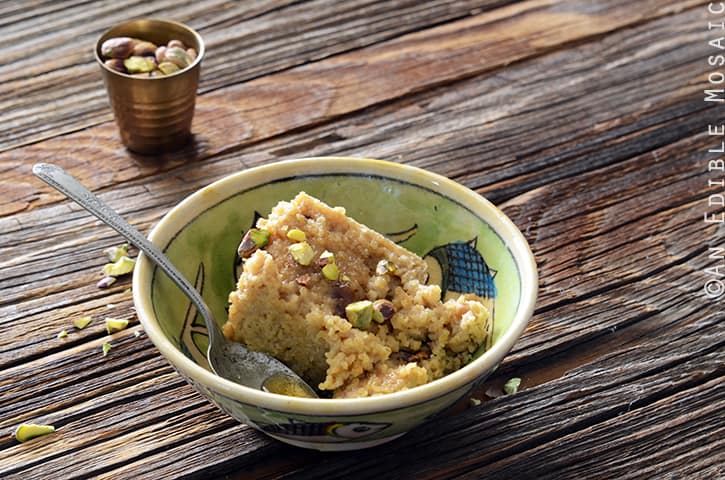 Middle Eastern Tahini, Date, and Cardamom Bulgur Wheat Breakfast Bake
Prep time:
Cook time:
Total time:
Ingredients
2 cups (390 g) coarse or fine-ground bulgur wheat (or a mix of both)
½ cup (100 g) coconut palm sugar (or lightly packed light brown sugar)
4 cups (950 ml) milk
3 tablespoons tahini
1 teaspoon Middle Eastern Cake Spice Mix (see Note below)
¾ teaspoon sea salt
¼ teaspoon ground cardamom
1 cup (235 ml) cold water
2 teaspoons pure vanilla extract
2 large eggs, beaten
1 cup pitted, chopped dates (see Note below)
Tahini or butter, to grease the casserole dish
3 tablespoons chopped raw pistachios
3 tablespoons honey
Instructions
Add the bulgur wheat, coconut palm sugar, milk, tahini, cake spice mix, salt, and cardamom to a medium saucepan. Stirring constantly, bring to a simmer over medium heat, and then simmer/gently boil for 5 minutes, continuing to stir constantly. Remove from heat, cover the saucepan, and let it sit for 10 minutes.
Stir in the cold water, vanilla, eggs, and dates.
Grease an 8 by 8-inch pan (or a somewhat equivalent dish) with tahini or butter; pour in the bulgur mixture, cover the dish with foil, and refrigerate 12 hours or up to 3 days before you want to serve.
An hour before you want to serve this dish, preheat the oven to 400F. Put the cold casserole dish (straight from the fridge, still covered with foil) into the oven once the oven is up to temperature. Cook the casserole until it's warm throughout and starting to slightly brown on top, about 45 minutes.
Sprinkle the pistachios and honey on top and serve hot.
Notes
Middle Eastern Cake Spice Mix (Baharat Kaak): If you don't have this spice mix, the flavor won't be quite the same, but you can substitute ¾ teaspoon ground cinnamon, ¼ ground nutmeg, and ⅛ teaspoon ground cloves.
Disclosure: This post contains Amazon affiliate links to products I believe in, which means that even though it doesn't cost you anything extra, I will receive a small amount of money from the sale of these items, which helps me keep this site alive – thank you for helping to support An Edible Mosaic!