If you saw my post last Friday, I don't want to make matters worse by confusing the issue even more…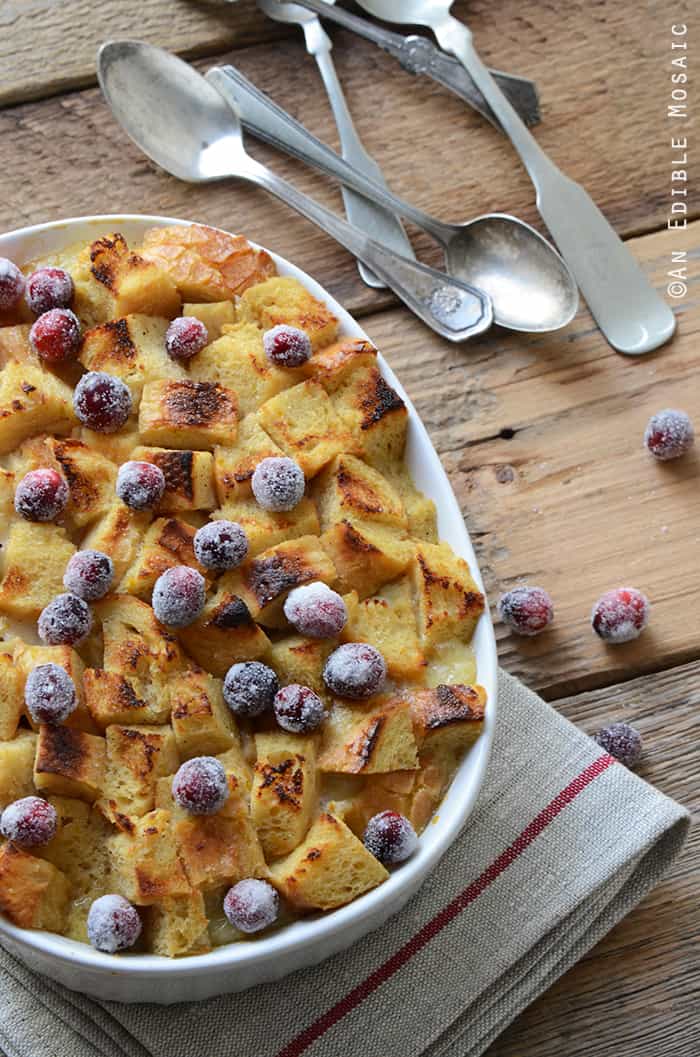 But really, this recipe is another one that would be pretty gosh darn perfect on Christmas morning.
I'm sticking with my story though; those Christmas Morning Scones are the best way to go. So go ahead and make this bread pudding for Christmas dessert. ;)
That's (one of) the beautiful things about bread pudding; it's completely acceptable as brekkie or dessert, and it feels special enough to serve on a holiday. Especially if it's this bread pudding, which features Brie and sugared cranberries.
Did you hear that, friends? Gooey melted Brie and those pretty little sparkly sweet/tart sugared cranberries. Plus the flavors of brown sugar, orange, and nutmeg. I die.
If you're wondering about the sugared cranberries, they really couldn't be easier to make. They're addictive like candy, but much less sweet (it's a total sweet/tart thing), and they have the whole crunch factor going for them. I recommend making extra because they're the sort of thing you'll want to have around for munching on. I describe how to make them in the recipe below, but if you want a full-on tutorial, I recommend checking out Marla's post on Family Fresh Cooking and Naomi's post on Bakers Royale. Both of those ladies are incredibly talented!
And if you don't get to this one on Christmas, well there's always brunch on New Years, or you know, any random weekend that calls for a special breakfast. ;)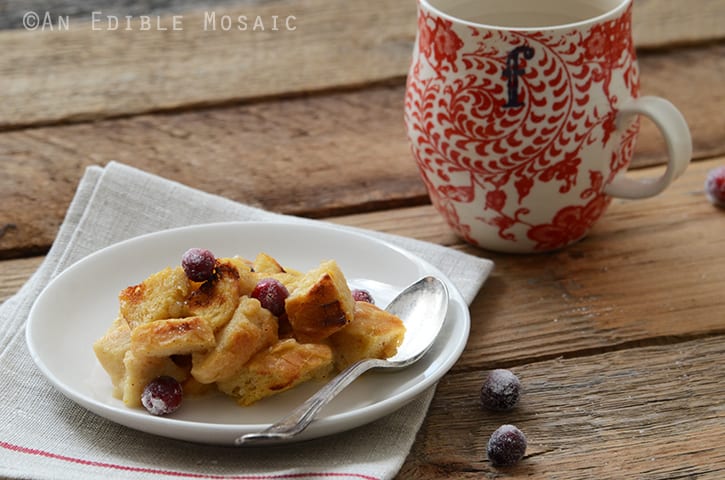 Orange and Nutmeg-Scented Brown Sugar Bread Pudding with Melted Brie and Sugared Cranberries
Yield:
About 6 to 8 servings
Ingredients
Sugared Cranberries:
¼ cup + 2 tablespoons sugar, divided
2 tablespoons water
¾ cup (85 g) fresh whole cranberries
Bread Pudding:
Butter, to grease the dish
5 large eggs
2 cups (475 ml) whole milk
¾ cup (160 g) light brown sugar, lightly packed
1 tablespoon pure vanilla extract
2 teaspoons freshly grated orange zest
1 teaspoon freshly ground nutmeg
½ teaspoon salt
8 oz (227 g) day-old French or Italian bread, cubed (about 6 cups cubed)
6 oz (170 g) Brie cheese, rind trimmed and cubed (see Note)
Instructions
For the sugared cranberries, combine 2 tablespoons water and 2 tablespoons sugar in a small saucepan over medium-low heat. Swirl the pan to dissolve the sugar, and turn off the heat once it's been dissolved.
Cool the syrup for 5 minutes, and then toss it with the cranberries in a medium bowl until they're completely coated. Spread the cranberries out on a wire rack set above a baking sheet to drain any excess syrup; let the berries dry for 1 hour (they will be tacky).
Add the remaining ¼ cup sugar to a shallow bowl; toss the cranberries in the sugar, and then spread them out in an even layer on a baking sheet to dry for 1 hour. (You can repeat this step once if necessary.)
For the bread pudding, generously grease a 1.5-liter casserole dish with butter. Whisk together the eggs, milk, brown sugar, vanilla extract, orange zest, nutmeg, and salt in a large bowl.
Add half of the bread cubes to the prepared casserole dish and sprinkle on the cubed Brie. Add the remaining half of the bread on top. Pour in the egg mixture, gently pressing down on the top of the bread with a spoon to make sure all of the bread pieces are soaked.
Cover the dish with plastic wrap and refrigerate 12 hours or overnight.
The next day, preheat the oven to 350F and let the pudding sit at room temperature while the oven preheats.
Once the oven is up to temperature, bake the casserole uncovered on top of a foil-lined baking sheet until the custard is set and lightly browned on top, about 45 to 55 minutes. Let the bread pudding sit for 10 minutes to set before serving.
Serve warm with the sugared cranberries on top.
Notes
Brie: I find the easiest way to trim the rind off Brie is to grate it off using a box grater.

Serving Suggestion: For people who like things extra sweet, a little drizzle of maple syrup on top of this bread pudding is perfect.