Once you find out how easy it is to make this 2 ingredient, rich, and decadent Healthy Dark Chocolate Fondue Recipe, it'll be your to-go dessert!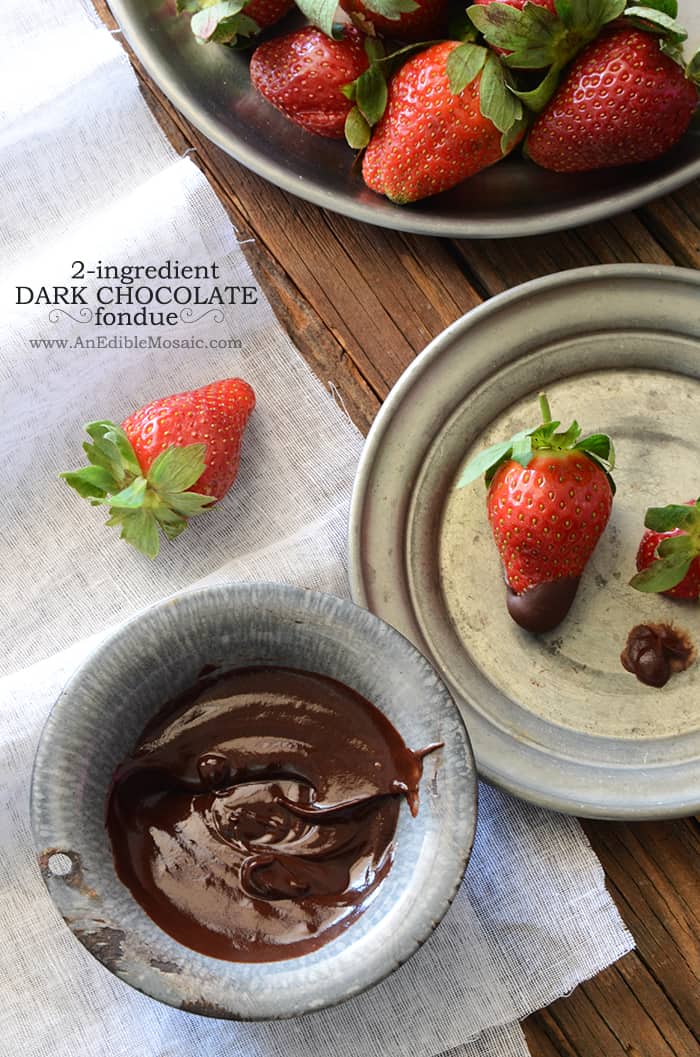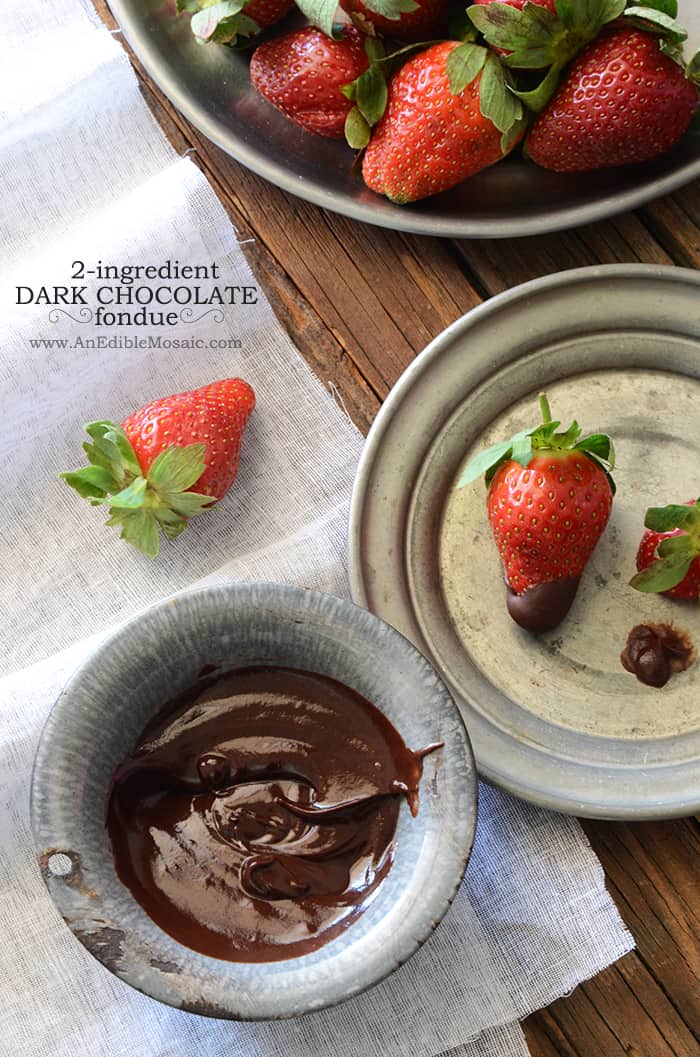 I know it's last-minute, but I got you a Valentine's Day gift.
(You knew I wouldn't forget about you, right?)
I think you'll forgive me for being fashionably late when you find out what it is.
Yeah, it's chocolate (after all, it is Valentine's Day!), but it has a few perks that your average Chocolate Fondue Recipe probably doesn't have.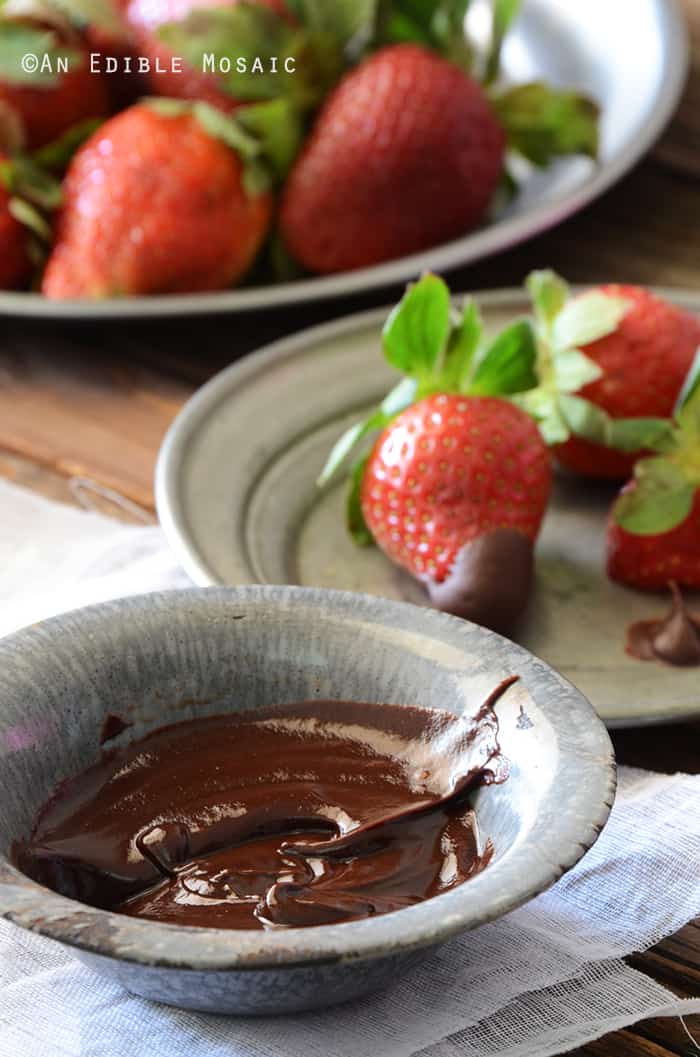 Because it's Valentine's Day, you probably don't want to spend all night in the kitchen. This healthy dessert is the perfect last-minute sweet treat!
This just goes to show that sometimes procrastination pays off. If I had thought about Valentine's Day sooner, I probably wouldn't have been so lazy creative in coming up with such a quick little gem of a recipe.
And then where would I be on a random weeknight when nothing short of a super-quick-but-still-sort-of-healthy chocolate fix will do?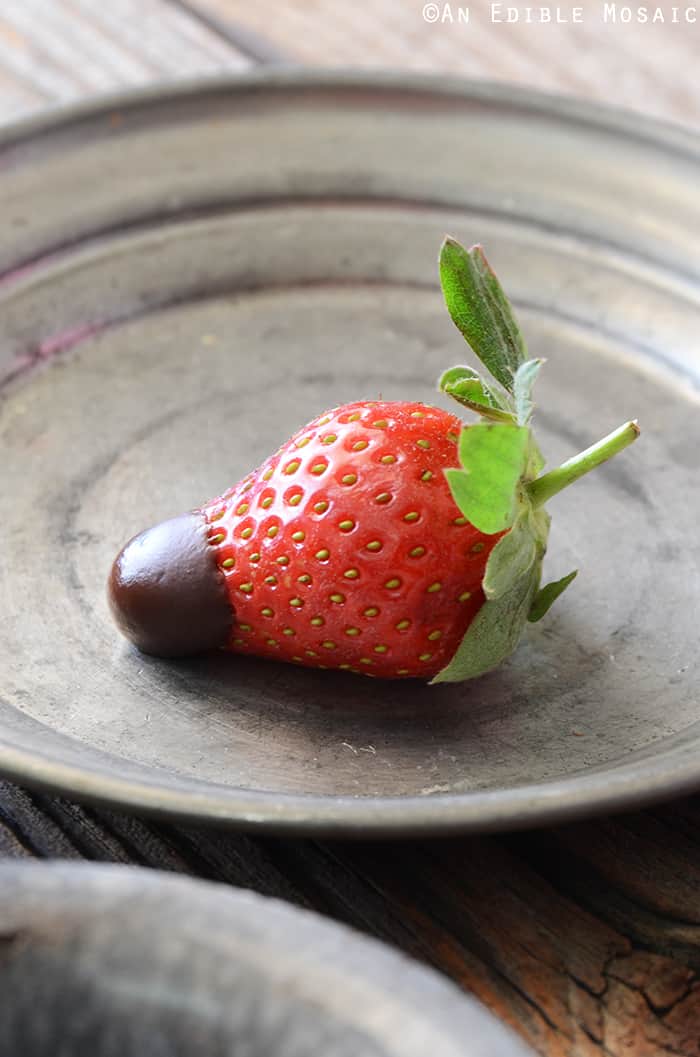 Easy Chocolate Fondue Recipe
I don't know of many decadent desserts that come together this quickly and easily. Two ingredients and two minutes are all it takes to whip up this Healthy Dark Chocolate Fondue Recipe! But the result is delicious, decadent, and fun to eat with your sweetie.
Of course you could just grab a chocolate bar and call it a night, but where's the fun in that? This is something that anyone can make and everyone will enjoy. Plus, it looks like it takes much more effort than it really does, which is sure to impress whoever you make it for.
And bonus, this easy chocolate fondue makes one serving so it's easy to adjust for however many people you're feeding.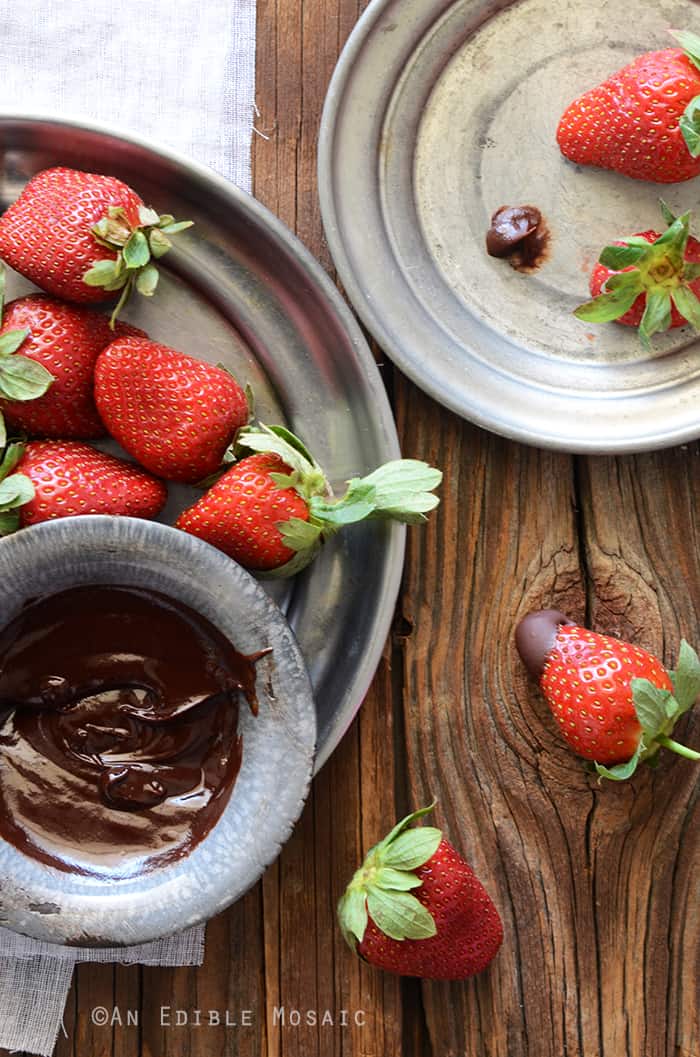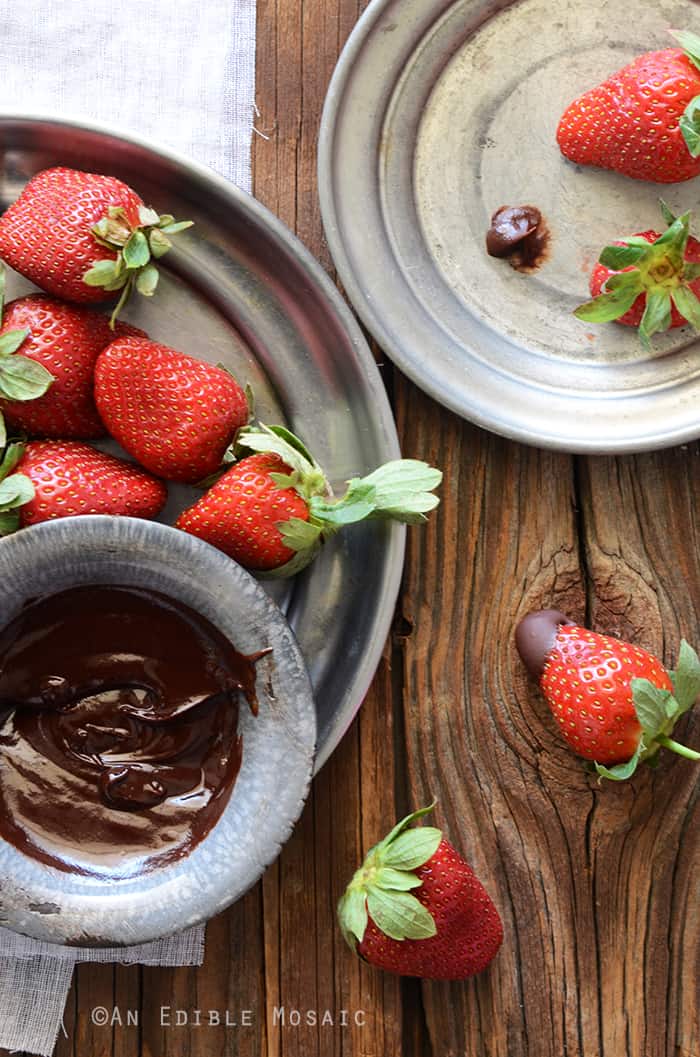 What Can You Dip in Chocolate Fondue?
The sky is the limit when you're deciding what to serve for dipping in chocolate fondue!
Here are a few ideas for what to serve with chocolate fondue: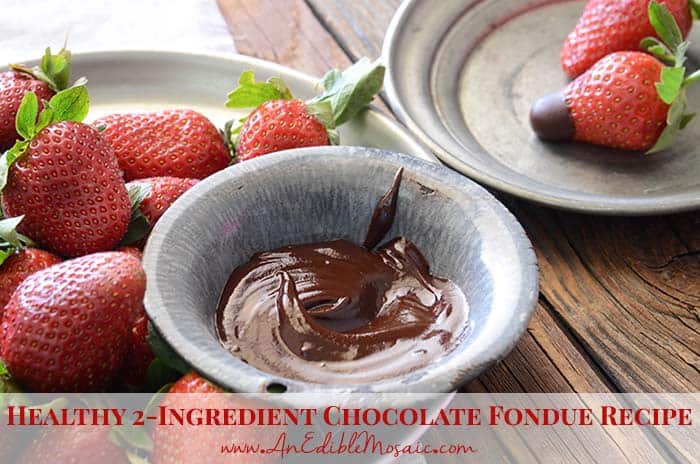 Can You Reheat Chocolate Fondue?
The beauty of this recipe is that it makes just one serving, so you can easily adjust it to feed however many people you want.
But if you happen to make too much, it's very easy to reheat this Healthy Dark Chocolate Fondue Recipe!
To reheat chocolate fondue:
Double Boiler Method: Add the fondue to a double boiler and heat until melted, stirring occasionally.
Microwave Method: Add the fondue to a microwave-safe bowl and heat at 50% power in 30-second increments until melted, stirring in between each increment.
More Easy Chocolate Dessert Recipes: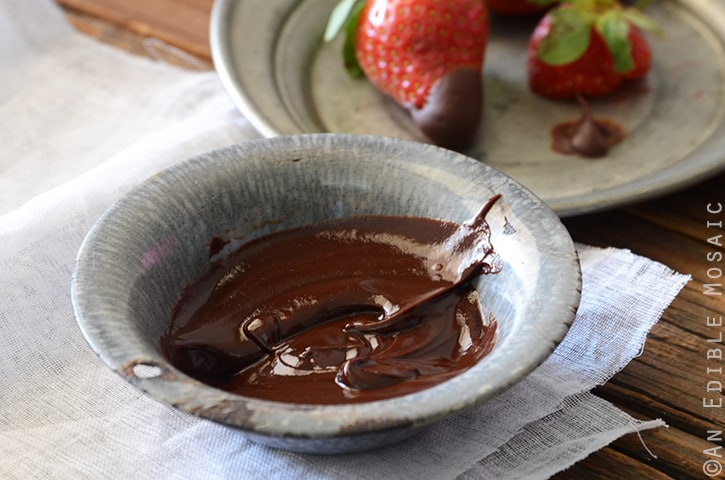 Did you make this recipe? Please rate it and leave a comment below because I love hearing from you! You can also tag @anediblemosaic on social media. To stay up-to-date FOLLOW ME on Instagram, Twitter, and Facebook. Xoxo, Faith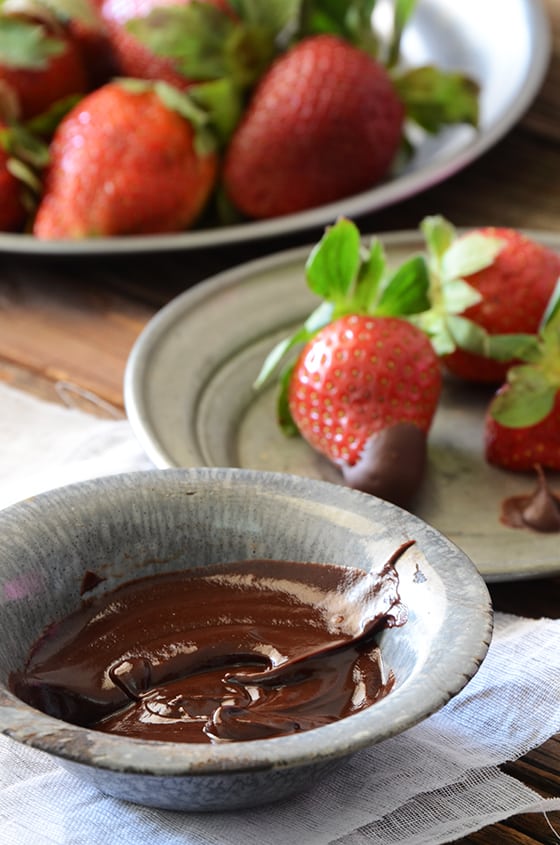 Healthy Dark Chocolate Fondue Recipe
Once you find out how easy it is to make this 2 ingredient, rich, and decadent Healthy Dark Chocolate Fondue Recipe, it'll be your to-go dessert!
Instructions
Melt the chocolate in a microwave or double boiler.

Stir in the coconut milk until smooth and creamy, adding enough so that I reaches your desired consistency. (I like it with 1 tablespoon of coconut milk.)

Serve warm with fruit or other goodies of your choice for dipping.
Faith's Tips
I like 70% cacao dark chocolate for this recipe, but 60% cacao is good if you like it a bit sweeter.
To keep this paleo and vegan, use dairy-free, stevia-sweetened dark chocolate.
Nutrition
Nutrition Facts
Healthy Dark Chocolate Fondue Recipe
Amount Per Serving
Calories 199
Calories from Fat 135
% Daily Value*
Fat 15g23%
Cholesterol 1mg0%
Sodium 8mg0%
Potassium 203mg6%
Carbohydrates 13g4%
Protein 3g6%
Calcium 21mg2%
Iron 4mg22%
* Percent Daily Values are based on a 2000 calorie diet.
This post was first published on An Edible Mosaic on February 14, 2014. I updated it with more information on February 14, 2020.
Disclosure: This post contains Amazon affiliate links to products I believe in, which means that even though it doesn't cost you anything extra, I will receive a small amount of money from the sale of these items. Thank you for helping to support An Edible Mosaic!