Smoky White Cheddar Mac and Cheese with Leeks is comfort food at its finest! You can use smoked turkey legs or leftover turkey from Thanksgiving.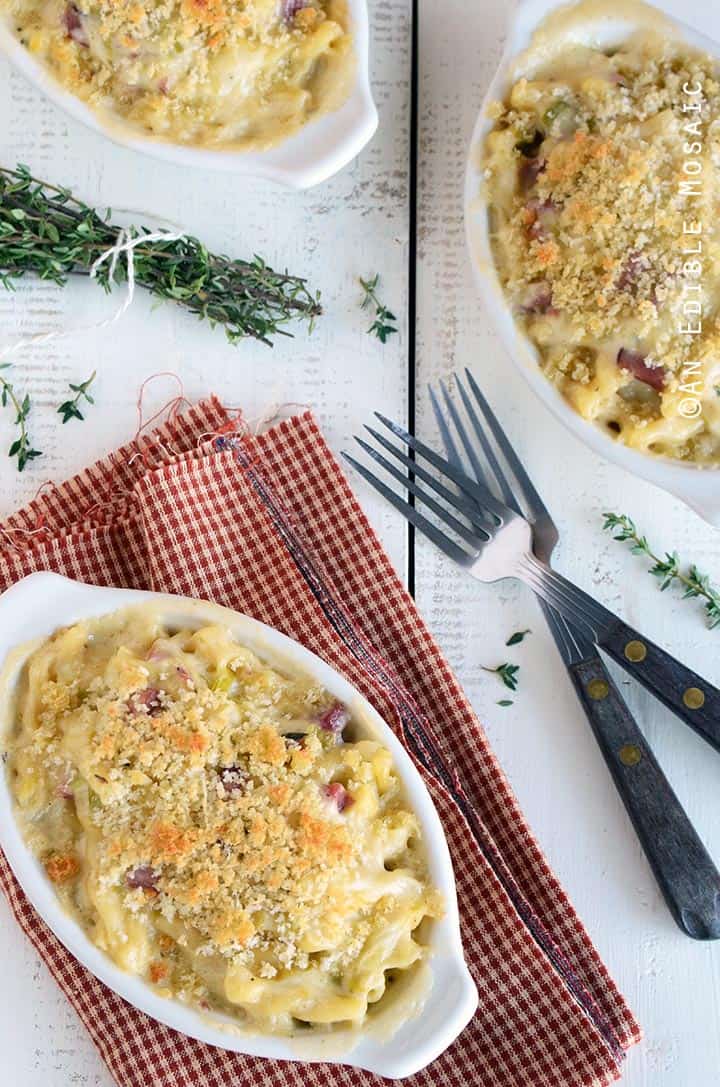 In just a few days we'll be enjoying my favorite part of Thanksgiving dinner – leftovers! Lately I've been going crazy making a sandwich with deli turkey, and I can't wait to try it with leftover turkey from Thanksgiving. Here's what goes into that glorious sandwich…
Thin-sliced turkey, peppery arugala, sliced red onion, sweet/tart cranberry chutney, sharp white cheddar, and the secret ingredient – a little sprinkle of cinnamon. All sandwiched between two slabs of the best quality bread you can find. I prefer mine pressed on a hot griddle so the cheese melts and the arugala wilts a bit, but it's also pretty fabulous cold if you don't have time to press it. It's been my lunch-on-the-go every day for the past week or so, and if I can find time, I'll snap a shot to share next time I make it. It is so good.
So, anyway, back to Thanksgiving leftovers.
I used hickory smoked turkey legs in this mac and cheese, but leftover turkey from Thanksgiving would also work (you'll need about 4 cups of diced meat), and if you want to keep the smoky flavor, crisp up some diced turkey bacon. It's cheesy and comforting with a great blend of savory flavors. It also reheats like a dream (cover with foil and heat until warm in a 350F oven), which makes it perfect for busy weekends – like this coming weekend! We're going to be doing some holiday baking, and we're also decorating my parents' house this weekend. If you're heading out to brave the Black Friday sales, stay safe!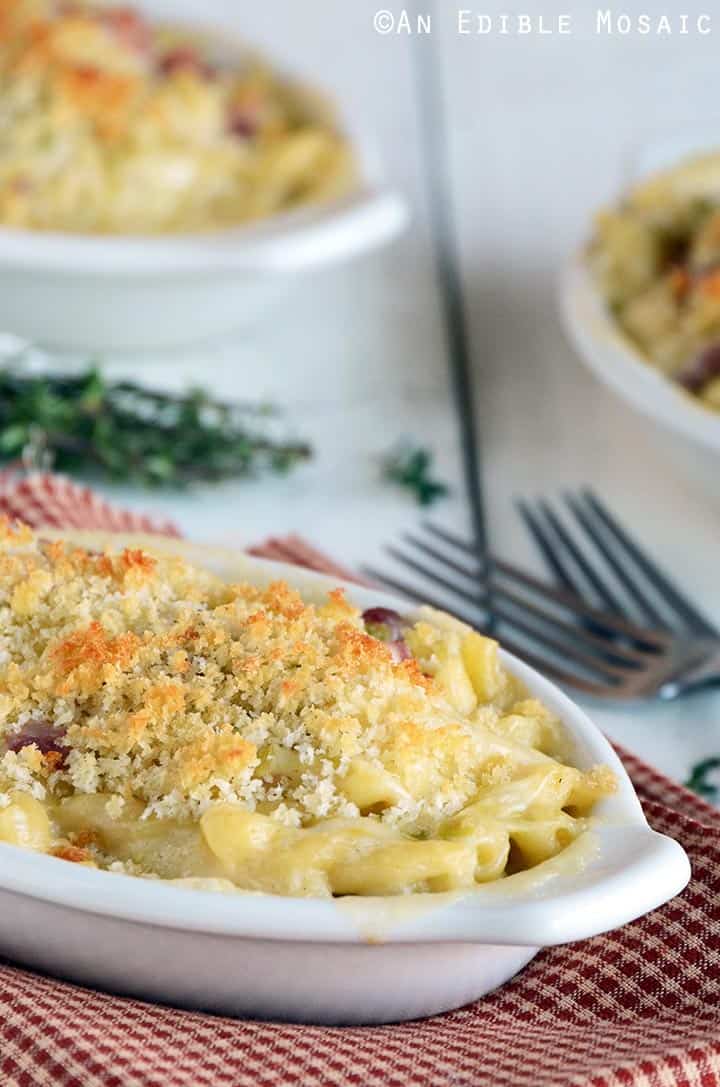 After the big feast, you might be looking for ideas on how to use your Thanksgiving leftovers…
Here is some inspiration for using leftover turkey:
And here are a few recipes using other leftovers from Thanksgiving dinner: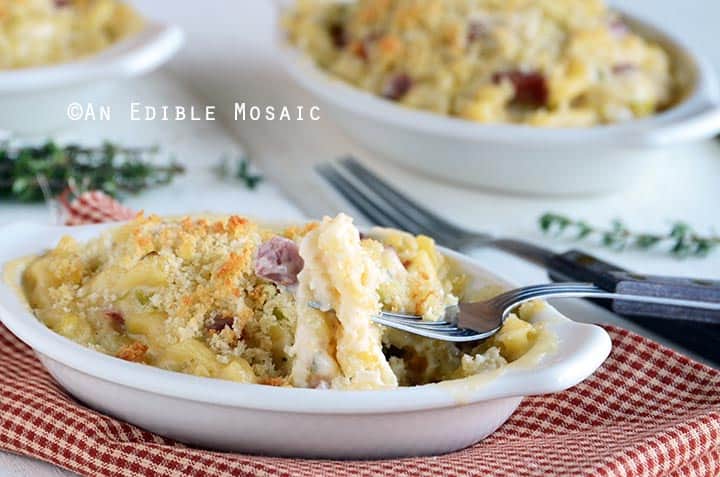 Smoky White Cheddar Mac and Cheese with Leeks
Ingredients
1 lb pasta, any small shape you like (I used gemeli this time)
7 tablespoons unsalted butter, divided
2 medium-large leeks, white and light green parts only, thinly sliced and thoroughly rinsed
2 hickory smoked turkey legs, skin removed, meat cut off the bone, and cubed
2 teaspoons minced fresh thyme
7 tablespoons all-purpose flour
4 cups milk, warmed
1¼ lbs sharp white cheddar, shredded
1½ teaspoons salt
1 teaspoon mustard powder
½ teaspoon smoked paprika
¼ teaspoon black pepper
¼ teaspoon cayenne pepper (optional; more or less to taste)
½ cup Panko breadcrumbs
1 tablespoon olive oil
Instructions
Preheat oven to 450F; use 1 tablespoon butter to grease a 9 by 13-inch casserole dish (or you can use 8 to 10 individual-sized gratin dishes or ramekins). Cook the pasta to al dente according to the package directions, then drain and set aside.
Heat 2 tablespoons butter in a large skillet; add the leeks and sauté until softened and just starting to brown, about 8 to 10 minutes, stirring occasionally. Add the turkey and thyme and cook 2 minutes more.
Heat the remaining 4 tablespoons butter in a medium, thick-bottomed saucepan over medium heat; whisk in the flour and cook 1 minute. Gradually whisk in the milk, then bring up to a boil, whisking frequently; cook 2 minutes, whisking constantly. Turn off heat and whisk in the cheese, salt, mustard powder, paprika, black pepper, and cayenne pepper.
Mix together the pasta, turkey mixture, and cheese sauce in a large bowl, then pour it into the prepared baking dish (or dishes).
Stir together the breadcrumbs and olive oil, then sprinkle on top of the macaroni and cheese. Bake until the breadcrumbs are golden and the cheese bubbles, about 15 minutes in individual ramekins or 25 minutes in a large pan.
Notes
Hickory Smoked Turkey Legs: I buy hickory smoked turkey legs in the meat section of my grocery store; each leg gives about 2 cups of cubed meat, so this recipe uses 4 cups total. If you can't find smoked turkey legs, you can substitute 4 cups of diced turkey ham (Mike and I don't eat pork so we stick with turkey products). Or you can use a combo of leftover turkey and turkey bacon like I mentioned above.

To Reheat: Cover with foil and heat until warm in a 350F oven.
Wishing everyone a safe, happy Thanksgiving! If you can, try to spread a little joy and give someone else something to be thankful for this holiday…could be as simple as a hot meal, a cup of coffee and good conversation, or even just a thoughtful card or phone call.