Homemade Chocolate-Covered Sponge Candy is easier to make than you might think. If you love this candy as much as this Buffalo girl, this recipe is for you! Here the crunch and complex sweetness of caramelized sugar candy is coated with chocolate for a treat everyone loves.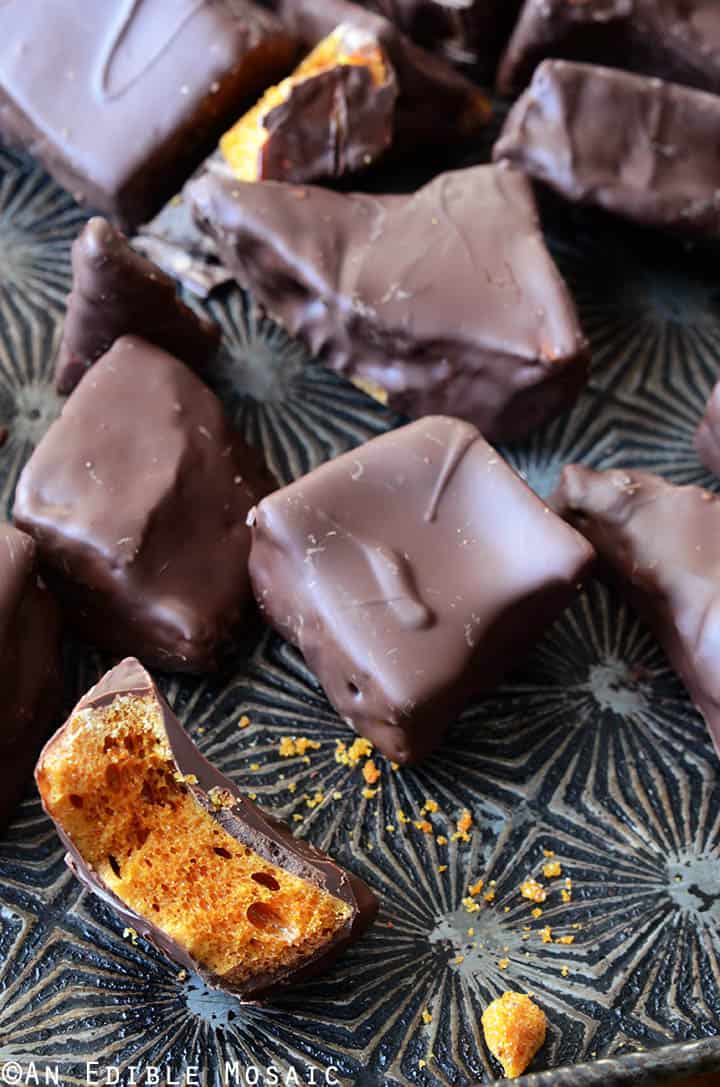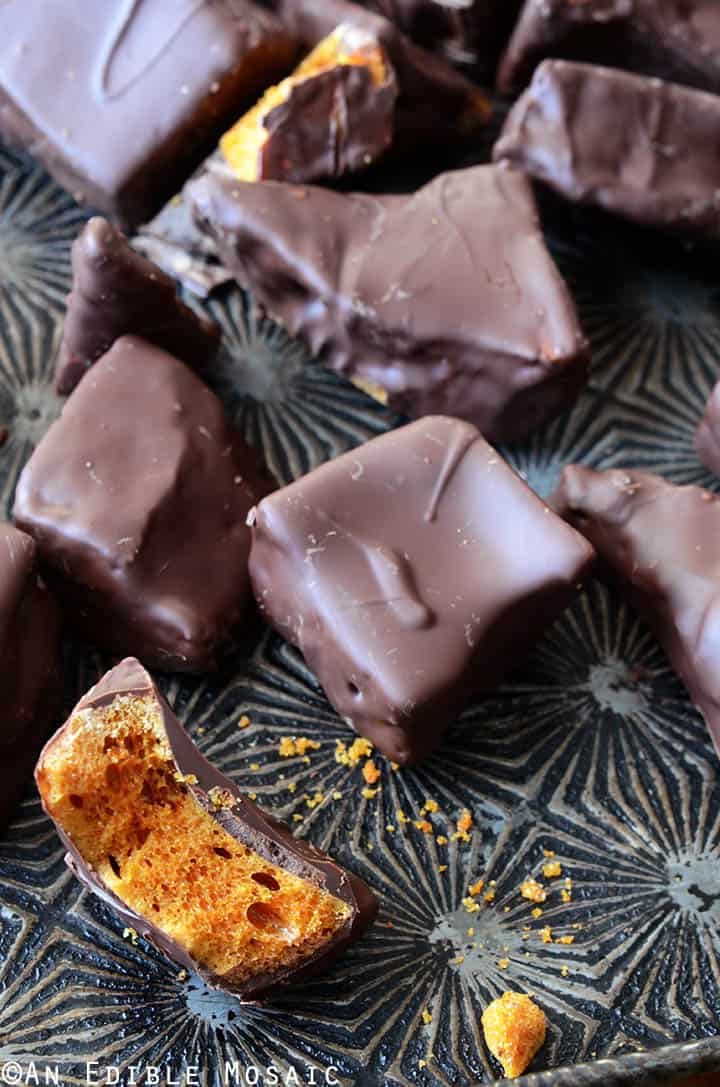 We don't talk candy much around here, which is probably for the best.
Of course with the exception of things like Crispy Toasted Puffed Quinoa Dark Chocolate Candy Bars, Healthy Chocolate Peanut Butter Cups, and Paleo Candy Apple Wedges.
The mere mention of things like Homemade Snickers Bars, Homemade Peppermint Patties, and Buckeyes is enough to make me want to throw all caution – along with anything remotely healthy – to the wind.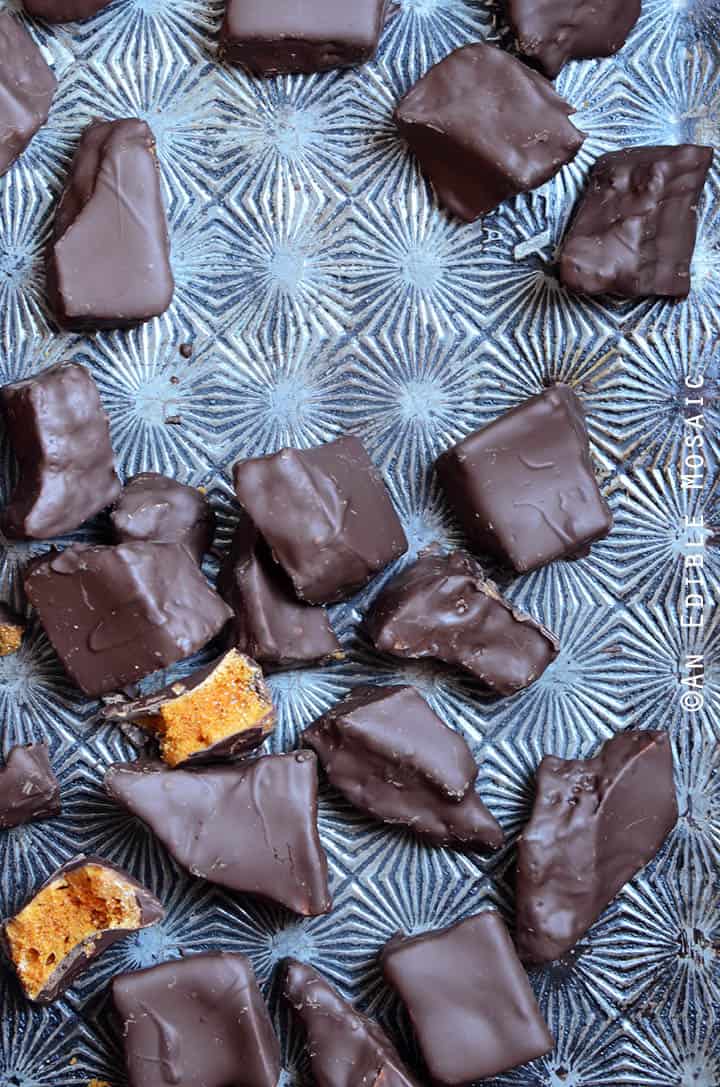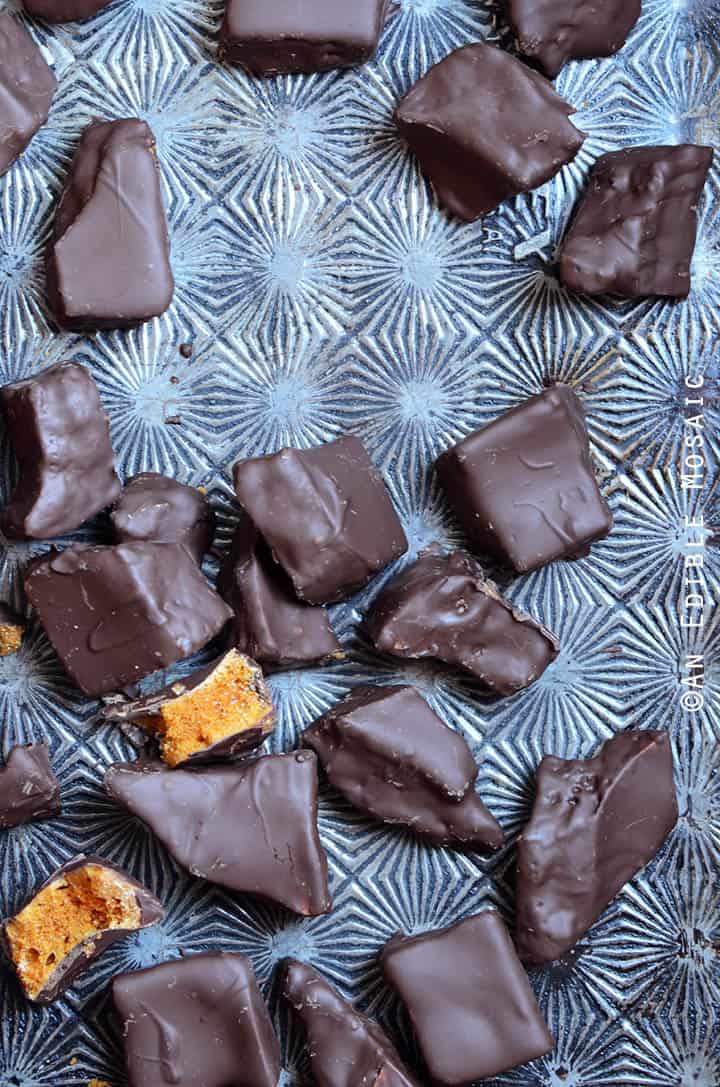 Thoughts like "Who need healthy when Christmas is less than a week away?" start to run through my head. And that's when I knew I had to share this recipe.
This recipe definitely has to come with a disclaimer though. Once you realize how easy it is to make (you don't even need a candy thermometer!), you might just want to make it all the time.
And right now is the perfect time. With Christmas right around the corner, you can sample a few pieces of candy and package the rest up as gifts. I've literally made this recipe three times in the past week under the pretenses of Christmas gifts and party favors. (Like I said, this candy needs a disclaimer, lol.)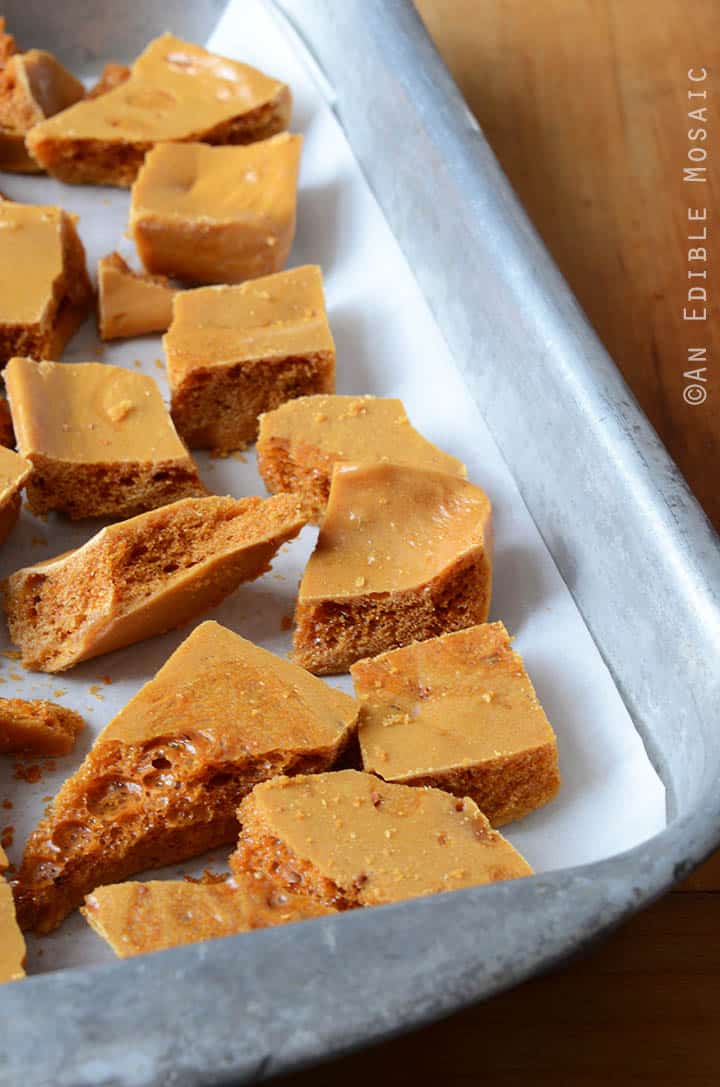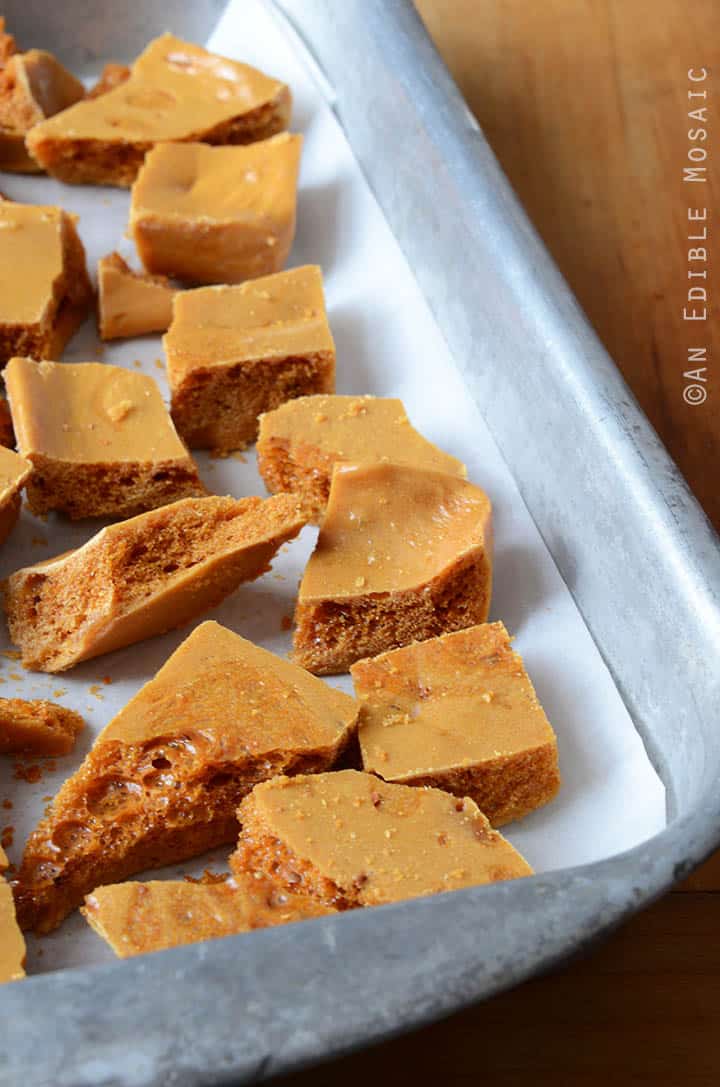 What is Sponge Candy?
Maybe you know it by a different name. Sponge candy is also called Honeycomb, Sponge Toffee, Cinder Toffee, Puff Candy, Hokey Pokey, Fairy Food, or Sea Foam (you can read more about it on Wikipedia).
It's basically toffee that has baking soda added at the end of cooking. This causes a chemical reaction and gives the candy the porous, sponge-like texture it's famous for.
Sponge candy is crispy but porous, so it's light on the tongue. It sort-of melts on the tongue into caramel-flavored bliss.
Buffalo Sponge Candy
This is a classic in Buffalo and the Western New York region! Growing up in Buffalo, we had sponge candy on every single major holiday. It's one of those things that I eat a couple times a year, but look forward to the entire rest of the year.
You technically don't have to coat this candy in chocolate, but chocolate definitely rounds out the flavor perfectly. And around these parts, not to coat it in chocolate is downright sacrilegious. You will suffer for your crime, even if your punishment is just listening to everyone who eats it ask you why you didn't coat it in chocolate. Trust me, it's better just to coat it.
If you're in Buffalo and looking for the best sponge candy, a few of my personal favorites are: Fowler's, Watson's, and Parkside Candy.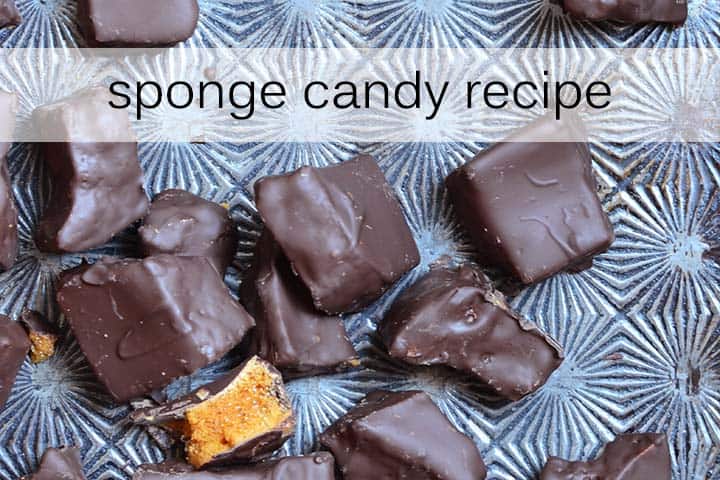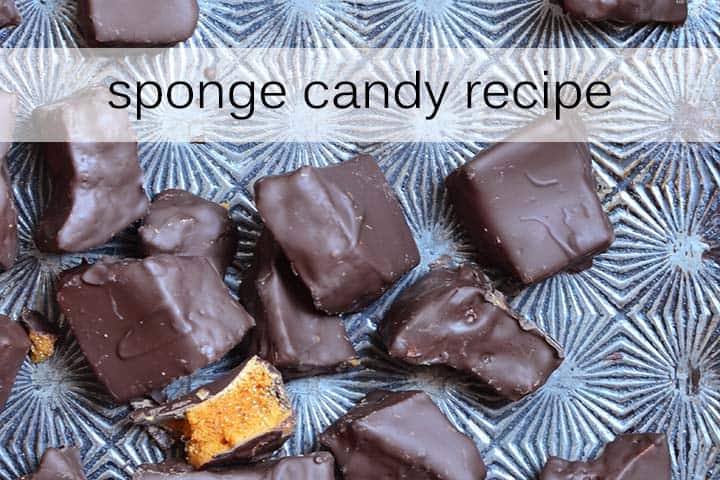 Where is Sponge Candy From?
There are plenty of people who claim that sponge candy is from Buffalo, but I haven't found substantial evidence to back up that claim. Although what a claim to fame that would be, almost right up there with Buffalo wings!
Is Sponge Candy Only in Buffalo?
No, this candy isn't only found in Buffalo! Although, according to The Buffalo News, Buffalo and its surrounding suburbs host almost 20 chocolatiers, which is more than most metropolitan areas of a similar size.
And I've heard from several different sources that the reason this type of candy does so well in Buffalo is due in large part to its cool/cold and dry climate.
Pro Tip: Heat and humidity are not friends to sponge candy! I highly recommend making this candy on a cool, dry day.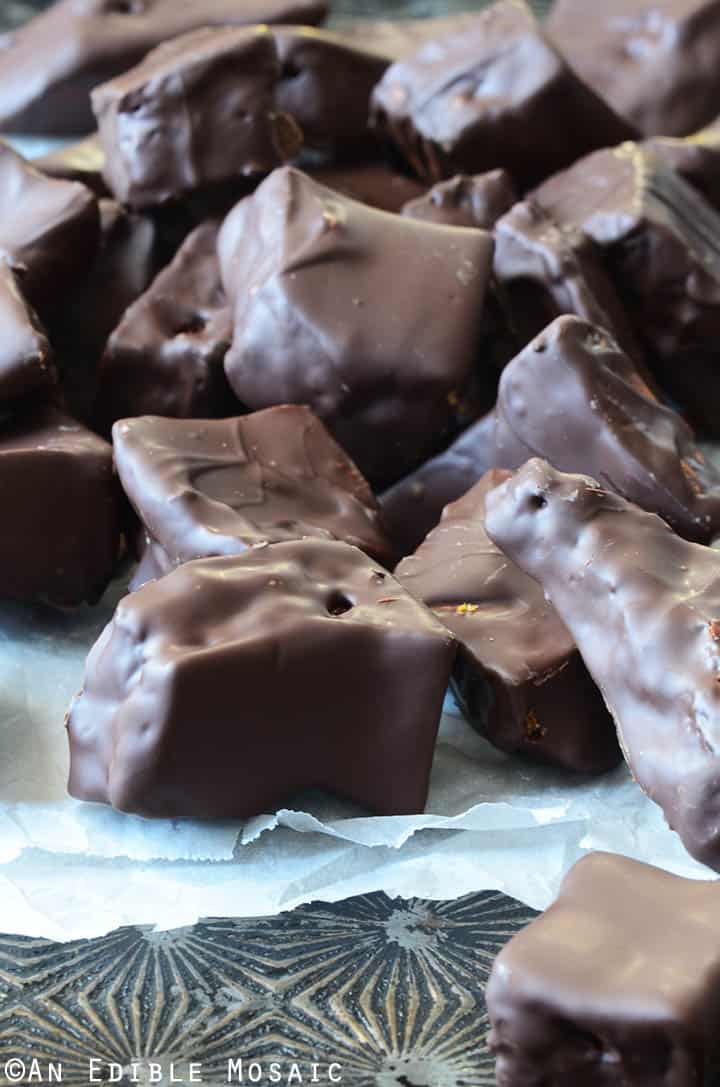 Sponge Candy FAQ
Can you Refrigerate Sponge Candy?
Yes, you can (my grandma always does, lol! At any given time she has a massive tub of it stashed in the basement fridge). However, if the temperature inside is 68 to 72F, I recommend leaving it stored in a covered container at room temperature.
Personally, I don't like to refrigerate it because it loses its crispness due to the humidity in the fridge.
What is Sponge Candy Made Of?
The main ingredients are sugar, corn syrup, and baking soda. I also add butter (to give it a butter toffee flavor), salt (to balance the sweet), and vanilla.
How Do You Make Sponge Candy?
Making this candy is basically like making toffee, but with the addition of baking soda to make it porous and lighten the texture a bit. Give it a try and you'll realize that it really is very easy to make!
Measure the Ingredients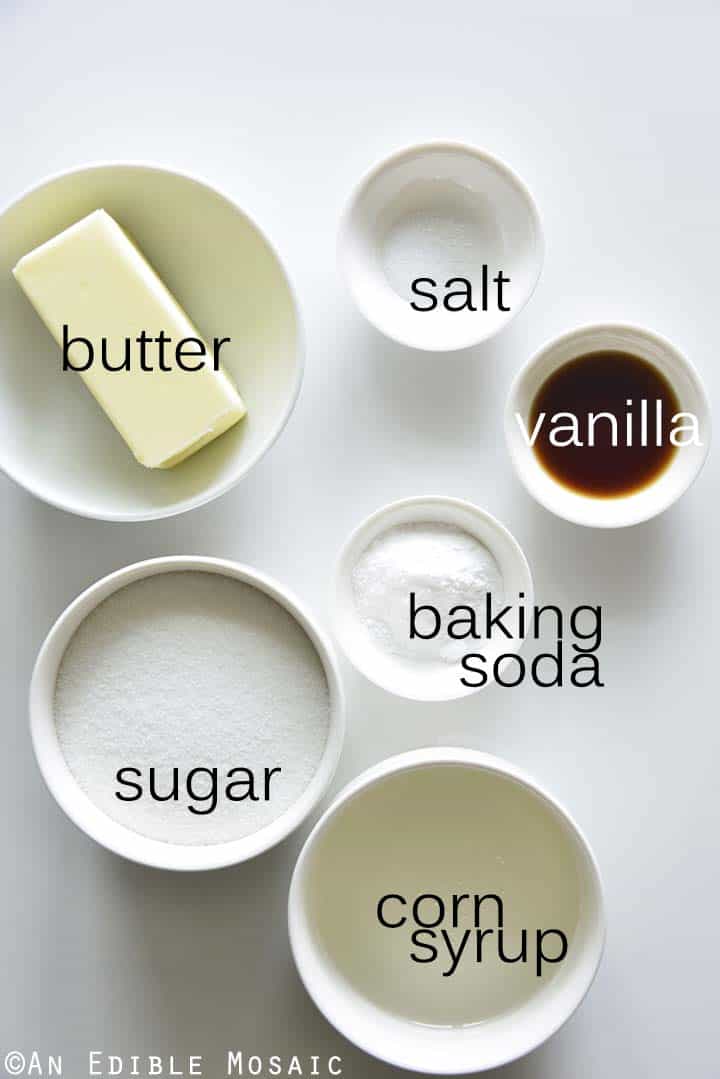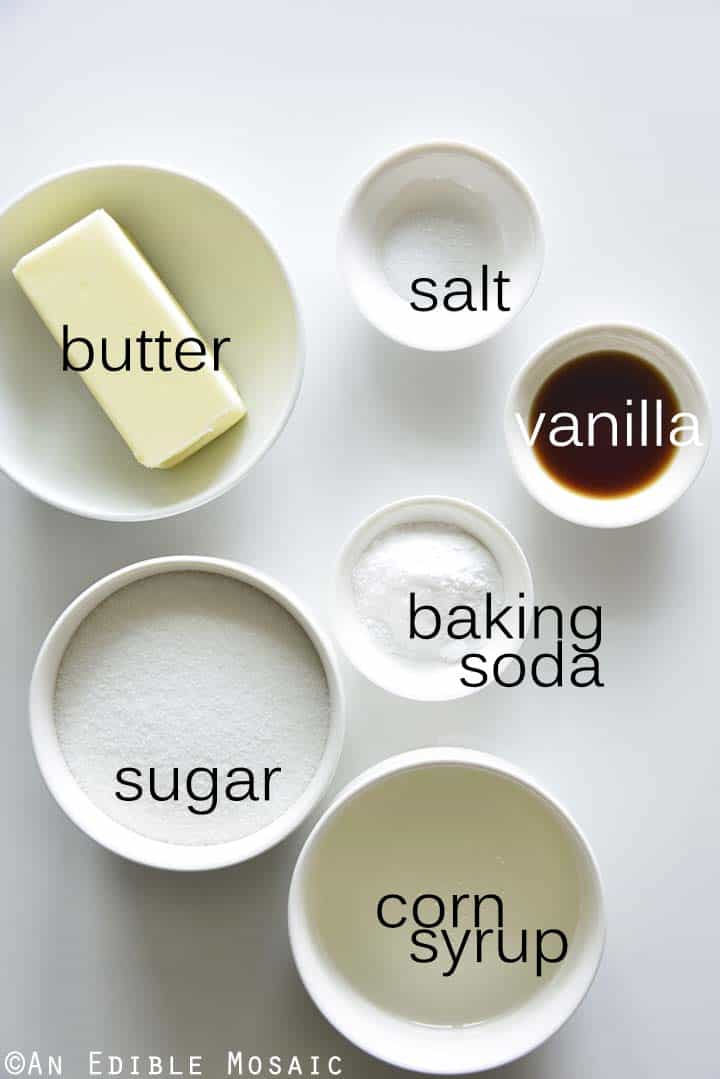 General Steps for How to Make Sponge Candy:
1. Boil sugar and corn syrup (I also add butter and salt) until it reaches the hard-crack stage.
2. Remove it from the heat and carefully stir in baking soda and vanilla. (It will foam up!)
3. Pour it into a buttered dish (or a dish lined with parchment paper) and let it set.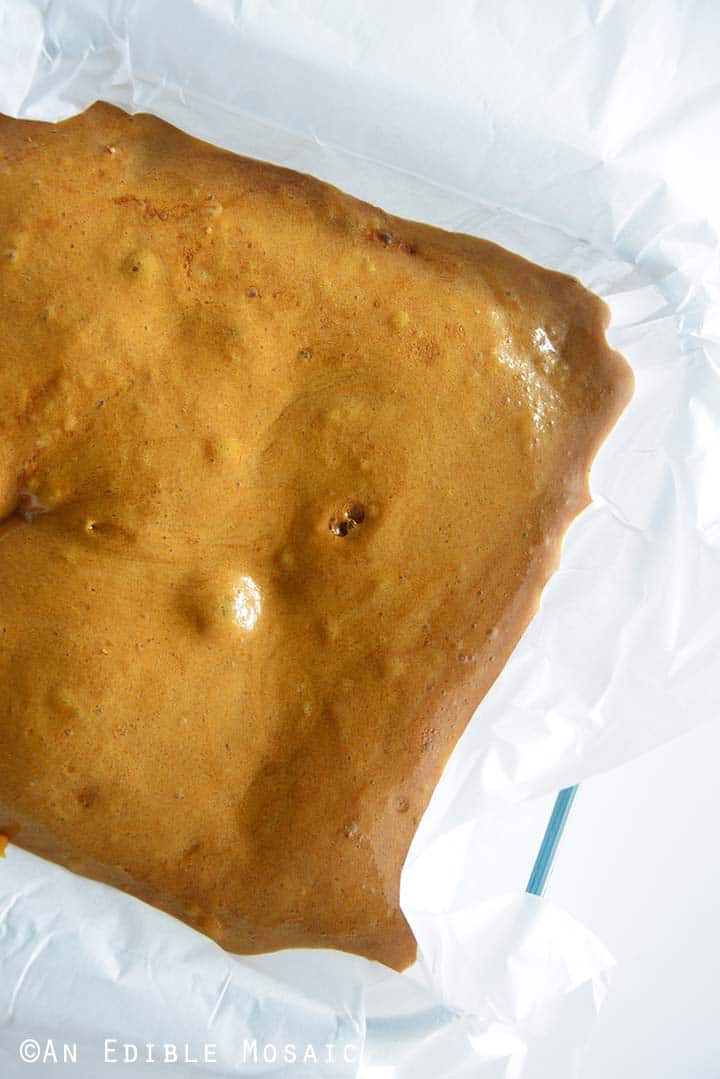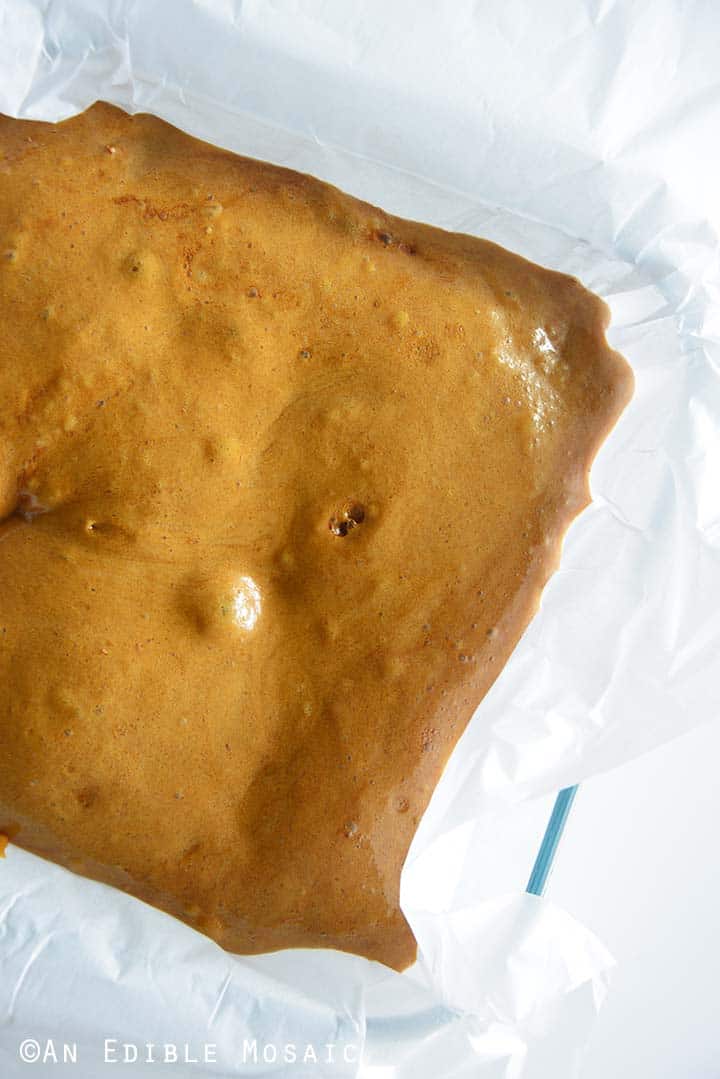 4. Break the candy up.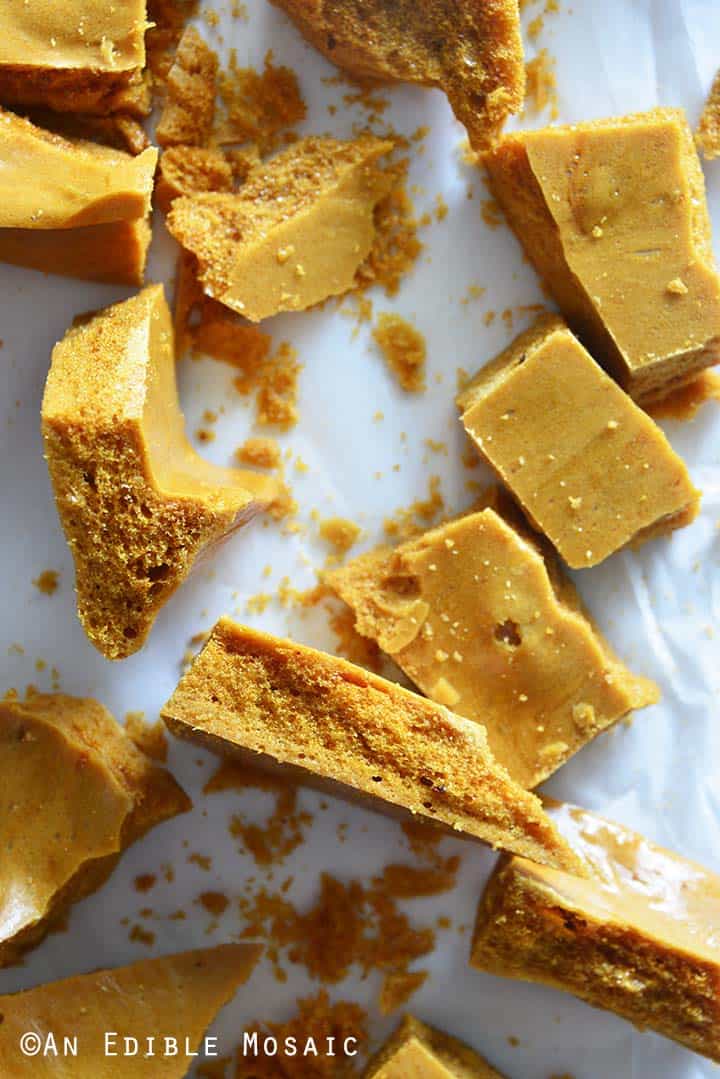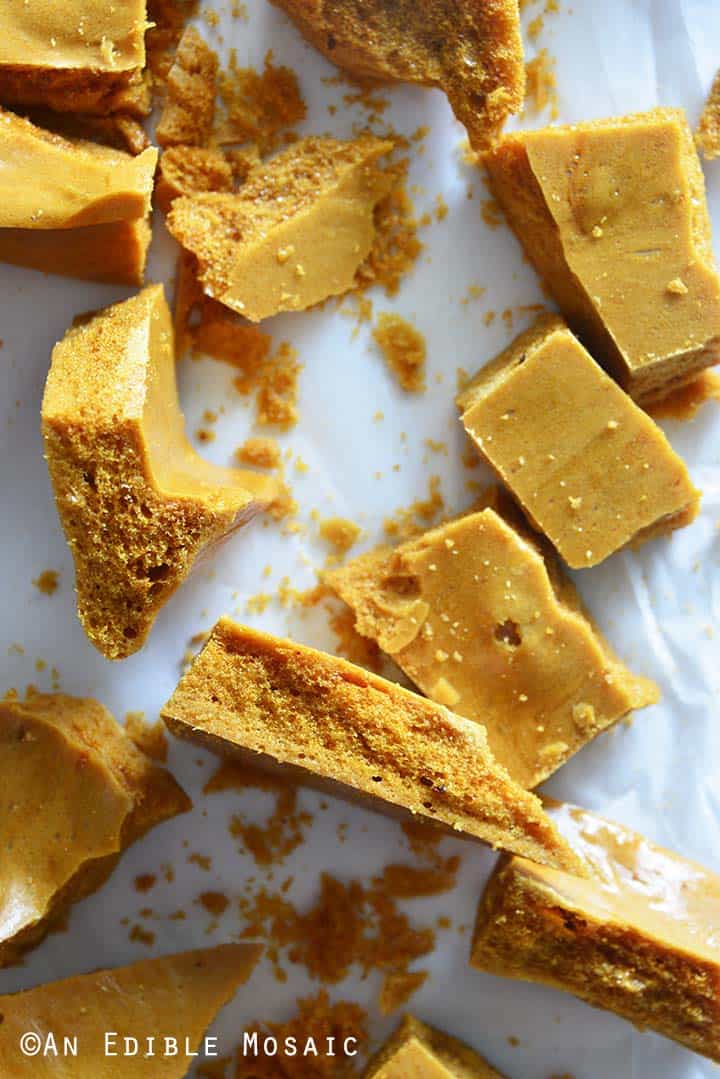 5. Coat the candy in chocolate if you want (highly recommended!).
More Holiday Treats to Try: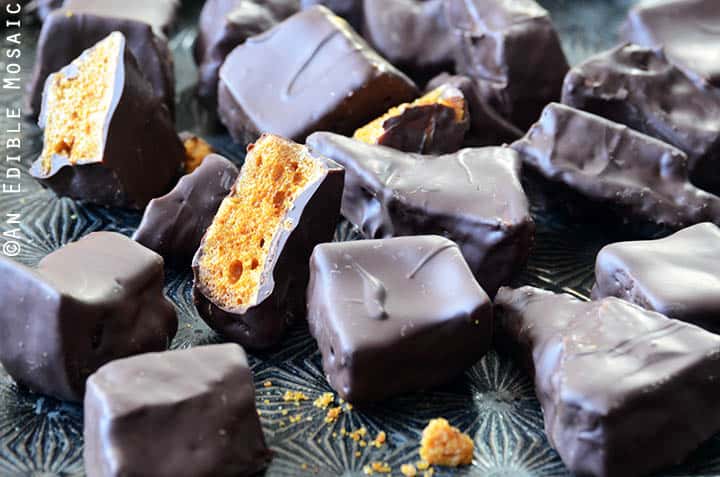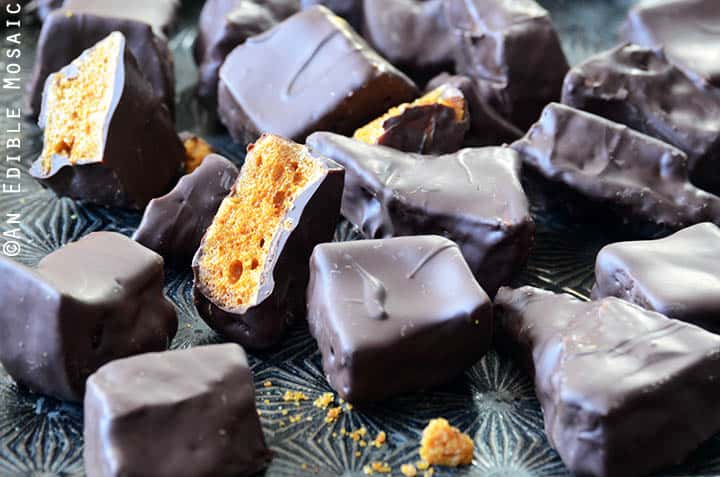 Did you make this recipe? Please rate it and leave a comment below because I love hearing from you! You can also tag @anediblemosaic on social media. To stay up-to-date FOLLOW ME on Instagram, Twitter, and Facebook. Xoxo, Faith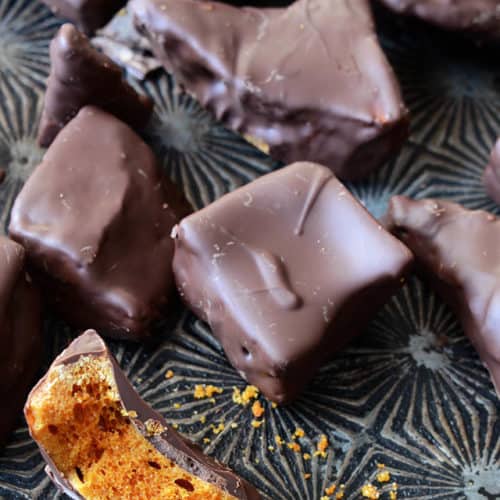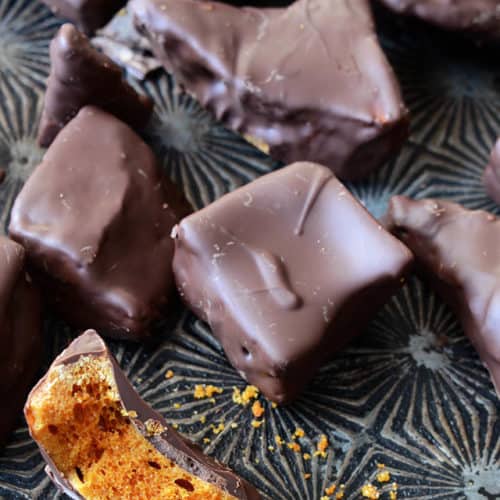 Chocolate-Covered Sponge Candy
Sponge Candy is light and crunchy with notes of caramel that melts on your tongue. This recipe also adds butter, a touch of sea salt, and vanilla to make it something truly special!
Instructions
Grease an 8 by 8-inch baking dish with butter. Line it with 2 pieces of parchment paper so that the paper hangs off all 4 sides, and then generously grease the paper with more butter.

Add the sugar, butter, corn syrup, and salt to a heavy-bottomed, deep-sided, medium-sized saucepan.

Heat over medium-high heat until the mixture turns amber colored, about 10 to 15 minutes. After cooking a couple minutes, carefully stir to help the sugar dissolve, but try not to get sugar crystals stuck to the sides of the pot. Once the sugar is dissolved, I recommend carefully swirling the pan (not stirring) to avoid sugar crystalizing on the sides. If you want to check the temperature, once the mixture is amber colored it should be 300F on a candy thermometer (hard-crack stage).

Once amber colored, remove it from the heat and use a wooden spoon to stir in the baking soda and vanilla. (Be careful because the mixture will foam up.) Stir until the ingredients are fully combined, but be don't over-stir or your sponge candy will deflate.

Pour the candy into the prepared dish and don't move the dish until the candy is fully set, about 1 to 2 hours.

Once set, break or cut the candy into about 1 to 2-inch-sized pieces. (You will have smaller crumbs and shrapnel; it's still delicious, so don't discard it. Use it to garnish cupcakes, cake, ice cream, pancakes, waffles, yogurt, etc.)

Melt the chocolate in a microwave or double boiler, and temper it if desired. To coat the candy, gently brush off any small crumbs on the candy and dip it in the chocolate. Place it on a wire rack so any excess chocolate can drip off.

Let the chocolate set before serving.
Faith's Tips
This recipe makes about 1.5 pounds of candy in total; each serving is 1.5 ounces, which is approximately 4 pieces of candy.
If you want to check the temperature, when the candy mixture is amber-colored it should be 300F on a candy thermometer (hard-crack stage).
Heat and humidity are not friends to sponge candy! I highly recommend making this candy on a cool, dry day.
Once the chocolate is set, store this sponge candy in a covered container at cool room temperature for up to 3 weeks.
If you use salted butter instead of unsalted butter, omit the ⅛ teaspoon sea salt.
I find that if I use thick parchment paper, there's no need to butter the pan or the paper.
I recommend sifting the baking soda before stirring it into the sugar mixture to make sure there are no lumps.
If desired, instead of using dark chocolate, you can use dark chocolate melting wafers so there is no need to temper the chocolate.
Nutrition
Nutrition Facts
Chocolate-Covered Sponge Candy
Amount Per Serving (1.5 ounces)
Calories 258
Calories from Fat 135
% Daily Value*
Fat 15g23%
Cholesterol 16mg5%
Sodium 269mg12%
Potassium 152mg4%
Carbohydrates 31g10%
Protein 2g4%
Vitamin A 186IU4%
Calcium 19mg2%
Iron 3mg17%
* Percent Daily Values are based on a 2000 calorie diet.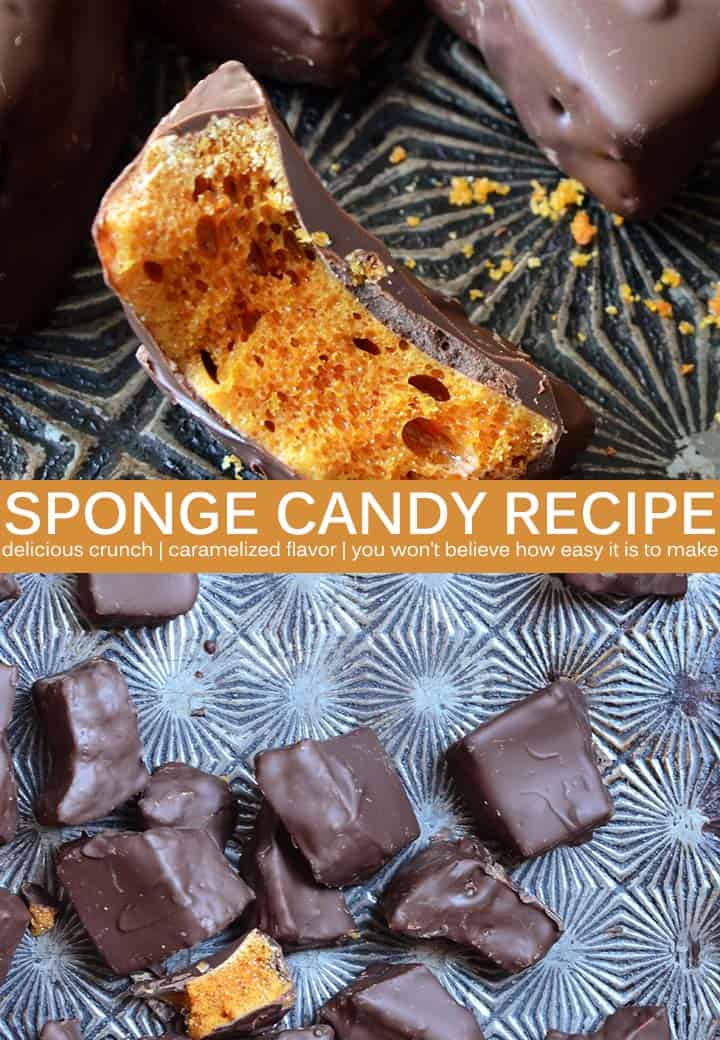 This post was first published on An Edible Mosaic on December 19, 2013. It was updated with more information and photos on December 30, 2020.
Disclosure: This post contains Amazon affiliate links to products I believe in, which means that even though it doesn't cost you anything extra, I will receive a small amount of money from the sale of these items. Thank you for helping to support An Edible Mosaic!