Thank you to Back to Nature for sponsoring this post. I am happy for the opportunity to share brands that I believe in with my readers, and I hope you enjoy my recipe. As always, opinions stated are my own.
Easy Sugar-Free Turtle Cheesecake Dip pairs caramel flavor, pecans, and chocolate in a satisfying cheesecake-like treat.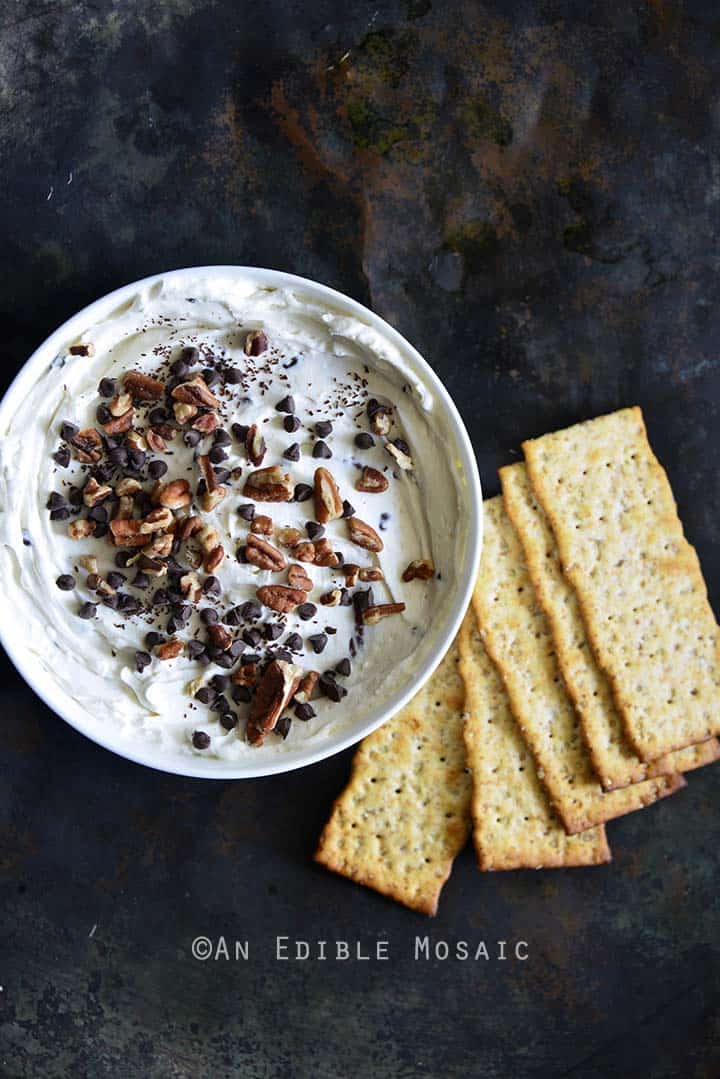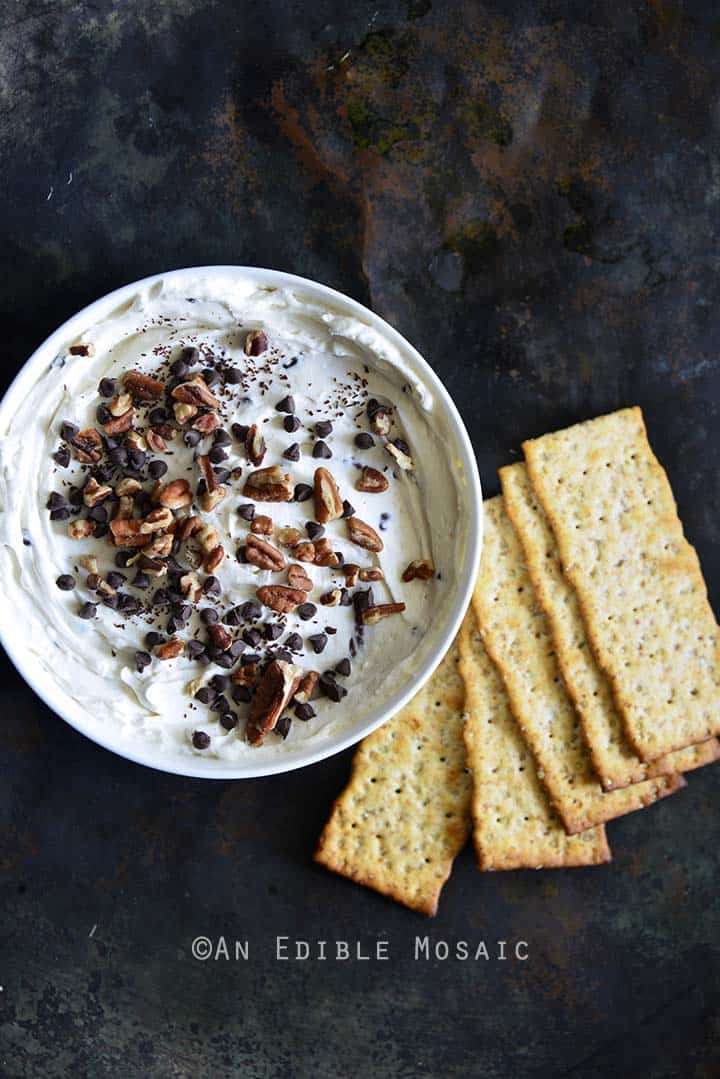 Confession time. It's hard for me to fully enjoy something like a slice of yellow cake heavy-laden with a thick layer of vanilla bean buttercream (but yuuuum, vanilla bean buttercream). Or a hot fudge sundae with ice cream that's just starting to melt because of the rich and decadent (quite literally) hot fudge, and garnished with a generous swirl of sweetened whipped cream.
I get three bites into a dessert like that and it's some kind of head rush (aka sugar rush), and not in a good way. Usually my preference when I'm feeling dessert-y is to remake a classic favorite into something I can actually eat without feeling bloated, nauseous, and/or lethargic afterward.
I've been making low-carb sugar-free cheesecake mousse-type things for quite a while now (check out my recipe for Low-Carb No-Bake Buttermint Cheesecake Mousse over on my other blog, Healthy Sweet Eats), because they're incredibly versatile and even more delicious.
This version is based on the flavors in what is known as "Turtle" candy: pecans, caramel, and chocolate! This easy treat combines those flavors in a cheesecake mousse-like dip. I'm telling you, it's as addictive as it sounds. Of course you can just grab a spoon, but I served this dip with Back to Nature Pink Himalayan Salt Multigrain Flatbread Crackers because the sweet and salty pairing (especially when caramel flavor is involved) is a hard one to beat.
Back to Nature makes a variety of Non-GMO verified crackers, cookies, cereal, trail mix, etc. Their mission is "to provide everyday foods that are simply delicious, simply good." They carefully select their ingredients and take pride in what they offer!
Serve this dip at your next party or gathering (it would be perfect for any holiday get-together!) and watch it disappear as people ask you for the recipe.
Is there an indulgent dessert recipe you'd like to see remade into something sugar-free? (Please share in the comments below!)
Easy Sugar-Free Turtle Cheesecake Dip
Easy Sugar-Free Turtle Cheesecake Dip pairs caramel flavor, pecans, and chocolate in a satisfying cheesecake-like treat.
Ingredients
6 oz (170 g) full-fat cream cheese
4 tablespoons Swerve Confectioner's (see Note)
1 teaspoon vanilla extract
¾ teaspoon butterscotch extract
¾ teaspoon maple extract
1 cup (240 ml) heavy whipping cream
3 tablespoons stevia-sweetened chocolate chips, divided
3 tablespoons chopped pecans, divided
1 (5.5 oz/156 g) box Back to Nature Pink Himalayan Salt Multigrain Flatbread Crackers
Instructions
Unwrap the cream cheese, place it in a large bowl, and microwave on high for 30 seconds to soften it.
Add the Swerve, vanilla, butterscotch, and maple to the cream cheese, and beat with a handheld electric mixer until smooth.
Beat the heavy cream to stiff peaks in a separate medium bowl.
Beat ¼ of the whipped cream into the cream cheese mixture until smooth. Use a rubber spatula to fold in the remaining whipped cream ¼ at a time.
Fold in 2 tablespoons each of the chocolate chips and pecans.
Transfer the dip to a serving bowl and sprinkle the remaining 1 tablespoon each of chocolate chips and pecans.
Serve, or cover and keep refrigerated up to 3 days before serving.
Notes
Swerve Confectioner's: Or use the same amount of regular powdered sugar if keeping it sugar-free isn't a concern.