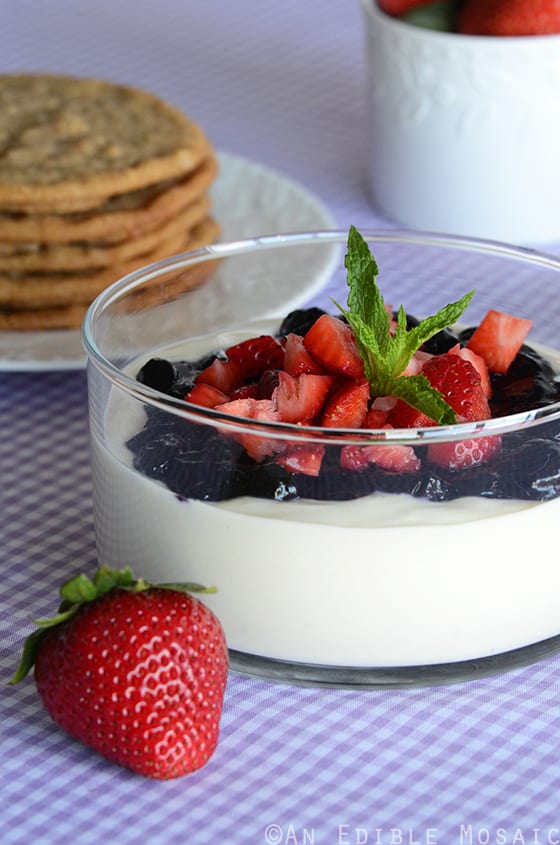 A while ago I had a dream about cheesecake dip (believe it or not, I get a lot of my best recipe inspiration from dreams…on paper that sounds weird, but I can't be alone in this, right?), and since then, it is one of the many cheesecake-y treats that has been on my mind/"to-make" list. Really, why fight it?
Instead, I decided to make it. With silken tofu.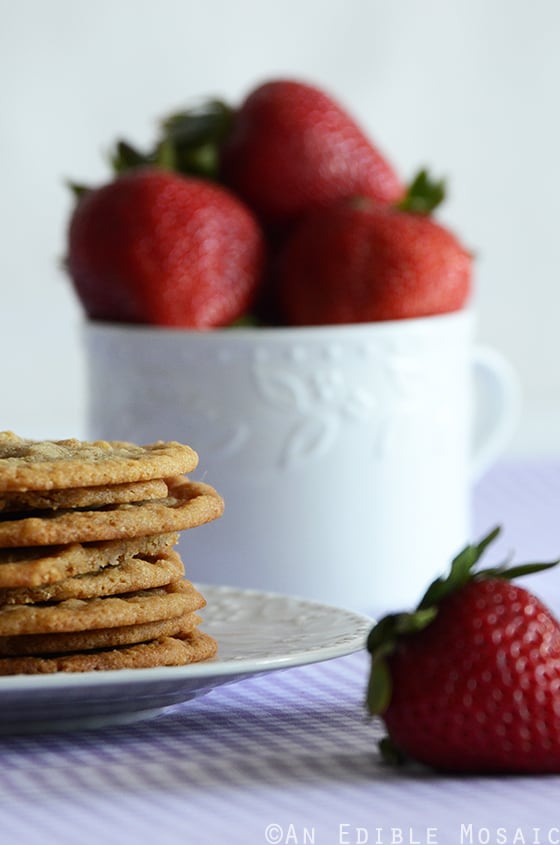 And because nothing goes better with cheesecake than graham crackers, I came up with Thin and Chewy Graham Cracker Crumb Cookies for dipping. (Actually, I had originally wanted to serve the dip with regular graham crackers. Alas, as fate would have it, my pantry was bereft of graham crackers but full of graham cracker crumbs (ok, I don't think one box can be considered a full pantry, but you get the idea, lol). Any normal person would have made a trip to the store to pick up the crackers. Of course, since I love to experiment, I decided it would be much more fun to make a trip to the kitchen.)
How perfect would this dessert be for a Fourth of July party?!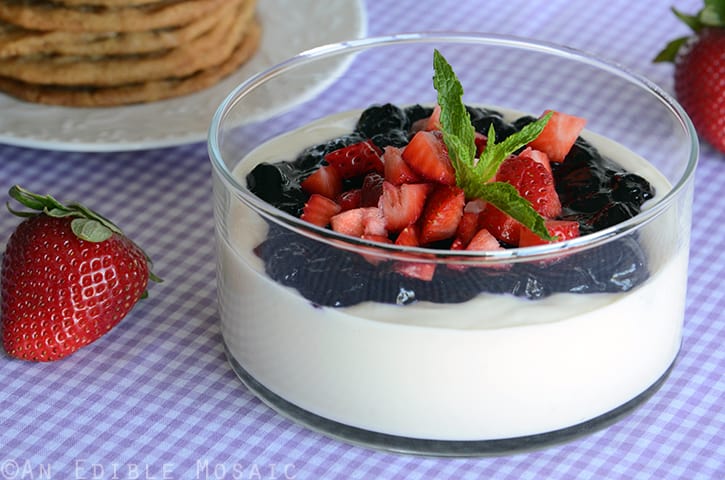 Blueberry Cheesecake Dip with Thin & Chewy Graham Cracker Crumb Cookies For Dipping
Prep time:
Cook time:
Total time:
Ingredients
Cheesecake Dip (Yields about 1¾ cups of dip):
6 oz silken tofu
4 oz cream cheese (low-fat is fine)
4 tablespoons powdered sugar
½ teaspoon pure almond extract (or pure vanilla extract)
½ teaspoon fresh lemon juice
Pinch salt
Blueberry Topping:
6 oz (about 1½ cups) fresh or frozen blueberries
2 tablespoons water
1-2 tablespoons white sugar (depending on how sweet your berries are; if you're using frozen, use 2 tablespoons)
½ tablespoon cornstarch mixed with 1 tablespoon cold water
Garnishes (optional):
2 strawberries, chopped
Fresh mint
Thin and Chewy Graham Cracker Crumb Cookies (Yields about 2 dozen cookies):
½ cup sweetened, shredded coconut
1 cup all-purpose flour
¾ cup graham cracker crumbs
1 teaspoon baking soda
¼ teaspoon salt
⅛ teaspoon cinnamon
Pinch fresh grated nutmeg
½ cup plus 1 tablespoon unsalted butter, at room temperature
1 cup light brown sugar, lightly packed
1 large egg
1 teaspoon pure vanilla extract
Instructions
For the cheesecake dip, puree all ingredients in a food processor or blender. Pour into a serving bowl, and then chill while you make blueberry topping.
For the blueberry topping, in a small saucepan over medium heat, cook the blueberries, water, and sugar (uncovered) for about 10 minutes or until the berries are softened, stirring occasionally. Add the cornstarch slurry and cook another 30 seconds , stirring constantly (the mixture will thicken). Cool completely.
Pour the blueberry topping onto the cheesecake dip and refrigerate until fully chilled.
While the dip chills, make the cookies. To do so, preheat the oven to 375F. Spread the coconut in an even layer on a small baking sheet and bake until light golden brown, about 6 to 8 minutes, giving the pan a shake every 2 minutes. Cool.
In a small bowl, whisk together the flour, graham cracker crumbs, baking soda, salt, cinnamon, and nutmeg. In a medium bowl, cream together the butter and brown sugar, then cream in the egg and vanilla. Gradually stir dry ingredients into wet, then stir in the cooled coconut. Cover and chill the dough until stiff, about 30 minutes.
Line 2 large baking sheets with parchment paper or silpat liners. Scoop the dough out onto the prepared baking sheets, leaving about 2-3 inches between each cookie (using a 1½ tablespoon-scoop you should get about 24 cookies).
Bake until the cookies are golden on the edges, about 8 to 10 minutes, rotating the trays once. Cool the cookies on their trays before removing.
Right before serving, garnish the dip with strawberries and mint if using, and serve the dip chilled along with Thin and Chewy Graham Cracker Crumb Cookies for dipping.