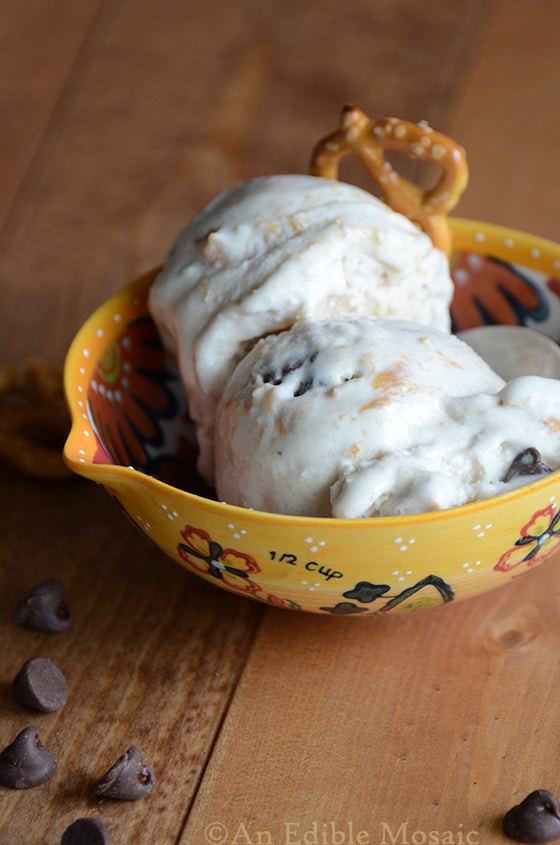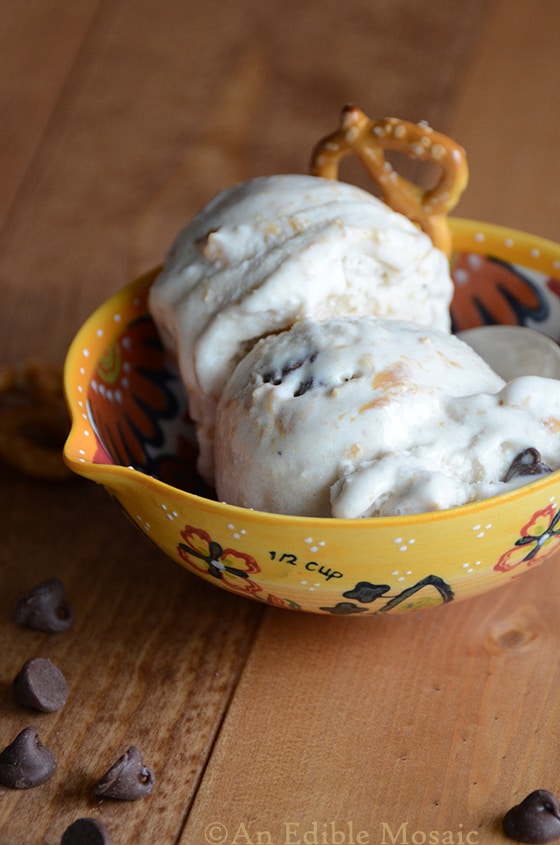 Buying an ice cream maker wasn't the best $75 I've ever spent. Don't get me wrong, it works just fine, but I just don't get enough use out of it. We love ice cream, but Mike and I don't eat it very often. With just two of us in the house, there's really no need to make a whole batch just to have it sit in the freezer for the better part of a year until either of us remember it's there (which has actually happened more than once).
Frozen yogurt, on the other hand, I could eat like it's going out of style. Even though I could definitely use an ice cream maker, frozen yogurt is so easy to make it doesn't even require one!
To make my frozen yogurt, I mix up a Greek yogurt base and then freeze it. It's after the freeze that the real magic happens: I whip it into a creamy, soft-serve consistency in my food processor. After that it's ready for any mix-ins you like.
The flavor I came up with that I'm sharing today is basically a healthy remake of Ben & Jerry's Chubby Hubby (with a little bit of Chunky Monkey thrown in for fun). But this high-protein, naturally-sweetened treat is a lot less chubby or chunky, making it a much healthier indulgence.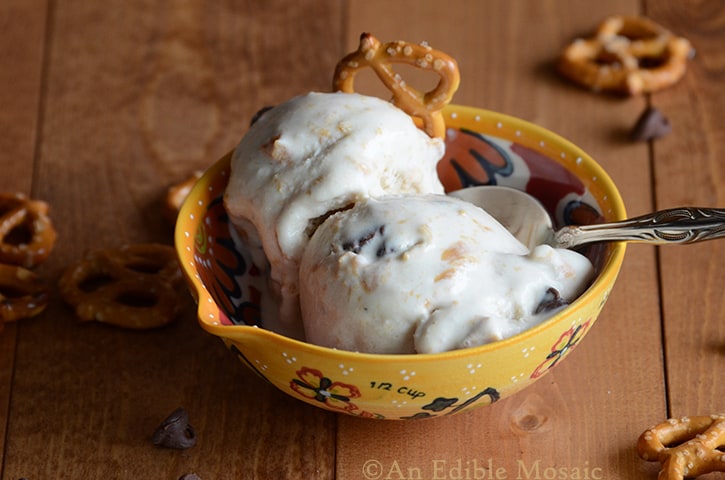 Chocolate Peanut Butter Pretzel Fro-Yo
Ingredients
2 medium very ripe bananas, mashed
1½ cups (345 g) Greek yogurt
2 tablespoons pure maple syrup, honey, or other natural sweetener of your choice (see Note below)
1 teaspoon pure vanilla extract
4 tablespoons semisweet chocolate chips
4 tablespoons small pretzels, crushed a bit in your hand
2 tablespoons peanut butter
Instructions
Mix together the banana, yogurt, maple syrup, and vanilla; transfer the mixture to an ice cube tray and freeze.
Remove from the freezer (you can dip the bottom of the ice cube tray in hot water so the frozen yogurt can slide right out).
Transfer the frozen yogurt cubes to a food processor and pulse a few times to break it up, then process until smooth and creamy (you might need to do this step in 2 batches, depending on how big your food processor is). Scrape the sides of the bowl down as necessary.
Transfer the frozen yogurt to a large bowl and fold in the chocolate chips, pretzels, and peanut butter.
Eat it as-is, or freeze until it stiffens up just a bit to the point of being scoop-able, about 15 minutes depending on how cold your freezer is.
Notes
Sweetener: 2 tablespoons of maple syrup or honey gives it a subtle sweetness, just the way I like it; adjust the amount to suit your preference.