This Dark Chocolate Olive Oil Cake with Blueberries and Ginger is deeply chocolaty, rich, and moist, with complex fruity flavor notes thanks to the addition of olive oil, blueberries, and ginger.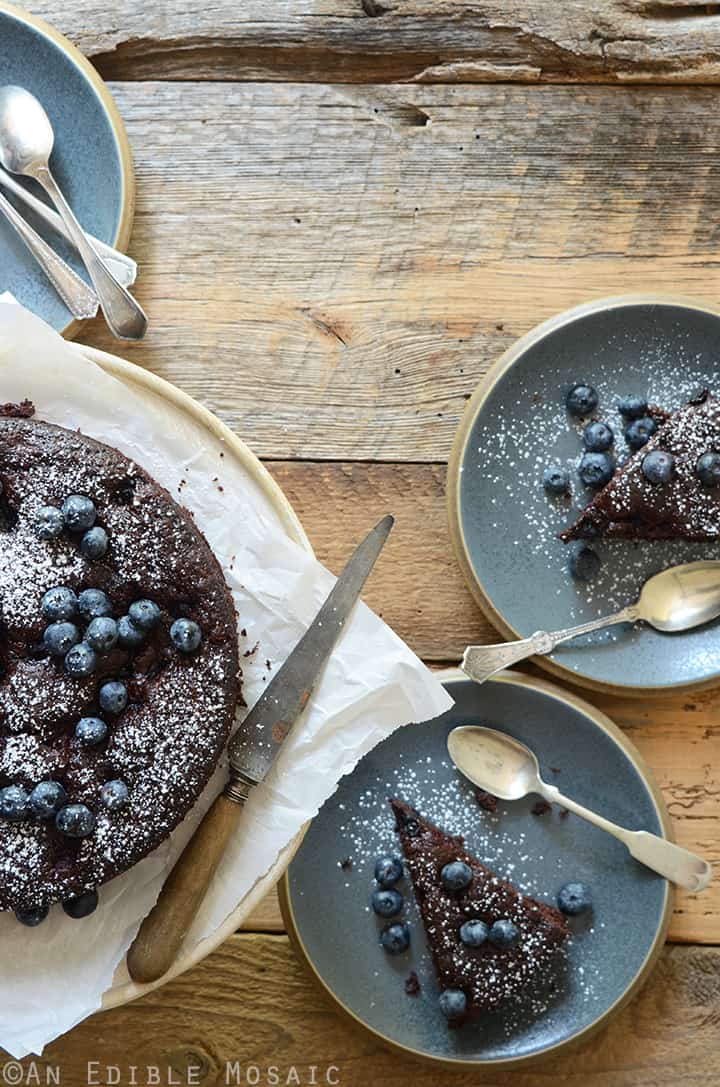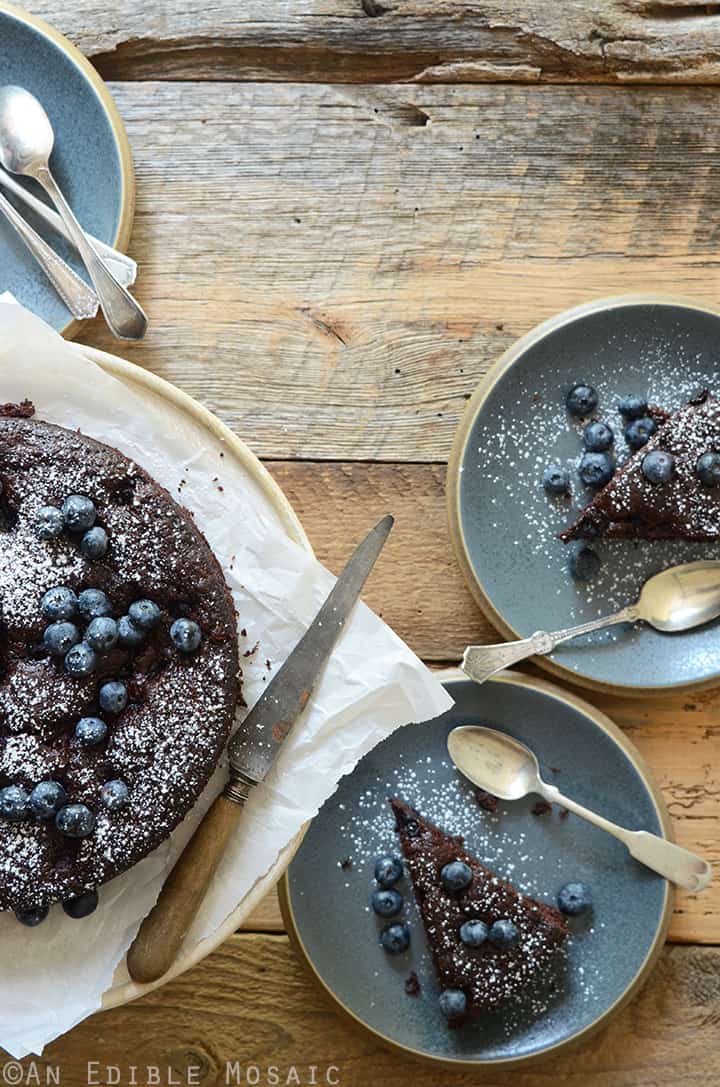 We all have a favorite oil, whether it is coconut oil, avocado oil, olive oil, or something else. Like any other staple, our favorite oil is always in our pantry, and it's often what we reach for when we want to make everything from fried eggs to muffins to sautéed vegetables. For a lot of us, olive oil reigns supreme because if it's flavor, cooking versatility, and health benefits.

For this month's installment of A Happier Healthier You 2015, I'm excited to be featuring Laura Bashar from Family Spice and Mary Platis from California Greek Girl, the talented ladies who authored Cooking Techniques & Recipes with Olive Oil.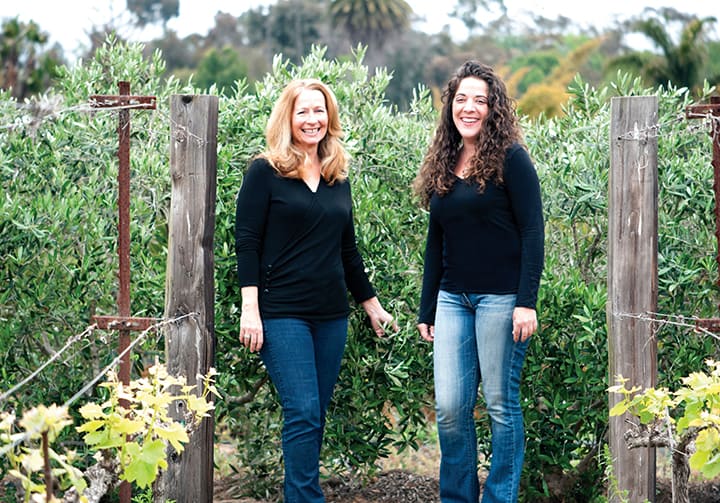 Mary and Laura
From their cookbook:
Olive oil is a staple of the Mediterranean diet – and largely responsible for making it one of the healthiest and most delectable diets in the world. Like a fine wine or exquisite cut of meat, olive oil is known for its dynamic and diverse flavor characteristics. Understanding basic olive oil properties will hopefully inspire you to experiment with new flavor combinations in your dishes and encourage you to cook ethnic foods with oils from different regions.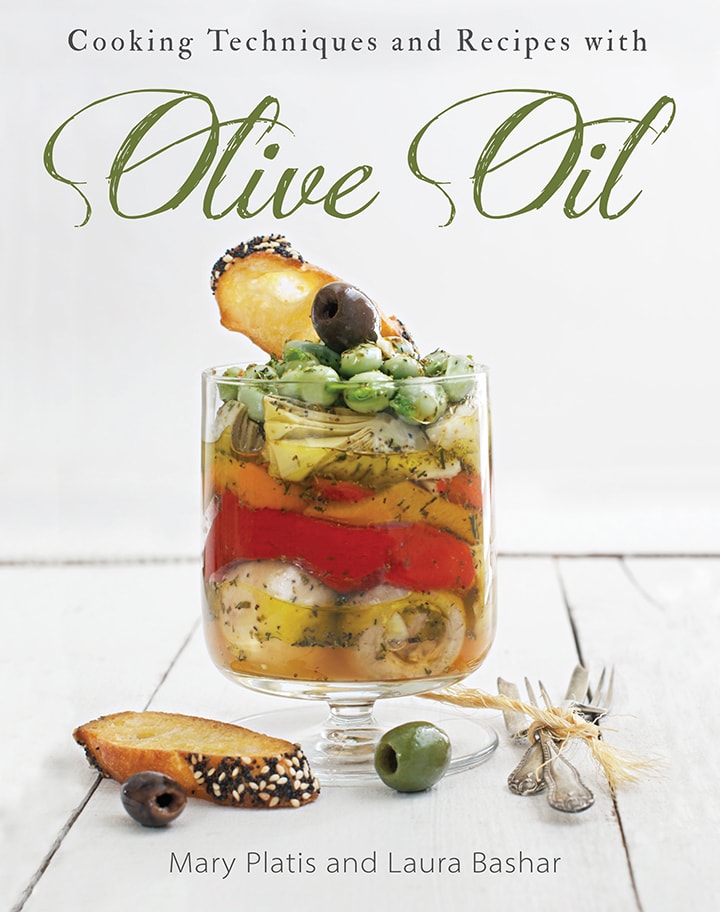 Their cookbook demonstrates just how versatile olive oil is with sweet and savory recipes showing how to use olive oil for poaching, braising, marinating, steaming, and baking. Their recipes are a seamless integration of timeless cooking techniques and fresh new flavor ideas. Their Figs with Muscato Grapes recipe combines fruit with herbs, spices, garlic, and vanilla, and can be paired with soft goat cheese and served as crostini or used as a topping for vanilla ice cream. Mind-blowing, right?
And I love how the cookbook weaves in cultural backgrounds from both authors. Mary's Greek roots are showcased in the recipe for Greek Style Vegetables with Tomatoes, Laura's Persian heritage is reflected in the gorgeous rice dish Basmati Rice with Potatoes, Dill, and Saffron, and some recipes – like Stuffed Grape Leaves with Brown Rice, Kale, and Fresh Herbs – are common to both cultures.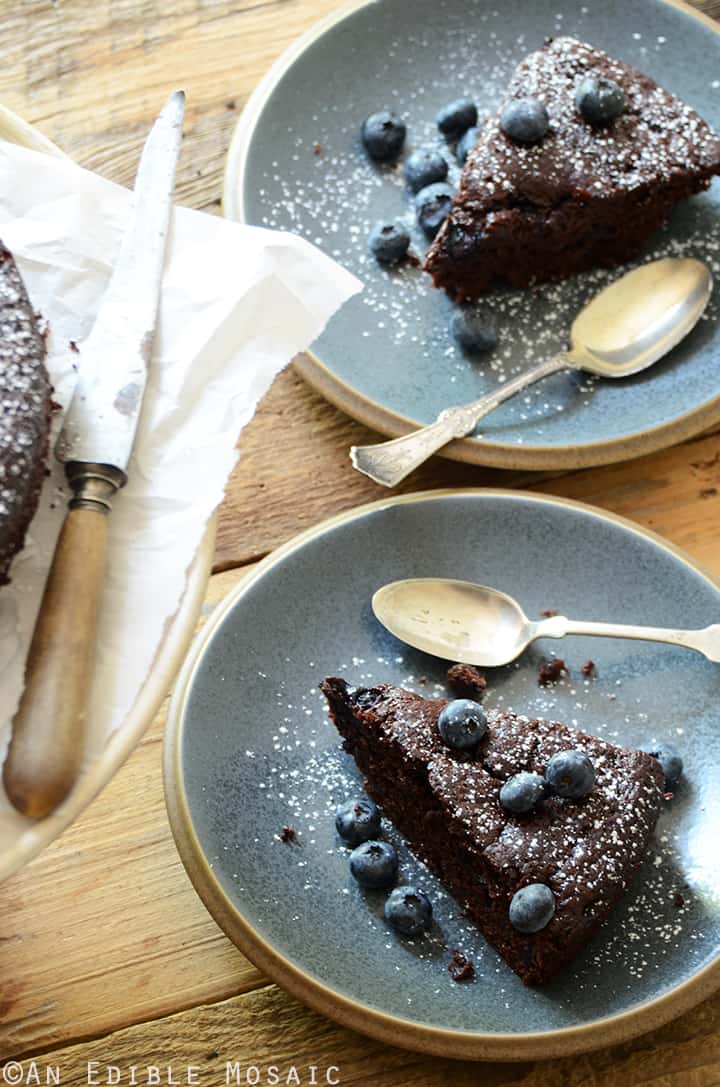 Laura and Mary were kind enough to answer a few questions for us…
1) What are a few of the main properties (health, flavor, etc.) that distinguish olive oil from other oils? 
Extra virgin olive oil is the only oil that is a monosaturated fat; all other oils are saturated fats. Extra virgin olive oil is also high in polyphenols. It is also the only oil that is produced by simple, mechanical means, and does not require chemicals or further processing like other oils. Because of this, extra virgin olive oil can be used for all diets: low carb, paleo, raw, vegan, etc. Since there are thousands of different olive varieties that can be used to produce extra virgin olive oil, it is the only oil that offers numerous flavor profiles: peppery, pungent, buttery, mild, and everything in between. And this is not the flavored olive oils, either, but plain extra virgin olive oil. Despite the myths floating around out there, you can fry, roast, bake, braise, and cook anything in extra virgin olive oil!
2) We hear so much about the health benefits of olive oil; is it really as healthy as experts say it is?
Yes, it's all true! First of all, we are talking about the health benefits of extra virgin olive oil, not virgin, pure, light, or any other lesser-quality olive oil. That being said, consider extra virgin olive oil as a fresh fruit juice versus a saturated fat. Olive oil is a monosaturated fat that contains MUFAs, which keeps the oil in a liquid form in your blood stream as opposed to solidifying and clogging your arteries. Extra virgin olive oil also controls insulin levels and lowers cholesterol. The high polyphenol count in olive oil means that it is high in antioxidants and also reduces inflammation. Extra virgin olive oil is also high in Vitamin E.
3) How does the region where the olives are from effect the oil? Is there a particular region that produces the "best" olive oil?

Olive trees grow best in a Mediterranean-like climate, meaning it likes dry and arid weather. It does not require a tremendous amount of water, but does prosper in good soil and with good farming practices. How the trees and olives are handled by the farmer and miller are vital to the quality of the oil. Today olive oil is being produced in areas that were not traditional thought to be good climates, like cold Canada or humid Georgia, but they are doing well because of the farming techniques and the variety of olive tree being grown. The soil conditions, water, and climate all affect the favor of your oil. So, for example, a Korneiki olive oil produced in Greece will taste different than the same tree growing in California.
4) What should we look for when buying olive oil? 
Find a store where you can taste the olive oil. 
Buy from a store you can trust and has high quality standards.
Do not buy olive oil based on color. Good olive oil comes in all shades of yellow and green. 
Only buy extra virgin olive oil, first pressed olives with no additives or chemicals. 
Read the labels and fine print on the bottles. Look for seals of quality and certifications. 
Do not buy olive oil that lists many countries of origin. 
Look for "best-by date" or "harvest date" for freshness. 
Buy olive oil flavors to match style of cooking, and match your use for your meals.
5) What is the ideal way to store olive oil and how will we know if our olive oil is rancid?
Store olive oil in a dark bottle or in a cupboard to keep out sunlight which can damage and spoil your oil. Because olive oil is perishable, you should use within one year of purchasing the oil (if no best-buy date is listed). There are sensory classes you can take if you really want to be an expert on rancid olive oil, but for the average person, rancid oil can have a metallic, briny, moldy taste. It generally tastes bad. Once you have had good extra virgin olive oil, taste the store-bought $7 bottle. Then you will really know what rancid olive oil tastes like!
6) Laura and Mary, what is each of your all-time favorite recipe using olive oil?
Laura: I love the fact that I can bake practically anything using extra virgin olive oil. Things like scones and pie crust, which were always considered to be "butter-only" recipes can be easily made with olive oil. We have a whole wheat scone recipe in our cookbook, but I also have a Red Currant and Rosemary Olive Oil Scone recipe on my blog.
Mary: Growing up Greek, we used olive oil in everything. My mom would make Braised Root Vegetables with Olive Oil all the time. It's such an easy dish to prepare and I make it all the time for my family.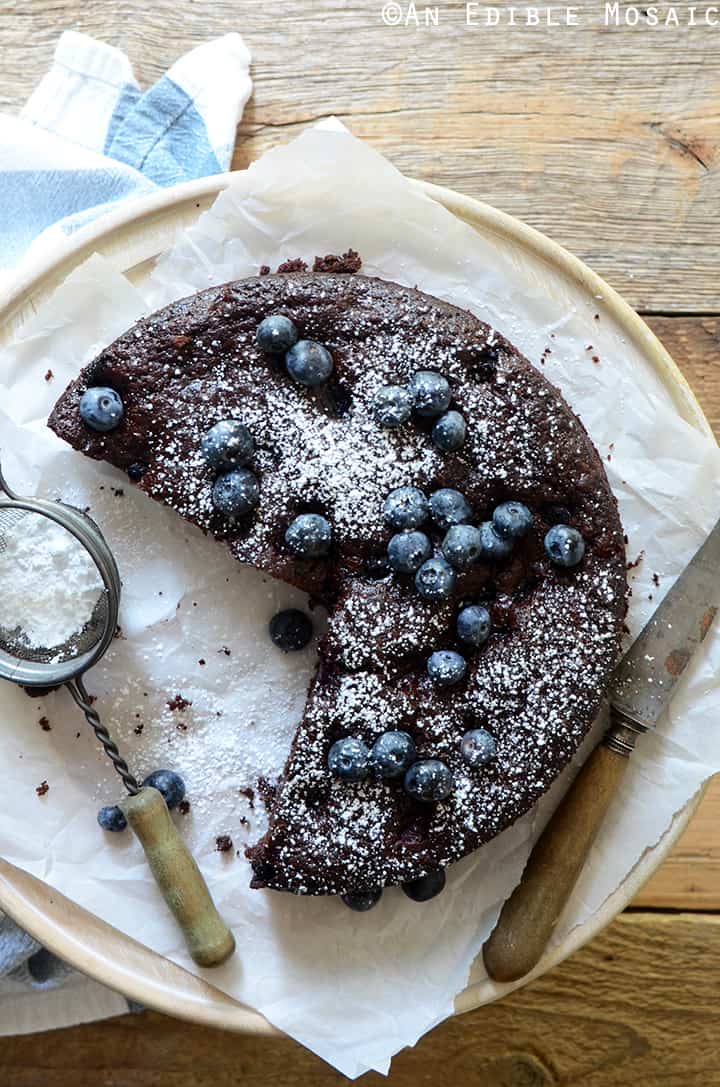 So, what did I make first from their cookbook? Well, let me just say that deciding what to make was a real challenge (they have recipes for things like Apple Lattice Pie with Olive Oil Crust, Chicken Kebabs with Cucumber-Mint Barley, and Vanilla and Cinnamon Infused Olive Oil!), but I went for the chocolate. (If you know me, this probably comes as no great surprise.) Dark Chocolate Olive Oil Cake with Strawberries, to be exact.
Only, I had an issue: no strawberries on hand, but a fridge full of blueberries. (You see where this is headed, right?) I also added a touch of ginger because a) I love it with blueberries and b) I thought it would be a nice pairing with a peppery olive oil. It was a great addition. I also made a few minor adjustments to the recipe based on what I had on hand (anything to avoid a trip to the grocery store if it can be avoided!), and it ended up being a really lovely cake. Moist, flavorful, and deeply chocolatey, which is my kind of cake. I will definitely be making it again.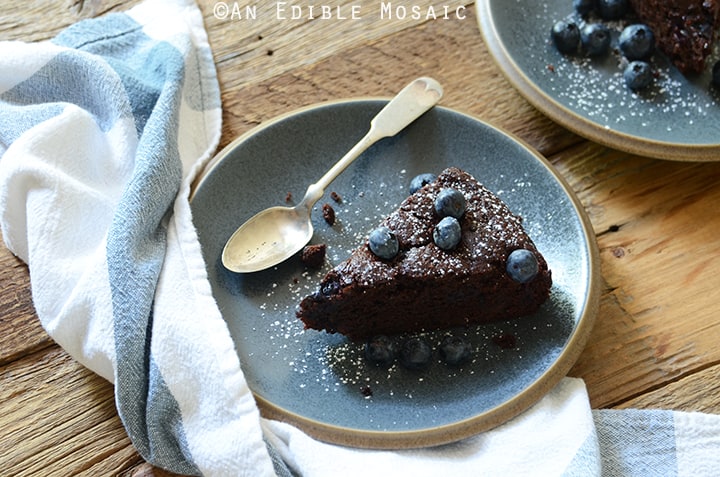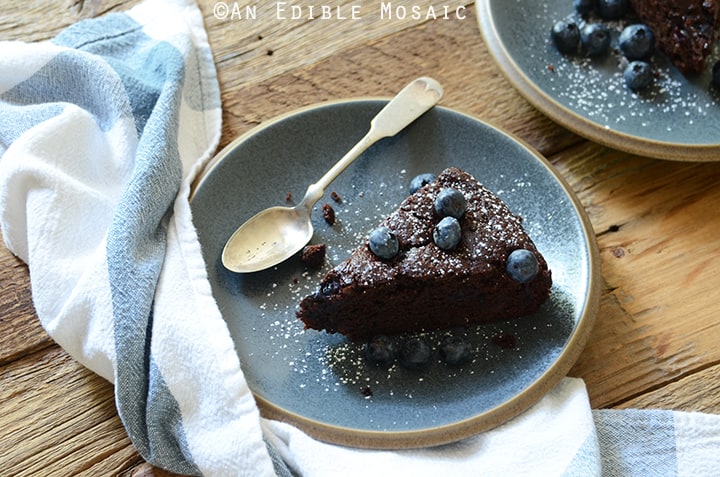 Dark Chocolate Olive Oil Cake with Blueberries and Ginger
Prep time:
Cook time:
Total time:
Yield:
1 (9-inch round) cake
This cake is deeply chocolaty, rich, and moist, with complex fruity flavor notes thanks to the addition of olive oil, blueberries, and ginger.
Ingredients
Olive oil, to grease the pan
1 cup unbleached all-purpose flour
½ cup natural unsweetened cocoa powder (not Dutch-processed)
1 teaspoon baking powder
½ teaspoon salt
½ teaspoon ground ginger
¼ teaspoon baking soda
¾ cup plain, unsweetened yogurt (not Greek yogurt)
½ cup olive oil (see Note)
2 large eggs
1 cup (200 g) sugar
1½ teaspoons pure vanilla extract
¾ cup semisweet chocolate chips
1 cup blueberries, divided
Powdered sugar, for dusting (optional)
Instructions
Preheat the oven to 350F; brush the inside of a 9-inch round cake pan with olive oil and line the bottom with parchment paper.
Wisk together the flour, cocoa powder, baking powder, salt, ginger, and baking soda in a medium bowl.
Whisk the yogurt, olive oil, eggs, sugar, and vanilla extract together in a large bowl.
Stir the flour mixture into the wet ingredients half at a time; be careful not to over-mix. Fold in the chocolate chips.
Pour the batter into the prepared pan and sprinkle ½ cup blueberries on top.
Bake until a wooden pick inserted into the center comes out clean or with just a couple crumbs, about 40 to 45 minutes.
Cool in the pan for 15 minutes, then run a knife along the outside of the cake, remove it from the pan, and let it finish cooling on a wire rack.
To serve, sprinkle the remaining ½ cup blueberries on top. Dust with powdered sugar, if desired.
Notes
Olive Oil: Use extra virgin for a stronger flavor, or use light olive oil to keep it more neutral-tasting. I like a peppery extra virgin here to compliment the flavor of the ginger.

: : GIVEAWAY : :
One lucky winner will receive the following: one copy of Cooking Techniques & Recipes with Olive Oil from Laura and Mary, as well as one bottle of olive oil and one bottle of balsamic vinegar from Montello Fine Foods. If you've never tried Montello's products, you're in for a real treat! I recently had the pleasure of sampling their olive oil (which is smooth and bright-flavored) and balsamic vinegar (which is thick and sweet), and was impressed by the quality of both. (Thank you to Laura, Mary, and Montello Fine Foods for sponsoring this giveaway!)
To participate in this giveaway, just leave a comment on this post telling me your favorite way to use olive oil.
For extra entries, you can do any of the following (please leave a separate comment for each):
Tell me the most unique thing you've ever made with olive oil.
Tell me your favorite use for olive oil outside the kitchen (for example, as a skin moisturizer).
Like Family Spice on Facebook.
Share this giveaway on any of your social media channels using the hashtag #oliveoil.
You do not need to have a blog to enter this giveaway. For shipping purposes, this giveaway is only open to residents of the U.S. This giveaway ends on September 6, 2015 at 11:59 PM EST. Once the giveaway ends, the winner will be randomly chosen and notified via email. The winner will have three business days to respond with his or her mailing information, otherwise a new winner will be randomly chosen. Good luck to all!
Disclosure: I received a copy of this cookbook and samples of Montello Fine Foods products for free, and the cookbook authors and Montello Fine Foods are providing the prize for this giveaway; as always, opinions stated are my own. This post contains Amazon affiliate links to products I believe in, which means that even though it doesn't cost you anything extra, I will receive money from the sale of these items; thank you for helping to support An Edible Mosaic!