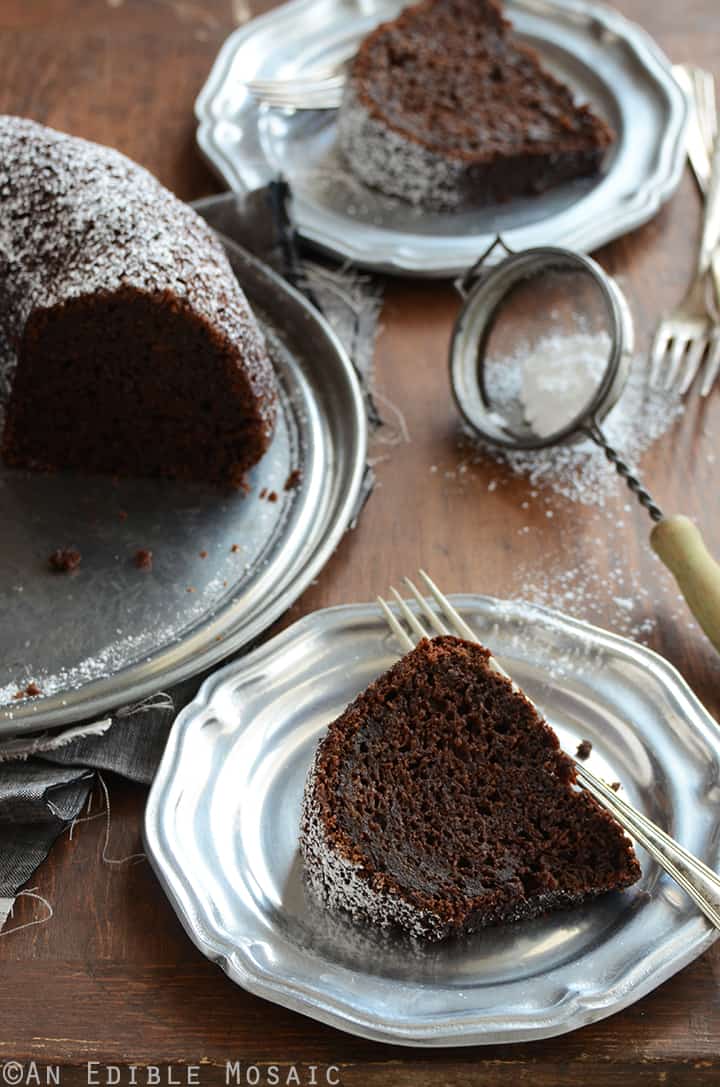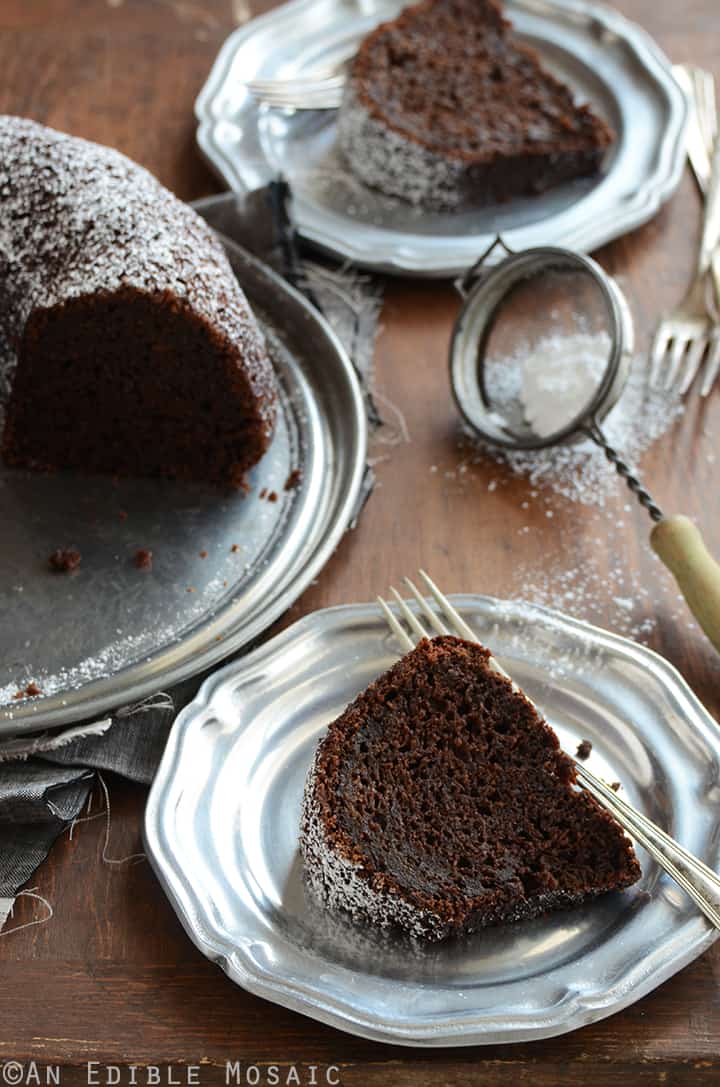 When I was dreaming up this cake I had a decadent chocolate cake in mind.
Something really indulgent…sinful, even.
Then I looked in my fridge and found three pretty zucchinis that needed to be used up (even despite making a few zucchini recipes lately, like Roasted Vegetable Crustless Quiche with Basil & Pine Nuts and Cinnamon and Nutmeg Zucchini "Applesauce").
Seeing the zucchini I got an idea and I knew sinful would have to wait.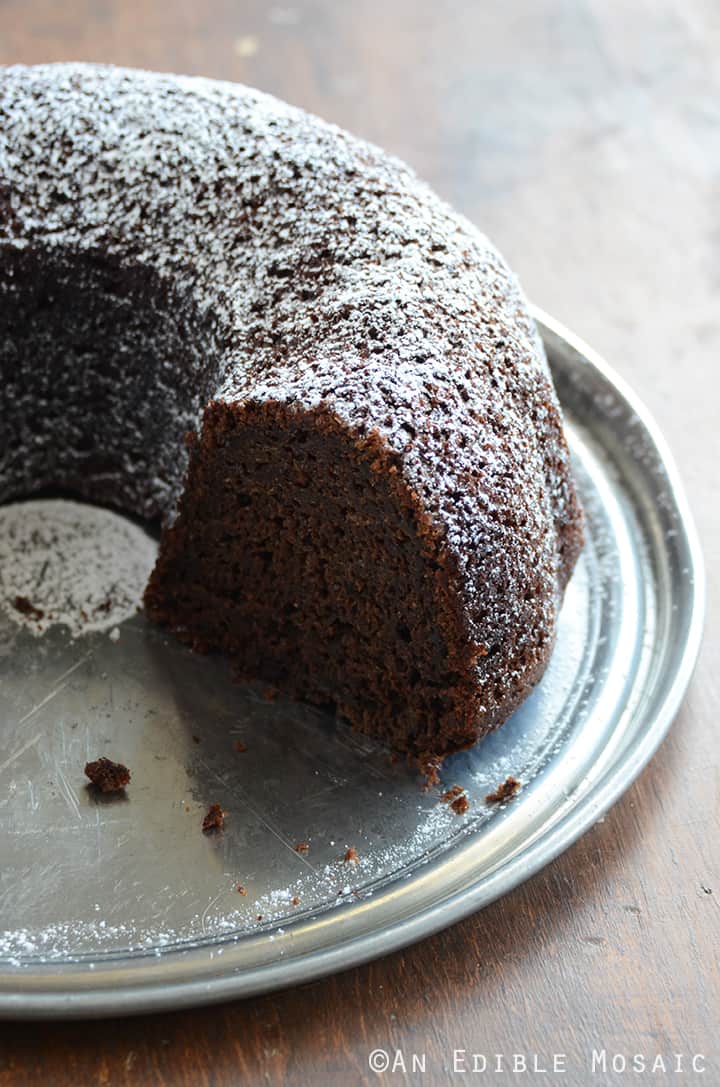 (Side Note: That is the beauty of keeping your kitchen stocked with healthy things…if they're there, you'll eat them!)
But the great thing is, zucchini happens to be a trick cake ingredient that will keep your baked goods moist without imparting a strong flavor. In fact, I've found that the flavor of zucchini is easy to fully mask in cakes and quick breads; especially baked goods like this one, which is full of flavor from other ingredients like cocoa powder and cinnamon-orange black tea. If you have central air conditioning or are brave enough to bake in the heat, this cake is one worth making, especially if you have zucchini to use up.
Even though I wouldn't consider this cake sinful (how can any food that has veggies be considered sinful?), it definitely does taste indulgent. Best of both worlds, perhaps?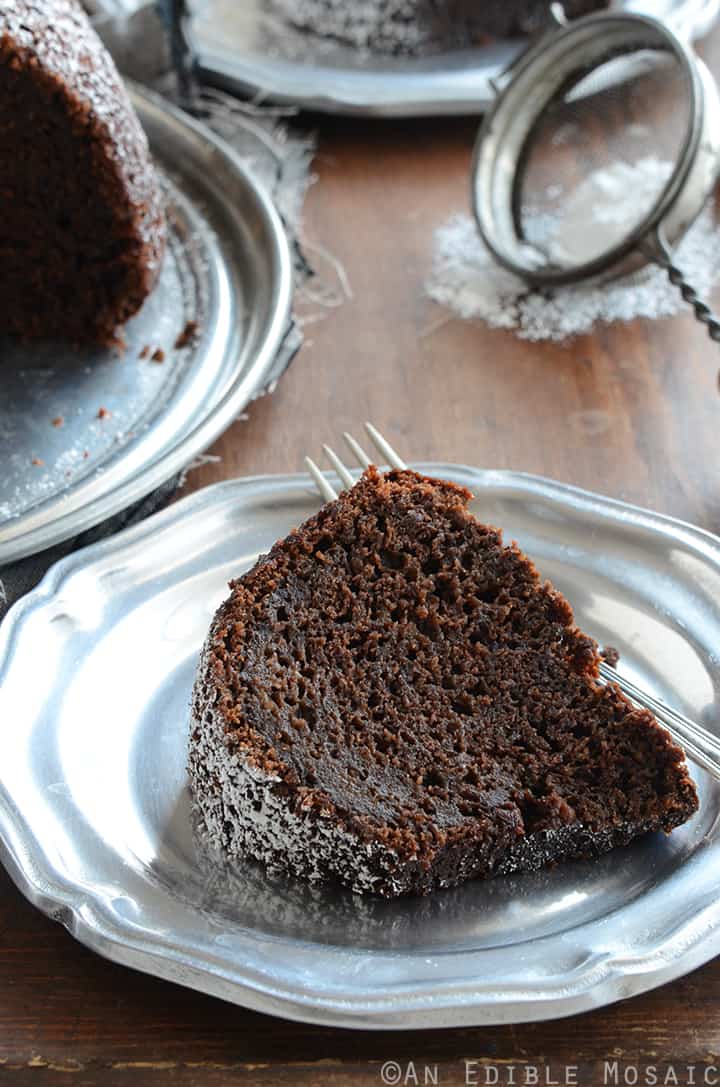 Here are a few other recipes for Chocolate Zucchini Cake from around the web that look pretty fabulous:
Cooking Light (this recipe uses cream cheese and buttermilk)
The Answer is Cake (this cake is frosted with a gorgeous fudgy frosting)
Use Real Butter (this one has espresso powder and chocolate chips)
Bell'Alimento (this cake uses cinnamon and sweet cream flavoring)
Barbara Bakes (this recipe features chocolate chips and dried cherries)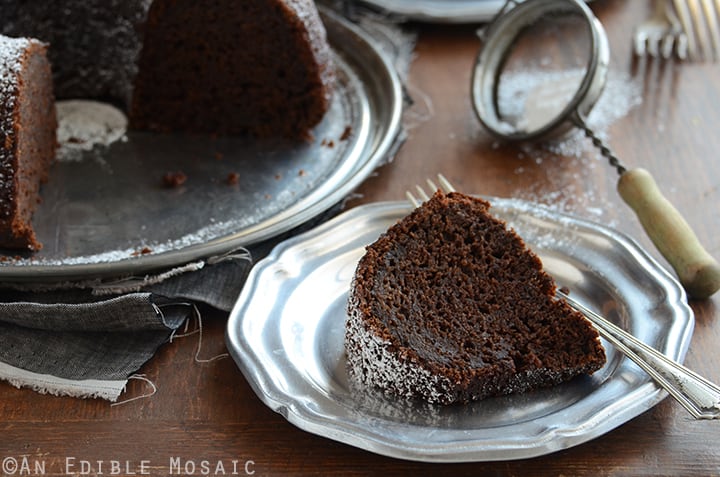 Cinnamon and Orange-Spiced Chocolate Zucchini Cake
Prep time:
Cook time:
Total time:
Yield:
1 standard (10-inch diameter) bundt cake, or about 16 servings
Ingredients
3 medium (600-700 g) zucchini, peeled and chopped
Butter, to grease the pan
1⅓ cups (170 g) all-purpose flour
1⅓ cups (170 g) whole wheat flour
⅔ cup (80 g) natural unsweetened cocoa powder (not Dutch-processed)
1 teaspoon fine salt
1 teaspoon baking powder
1 teaspoon baking soda
3 cinnamon-orange black tea bags, opened (I used my favorite, Harney & Sons Hot Cinnamon Spice)
1¾ cups (350 g) sugar
2 large eggs
⅔ cup (160 ml) canola oil
1 tablespoon blackstrap molasses
1 tablespoon pure vanilla extract
Powdered sugar, for garnish (optional)
Instructions
Add the peeled and chopped zucchini to a food processor and process until it forms a chunky paste (see the photo at the bottom of this post). Use the zucchini paste to make this cake immediately, or cover the zucchini paste and store it in the fridge for up to 3 days until you're ready to make the cake.
Preheat oven to 350F; grease a standard bundt cake pan with butter.
Whisk together the flours, cocoa powder, salt, baking powder, baking soda, and tea (from the opened tea bags) together in a large bowl; set aside.
Beat together the sugar, eggs, and oil until fluffy, then beat in the zucchini (with any juices that have seeped out), molasses, and vanilla.
Add the dry ingredients to the wet all at once and whisk until just combined, being careful not to over-mix.
Pour the batter into the prepared pan and bake until a wooden pick inserted in the center comes out clean, about 1 hour and 15 minutes.
Place the pan on a wire rack and cool completely in the pan, then run a knife along the outside of the cake and invert it onto a platter to remove it.
Before serving, sprinkle with a dusting of powdered sugar if desired.
Disclosure: This post contains Amazon affiliate links to products I believe in, which means that even though it doesn't cost you anything extra, I will receive a small amount of money from the sale of these items, which helps me keep this site alive – thank you for helping to support An Edible Mosaic!