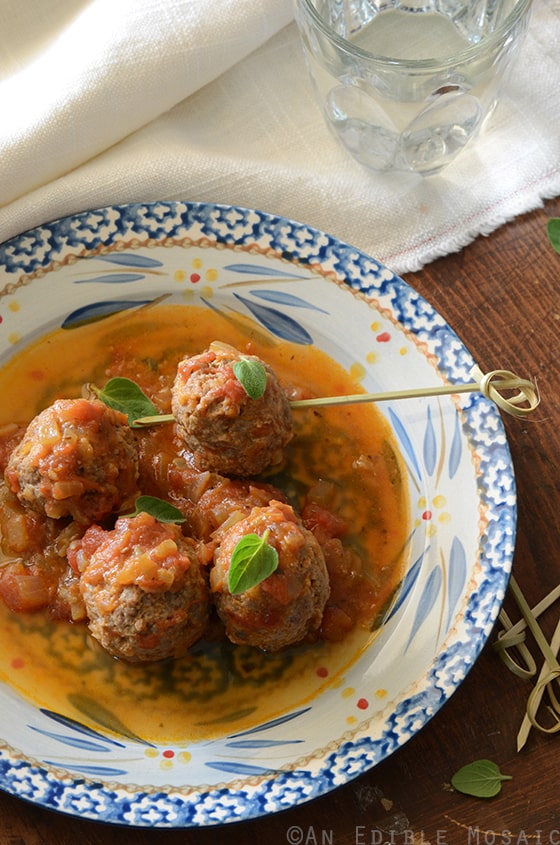 On our dinner table growing up, the most unusual meat to be found was venison. (Which my sister and I never liked, not only because of its gamey flavor, but also because the thought of eating Bambi didn't sit well with us.)
I know that's probably crazy to some of you who eat a whole gamut of meat.
I have heard stories of eating rattlesnake and crocodile, and I have friends who grew up with chipmunk and squirrel. All I can say is that it takes a braver soul with a stronger stomach than I possess…as it is, I lean heavily toward vegetarian meals in general, but that's just out of personal preference.
But I would like to be more adventurous with my eating, and I can't tell you how many times I've seen bison at the grocery store and passed it by, or have seen bison listed as an ingredient in a recipe and automatically changed it to beef in my mind. I was missing out because like I mentioned a while ago, when we finally tried bison, it was a huge hit all around.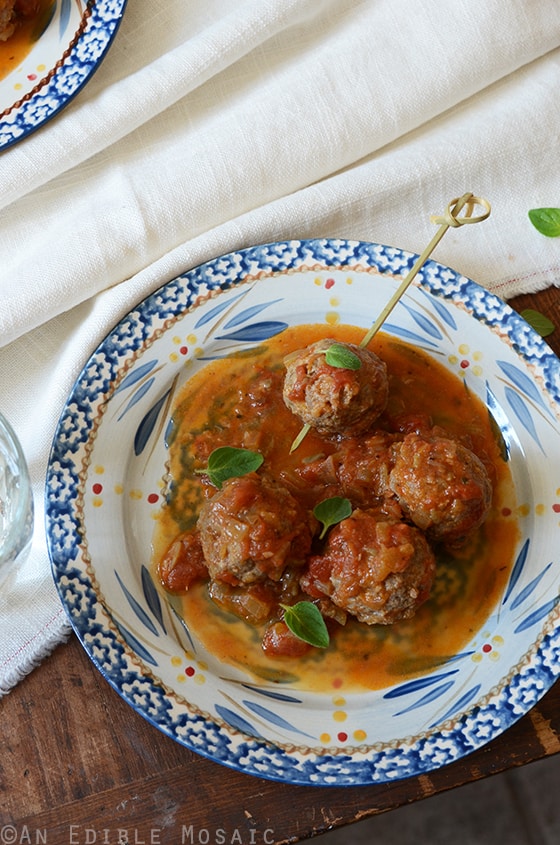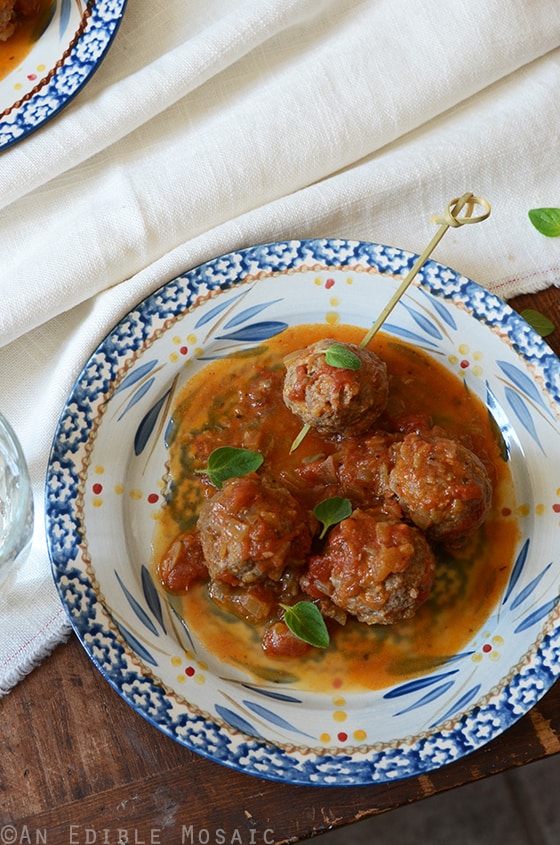 This recipe is inspired by Greek flavors of garlic, lemon, and oregano. These flavorful meatballs are very tender thanks to the addition of milk-soaked bread, and they make a great appetizer or main course.
If you're not sure whether or not you'll like bison, this recipe is a great place to start!
Tomato-Simmered Lemon and Oregano-Scented Bison Meatballs
Prep time:
Cook time:
Total time:
Yield:
8 main course servings or 12 appetizer servings
Ingredients
2 slices (65 g) sandwich bread, torn small
½ cup (120 ml) milk
4 cups (950 ml) chunky-style marinara sauce (homemade or store-bought)
1-2 cups (235-475 ml) boiling water
1¾ lbs (795 g) ground bison meat
1 small-medium onion, grated
2 large cloves garlic, crushed
1 large egg
2 teaspoons Worcestershire sauce
1½ tablespoons minced fresh oregano
1½ teaspoons fresh lemon zest
1 teaspoon salt
¼ teaspoon black pepper
Instructions
Add the torn bread to a small bowl and top with the milk; let it soak for 10 minutes so the bread can absorb the liquid.
Add the marinara sauce and 1 cup of water to a large saucepan over medium heat; cover the saucepan and bring to a simmer.
Meanwhile, add the bread/milk mixture, meat, onion, garlic, egg, Worcestershire, oregano, lemon zest, salt, and black pepper and mix with your hands to combine, being careful not to over-mix.
Roll the meat mixture into balls (I made mine about 1½ to 2 tablespoons each). Once all the balls are rolled, place them in the simmering sauce, adding more water as necessary to make sure all the meatballs are covered.
Simmer the meatballs until fully cooked, about 20 minutes. (Don't stir until toward the end, and when you do, be careful not to break up the meatballs.)
Serve the meatballs as an appetizer, or tossed with pasta as a main course. You could also use them to make meatball sandwiches. (If you want to thicken up the sauce, remove the meatballs with a slotted spoon once they're done cooking. Simmer the sauce uncovered until thickened, stirring frequently.)