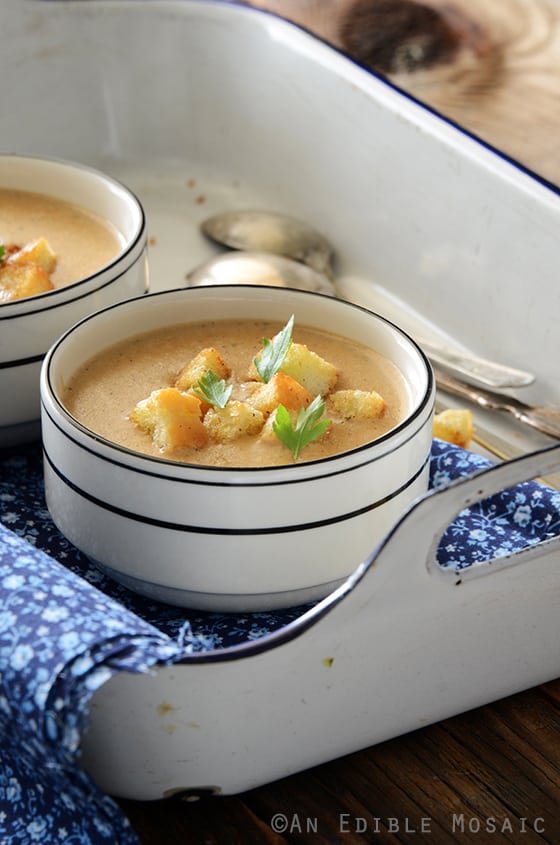 Being a food blogger means that I rarely get to make the same dish twice, even if it's a dish that I really love. (Because a dish made and not photographed for the blog is a wasted dish. Sigh. That is, in fact, the twisted reality of a food blogger, lol.) But those rare "wasted" meals when I get to sneak in a favorite recipe a second – or third – time are pure bliss.
And I confess, some meals I make at least once a month because I adore them.
Like French Onion Soup.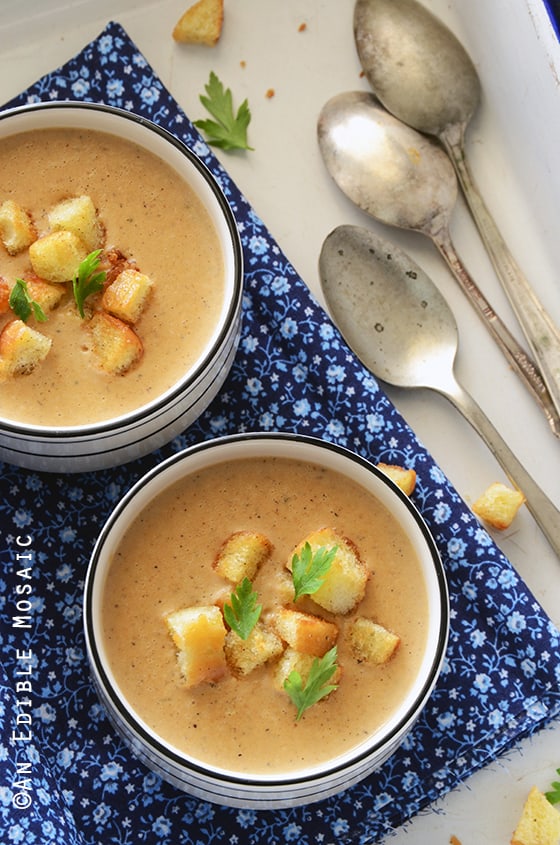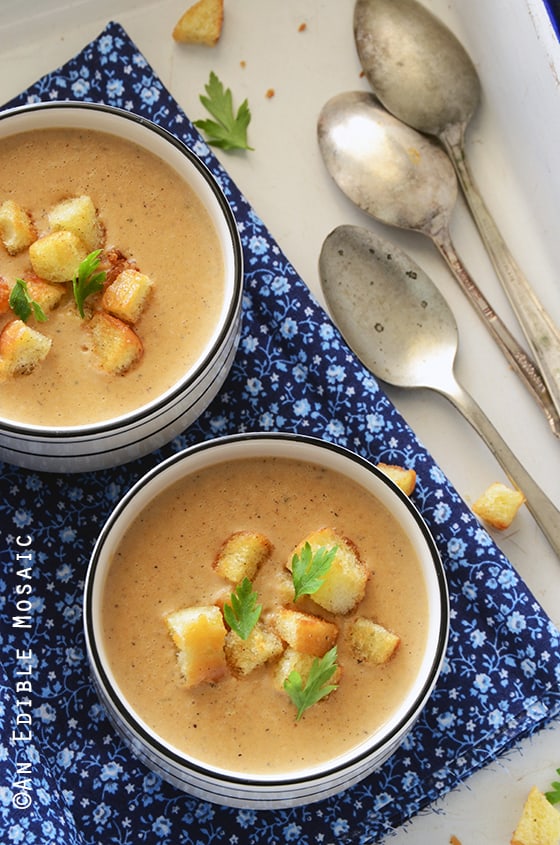 Me, being the onion-hoarding junkie I am (oh yes, I am. I keep a HUGE punch-sized bowl of onions replenished on my counter at all times because we go through them so quickly), am always craving onion. What better way to eat it than French Onion Soup? (Incidentally, my second favorite way to eat onion is in a turkey and Swiss cheese sub with extra, extra – because one extra really isn't enough – onion. And mmm, Mujaddara is another fav.)
I think I could go on dreaming about ways to get my onion fix for hours! Stopping now.
Anyway, I've also shared my recipe for Creamy Onion Soup, which was also great, but not as killer as my regular go-to French Onion.
Now this one, Cream of Caramelized Onion and Cheese Chowder with Homemade Croutons, is right up there with the original. It has all the elements I adore about French Onion Soup (caramelized onion, cheese, and bread), but it's also a completely unique thing. Pureeing the cheese in with the soup gives it an earthier taste, thanks to the earthy notes of mushroom in Emmental cheese. If you want to bump up the mushroom flavor even more, you could add in a mix of your favorite 'shrooms when the onions are about halfway caramelized.
This soup has gorgeous flecks of caramelized onion and is lusciously velvety-textured without a drop of cream; fair warning though, with butter, cheese, and bread, this is not a "light" soup, so a smaller portion size really is enough. Taste-wise, it's worth every calorie though, and if you pair it with a big green salad it's a meal that will completely satisfy.
Cream of Caramelized Onion and Cheese Chowder with Homemade Croutons
Prep time:
Cook time:
Total time:
Ingredients
Chowder:
3 tablespoons butter
2 large onions, thinly sliced
2 cloves garlic, minced
½ teaspoon dried thyme (or 1½ teaspoon fresh minced thyme leaves)
3 tablespoons all-purpose flour
1½ cups (355 ml) low-sodium chicken or vegetable stock, or water
2 cups (475 ml) milk, at room temperature (whole or low-fat is fine)
1 bay leaf
½ teaspoon sea salt
⅛ teaspoon ground black pepper
½ teaspoon Worcestershire sauce
3 oz (85 g) Emmental cheese, shredded
Croutons:
1 tablespoon butter
1 tablespoon olive oil
1 cup of small, stale bread cubes
1 pinch salt
1 pinch pepper
Instructions
For the chowder, heat the butter in a medium saucepan over medium heat; when the butter is melted, add the onion. Cook until the onion is deep caramel in color, about 15 to 20 minutes, stirring occasionally. Add a splash of water or turn the heat down a little at any time if the onion or the pan starts to get too dark.
Once the onions are caramelized, add the garlic and thyme and cook 30 seconds more, stirring constantly.
Add the flour and cook 1 minute more, then slowly whisk in the chicken stock and milk. Stir in the bay leaf salt, pepper, and Worcestershire sauce. Bring to a boil, whisking occasionally, and then turn off the heat.
Off the heat, stir in the cheese until melted.
Remove the bay leaf and carefully puree the soup in a blender or food processor until smooth, working in batches if it doesn't all fit at once. Taste and add additional salt and pepper as desired.
For the croutons, heat the butter and oil in a medium skillet over medium to medium-high heat; add the bread cubes, salt, and pepper, and stir to coat the bread. Cook until the bread is crisp and golden, about 3 to 4 minutes, stirring constantly.
Serve the soup with the croutons on top.