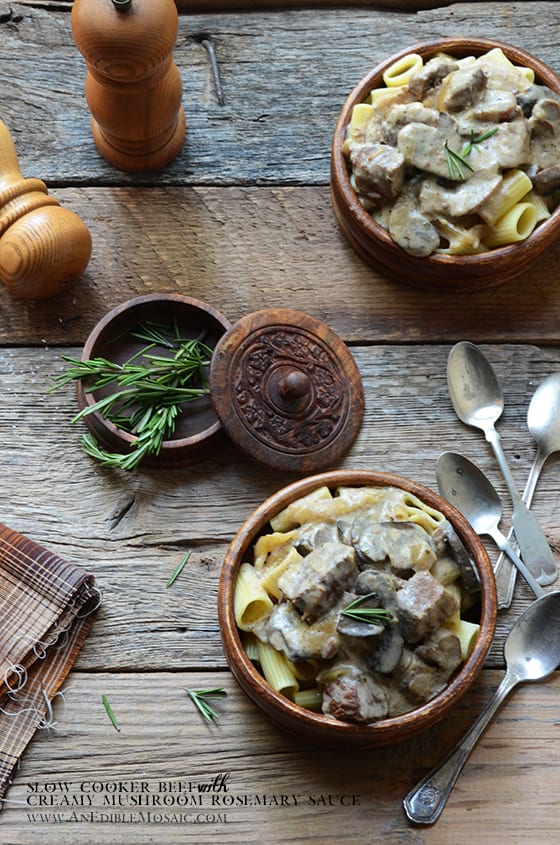 I have quite the obsession with old recipes.
(Or maybe instead of calling them old I should say vintage recipes…because doesn't that have a much more appealing connotation than old? Old makes you wonder if the recipe itself is old-fashioned or if the dish was made a serious while ago and has now seen better days – unless it's something that is intentionally aged like cheese or wine and gets better with time. But vintage gives it a classy feel, right? And definitely in a more approachable way than if it was described as fancy. So I guess vintage it is.)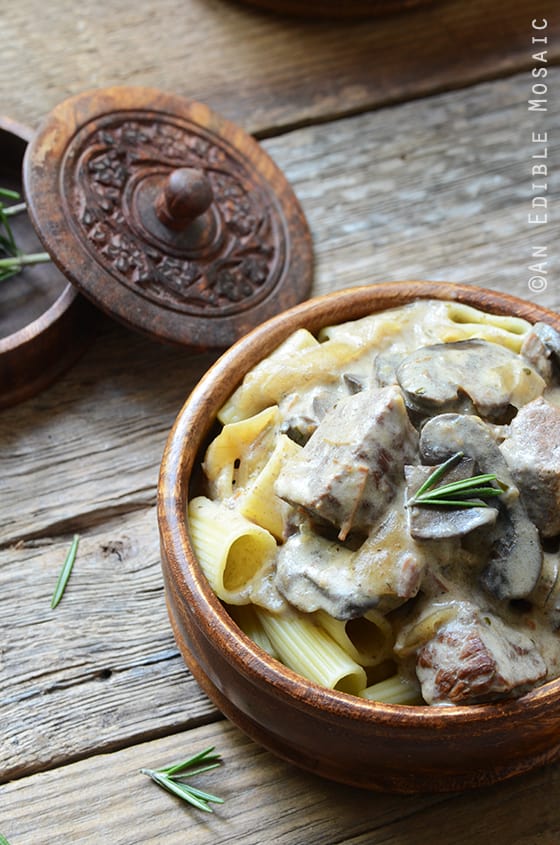 But enough of my ramblings. What I'm getting at, is that when thumbing through cookbooks of a certain age (maturity, if you will), slight variations of a dozen or so recipes repeatedly pop up. Beef Stroganoff is usually one of them, which is where I got the inspiration for this meal.
This dish is very much like Beef Stroganoff, but with a few subtle distinctions in its flavor profile. I used a bit of dry white wine to deglaze the pan that I browned the beef in (and yes, browning the beef is worth the extra step when you're using the slow cooker). The wine's fruity flavor nicely complimented the garlic and herb cheese that I used to make this sauce creamy instead of the more traditional sour cream. And I love the citrus-y notes of fresh rosemary, so I added a bit toward the end of cooking to brighten up the flavor of the dish.
I served this rich beef sauce on top of pasta, but egg noodles would also be good. Or for an even heartier meal, try it on top of nutty pearl barley or brown rice.
Slow Cooker Beef with Creamy Mushroom-Rosemary Sauce
Ingredients
2 tablespoons butter
1 tablespoon olive oil
2 tablespoons all-purpose flour
2 lbs (910 g) beef cubes (for stew)
½ cup (120 ml) dry white wine (or ½ cup beef stock + 3 tablespoons fresh lemon juice)
2 cups (475 ml) low-sodium beef stock
1½ tablespoons Worcestershire sauce
½ teaspoon salt
¼ teaspoon black pepper
2 medium-large onions, halved and sliced
1 lb (455 g) white button mushrooms, sliced
4 large cloves garlic, minced
¼ cup (32 g) all-purpose flour mixed with ¼ cup (60 ml) cold water to form a slurry
1 (8 oz/226 g) container garlic and herb spreadable cheese (such as rondelé by Président)
1 tablespoon minced fresh rosemary
1 lb (455 g) pasta in whatever shape you like (I used 82 'A Tavula 'Mbandita rigatone)
Instructions
Add the butter and olive oil to a large, deep-sided skillet over high heat. While the pan heats, sprinkle the 2 tablespoons flour onto the beef cubes. Once the butter is melted and the pan is hot, add the beef and cook until browned on both sides, about 4 minutes. (Cook the beef in 2 batches if necessary so the pan isn't overcrowded.) Use a slotted spoon to transfer the browned beef to the pot of a slow cooker.
Add the white wine to the skillet that you browned the beef in; let it boil vigorously (using a wooden spoon to scrape up any brown bits from the bottom) until it's reduced to about 2 tablespoons. Stir the in the beef stock, Worcestershire sauce, salt, and black pepper and cook until warm.
Add the stock mixture, onion, mushroom, and garlic to the slow cooker pot with the beef.
Cook on HIGH heat until the beef is tender, about 5 to 6 hours; do not open the lid until you check for doneness at the 5 hour mark.
Once the beef is tender, turn the heat to LOW. Stir in the flour slurry, garlic and herb spreadable cheese, and rosemary. Put the lid on and let it cook for 15 to 30 minutes.
Meanwhile, cook the pasta to al dente according to the package directions.
To serve, top pasta with the beef sauce.
Notes
Freezer-Friendly: This meal is perfect for stocking the freezer. You can either portion out the pasta and beef sauce into individual-sized meal containers and freeze them for lunches, or you can freeze just the sauce (without the pasta) in a large container and cook the pasta on the day you want to serve it.