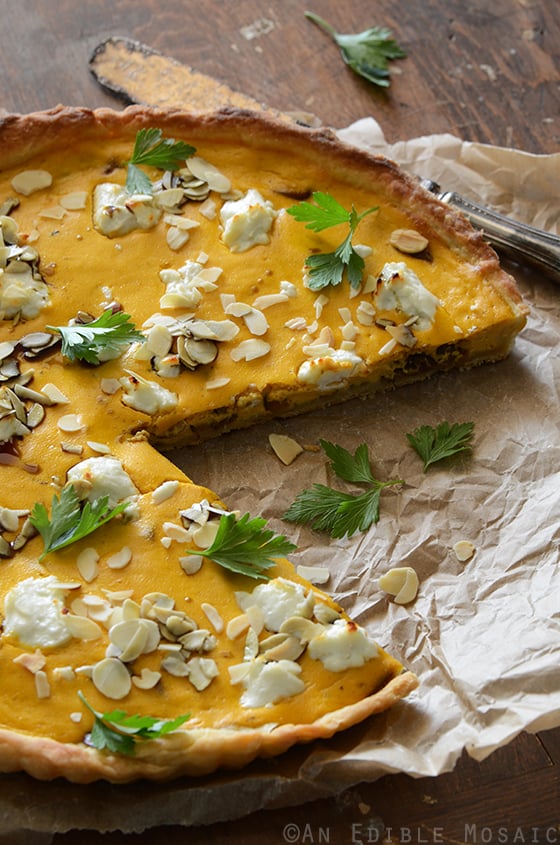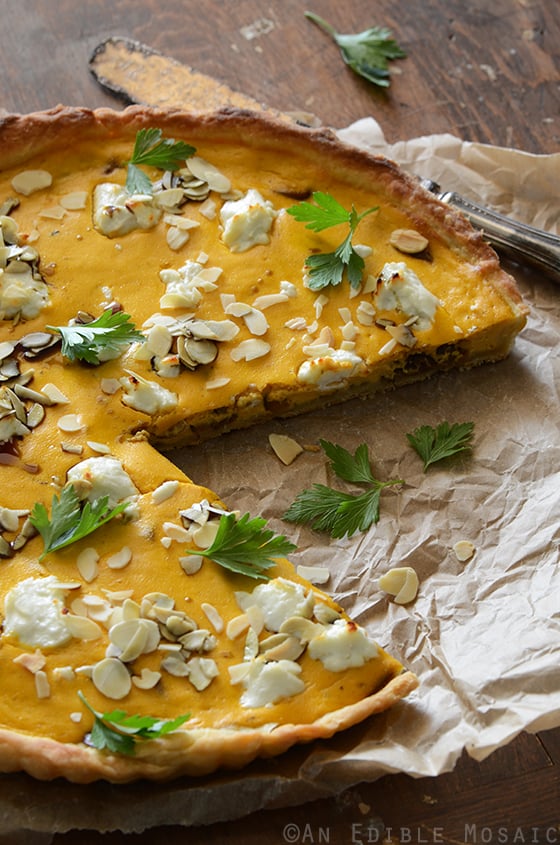 Step aside sweet pumpkin pie…
There's a new tart in town.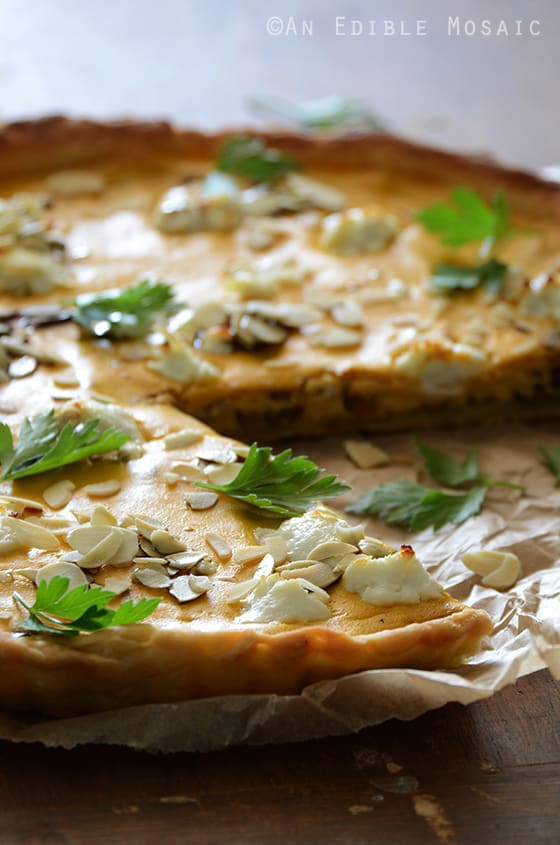 But she hasn't come to replace the classic; no, she's different enough that there's room for both (so really, it's more like move over than step aside ;) ).
She's a savory thing bursting with flavor. Caramelized onion and thyme, ricotta and goat cheese. A hint of maple for complexity. One bite and she'll have you hooked.
If you're looking for a festive pumpkin dish but want to try something new, this is the way to go. Serve this Savory Pumpkin, Ricotta, and Caramelized Onion Tart as part of a fall-themed breakfast or brunch, along with salad greens for a satisfying lunch, or as a first course for a harvest supper.
What's your favorite savory pumpkin recipe?
Savory Pumpkin, Ricotta, and Caramelized Onion Tart
Yield:
1 (10 or 11-inch) tart, about 12 servings
Ingredients
Crust:
1¼ cups (160 g) whole wheat pastry flour or all-purpose flour, plus more for rolling out the dough
1 tablespoon cornstarch
¼ + ⅛ teaspoon salt
½ cup (115 g) unsalted butter
1 large egg yolk (you'll use the egg white in the custard)
2-3 tablespoons cold water
Caramelized Onion:
1½ tablespoons olive oil
1 medium onion, quartered and thinly sliced
1 large clove garlic, minced
¾ teaspoon dried thyme leaves or 2 teaspoons minced fresh thyme leaves
¼ teaspoon salt
⅛ teaspoon ground black pepper
Pumpkin Ricotta Custard:
2 large eggs
1 large egg white (leftover from making the crust)
¼ cup (60 ml) whipping cream
½ cup (130 g) pumpkin puree
½ cup (130 g) ricotta cheese
1 teaspoon pure maple syrup
¼ + ⅛ teaspoon salt
⅛ teaspoon ground black pepper
2 oz (60 g) goat cheese, crumbled
Garnishes:
1 teaspoon pumpkin seed oil (optional)
1 tablespoon sliced almonds, toasted (or you could use toasted pepitas)
A small handful of fresh flat-leaf parsley
Instructions
For the crust, whisk together the flour, cornstarch, and salt in a large bowl and then cut in the butter with a pastry cutter or a fork until it looks like coarse meal. Once the butter is added, cut in the egg yolk. Add water 1 tablespoon at a time, working the dough together with your fingertips just until it comes together, and only adding enough water so the dough comes together when you squeeze it. Gather the dough together into a ball and then flatten it into a disk; wrap it in plastic wrap and refrigerate until chilled, about 30 minutes.
For the caramelized onion, heat the olive oil in a medium skillet over medium heat. Add the onion and cook until its deep caramel in color, about 15 to 20 minutes, stirring occasionally. Add a splash of water or turn the heat down a little at any time if the onion or the pan starts to get too dark. Add the garlic, thyme, salt, and pepper during the last 5 minutes of cooking, stirring more frequently after they're added.
Preheat the oven to 350F. Once the dough is chilled, roll it out onto a generously floured surface to a 12-inch circle. Transfer the dough to a 10 or 11-inch tart pan and press the dough into the bottom and up the sides of the pan, trimming off the excess. Poke several holes in the dough on the bottom of the pan and bake (you can use weights if you want) for 15 minutes.
While the crust bakes, make the custard. To do so, add all ingredients (except the goat cheese) to a food processor or blender and puree until completely smooth.
Spread the caramelized onion onto the tart. Pour the custard on top and spread it out evenly. Dot the top with goat cheese.
Bake until the tart is golden and the custard is set, about 25 to 30 minutes. If the top isn't as golden as you'd like, but the tart is finished, you can run it under the broiler for a couple minutes; stay with it though, because it can burn quickly.
Add any garnishes you like and serve warm, room temperature, or cold.