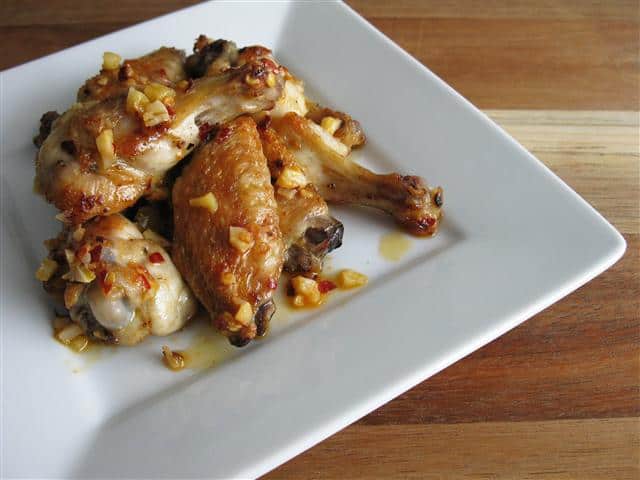 Pizza and wings are rare guilty pleasures of mine and Mike's. Actually, I'm a pizza girl (New York-style for me, please!) and he's crazy about wings. As you can imagine, we were both in our glory on our last trip to New York City. After a long day of shopping, sightseeing, and dining out, one of our favorite things to do in the evening was relax in our hotel room and order dinner in. (Which of course rejuvenated us so that we could go back out after dinner…after all, it is the city that never sleeps!)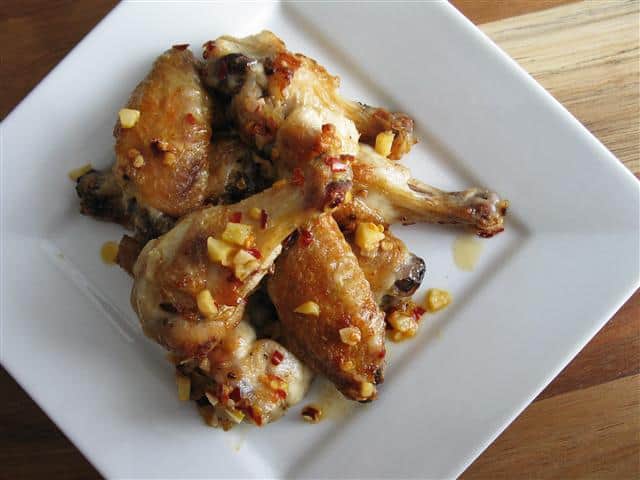 We ordered pizza a couple different nights and one night we also ordered a side of wings for Mike. He took one bite and started moaning so vehemently that I thought either he was in pain or the wings tasted like something that no human should ever ingest. "What? What's wrong?!" I practically shouted at him. I think it was at that point that he fell over in ecstasy on the couch and proclaimed them (and I quote) "the best wings he's ever had". (And we're from upstate, so that statement really says a lot.)
Mike and I both remember that they were called Sicilian Chicken Wings, but I wish we could remember where we got them from so I could give them ample credit; sadly, neither of us can remember (which is even more frustrating because he wants to order them again on our next trip!). What I can do is share my recipe, which Mike says is spot on.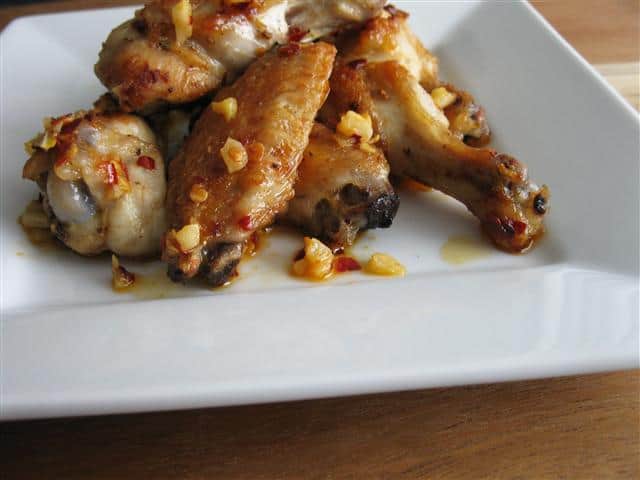 Now, just a little forewarning, if you're familiar with fantastic chicken wings (aka Buffalo wings), let me say that these Sicilian wings were different in a few ways. First of all, they were broiled…now I know what you're thinking, how on earth can you get a nice crispy wing in the broiler?! (Or maybe it was just me who thought this before I gave them a try.) In any event, I promise it's possible…the wings don't get quite as completely crispy as a nice Buffalo wing, but surprisingly they are pleasantly crisp. The other main difference is that the sauce. Instead of being tossed with a spicy, vinegary, butter sauce with garlic powder like Buffalo wings, these wings are drenched in a spicy butter sauce with real garlic. And it makes all the difference in the world.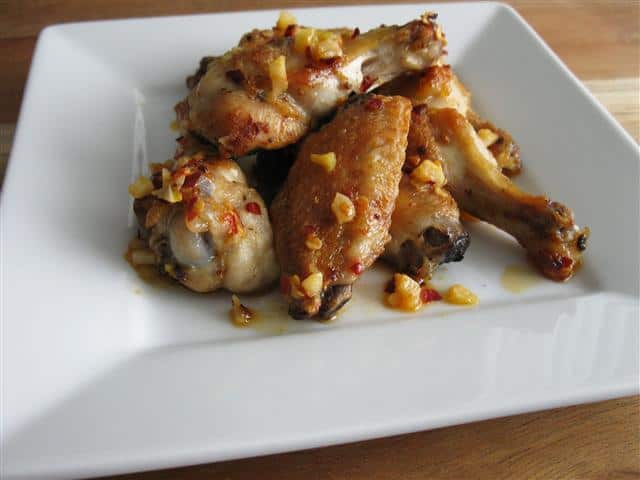 Sicilian Chicken Wings
(Yield: 4 servings)
10 chicken wings
2 teaspoon salt
2 teaspoon sugar
1 TB lemon juice
4 TB hot sauce, divided (more or less to taste)
2 large cloves garlic, divided (1 clove cracked and 1 clove minced)
1 TB olive oil, plus more to grease the baking sheet
2 TB butter
1-3 teaspoon crushed red pepper flakes (more or less to taste)
Salt and pepper
Cut each chicken wing into three pieces at the joints; you will end up with 10 drumettes (the fatter wings), 10 wingettes (the flatter wings), and 10 tips (discard the tips or save them for making chicken stock). In a large bowl, combine 2 teaspoon salt, 2 teaspoon sugar, 1 TB lemon juice, 2 TB hot sauce, 1 clove cracked garlic, and 1 cup of water; stir to dissolve salt and sugar. Add the wings, then add more water to just cover everything. Refrigerate at least 2 hours or up to 2 days.
Preheat broiler and lightly oil a baking sheet with olive oil. Remove the wings from the brine, rinse with cold water, and pat dry. Toss wings with 1 TB olive oil and a pinch of salt and pepper and arrange in a single layer on prepared baking sheet. Broil about 15 minutes until browned and fully cooked, flipping every few minutes.
Melt butter in a small saucepan over low heat; add 1 clove minced garlic and crushed red pepper flakes and sauté 30 seconds to 1 minute, until everything is fragrant. Turn off heat and add remaining 2 TB hot sauce. Gently toss wings with sauce to coat.