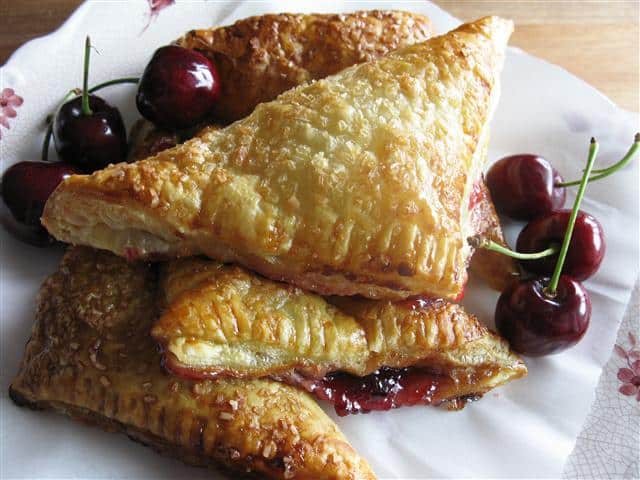 I am of the mindset that food is the best means of communication. For example, what does roast chicken with root vegetables say if not relaxing on a Sunday afternoon? Kind of how fresh strawberries say summer is here, homemade chicken noodle soup says get well soon, and lobster drowning in butter says I'm on vacation. And certainly nothing says I love you like waking up to a plateful of fresh cherry turnovers.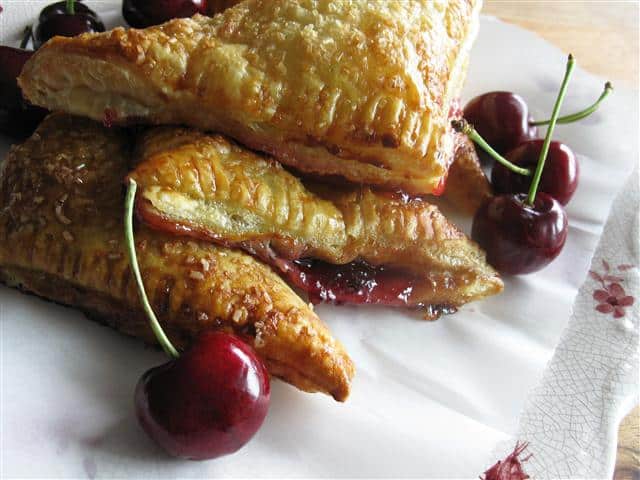 Mike did wake up to a beautiful plate of cherry turnovers one lucky Sunday morning. And he definitely felt loved. The sad thing is that this took place sometime last summer. I have no idea how this recipe got lost in the shuffle, but the good thing is cherry season is almost upon us again!
Once you make these and see just how easy they are to put together, they will become your go-to breakfast-to-impress. Of course they can double as dessert. And of course you can use whatever kind of jam you fancy.
Cherry Turnovers
(Yield: 4 turnovers)
1 sheet (about ½ lb) puff pastry
½ c cherry jam (I used homemade, but you can use any kind you like)
1 egg beaten with 1 TB water (for eggwash)
1 TB sugar in the raw
If frozen, thaw puff pastry at room temperature for 40 minutes. Preheat oven to 375F and line a baking sheet with parchment paper or a silpat liner.
Unfold the pastry (there's no need to roll it out) and if necessary, trim the edges so they're straight. Cut the pastry into 4 equal parts and spoon 2 TB jam onto the center of each. Lightly brush 2 edges with eggwash, and then fold over into a triangle. Lightly push edges down first with your fingers, then with the tines of a fork.
Transfer the turnovers to the prepared baking sheet. Lightly brush the tops with eggwash (you will have extra eggwash), then sprinkle a little sugar on top of each turnover. Bake about 25 minutes, or until puffed and golden.