Indian-Spiced Chickpea Curry (Chana Masala) is an uncomplicated, unpretentious, and completely satisfying vegan dish of chickpeas cooked until meltingly tender in an aromatic tomato-based sauce redolent with garlic, ginger, and exotic spices.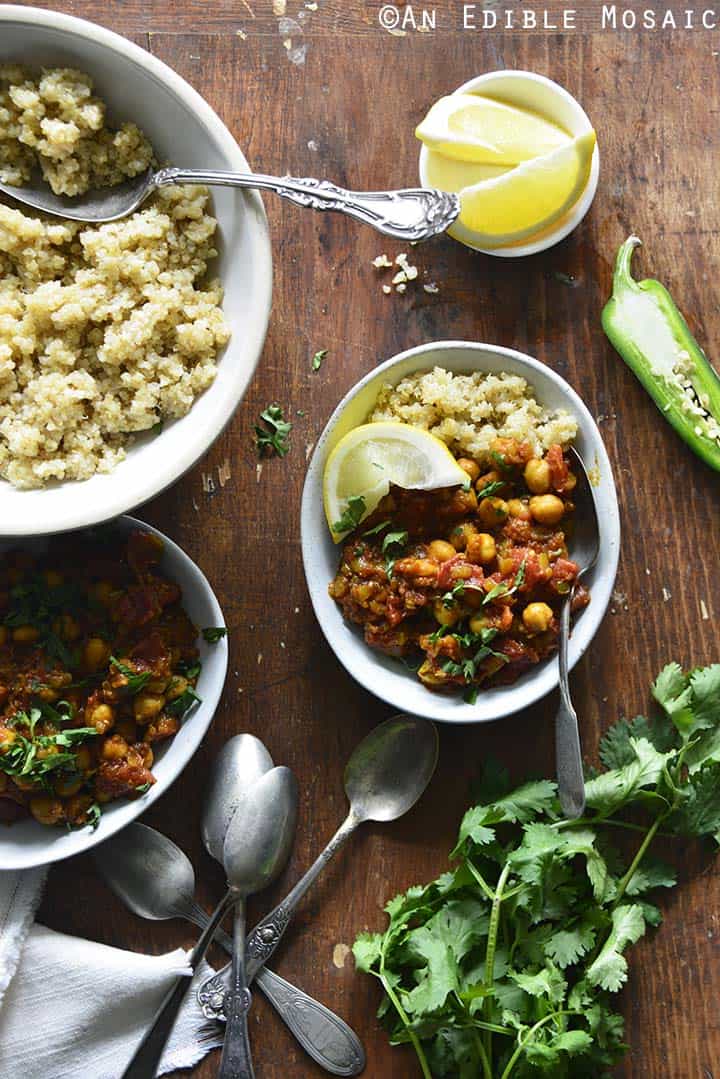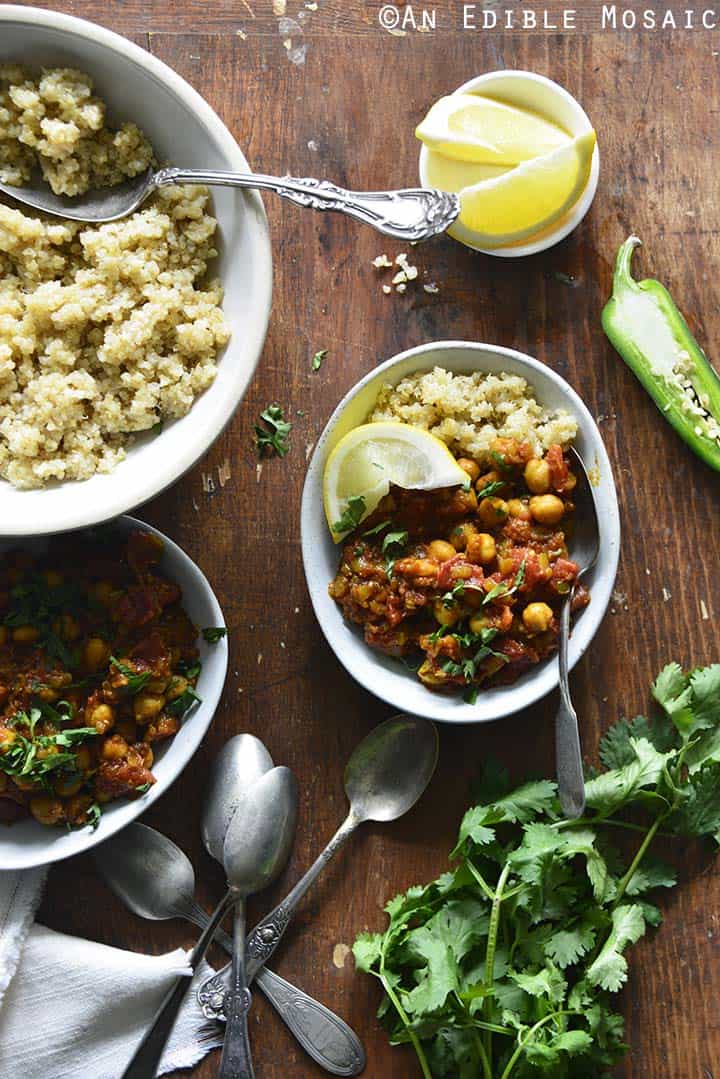 I still remember the first Indian meal I ever had. I was a freshman at college and I was a little skeptical, mostly because I thought I didn't like spicy food. But honestly, back then I didn't really understand the difference between a well-spiced dish vs a spicy-hot dish. I was about to get schooled.
I had my first bite – my friend recommended Chicken Tikka Masala – and I was hooked. My mouth erupted in an explosion of flavor. The spices were assertive, but not overpowering; the sauce was enticingly creamy with a slight tang; the basmati was nutty and fragrant. My friend passed me a small dish of minted yogurt with cucumber and it cooled my mouth. It was a completely unforgettable experience.
Needless to say, after the first time I was completely smitten with Indian flavors. My friends and I hit up a local Indian restaurant regularly after that (there is a big Indian population in the town where I went to college and so we had a lot of restaurant options!), and we even cooked a few Indian dishes in our tiny dorm kitchen. It became almost like a Sunday supper family event for us, and to this day when I go out for Indian or cook it at home, I can't help but smile as my mind goes back to my college days and good times shared with great friends over Indian food. Friends truly are the family we get to choose.
When Lagostina (a global leader in innovative, stylish, high performance cookware) reached out to me asking if I was interested in participating in their "Favorite Regional Family Recipes" campaign and told me to get creative, my mind immediately went back to those "family" meals during college! I must have watched my friend make Chana Masala at least ten times; not only was it one of our favorites, but it is also easy and economical – for a college student, what's not to love?
Here I used canned chickpeas to help this dish come together quicker, and the flavor definitely doesn't suffer for it. Of course if you prefer, you can use dried chickpeas; soak them overnight and then cook them until tender before proceeding with the recipe below. For the end result, the chickpeas in this dish should be very tender.
If you're not familiar with this dish, it's a vegan chickpea curry; with onion, garlic, ginger, chile pepper, garam masala mix, and a couple other spices; the slow-cooked sauce is full of complex, deep flavor. You can control the level of spicy heat by adding more or less chile pepper. The dish is brightened up with a squeeze of fresh lemon and a sprinkle of fresh cilantro at the end. You can eat this curry with basmati rice or Indian flatbread, but I went with quinoa, which was quite satisfying, and a good way to bump up the nutrition.
If you're looking for Indian comfort food, this is it!
Indian-Spiced Chickpea Curry (Chana Masala)
Prep time:
Cook time:
Total time:
Yield:
6 side dish or 4 main course servings
Indian-Spiced Chickpea Curry (Chana Masala) is an uncomplicated, unpretentious, and completely satisfying vegan dish of chickpeas cooked until meltingly tender in an aromatic tomato-based sauce redolent with garlic, ginger, and exotic spices.
Ingredients
¼ cup (60 ml) neutral-flavored oil, such as avocado or grapeseed
2 medium yellow onions, finely diced
6 large cloves garlic, minced or crushed
1 tablespoon fresh-grated ginger
1-3 serrano chiles, de-seeded and minced (or you can substitute with jalapenos; use more or less depending on preferred spice level)
2 teaspoons garam masala spice mix
2 teaspoons ground coriander
1 teaspoon whole cumin seeds
1 teaspoon ground turmeric
1 teaspoon coarse sea salt
½ teaspoon ground black pepper
2 (14.5 oz/411 g) cans no-salt-added diced tomatoes, with juices
2 (15 oz/425 g) cans no-salt-added chickpeas, rinsed and drained
2 cups (475 ml) water
For Serving:
Fresh cilantro, for garnish
Fresh lemon wedges, for squeezing on top
Cooked basmati rice or quinoa
Instructions
Heat the oil over medium-high heat in a deep-sided 5-quart casserole. Add the onion and cook until tender and starting to caramelize, about 4 to 6 minutes, stirring frequently. Add the garlic, ginger, chile, garam masala, coriander, cumin seeds, turmeric, salt, and black pepper, and cook 1 minute more, stirring constantly.
Stir in the diced tomatoes, chickpeas, and water, and bring to a boil. Cover the skillet, turn the heat down to simmer, and cook until the sauce is thickened, about 1 hour to 1 hour 15 minutes, stirring occasionally. (If need be, you can remove the lid toward the end of cooking to help it thicken faster, but stay with it and stir frequently.)
Serve with fresh cilantro and lemon, along with prepared basmati rice or quinoa.
: : GIVEAWAY : :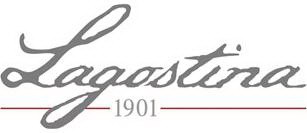 I made this recipe in the Lagostina Nera Hard Anodized 5-Quart Casserole, and I am happy say that it's a dream to work with. It has a hard anodized construction with thick 3.5mm base for even heat distribution. It's non-stick, which makes it easy to cook and clean, and it's also dishwasher safe and oven and broiler safe to 500F. It's such a pretty dish with its polished hammered stainless steel lid. Plus it has a lifetime warranty! It retails for $49.99 and can be purchased on Macys.com.
I am thrilled because Lagostina is kindly providing a Nera Hard Anodized 5-Quart Casserole for one lucky giveaway winner!
To participate in this giveaway, just leave a comment on this post telling me your favorite family recipe.
For extra entries, you can do any of the following (please leave a separate comment for each so they can be counted as additional entries):
Tell me about your least favorite meal! I mean the thing you absolutely hated growing up or still don't like as an adult. (For me, it was sauerkraut with sausage! I hated the smell of sauerkraut so much I couldn't gag it down; I love it now though, lol!)
Like Macy's on Facebook.
Share this giveaway on the social media channel of your choice and include the hashtags #FavoriteFamilyRecipe, #LagostinaUSA, and #Macys.
You do not need to have a blog to enter this giveaway. To enter, you must be at least 18 years old. For shipping purposes, this giveaway is only open to U.S. residents and we are not able to ship to P.O. boxes. This giveaway ends on March 27, 2017 at 11:59 PM EST. Once the giveaway ends, the winner will be randomly chosen and notified via email. The winner will have three business days to respond with his or her mailing information, otherwise a new winner will be randomly chosen. Good luck to all!
Disclosure: Lagostina provided me with a Lagostina Nera Hard Anodized 5-Quart Casserole as well as compensation for my time, and they are providing the casserole for this giveaway; as always, opinions stated are my own.