This Maple Pecan Potato Chip Cookies Recipe features a deliciously balanced salty/sweet flavor profile and is easy to make! They're perfect for any time of year, and are a fun addition to a festive holiday cookie tray.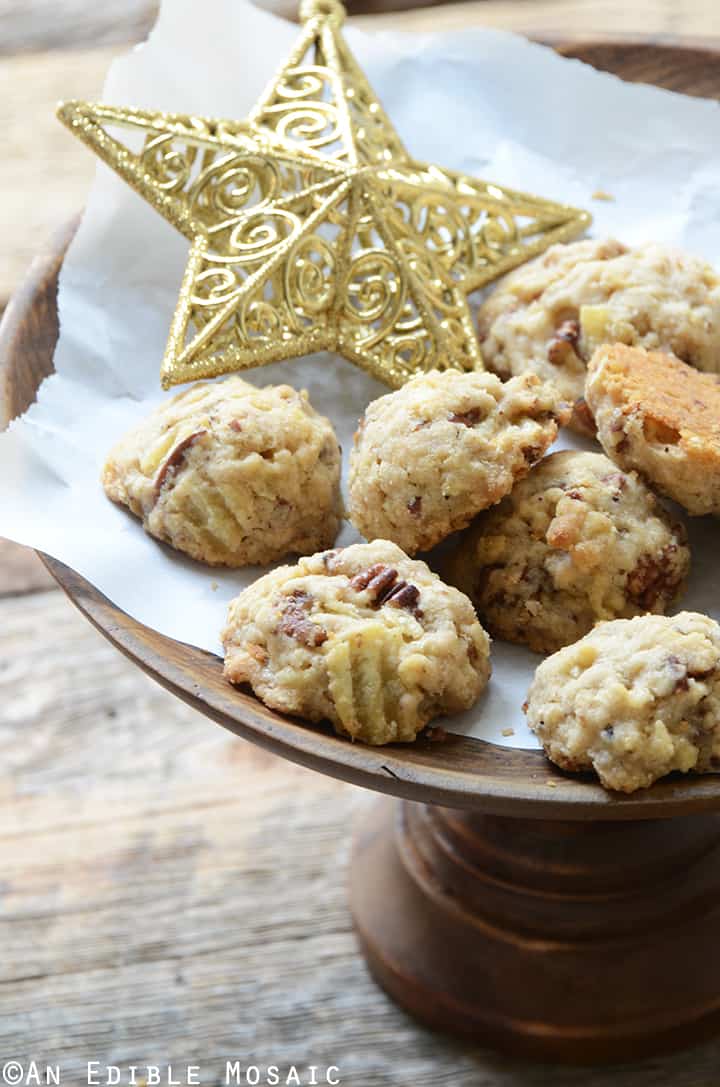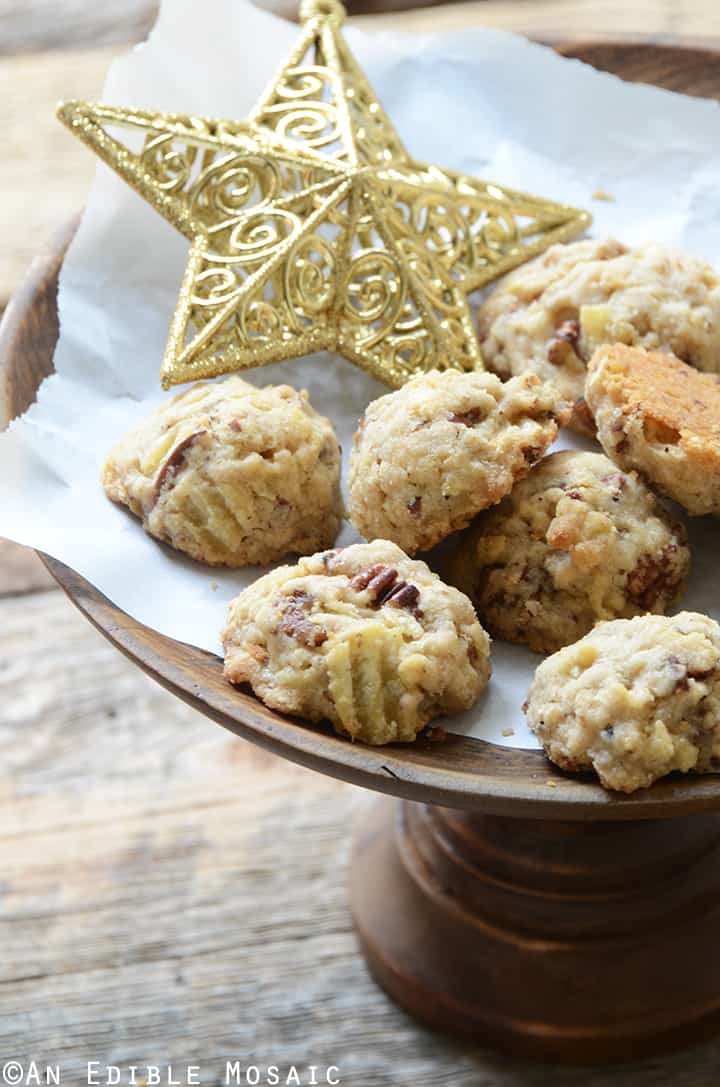 I think food-related gifts are the best gifts, whether it's a celebratory meal you're sharing or a plate of homemade treats. Or better yet, a tried and true family recipe.
One of the biggest perks of being a food blogger is that when people hear what I do for a living, their eyes light up and their ears perk up, and they immediately ask me if I have a great recipe for such-and-such, or if I've ever tried this-or-that.
They tell me about their favorite dishes. For example, what they ate growing up and what they make for their own families. The foods they've eaten while traveling, and the places they hope to go because they're dying to submerge themselves in the cuisine of the region.
If I'm lucky, people talk about a dish that's been in their family for generations. They'll tell me how exactly what occasions their great grandma used to make her special Chocolate Velvet Cake for, or how their uncle's famous Chicken and Leek Fricassee came to be.
Some memories are so intertwined with food that it's nearly impossible to determine whether a meal was special because of the occasion, or if the meal was the special occasion. These are the stories I consider it an honor to be privy to.
And sometimes, if I'm really lucky, people will gift my friends and family with food stories or recipes to give to me.
I first heard of potato chip cookies three Christmases ago. One of my dad's customers gave him the recipe during the holiday season to give to me. He told her that his daughter was a food blogger, and the woman wanted to share one of her family's favorite holiday cookie recipes with me.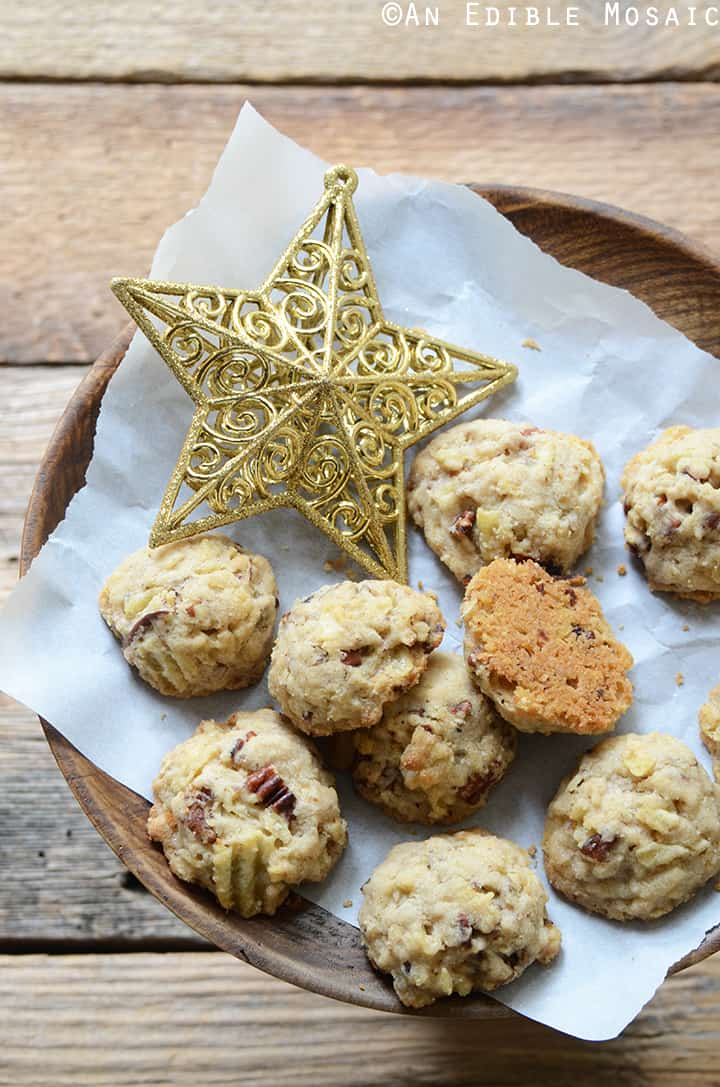 I meant to share the recipe a while ago. Truthfully, it just slipped my mind. I was reminded of these lovely cookies when we had them for dessert one night during the Idaho Potato Tour last September.
So here they are now. The recipe I was gifted by my dad's customer was a bit more basic. It was more similar to classic shortbread, but with the added crunch from potato chips. It's fabulous.
However, I wanted to put my own spin on it and I went with the addition of maple and pecans. If you're a fan of that flavor combo, I highly recommend giving this recipe a try.
Potato Chip Cookies Recipe
These cookies are always a hit! Seeing pieces of potato chip in the cookies is intriguing, especially if you've never had these cookies. This is why I like to use the potato chips with ridges. They tend to show a little better (but the un-ridged kind of potato chips will work fine too though).
These Potato Chip Cookies have a well-balanced flavor profile. They're both salty and sweet without being overly salty or sweet.
Next time I make them, I'm thinking of amping up the salt a touch and going the "salted" route and adding a little sprinkle of sea salt to the top of each cookie before baking.
Take note that the overall saltiness of the cookies will depend on how salty your chips are. Be sure to use unsalted butter so you have more control over the salt level of these cookies. Also, taste your chips before you decide to add a sprinkle of sea salt on top of each cookie.
These would be a lovely addition to a festive cookie platter!
What Can You Do with Leftover Potato Chips?
When you have just a bit of (mostly crushed) chips in the bottom of the bag, don't throw them out! There are quite a few delicious ways to use crushed potato chips.
As a gratin topping! Replace the buttery Ritz topping in this Cauliflower Gratin Recipe with Buttery Ritz Topping with crushed potato chips.
Use crushed chips as a breading for chicken. Instead of coconut in this Coconut Chicken Tenders recipe, try crushed potato chips.
Potato chips also work well as a casserole topping. Use them instead of the buttered toast topping to make make this Cheesy Tuna Noodle Casserole recipe.
And of course, use leftover potato chips to make these delicious Maple Pecan Potato Chip Cookies!
More Unique Cookies for Your Holiday Cookie Tray: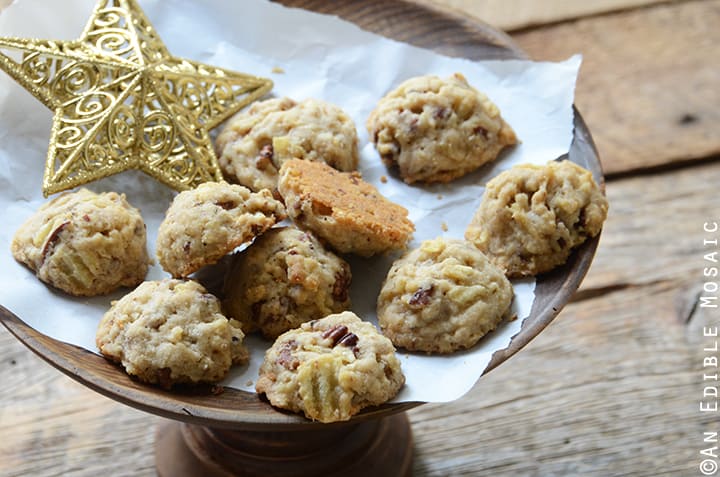 Did you make this recipe? Please rate it and leave a comment below because I love hearing from you! You can also tag @anediblemosaic on social media. To stay up-to-date FOLLOW ME on Instagram, Twitter, and Facebook. Xoxo, Faith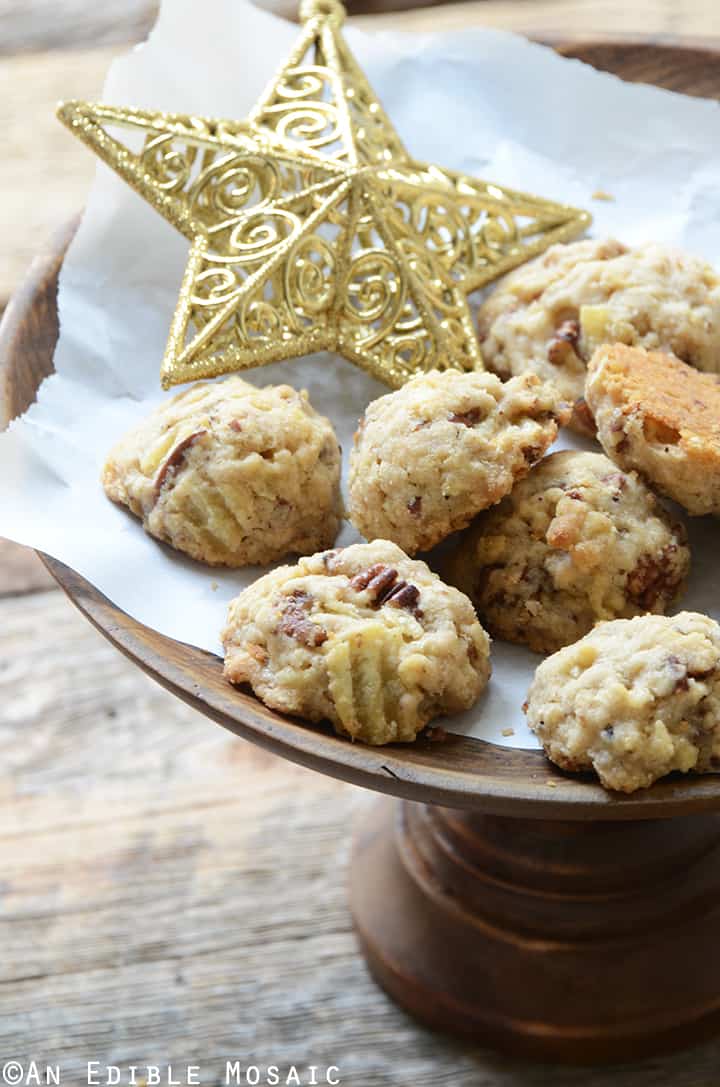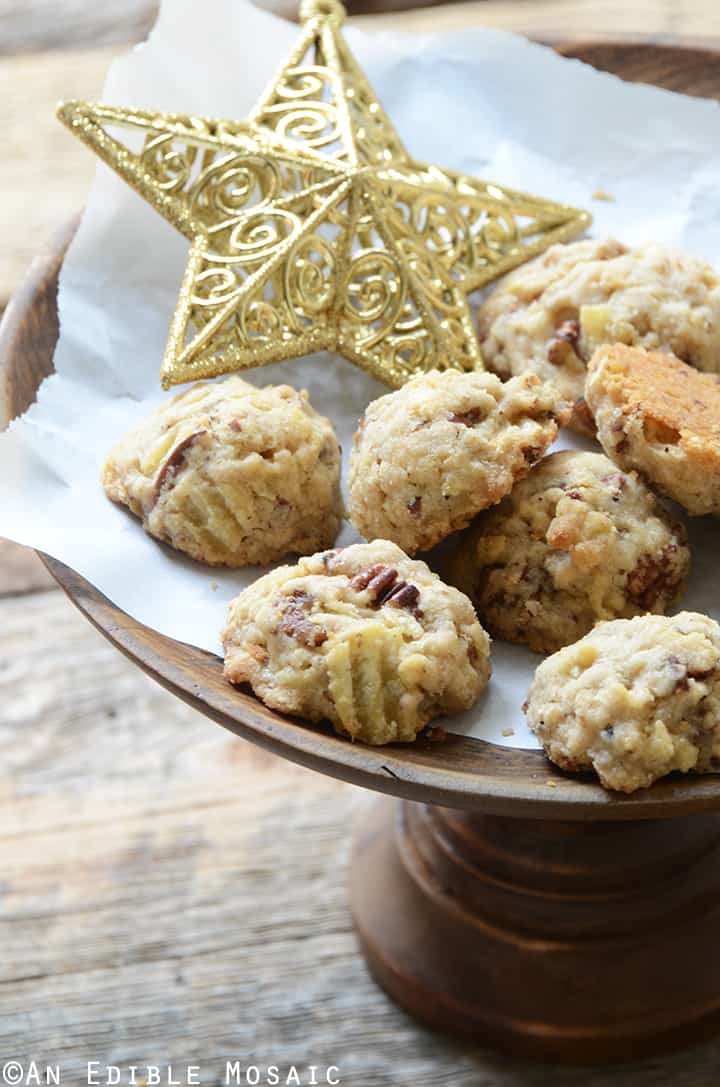 Maple Pecan Potato Chip Cookies Recipe
This Maple Pecan Potato Chip Cookies Recipe features a deliciously balanced salty/sweet flavor profile and is easy to make! They're perfect for any time of year, and are a fun addition to a festive holiday cookie tray.
Instructions
Preheat the oven to 325F; get out 2 large cookie trays (I use half sheet pans).

Cream together the butter, sugar, and maple flavor, and then mix in the flour. Fold in the pecans and potato chips.

Use a 1 ½-tablespoon scoop to measure out the dough and drop it onto the cookie trays, leaving about 1 ½ inches between each cookie.

Bake until the cookies are golden on the bottom, about 18 to 20 minutes, rotating the trays once halfway through.

Let the cookies cool completely on the trays before removing.
Faith's Tips
This recipe makes about 30 cookies. Each serving is 3 cookies, for a total of 10 servings.
Store these cookies covered at room temperature for up to 2 weeks.
You'll need about 2 to 2 ½ cups of whole potato chips to get 1 ½ cups of crushed chips.
This recipe is easy to customize! You can use any type of nuts you like instead of pecans. And if you can't find maple extract, you can use vanilla extract instead.
Nutrition
Nutrition Facts
Maple Pecan Potato Chip Cookies Recipe
Amount Per Serving (3 cookies)
Calories 407
Calories from Fat 270
% Daily Value*
Fat 30g46%
Cholesterol 49mg16%
Sodium 64mg3%
Potassium 275mg8%
Carbohydrates 32g11%
Protein 4g8%
Vitamin A 573IU11%
Vitamin C 2mg2%
Calcium 18mg2%
Iron 1mg6%
* Percent Daily Values are based on a 2000 calorie diet.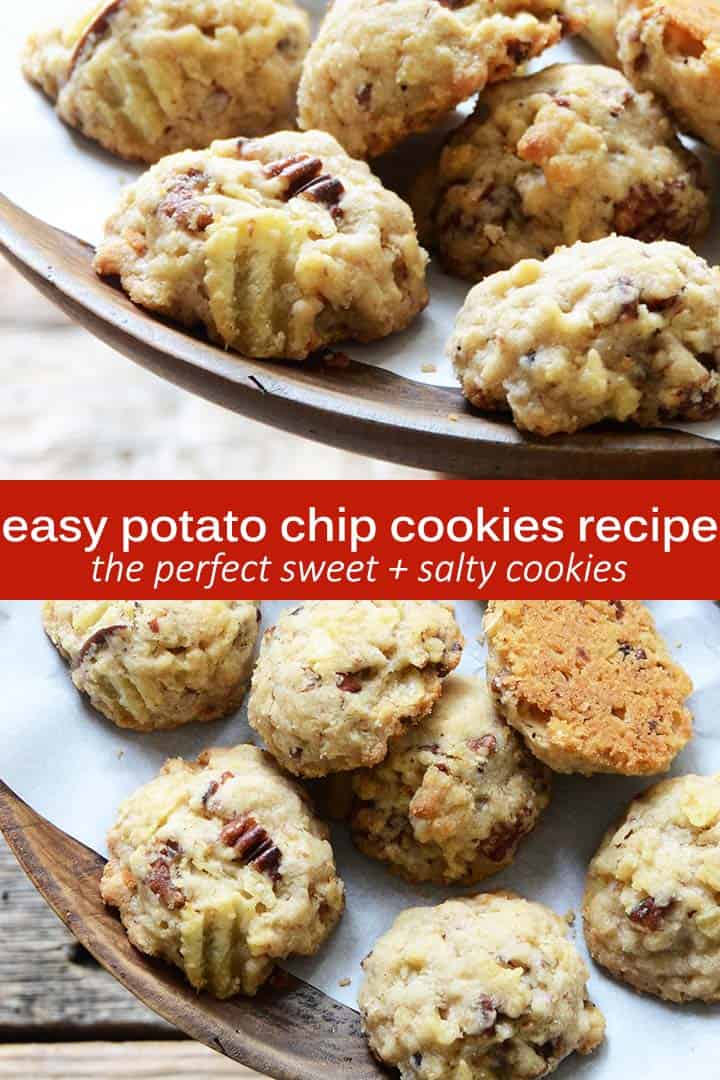 This post was first published on An Edible Mosaic on December 2, 2015. I updated it with more information on December 4, 2020.
Disclosure: This post contains Amazon affiliate links to products I believe in, which means that even though it doesn't cost you anything extra, I will receive a small amount of money from the sale of these items. Thank you for helping to support An Edible Mosaic!