This Loaded Cheesy Potato Casserole features cheddar cheese, turkey bacon, and green onions…it's pure comfort food! For dinner, pair it with any protein you like or just a big green salad.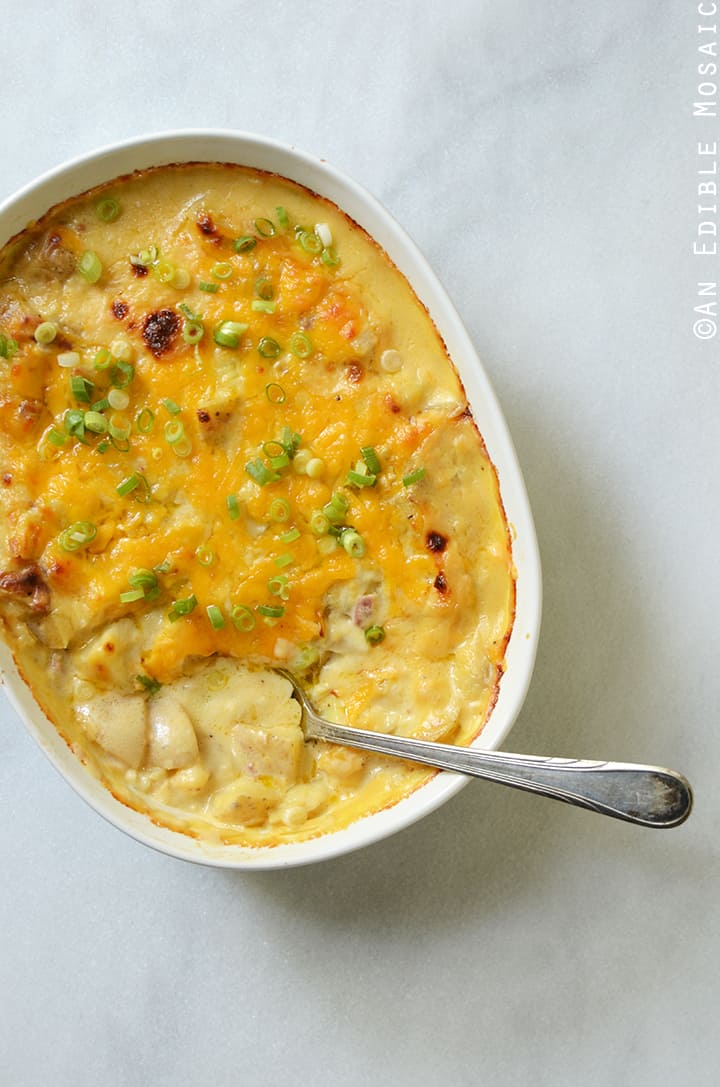 Thanks to the kind folks at the Idaho Potato Commission, I recently had the opportunity to head out to Idaho for a little hands-on potato action.
There was a great group of attendees, some of us bloggers, some chefs, some food writers; here are the other food bloggers who attended the tour:
Art from Latino Foodie
Betsy from Betsy Life
Carla from Chocolate Moosey
Cynthia from The Log Home Kitchen
Kathy from Healthy Slow Cooking
Lisa from Healthy Nibbles and Bits
Lori from Foxes Love Lemons
Sabrina from The Tomato Tart
Sara from Average Betty
The Idaho Potato Commission put us up, took us to a couple potato farms, showed us how they harvest, store, and process potatoes, and let us sample a whole lot of delicious food. But my favorite part was getting to see their passion for what they do.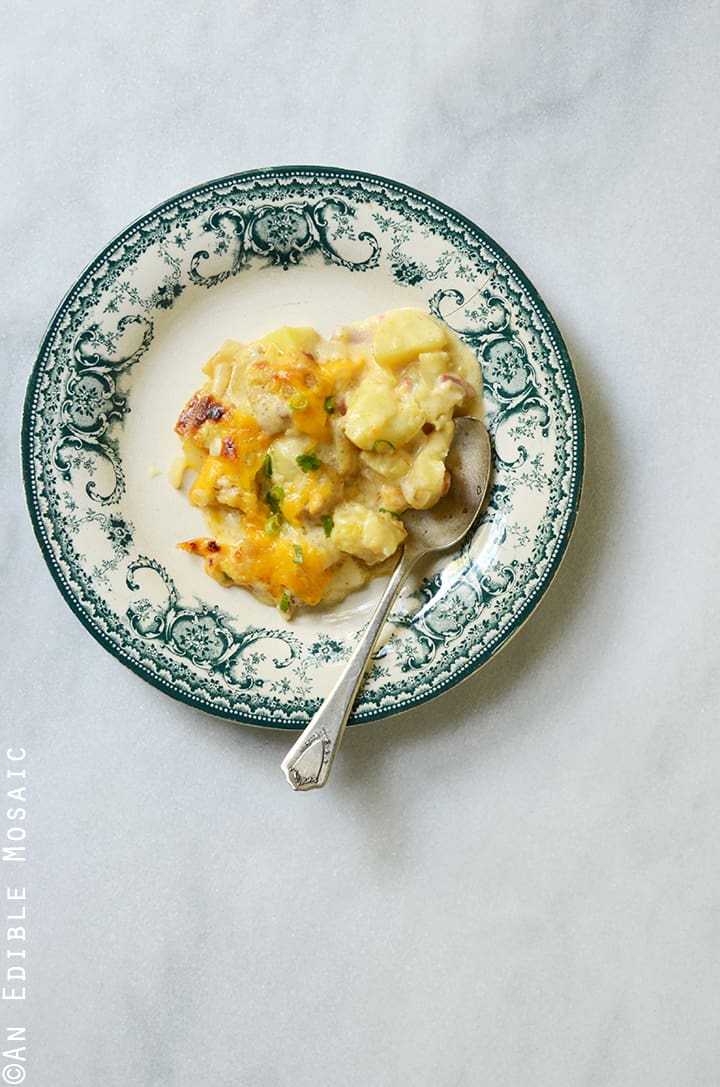 Whenever someone is passionate something, it's contagious because passion spreads like wildfire. Honestly, I've never been as excited about potatoes in my whole life as I was on that trip. (And I want to give them a special thank-you because my I had my birthday on the trip and they made it incredibly special…birthday cake and everything!)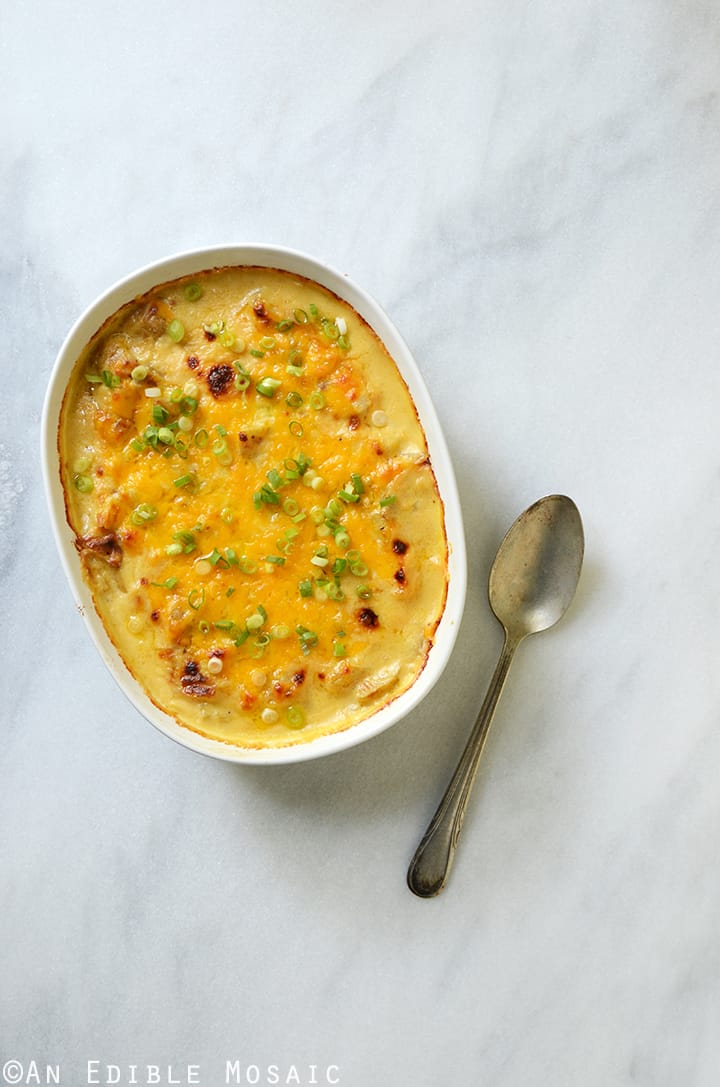 We learned a lot about spuds too, including what makes potatoes from Idaho better. It's because of the climate's ideal growing conditions (warm days and cool nights) and the soil (rich with volcanic material). Also, have you ever heard of suberization? It's basically the process by which a potato heals its own cuts and bruises, and I thought it was pretty interesting.
And you probably already know this (but just in case you don't), the best way to store potatoes is in a cool, dark place with high humidity where they have good air circulation.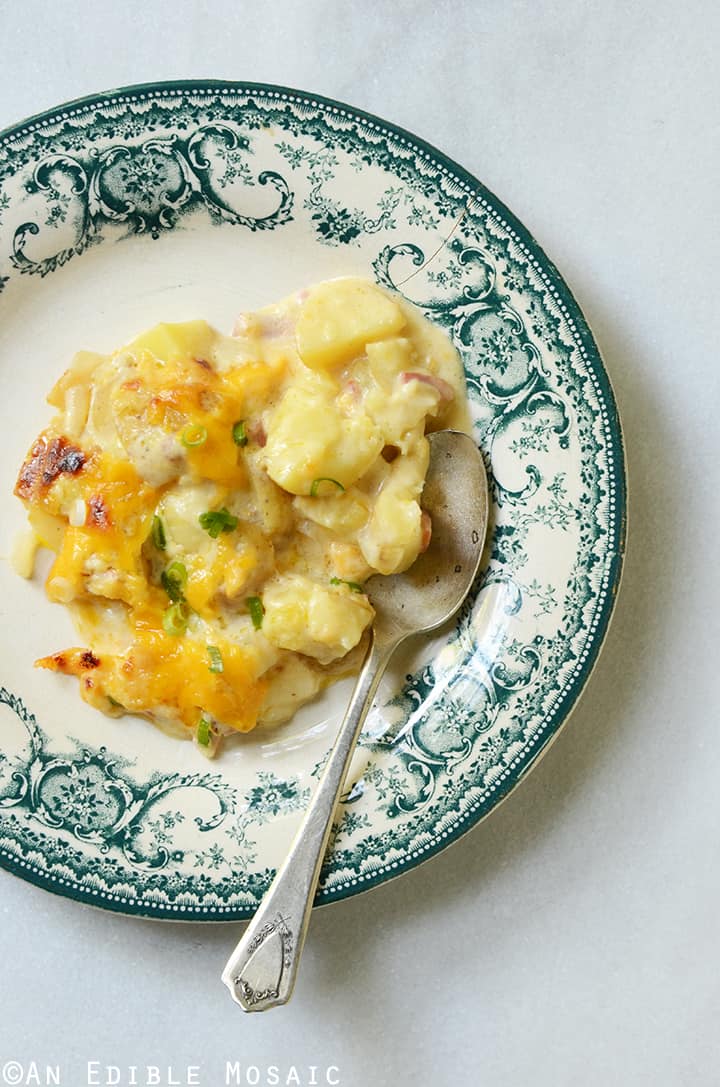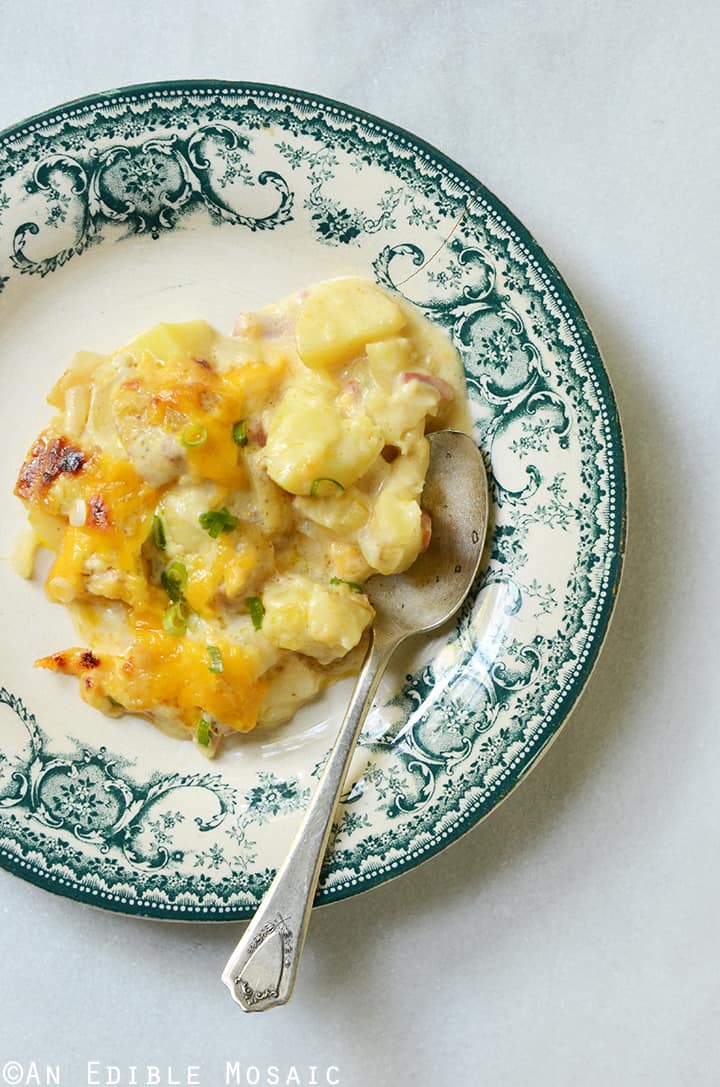 The whole point is being able give your family something that's delicious and nourishing, that was grown by people who take pride in their work. (Speaking of nourishing, did you know that potatoes are a very good source of vitamin B6 and a good source of potassium, copper, vitamin C, manganese, phosphorus, niacin, dietary fiber, and pantothenic acid? You can read more about the health benefits of potatoes on The World's Healthiest Foods). But I have to admit, this casserole is not a "light" type of dish…it's very rich so a small helping will do you, and I think it would even be a wonderful addition to a holiday spread.
For this dish, I took inspiration from "Funeral Potatoes", which is a common potato dish served at funeral luncheons. (It's said that Funeral Potatoes hail from Mormon roots, but I'm not entirely sure – can anyone verify? I remember having this dish at my grandpa's funeral and he wasn't Mormon, so I think it's pretty popular even beyond that.)
The classic recipe uses frozen hash browns and canned soup, neither of which I keep on hand. I went with a more from-scratch approach and also took the opportunity to lighten up the dish a little bit (and when I say a little bit I really do mean just a little…although it's lighter than the original version, it is by no means light, lol!).
This is complete comfort food…potatoes swimming in a silky smooth cheesy sauce, with a bit of smokiness from turkey bacon and savory flavor from onion. This is the type of side dish that you want to bring when you go over to mom's house for Sunday dinner. Or think about adding it to your Thanksgiving dinner spread!
Scroll down below the recipe to see more action from the tour…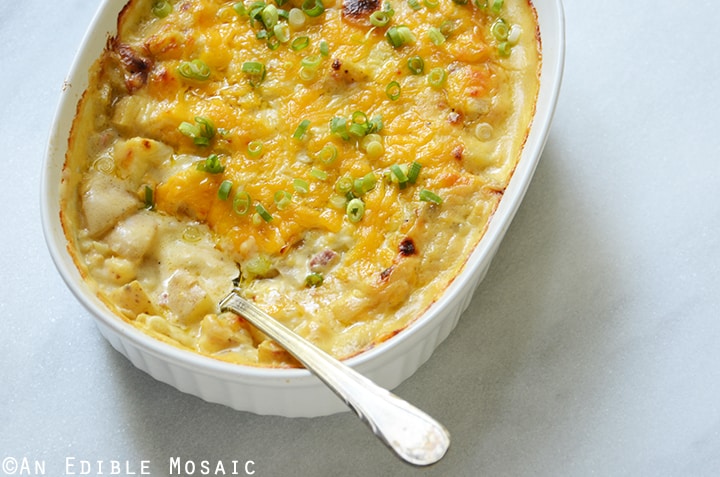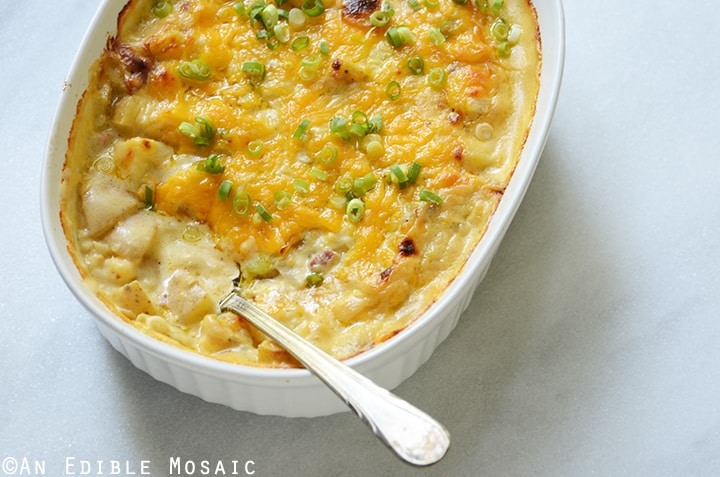 Loaded Cheesy Potato Casserole
Prep time:
Cook time:
Total time:
Yield:
1 (1.5-quart) dish, serves about 6 to 8 as a side dish
This Loaded Cheesy Potato Casserole features cheddar cheese, turkey bacon, and green onions…it's pure comfort food!
Ingredients
1 (1.25 lb/567 g) package mini yellow potatoes, chopped into bite-sized pieces
2 tablespoons unsalted butter, plus more to grease the dish
1 medium-large onion, diced
2 slices turkey bacon, chopped small (optional)
1 clove garlic, minced or crushed
2 tablespoons all-purpose flour
1 cup (240 ml) milk (low-fat is fine)
½ teaspoon salt
¼ teaspoon black pepper
½ cup (120 g) sour cream
6 oz (170 g) cheddar cheese, shredded
1 scallion, green and white parts, thinly sliced (for garnish)
Instructions
Preheat the oven to 375F; grease a 1.5-quart casserole dish with butter.
Add the potatoes to a medium saucepan and cover by 2 inches with cold water. Cover the saucepan and bring it to a simmer, than remove the lid, turn the heat down slightly so it doesn't boil over, and cook until the potatoes are fork-tender, about 6 to 8 minutes. Drain. (You can do this step a day ahead if you want; cool the potatoes to room temperature and then refrigerate them until you make the casserole.)
Meanwhile, add the butter to a medium-large skillet over medium heat. Once hot, add the onion and turkey bacon and cook until the onion is softened but not browned, about 5 to 7 minutes, stirring occasionally. Turn the heat down to medium-low and stir in the garlic and flour; cook 1 minute more, stirring constantly. Whisk in the milk, salt, and black pepper and bring to a simmer, stirring constantly. Turn off the heat.
Stir the potato, sour cream, and ⅔ of the shredded cheddar cheese into the onion sauce. Use a potato masher or fork to roughly mash about ⅓ of the potato mixture; pour the potato mixture into the prepared dish. Sprinkle the remaining ⅓ of the shredded cheddar cheese on top.
Bake until the casserole is golden and bubbling, about 20 to 30 minutes.
Sprinkle the scallion on top and serve.
Notes
To Make Ahead: Make the recipe through Step 4. Cool to room temperature, and then cover and refrigerate for up to 2 days. When you want to make it, let it sit at room temperature for 30 minutes and then continue on with Step 5.
Here are a few of my favorite pictures that I took on the Potato Tour...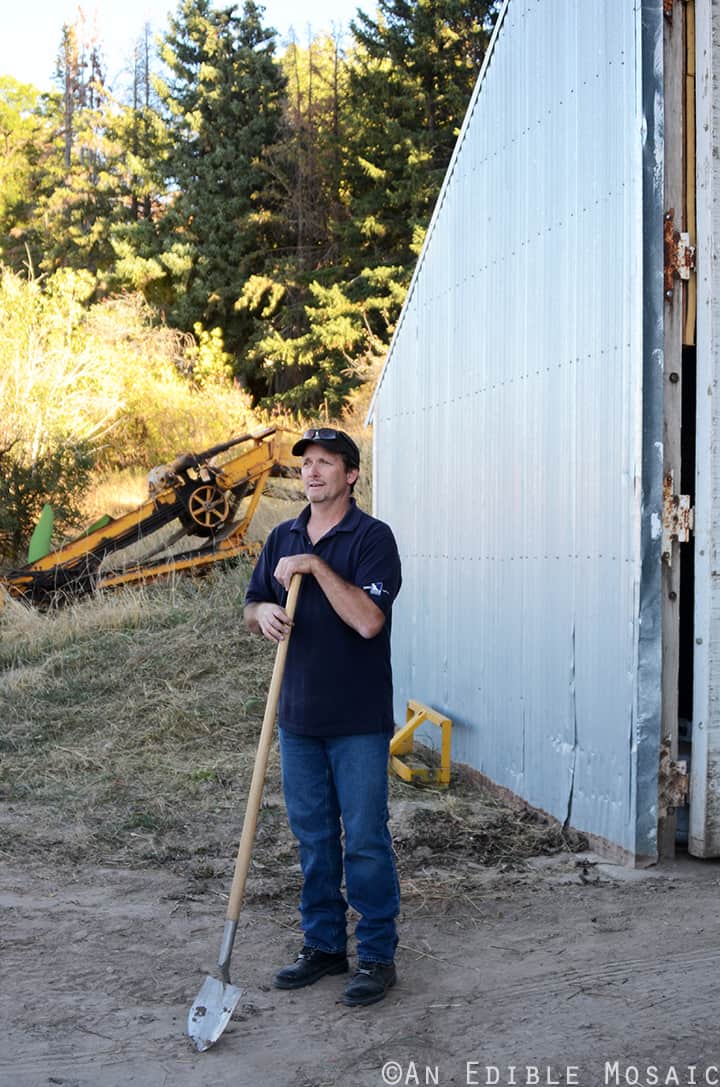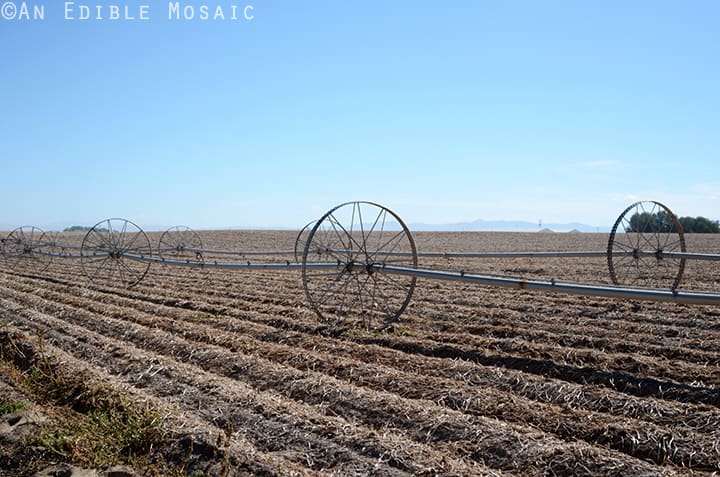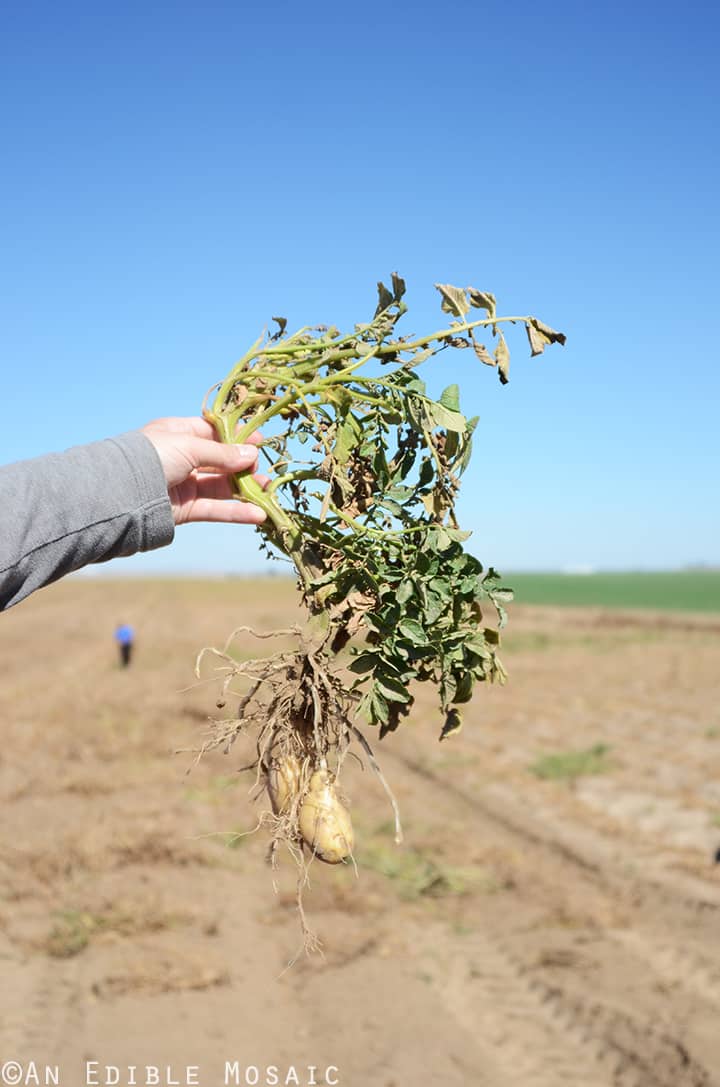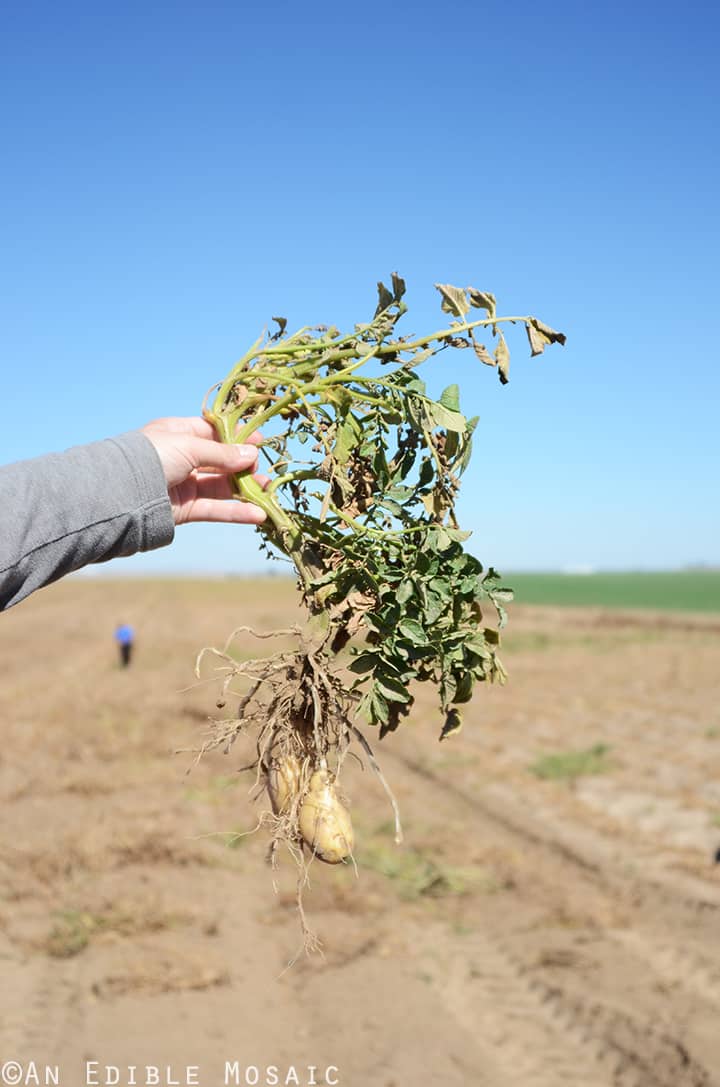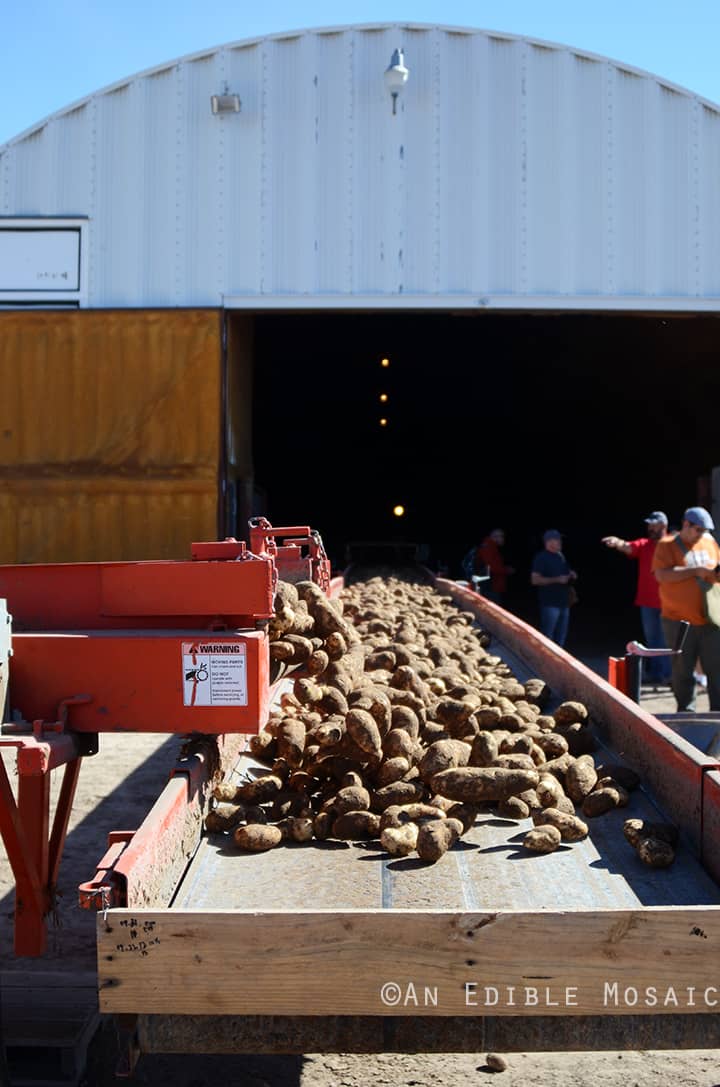 Directly above is Jackie Gordon, the one and only "Singing Chef" taking a selfie in front of a whole lot of potatoes!
Disclosure: I traveled as a guest of the Idaho Potato Commission; they were a passionate bunch of people and I want to thank them for their hospitality. As always, opinions stated are my own.