Peanut Butter Nutella Swirl Cookies take regular peanut butter cookies to a whole new level.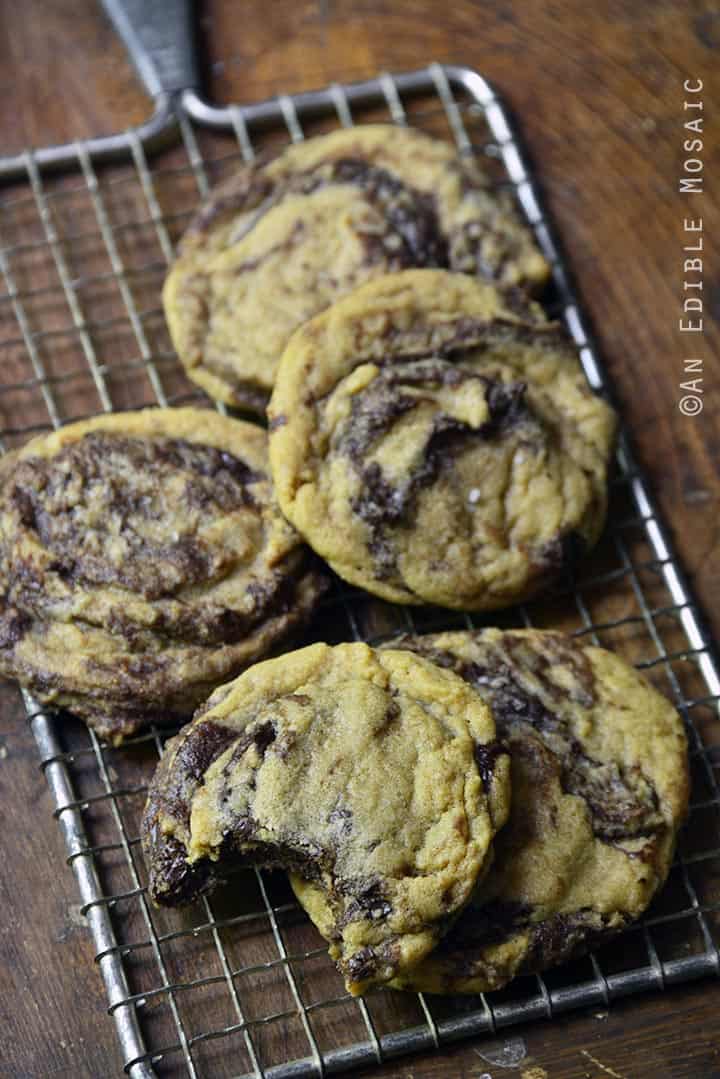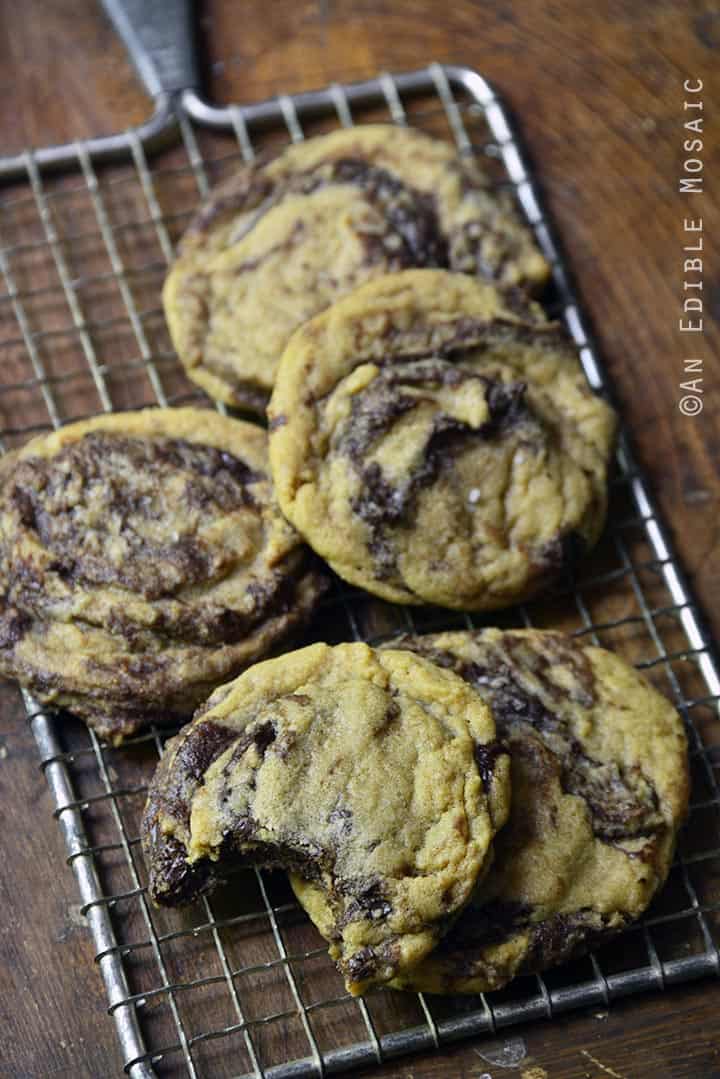 There are so many the dessert-type things that we sometimes pass off as breakfast. Muffins, which can range anywhere from legitimately healthy, to cupcakes by another name. Syrup-drenched pancakes or waffles, which are usually indulgent enough for dessert as they are, let alone if they're topped with a scoop of ice cream or a dollop of whipped cream. And even sometimes toast can be all decked out to be dessert-worthy!
I'm guilty as charged though. Back in my undergrad years, one of my favorite breakfast treats was toast topped with a schmear of both peanut butter and Nutella swirled together on multigrain toast, so of course I thought it was acceptable for breakfast. Here I take that same fabulous flavor profile, but here I actually call a spade a spade; there's no hiding the fact that these cookies are definitely dessert.
With cooler temps and the coziness of this time of year, fall is the official baking season. It's a rare weekend that I don't turn on my oven at all, whether it's to make a chicken dinner or a loaf of my favorite paleo bread. Sometimes it's muffins or cookies and in that case our neighbors are usually the lucky recipients of the fruits of my labor.
One day when I was in the mood to bake, I spotted jars of peanut butter and Nutella in my pantry and I knew I wanted to put them together in cookie form. Here I took a pretty classic peanut butter cookie, rich and nutty, enhanced with subtle caramel-like notes from the molasses, and swirled in Nutella. You get the sweet flavor of peanut butter cookies along with gooey swirls of chocolate hazelnut spread topped with a little pinch of sea salt to accentuate and balance everything else, and these cookies are bliss.
If you're starting to think about holiday baking, these cookies would be a good addition to your repertoire. You can think of them as an updated spin-off of the classic Hershey kiss-topped peanut butter cookies, and I think they'll go over every bit as well on your holiday cookie tray.
Share with us…what are some of your favorite breakfast indulgences?
Peanut Butter Nutella Swirl Cookies
Prep time:
Cook time:
Total time:
Peanut Butter Nutella Swirl Cookies take regular peanut butter cookies to a whole new level.
Ingredients
½ cup (130 g) creamy peanut butter (regular, not the natural kind that separates)
½ cup (115 g) unsalted butter, at room temperature
1 cup (200 g) sugar
1 large egg (I used Eggland's Best)
1 teaspoon molasses (see Note)
2 teaspoons pure vanilla extract
1 cup (130 g) all-purpose flour
¼ + ⅛ teaspoon baking soda
¼ teaspoon salt
½ cup (150 g) Nutella (or other chocolate hazelnut spread)
Sea salt, for sprinkling on top (optional)
Instructions
Preheat the oven to 325F; line 2 large baking sheets with parchment paper or silpat liners.
Beat together the peanut butter and butter, and then beat in the sugar, egg, molasses, and vanilla. Stir in the flour, baking soda, and salt. Drizzle in the Nutella, and stir it just a bit so it's streaked throughout the dough, being careful not to overmix.
Cover the bowl and refrigerate 15 minutes.
Scoop the dough out into 3 tablespoon-sized balls and space them evenly out on the prepared baking sheets. Sprinkle a little sea salt on the cookie tops if desired.
Bake until the cookies are set and slightly golden along the outside, but still a touch doughy in the center, about 14 to 16 minutes, rotating the trays once halfway though.
Let the cookies cool completely on the trays before removing.
Notes
Molasses: You can skip this and use half regular sugar and half lightly packed light brown sugar instead.