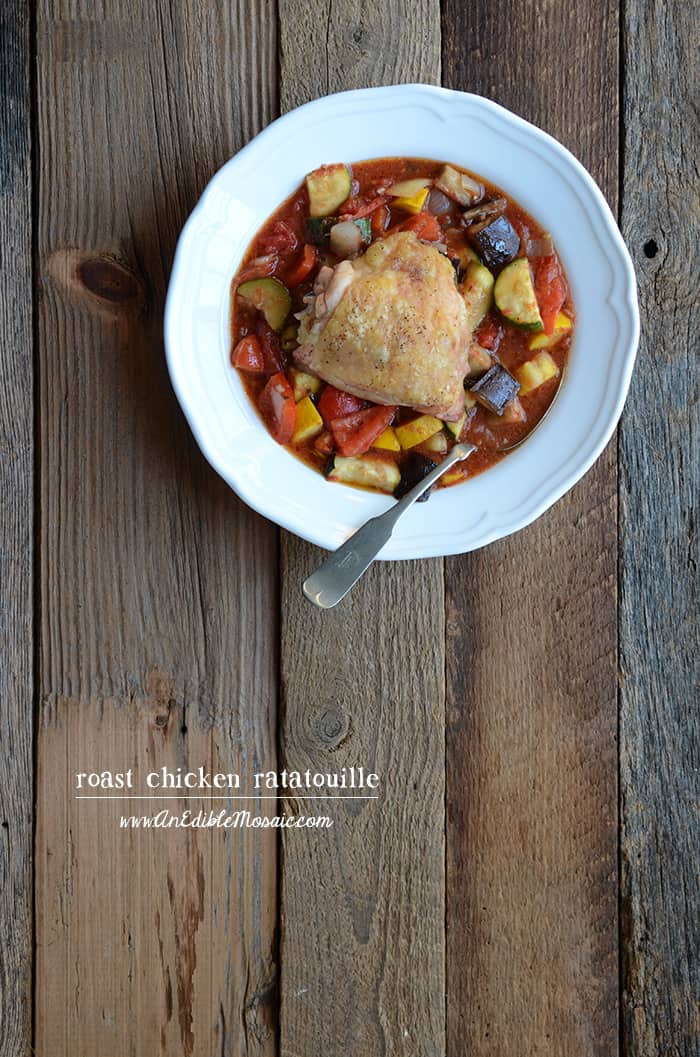 There is definitely something to be said for meals that come together in 20 minutes or less, and on the opposite side of the spectrum, meals that slow-cook themselves to perfection in a crockpot.
Both require minimal hands-on effort, but still result in something that not only nourishes our families, but also brings them together.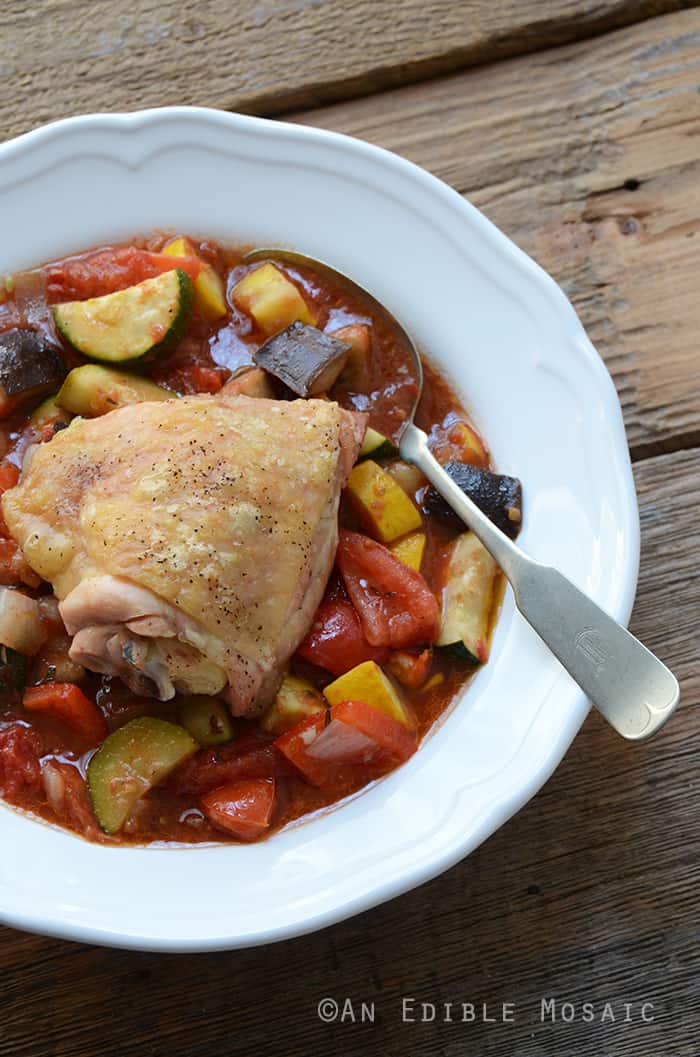 But what about cooking the old-fashioned way? The way we reserve for Sunday afternoons or evenings when company comes over. Those braised, roasted, and slow-simmered meals are pure comfort food, and I'm a firm believer that comfort food doesn't necessarily have to be rich, indulgent, and/or reserved for special occasions.
You know dinner will be amazing when it starts out like this. ;)
Even though my Roast Chicken Ratatouille isn't a quick-cooking dish, once it's in the oven this dish basically cooks itself. In this recipe, tons of veggies get cooked down under chicken as it roasts, which is an old trick I learned from a friend in law school; this way, the chicken still gets crispy outside and the veggies still get all the flavor from the chicken. Zucchini, yellow summer squash, and eggplant is generally available year-round these days (which means Ratatouille can be a year-round dish!), and these vegetables lend themselves beautifully to roasting. For this recipe, it doesn't matter if tomatoes are out of season because they're just going to be roasted anyway; other than my Creamy Wintertime Tomato Soup, this dish is one of the best ways I know to make good use of tomatoes in winter. Garlic and woodsy herbs like fresh rosemary and thyme add the perfect savory aromatic finishing touches to this dish.
I'd call a random chilly Friday afternoon in December reason enough to make this beautiful, comforting meal, but as it happens, I actually made this for a very special occasion. Alyssa, the blogger behind Everyday Maven, is getting ready to have her second baby – another sweet little boy!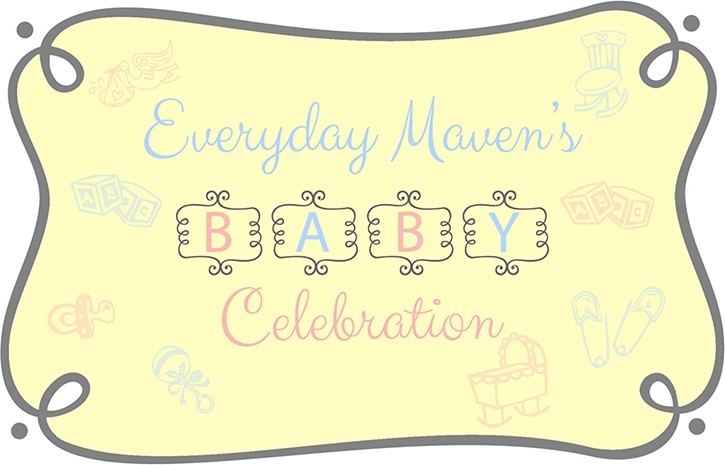 Alyssa is incredibly talented in so many ways, not least of which is her ability to make a gorgeous healthy (usually paleo) meal that appeals to everyone. I can't tell you how many times my hubby (who is quite possibly the world's pickiest eater) has asked me to make something from her site after he took a glance at my computer screen. (His absolute favorite recipe of Alyssa's is her Indian-Spiced Chicken Wraps with Curry Mayo. To.die.for.)
Alyssa and I live on opposite sides of the country so it isn't feasible for us to meet up for a meal, but this is the next best thing. If I could invite her over for dinner, this is what I would want to make her. And if you're wondering what to serve alongside this dish, a nice vegetable mash would be lovely, and so would steamed rice, brown rice pilaf, or cauliflower "rice".
In honor of Alyssa and the newest addition to her family, Liz from The Lemon Bowl and I invited a few other bloggers to participate in the celebration. We wanted to come up with new recipe ideas that Alyssa could utilize so we decided to keep our recipes gluten-free and grain-free. Here is what everyone made:
Breakfast
Fried Egg Topped Curried Sweet Potatoes from A Beautiful Bite
Chocolate Orange Protein Smoothie from The Lemon Bowl
Sumac-Spiced Spaghetti Squash and Two-Potato Hash from Eats Well With Others
Lunch
Hearty Garbanzo Soup from Sweet Life Bake
Pumpkin White Bean Soup from Blue Kale Road
Dinner
Slow Cooker Red Wine Pot Roast from Jeanette's Healthy Living
Slow Cooker Beef and Bacon Stew from girlichef
Lemon Pepper Chicken with Arugala from Virtually Homemade
Arugala Chimichurri over Roasted or Grilled Salmon from Karista's Kitchen
Snack
Spiced Honey Nut and Seed Snack Mix from Fake Food Free
Charred Brussel Sprout, Bacon, and Toasted Sesame Guacamole from Baker by Nature
Quick and Easy Cucumber Bites, Three Ways from Hip Foodie Mom
A huge thank-you to Liz for being an awesome co-host and to all the other fabulous bloggers who participated, and big congrats to Alyssa! xo, Faith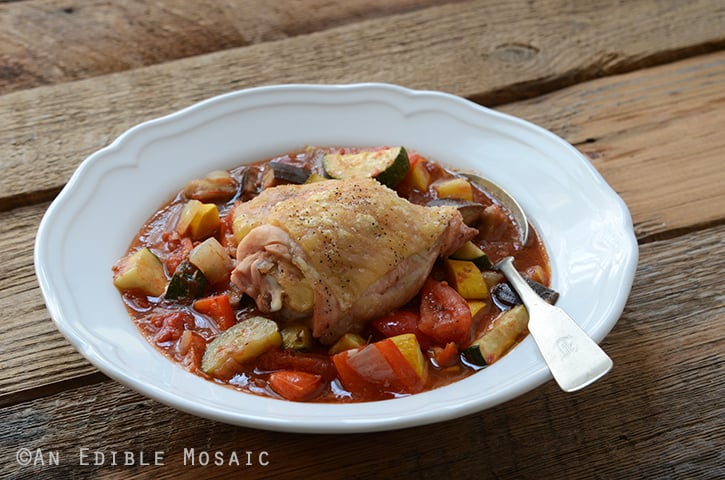 Paleo Roast Chicken Ratatouille
Prep time:
Cook time:
Total time:
Yield:
About 4 to 8 servings, depending whether or not you serve it with a side dish
Ingredients
2 tablespoons olive oil, divided
1½ lbs (680 g) plum tomatoes, chopped large
2 medium onions, chopped large
2 medium zucchini, chopped large
2 medium yellow summer squash, chopped large
1 small-medium eggplant, chopped large
1 red bell pepper, de-seeded and chopped large
5 large cloves garlic, minced
1 tablespoon minced fresh rosemary
1 tablespoon minced fresh thyme
1½ teaspoons coarse kosher salt (use less if using fine salt), divided
¾ teaspoon ground black pepper, divided
1 cup (240 ml) crushed tomatoes
About 4 lbs (1.8 kg) bone-in, skin-on chicken thighs (this was 8 large-ish thighs)
Instructions
Preheat the oven to 350F; drizzle 1 tablespoon olive oil in the bottom of a large roasting pan. Add the tomato, onion, zucchini, yellow summer squash, eggplant, red bell pepper, garlic, rosemary, thyme, 1¼ teaspoons salt, and ½ teaspoon black pepper to the roasting pan and toss to combine. Cover the pan with foil and roast for 45 minutes.
Remove the foil from the top of the roasting pan; stir in the crushed tomato. Securely fit a wire rack over the top of the roasting pan and arrange the chicken on top, skin side up. Rub the remaining 1 tablespoon oil on top of each piece of chicken, and then sprinkle on the remaining ¼ teaspoon salt and ⅛ teaspoon black pepper. Roast until the chicken is fully cooked (there should be no pink when you cut into it), about 1 hour.
Serve hot.