If you read my last post and thought that some kind of garlic bread would be perfect with my Spaghetti Ring & Meatball Soup, then you read my mind. For a nice change, I decided to make drop biscuits that taste like garlic bread. They're easy to make and can be done from start to finish in the time it takes the soup to simmer on the stovetop.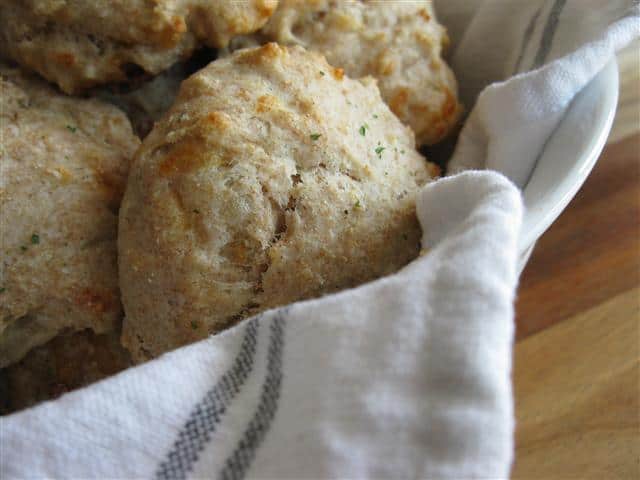 Garlic Bread Drop Biscuits
(Yield: About 12-14 medium-sized biscuits)
1 c all-purpose flour
1 c whole wheat flour
2 1/2 tsp baking powder
3/4 tsp salt
1/3 c trans-fat free vegetable shortening
1 1/4 c low-fat or fat-free milk
4 oz mozzarella cheese, shredded
Garlic powder or garlic salt
Parchment paper
Preheat oven to 450F and line two large baking sheets with parchment paper. In a medium mixing bowl, whisk together the flours, baking powder, and salt. Use a fork to cut the shortening into the flour mixture; do not completely combine the shortening and flour (there should be some lumps about the size of peas). Make a well in the center of the flour/shortening mixture and slowly start pouring the milk into the well, using a fork to combine. Only stir until the milk is incorporated, then mix in the cheese.
Drop the dough by large spoonfuls onto the prepared baking sheets (you should get about 12-14 medium-sized biscuits). Sprinkle the tops with a little garlic powder or garlic salt and bake for 12-14 minutes, or until the biscuits are light golden brown on the bottom.
***A special thank-you to Twinkle Toes for introducing me to Penzey's Garlic Salt…I will never go back! ;) ***