Spaghetti Ring and Meatball Soup is a healthy twist on a classic favorite; it's a winner with kids and adults!
Growing up my mom was a huge advocate of healthy, balanced meals. Foods like SpaghettiOs were considered junk and names like Chef Boyardee were taboo. My sister and I loved eating at our friends' houses where we could feel like normal kids and eat things like frozen fish sticks and boxed mac and cheese. Looking back I appreciate my mom making sure we ate healthy, and when I'm a mother I absolutely plan on ensuring that my kids eat right too.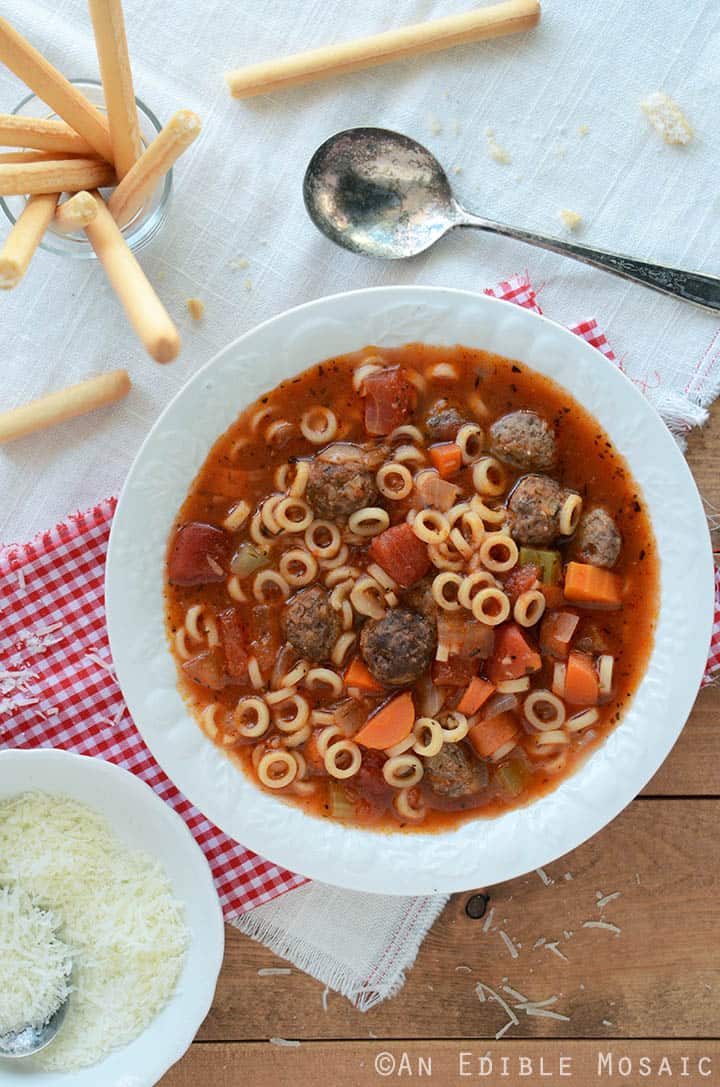 My sister has trained my niece well…ever since she was on solid food she was fed things like oatmeal, yogurt, and veggies of all kinds (including things like spinach and squash). And my niece loves them all. I've actually never seen a 6-year old kid who voluntarily orders steamed fish, green beans, and baked potato at a restaurant (which I have seen her do). That's not to say she doesn't enjoy eating regular kid foods as well (like chicken nuggets, another of her favorites), but she has a real love for healthy foods at a very young age which I think is pretty amazing.
The last time my niece was at my house I wanted to make something special for her. A kiddy favorite with a healthy, homemade twist, I knew I wanted to make my own version of SpaghettiOs. Even my mom would approve.
Spaghetti Ring and Meatball Soup
Prep time:
Cook time:
Total time:
Ingredients
1½ lbs (.7 kg) lean ground beef
½ tablespoon Worcestershire sauce
1 large egg
1 large egg white
¾ cup (80 g) bread crumbs
½ oz (15 g) fresh grated Parmesan cheese, plus more for garnish if desired
4 tablespoons minced fresh parsley, divided
8 oz (225 g) pasta (see Note below)
2 tablespoons olive oil
4 medium-large carrots, peeled and diced
3 large stalks celery, diced
2 medium-large onions, diced
4 cloves garlic, minced
5 cups (1.2 liters) water
1 (28 oz/795 g) can diced tomato (with juices)
6 oz (170 g) tomato paste
2 bay leaves
2 teaspoons dried Italian herb spice mix (see Note below)
2 beef bouillon cubes
Salt and black pepper
Instructions
Combine the beef, Worcestershire sauce, egg, egg white, breadcrumbs, ½ oz Parmesan cheese, 2 tablespoons parsley, and a pinch each of salt and pepper in a large bowl. Use your hands to mix everything together, being careful not to overmix. Form the meat mixture into small balls, about ½ tablespoon each, and set aside.
Cook the pasta to al dente according to the package directions; drain and set aside.
Heat the olive oil in a lidded 5-quart pot over medium heat; add the carrots, celery, and onion and sauté until starting to soften, about 5 minutes. Add the garlic and sauté another minute. Add the water, diced tomato, tomato paste, bay leaves, dried Italian herb spice mix, bouillon cubes, ½ teaspoon salt, and ¼ teaspoon black pepper. Cover the pot, turn the heat up to medium-high, and bring up to a boil; turn down to a simmer and cook for 15 to 20 minutes (covered), stirring occasionally.
Add the meatballs, bring the soup back up to a simmer, and then simmer for 10 minutes (with the lid slightly ajar). Turn off the heat and stir in the noodles and the remaining 2 tablespoons parsley. Taste and season with additional salt and black pepper if desired.
Serve garnished with Parmesan cheese if desired.
Notes
Pasta: I used O-shaped pasta (called rings at my grocery store), but you can use any kind of small pasta you like. When I make pasta for soup, I typically cook the pasta in a separate pot and then add it to the soup once it's cooked and drained; otherwise, I find that the pasta's starch can make the soup much too thick.

Italian Herb Spice Mix: The mix I use has dried parsley, basil, oregano, rosemary, and thyme.

To Reheat: I took the pictures of the soup right after I made it; if the soup is left to sit for a couple hours before serving or if you have leftovers, it will thicken quite a bit. To reheat, you can thin it out a bit by adding more water or tomato sauce as necessary.
Update (September 25, 2013): I made this dish again and snapped a few pictures, so I decided to update the photos in this post. As a point of comparison to show how much my photography has evolved, I kept one of my original photos (below).