Beer and Cheese Cauliflower Soup has rich, complex flavor and rivals anything you'd get at a restaurant.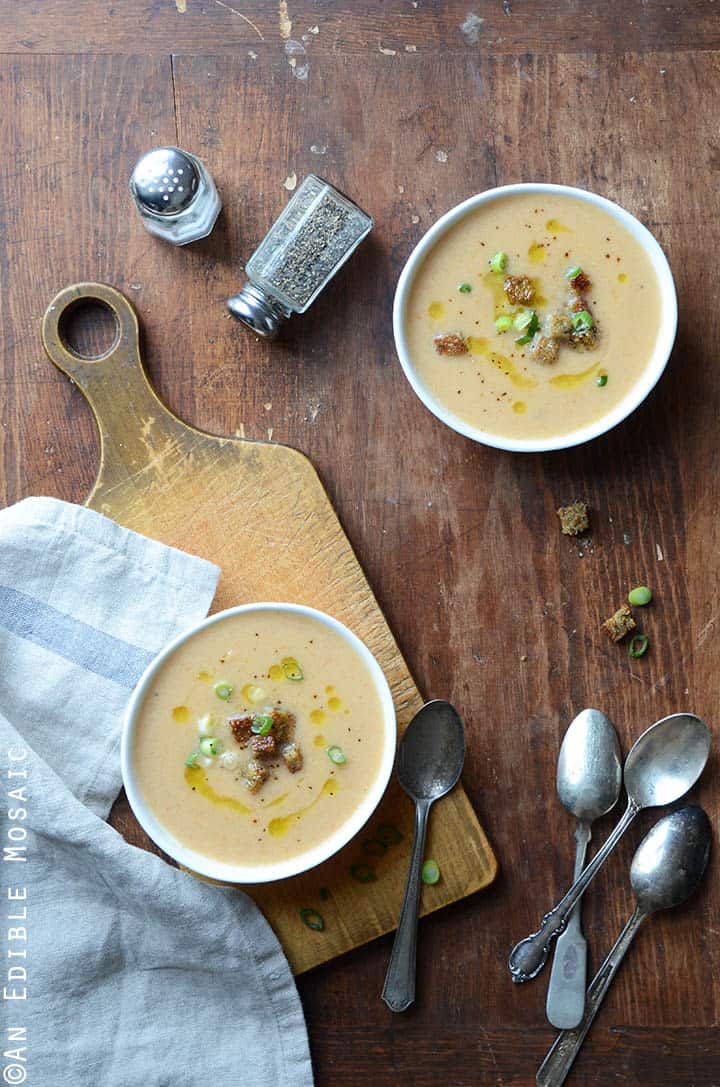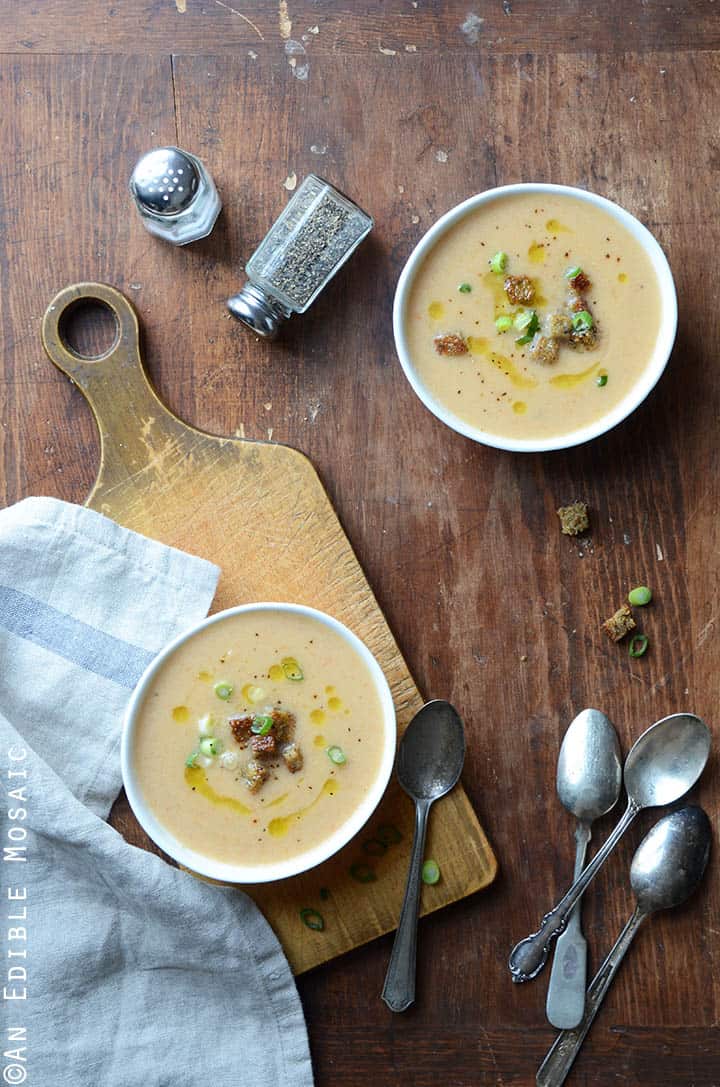 It comes as a surprise (actually more of a shock) to most people when I tell them that the food scene in Buffalo is actually pretty fabulous. I kid you not though.
The gamut ranges from fish fries to roast beef on weck, to Buffalo wings and chicken finger subs (which I literally can't find anywhere else! Believe me, I've looked), to killer doughnuts and the best coffee ever, to name just a few of their specialties. One of mine and Mike's top two restaurants when we lived in Buffalo was Pearl Street Grill and Brewery (it was our second favorite after Mulberry). My absolute favorite thing to get there was their beer cheese soup, which they make with smoked Gouda and their own ale.
There are almost no words for that soup.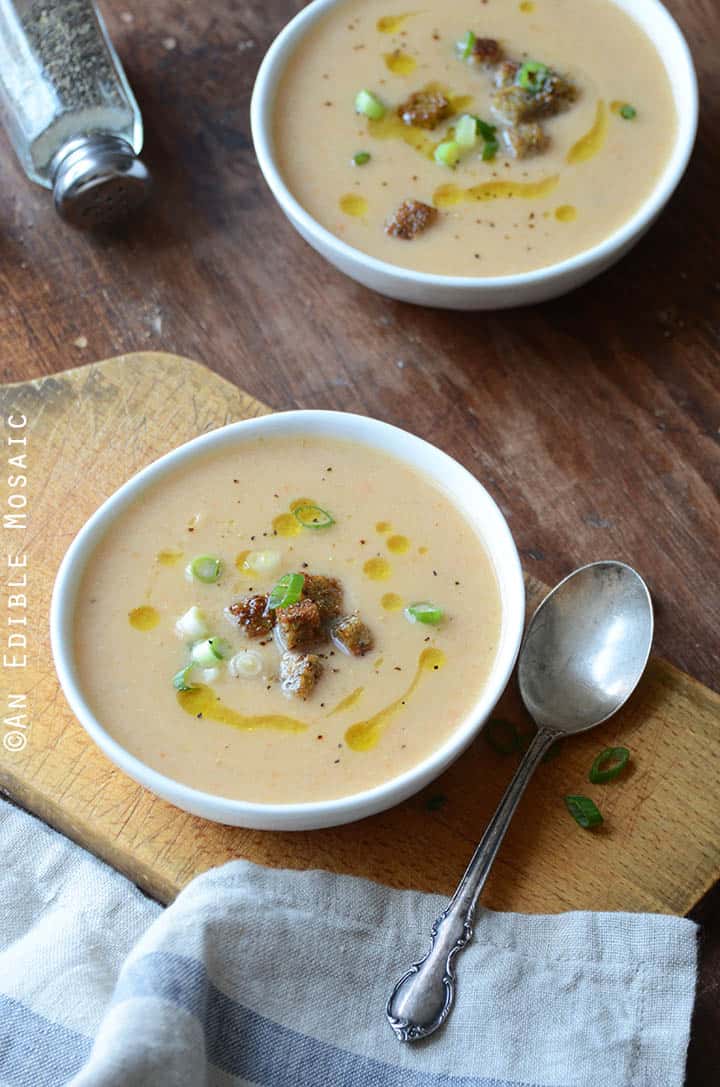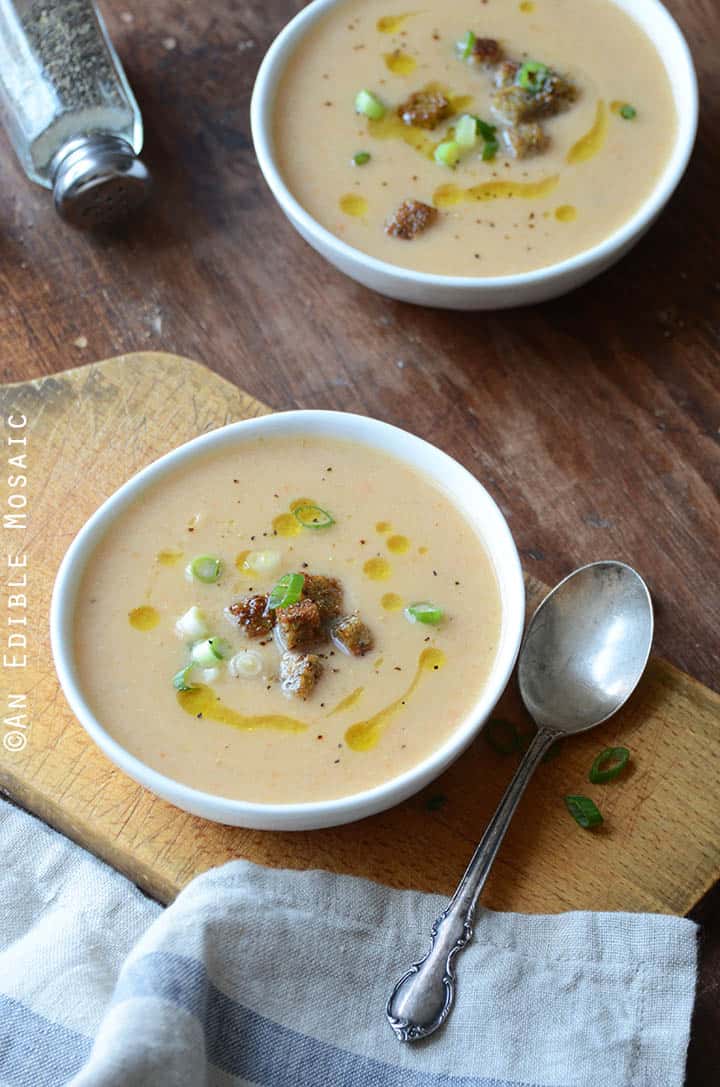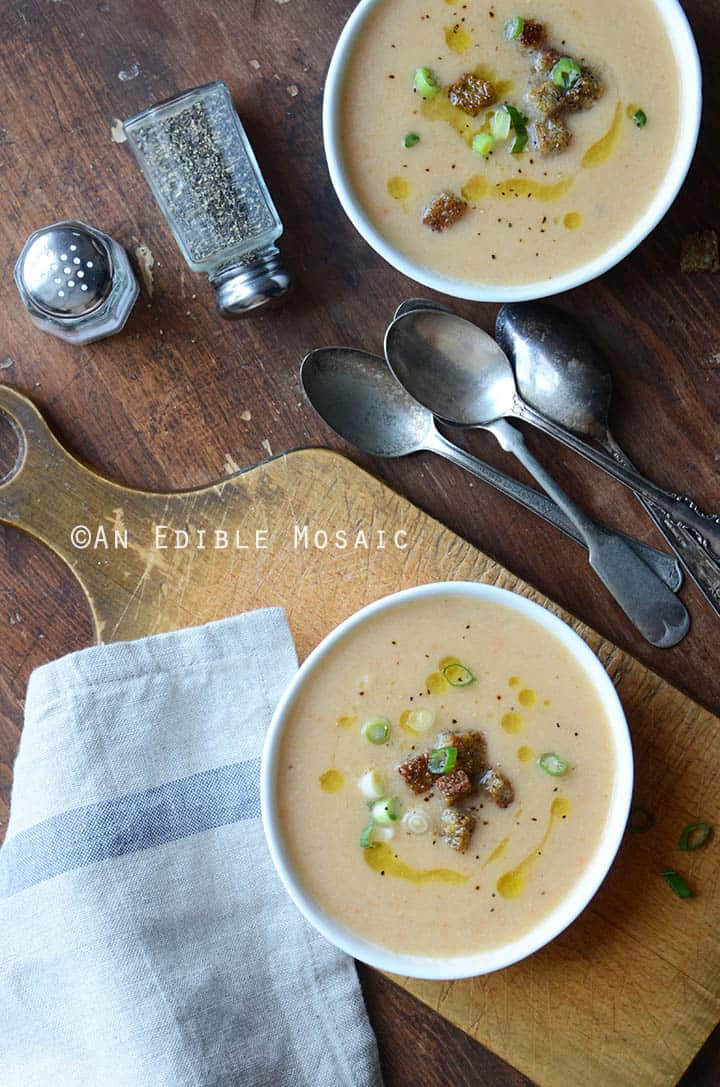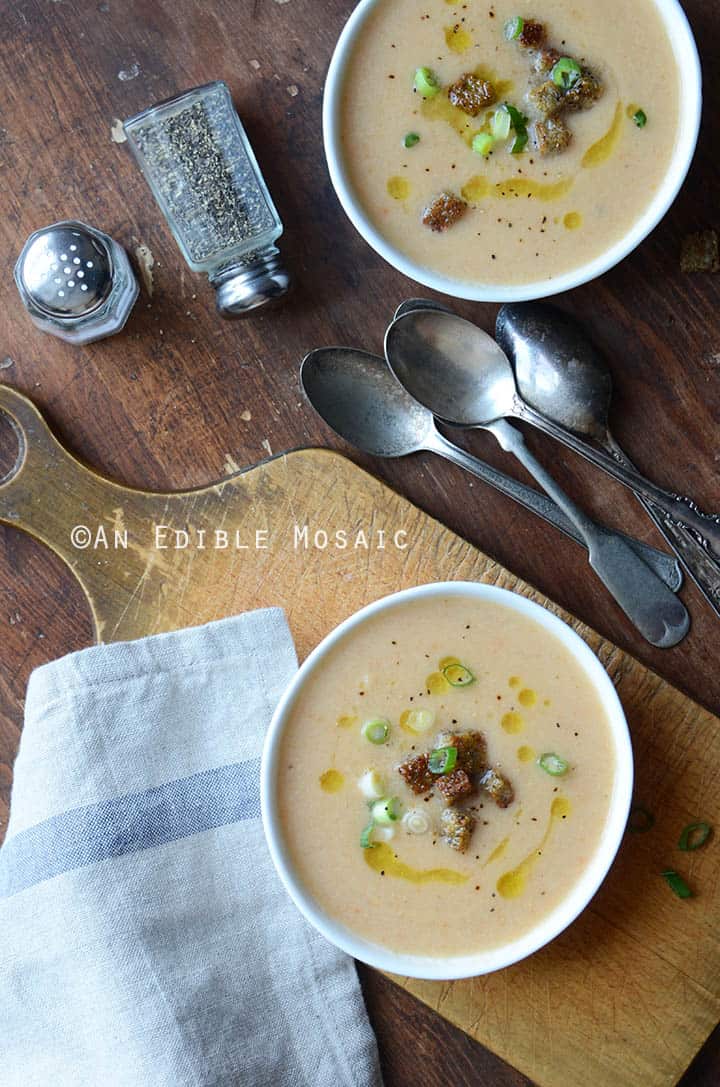 Replicating it has been on my list of things to try for a while now, but I wanted to put a slightly different twist on it with the addition of cauliflower. I'm even tempted to call it a "healthy" twist…just remember though, healthy is a subjective thing, a "relative word", as my mom likes to say, lol.
I did a quick online search to discover that the fabulous Mark Bittman already has a great version of cauliflower beer cheese soup (I should have known because that man literally knows how to cook everything). I appreciate the fact that there is no need to reinvent the wheel, so my recipe is largely adapted from Mark's with just a couple significant differences. Namely, he uses Cheddar and bacon, and I use smoked Gouda and hickory-smoked sea salt; oh, and I also add just a smidgen of Worcestershire sauce because I love it in nearly all things cheese-related.
Thanks to Mark and I, and most definitely Pearl Street Grill and Brewery, I'd say this soup is practically perfect. Or at least my version of perfect, and might just hold the spot in my heart as favorite cheese soup. Don't hold me to that though, it's so hard to be a monogamous cheese soup lover!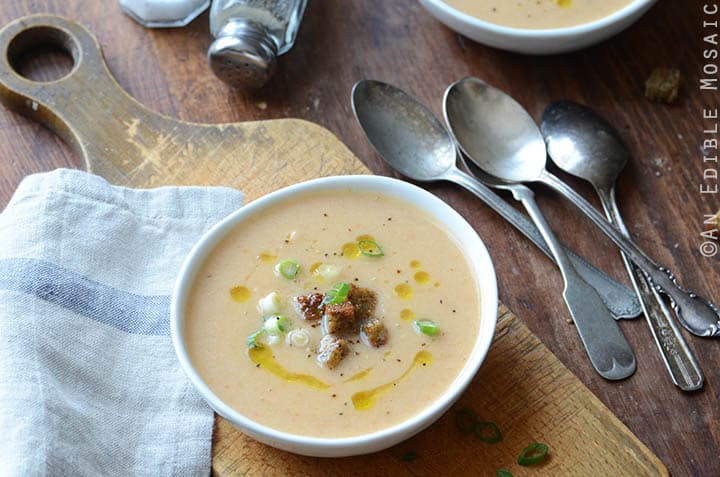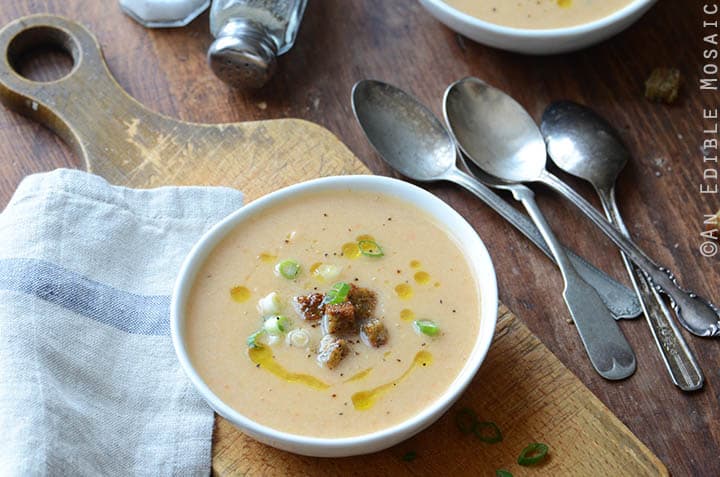 Beer and Cheese Cauliflower Soup
Prep time:
Cook time:
Total time:
This cheesy soup is rich and velvety with great depth of flavor.
Ingredients
2 tablespoons butter
1 medium-large onion, chopped
1 large carrot, diced
1 large stalk celery, diced
2 large cloves garlic, minced
1 medium head cauliflower, chopped into florets
25.4 oz (725 ml) ale
24 oz (710 ml) low-sodium vegetable or chicken stock (I used Swanson)
1 bay leaf
1 teaspoon Dijon mustard
1 teaspoon Worcestershire sauce (use vegan Worcestershire to keep this dish vegetarian)
1 teaspoon hickory-smoked sea salt
¼ teaspoon black pepper
⅛ teaspoon cayenne pepper or ½ teaspoon hot sauce (more or less to taste)
8 oz (225 g) smoked Gouda cheese, shredded
3 tablespoons tapioca starch (see Note)
Optional Toppings:
Croutons (I used my Best Paleo Sandwich Bread to make homemade croutons)
Fresh scallions, thinly sliced
Black truffle oil
Ground black pepper
Instructions
Add the butter, onion, carrot, and celery to a 5-quart pot over medium heat. Cook (uncovered) until the vegetables are softened and starting to caramelize in spots, about 8 minutes, stirring occasionally. Add the garlic and cook 1 minute more, stirring constantly.
Stir in the cauliflower, ale, stock, bay leaf, Dijon mustard, Worcestershire sauce, black pepper, and cayenne pepper. Cover the pot and bring to a boil; turn the heat down slightly so it doesn't boil over, and cook until the cauliflower is tender, about 15 to 20 minutes, stirring occasionally.
Remove and discard the bay leaf. Carefully puree the soup using an immersion blender or in batches using a regular blender.
Toss the Gouda and tapioca starch together in a bowl.
Turn the heat on low under the soup and stir in the cheese a handful at a time until melted (don't let it come up to a boil). Taste and add regular salt (not more hickory-smoked sea salt) to taste.
Serve.
Here are a few more delicious cheese soup recipes…
Macaroni and Cheeseburger Vegetable Soup
Cream of Caramelized Onion and Cheese Chowder with Homemade Croutons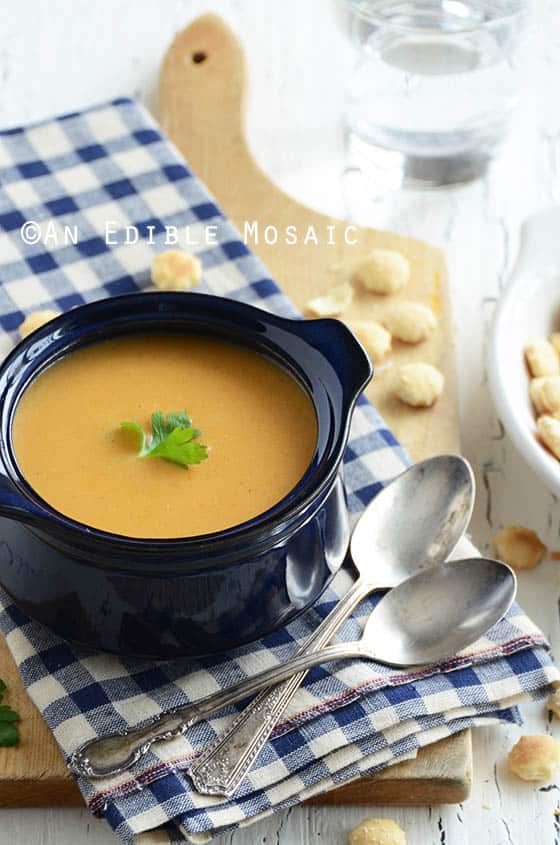 Disclosure: This post contains Amazon affiliate links to products I believe in, which means that even though it doesn't cost you anything extra, I will receive a small amount of money from the sale of these items, which helps me keep this site alive – thank you for helping to support An Edible Mosaic!