This Banh Mi Sandwich with Instant Pot Short Ribs and Quick Pickled Slaw is the perfect combination of tender meat and zesty fresh, flavorful slaw. It's my take on a classic favorite!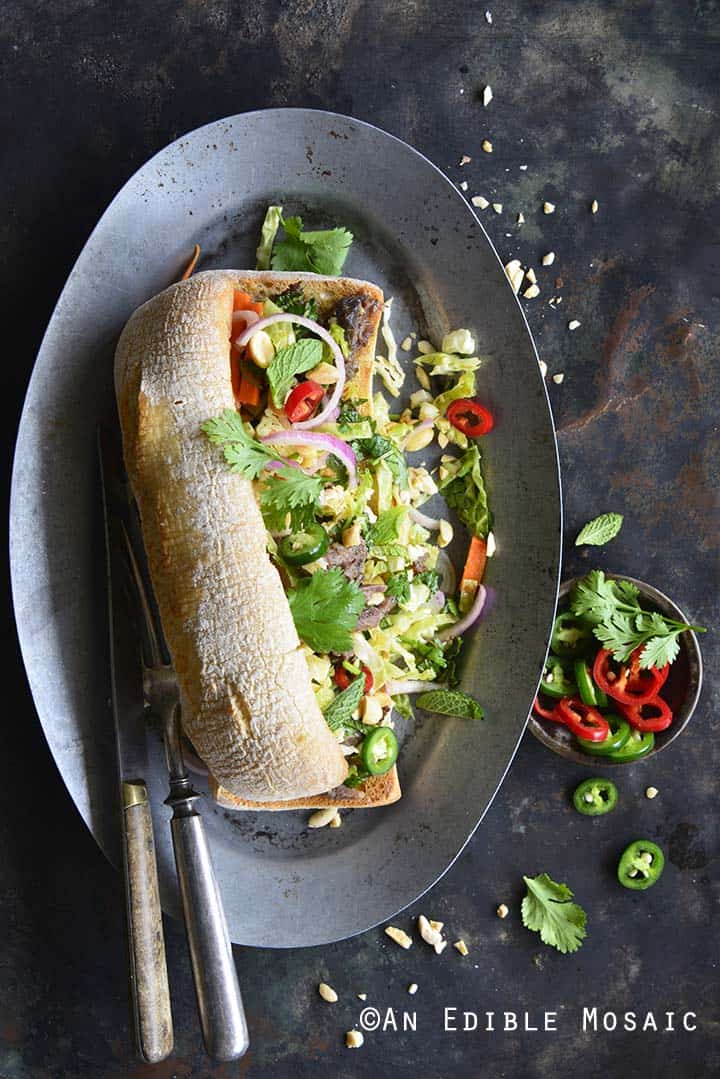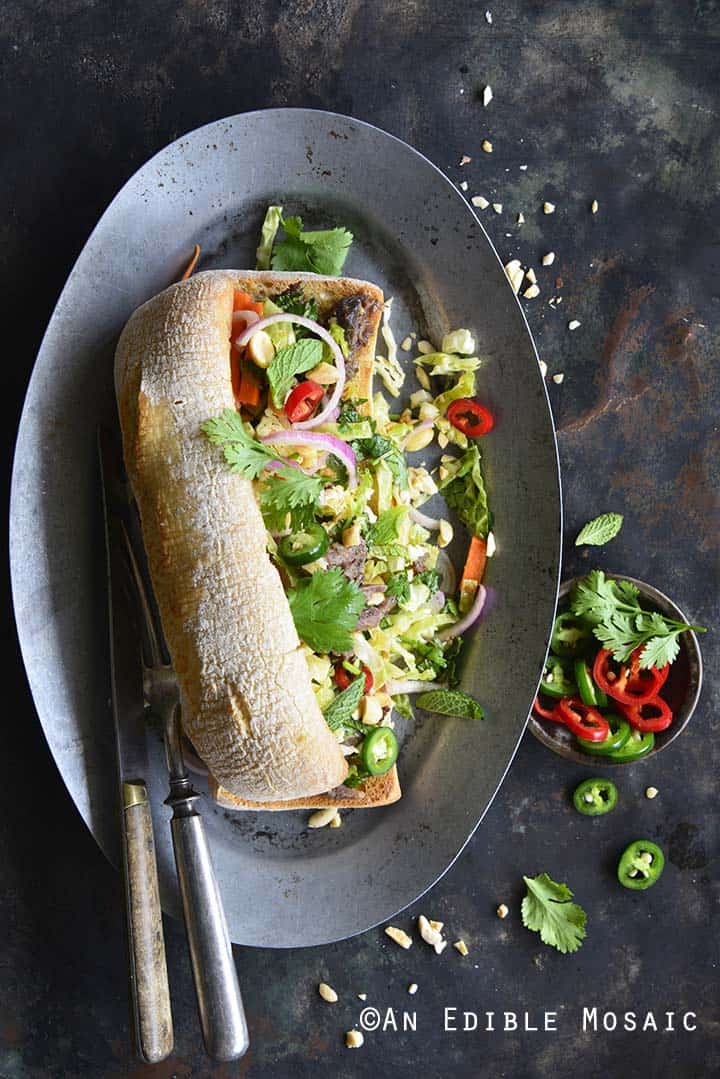 One of the best things about a sandwich (of course in addition to the fact that it's portable and easy to make), is that you're able to pack in a ton of flavors and textures. Here I paired braised beef short ribs with a sweet and spicy pickled slaw for the perfect balance!
You'll think these short ribs cooked all because they're fall-off-the bone tender and literally melt in your mouth! I let my Instant Pot do all the work and they cook up in under an hour. While the meat cooks, I like to whip up a vegetable slaw with a good balance of sweet, salty, spicy, and umami flavors.
Served on baguette or bread of your choice, the Banh Mi Sandwich is truly sandwich perfection. Or serve it up on a bed of greens or zoodles for the low carb version!
What Is In a Classic Banh Mi?
A Banh Mi sandwich has both Vietnamese and French components.
A baguette is split lengthwise, and stuffed with meat (commonly some type of pork is used) and vegetables (such as sliced cucumber, pickled carrot and radish, and fresh herbs like cilantro, mint, etc.). Other additions include sliced jalapenos, pâté, mayo, and/or sriracha.
This recipe that I'm sharing is my own take on this classic!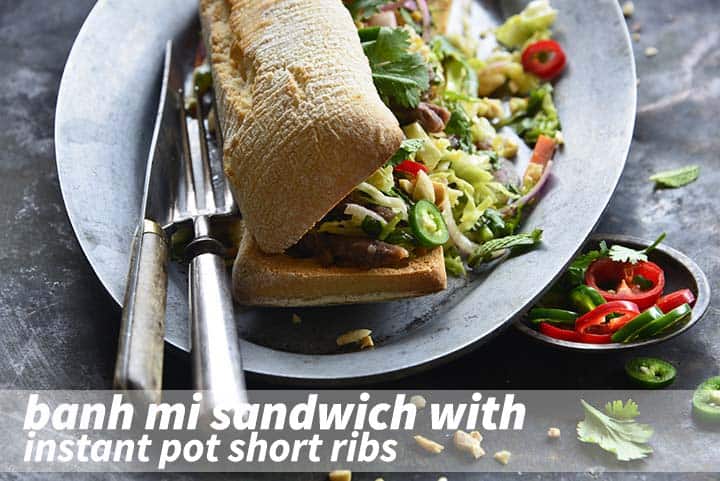 What Kind of Bread is Used in Banh Mi?
French baguette is typically used as the bread to make a Banh Mi sandwich.
Quick Pickled Vegetables
Pickled vegetables are a delicious addition to a Bahn Mi sandwich! You might have heard of refrigerator pickles (here's my recipe for refrigerator pickles if you want to check it out). They're quick pickles that only need to sit in a brine solution in the fridge for about 1 day. Other vegetables also lend themselves well to quick pickling.
When I make quick pickles, I typically combine vinegar with salt and sugar, and any fresh herbs or aromatics that go well with the flavor profile (such as garlic, dill, etc.). You can dilute the vinegar solution with water. However, the stronger the flavor is, the faster your vegetables will "pickle". For example, when I make quick pickled red onion slices, I only let the onion sit for about 10 minutes in the brine before draining.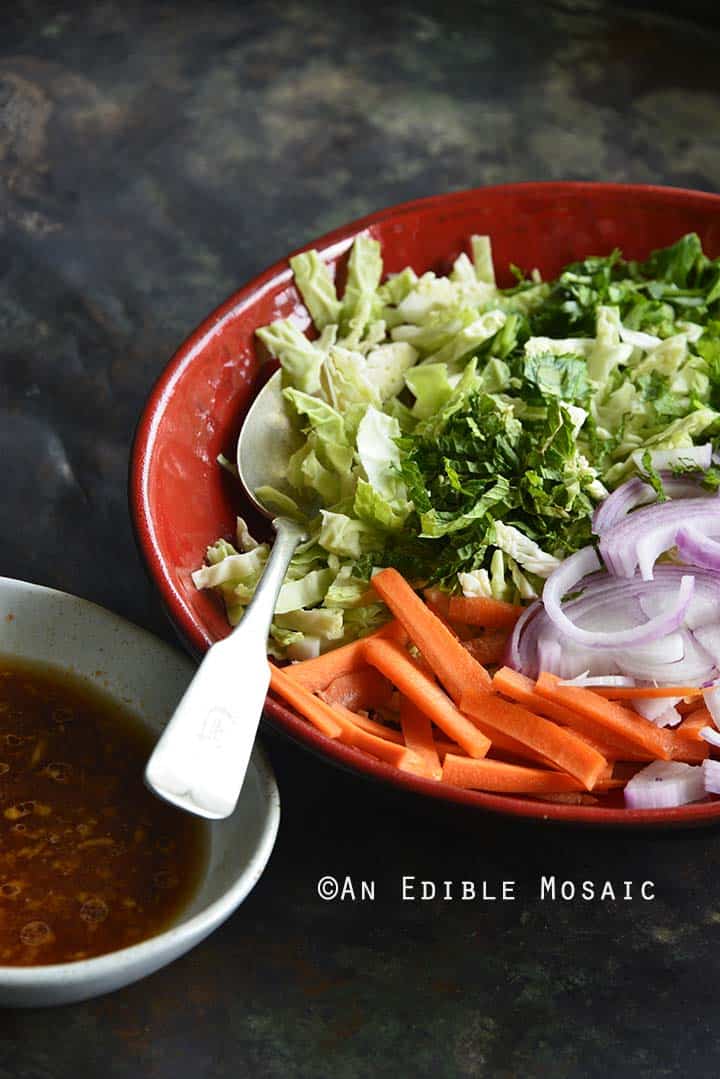 What Are the Best Vegetables to Pickle?
The following vegetables are good for pickling:
Slices or spears of cucumber
Sliced jalapeno
Onion slices
Sliced radish
Carrot ribbons
Green Beans
Cauliflower florets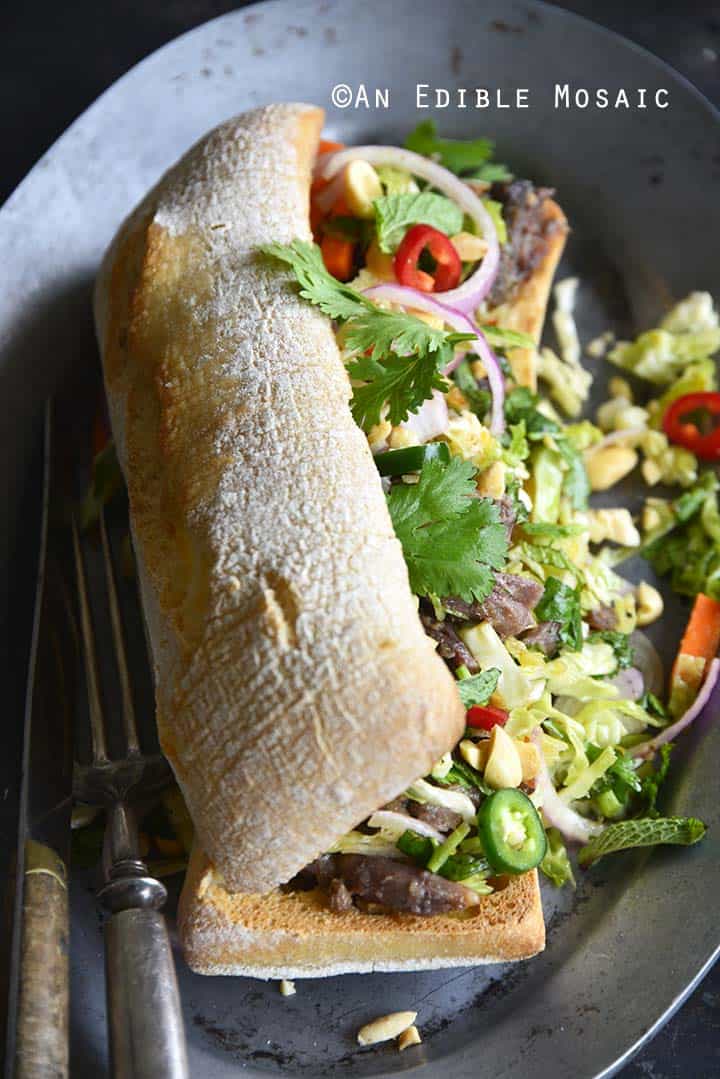 Ingredients to Make Quick Pickled Vegetables
In its most basic form, quick pickled vegetables only require a vegetable, vinegar, sugar, and salt.
However, for my Quick Pickled Slaw, I wanted a slightly more complex flavor profile; here are the ingredients I used:
Garlic
Ginger
Rice wine vinegar
Avocado oil
Honey
Coconut aminos
Chili-garlic sauce
Fish sauce
Salt
Savoy cabbage
Carrot
Red onion
Cilantro
Mint
Salted Peanuts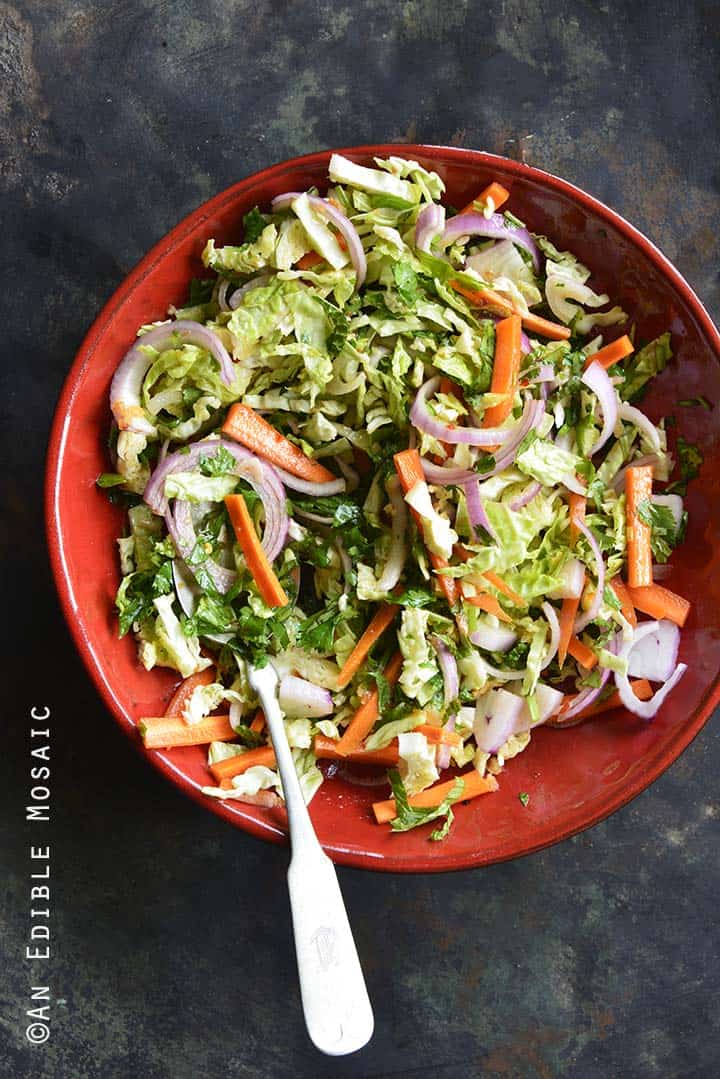 How to Make Quick Pickled Vegetables
Quick pickled vegetables are very easy to make!
Chop the vegetables.
Add them to a bowl with a solution of vinegar, salt, and sugar.
Let the veggies sit in the solution until they reach your desired pickle flavor. This usually only takes about 15 minutes or so.
The crunchy texture and pop of flavor from pickled vegetables is one of my favorite things about a Banh Mi sandwich.
Short Ribs
This isn't a component of a classic Banh Mi sandwich (typically pork is used), but short ribs work beautifully here! The meat is tender and juicy and it basically cooks itself in the Instant Pot.
What Are Short Ribs?
Short ribs come from the brisket, chuck, plate, or rib area of beef cattle. This cut includes part of the rib bone, and there are two main types of cuts: flanken and English.
Flanken style short ribs are thinly cut across the bone into approximately ½-inch thick slices and each piece contains a few pieces of bone. English style short ribs are cut parallel to the bone so that a thick piece of meat rests on the bone; this style of short ribs are usually 2 to 6 inches long.
Read more about short ribs on The Kitchn and Wikipedia.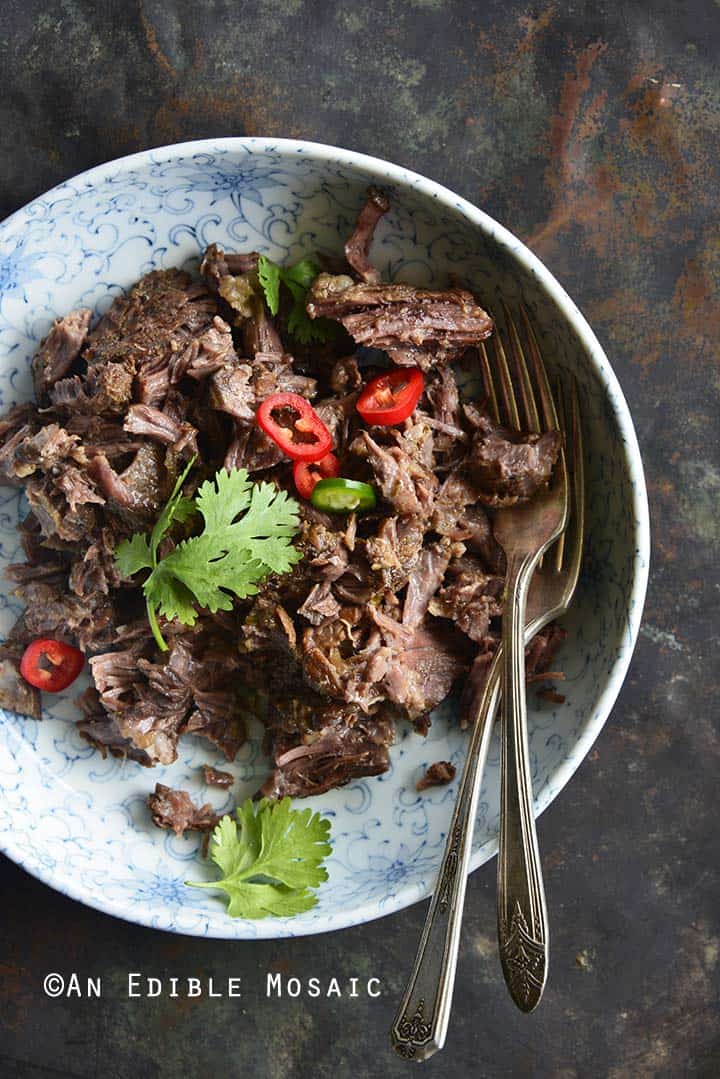 How to Cook Short Ribs: What's the Best Way to Cook Short Ribs?
I like to sear my short ribs and then cook them low and slow (unless I'm using a pressure cooker, which speeds up the process). The end result is melt-in-your mouth tender and flavorful meat.
For more information on how to cook short ribs using these different cooking methods, please see this post, which also has a recipe for Short Ribs Tostadas with Pineapple Salsa and Cotija.
Pro Tip: A lot of cooking tools work well when cooking short ribs! You can cook them in a slow cooker, in an Instant Pot (or other electric pressure cooker), or in a Dutch oven in the oven.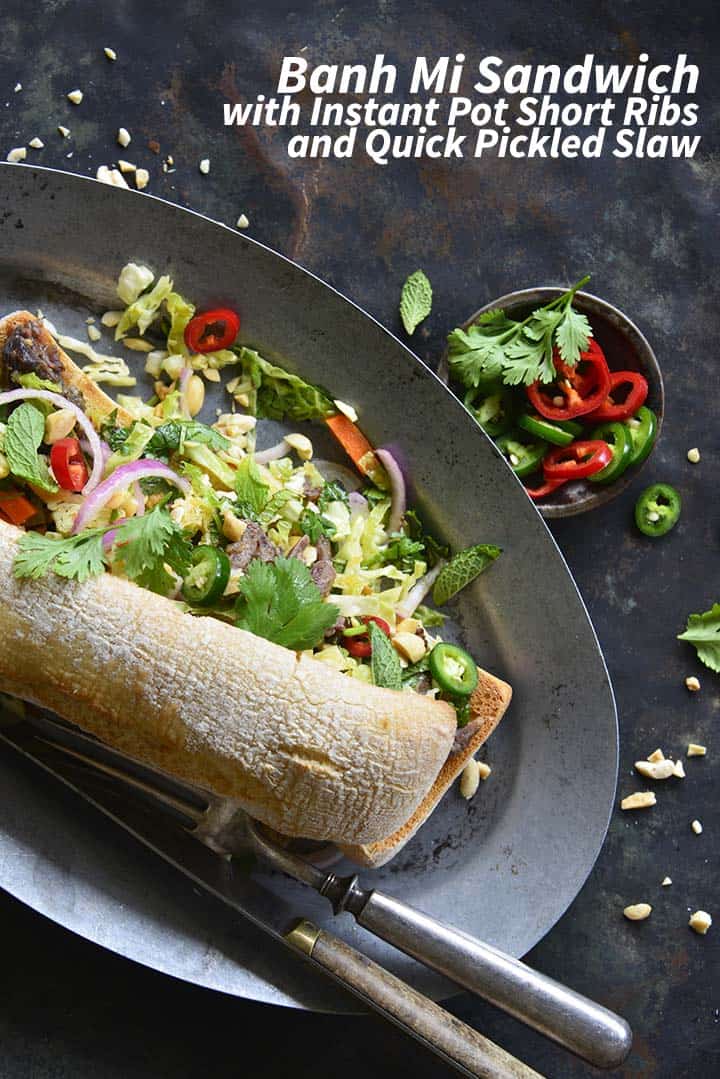 More Delicious Short Ribs Recipes: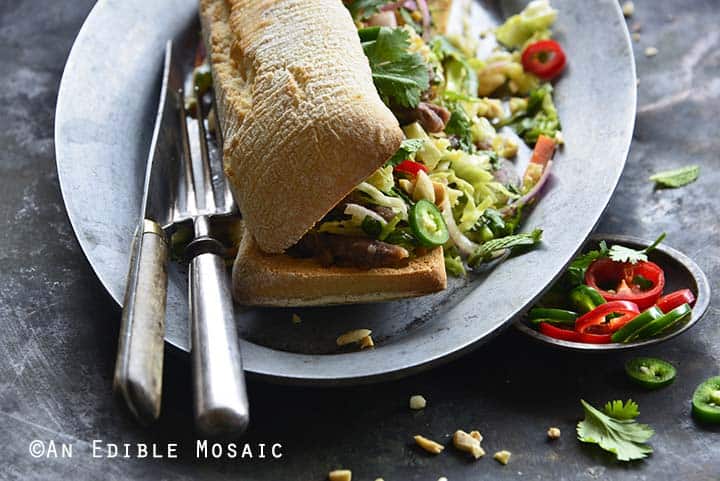 Did you make this recipe? Please rate it and leave a comment below because I love hearing from you! You can also tag @anediblemosaic on social media. To stay up-to-date FOLLOW ME on Instagram, Twitter, and Facebook. Xoxo, Faith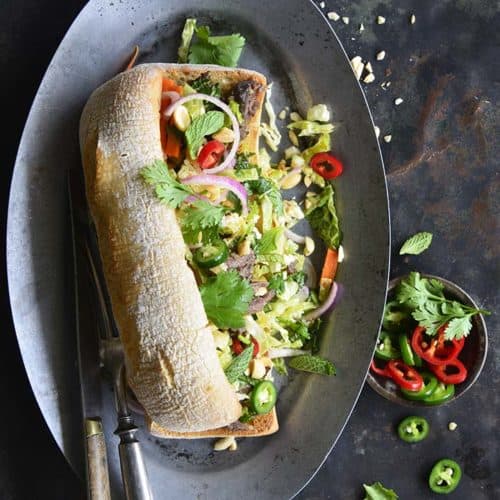 Banh Mi Sandwich with Instant Pot Short Ribs and Quick Pickled Slaw
This Banh Mi Sandwich with Instant Pot Short Ribs and Quick Pickled Slaw is the perfect combination of tender meat and zesty fresh, flavorful slaw.
Ingredients
Quick Pickled Slaw:
1

large clove garlic

crushed

1

tablespoon

fresh-grated ginger

1 ½

tablespoons

rice wine vinegar

1 ½

tablespoons

avocado oil

½

tablespoon

honey

1

teaspoon

coconut aminos

1

teaspoon

chili-garlic sauce

¼

teaspoon

fish sauce

⅛

teaspoon

salt

1

cup

thinly sliced Savoy cabbage

1

medium carrot

julienned

½

medium red onion

thinly sliced

½

cup

fresh chopped cilantro

2

sprigs fresh mint leaves

chopped

3

tablespoons

salted peanuts

crushed
Other:
2

baguettes

each cut in half and then split open

Fresh lime wedges

1

jalapeno

or other spicy chili, thinly sliced

Handful of fresh cilantro leaves
Instructions
For the short ribs, turn the pressure cooker on, press "Sauté", and wait 2 minutes for the pot to heat up. Add the avocado oil and short ribs and cook until browned, about 3 to 5 minutes per side, flipping once. Transfer the ribs to a bowl and set aside for now.

Add the onion, garlic, and ginger, and cook a couple minutes until the onion starts to soften, stirring occasionally. Press "Cancel" to stop sautéing.

Stir in the beef stock, vinegar, sugar, salt, crushed red pepper flakes, and black pepper. Add the browned short ribs back.

Turn the pot on Manual, High Pressure for 42 minutes and let it do a natural pressure release.

Use thongs to remove the meat, let it cool slightly, and then pull it off the bone and shred it. Drizzle a bit of the cooking liquid on the meat for flavor and to help keep it moist.

For the quick pickled slaw, whisk together the garlic, ginger, vinegar, oil, honey, coconut aminos, chili-garlic sauce, fish sauce, and salt in a large bowl. Stir in the cabbage, carrot, and onion to coat. Right before serving, stir in the cilantro and mint and sprinkle the peanuts on top.

To serve, divide the meat between the split baguettes and top with the slaw. Garnish with a few slices of jalapeno and fresh cilantro leaves, and serve with fresh lime wedges to squeeze on top. Cut each baguette into 3 sandwiches and enjoy.
Faith's Tips
Baguette is the classic bread used to make a Banh Mi sandwich. I used ciabatta rolls here, but you can use whatever you like or have on hand.
For a low-carb version, omit the bread the serve the slaw and short ribs on a bed of greens or zoodles.
Nutrition
Nutrition Facts
Banh Mi Sandwich with Instant Pot Short Ribs and Quick Pickled Slaw
Amount Per Serving
Calories 612
Calories from Fat 252
% Daily Value*
Fat 28g43%
Cholesterol 81mg27%
Sodium 1075mg47%
Potassium 731mg21%
Carbohydrates 52g17%
Protein 37g74%
Vitamin A 1890IU38%
Vitamin C 10mg12%
Calcium 98mg10%
Iron 6mg33%
* Percent Daily Values are based on a 2000 calorie diet.
Disclosure: This post contains Amazon affiliate links to products I believe in, which means that even though it doesn't cost you anything extra, I will receive a small amount of money from the sale of these items. Thank you for helping to support An Edible Mosaic!