Low Carb Spiralized Cucumber Salad with Peanuts, Basil, and Ginger Miso Dressing is a balanced combination of complex flavors and different textures.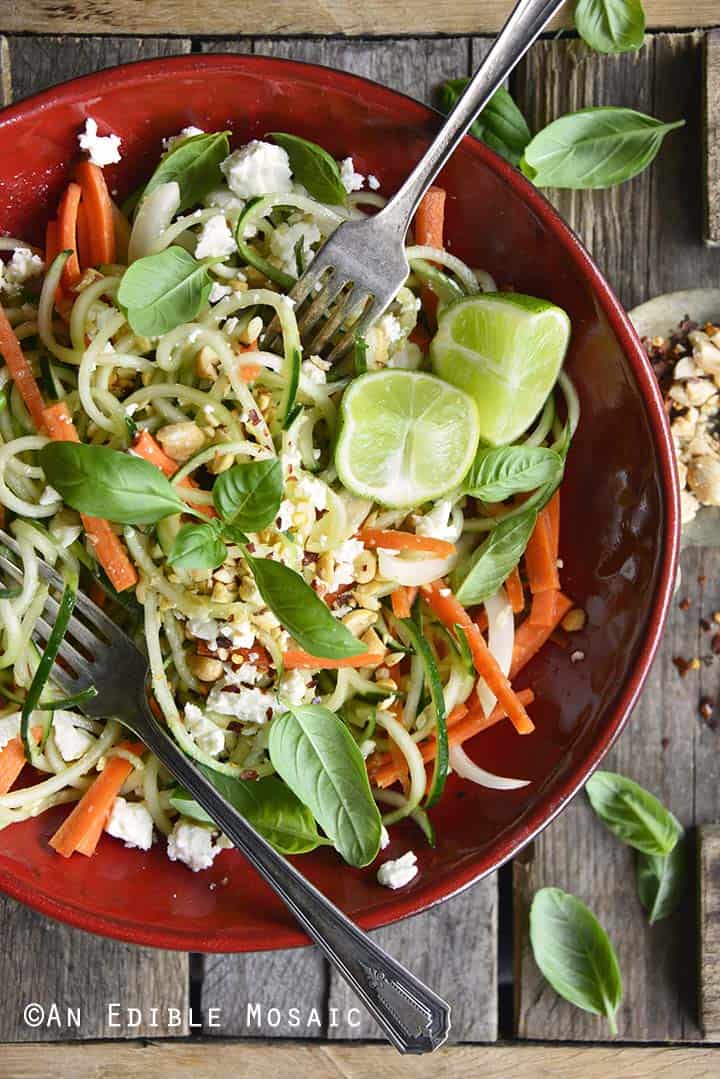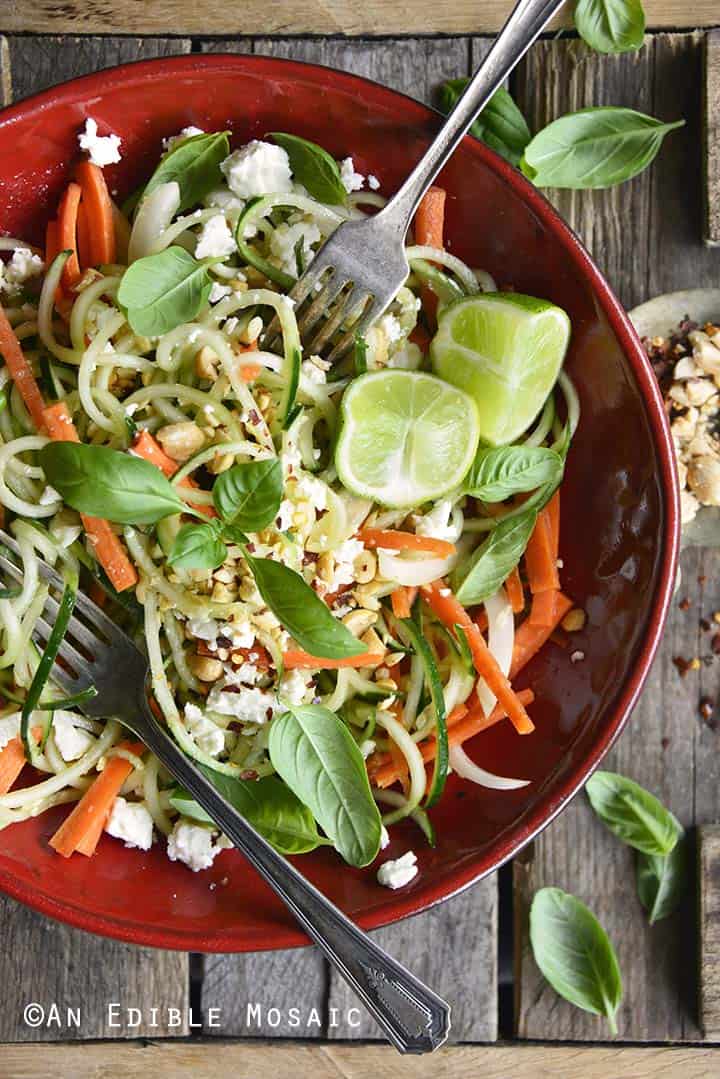 If we're going to be friends, there are two things you should know about me. Firstly, there are some foods I can always be in the mood for. Indian is at the top of the list, and so is Thai. Secondly, I like to play with my food. And by play with my food, I mean experiment with flavor combinations and fusions of different cuisines (because it's fun!). In this Low Carb Spiralized Cucumber Salad with Peanuts, Basil, and Ginger Miso Dressing, I borrowed inspiration from several global cuisines.
Paying homage to Thai food, I wanted a balance flavor profile for this dish; as a result, here are the ingredients I used to achieve this:
Japanese miso paste is one of the key ingredients here because of the depth of flavor it lends to the dish. Maple syrup might sounds like an odd sweetener choice, but it works really well because it adds complexity with a subtle woody, smoky, caramelized flavor. And then for balance, a touch of feta gives a bit of salty tang and creamy texture. As a result, this salad is an oddball combination of flavors and textures that marry beautifully.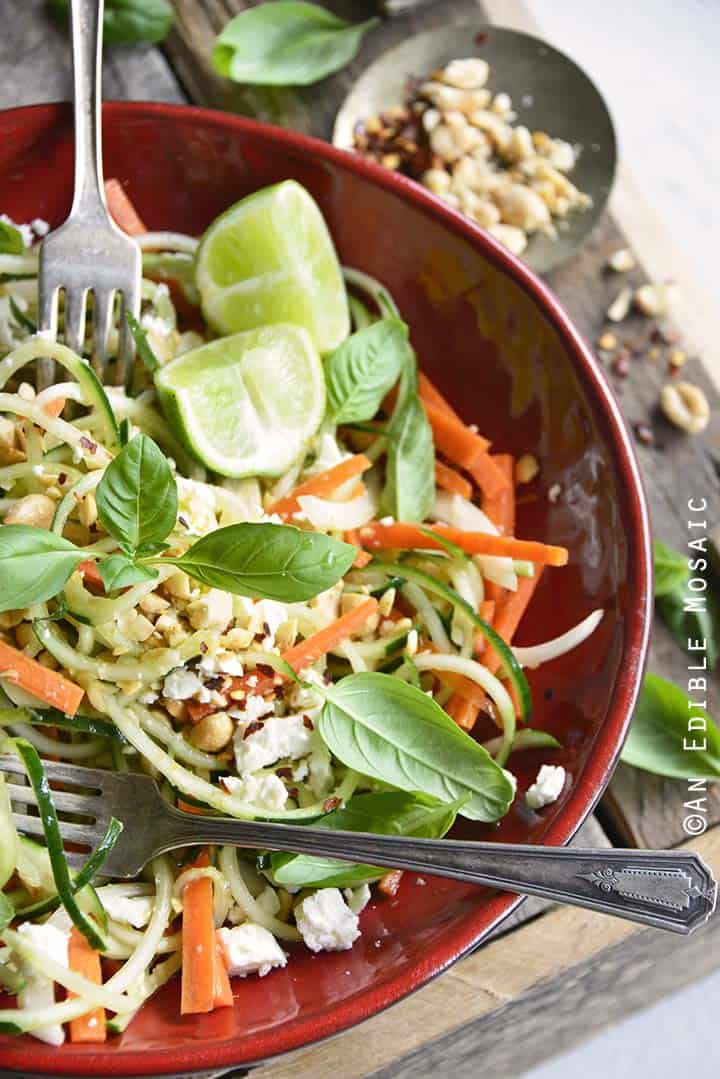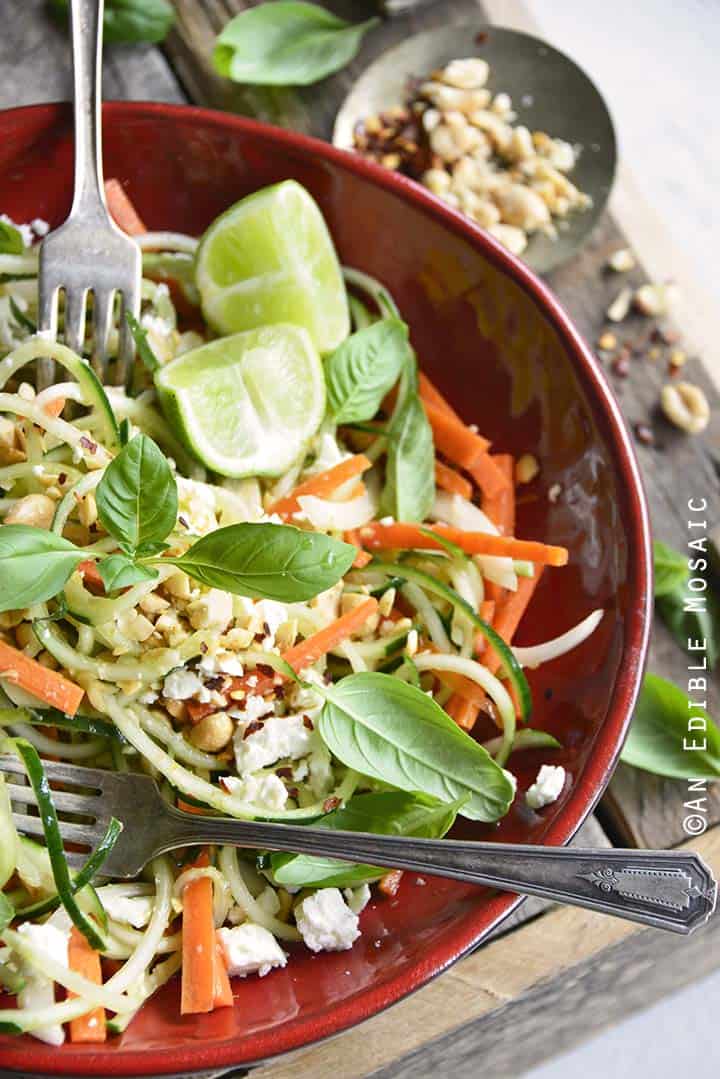 Which Vegetables Can Be Spiralized
I've had really good results spiralizing the following vegetables, as well as the low carb vegetables I list in the next section:
Beets
Sweet potato
Rutabaga
Jicama
Low Carb Spiralized Noodle Options
I like using the following vegetables to make into spiralized "noodles" to use as a low carb noodle replacement:
Zucchini
Yellow summer squash
Cucumber
Turnip
Daikon radish
Broccoli stems
How to Use a Spiralizer
When I first got my spiralizer, it took me a while to figure out the best way in which to use it. Moreover, the biggest trick I discovered to yield the longest noodles is to make sure that the suction cups on the bottom of the legs are firmly affixed to the counter top. Additionally, it helps to hold the spiralizer steady with one hand as you crank it with the other.
Steps:
Firstly, start off preparing the vegetable that you want to spiralize. To do so, wash and dry it, peel it if necessary (like for a turnip), and trim off both ends.
Secondly, set your spiralizer on the countertop and make sure the suction on the bottom of the legs adheres.
And then secure the vegetable on the prongs and push it flush with the blade.
Finally, hold the spiralizer to steady it with one hand, and turn the crank with the other hand.
And then watch those gorgeous noodles crank out!
There are just a couple easy tricks to making this spiralized cucumber salad:
Use seedless cucumber if possible because otherwise it's a bit too watery
Wait to sprialize the cucumber until right before you want to eat it
Don't cook the cucumber, otherwise it'll be too mushy
More Cucumber Salad Recipes: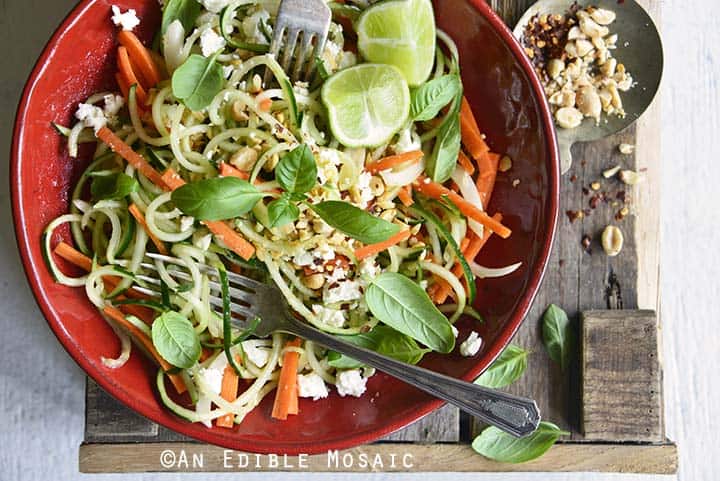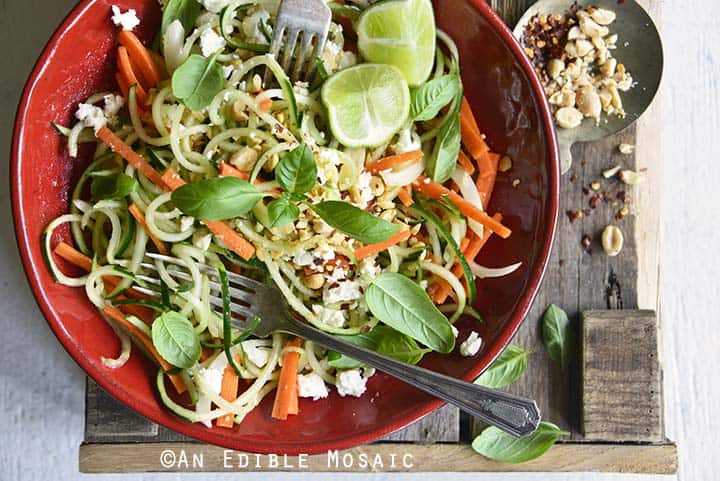 Low Carb Spiralized Cucumber Salad with Peanuts, Basil, and Ginger Miso Dressing
Low Carb Spiralized Cucumber Salad with Peanuts, Basil, and Ginger Miso Dressing is a balanced combination of complex flavors and different textures.
Ingredients
Ginger Miso Dressing:
1 teaspoon fresh-grated ginger
1 small clove garlic, crushed
1 tablespoon rice vinegar
1 tablespoon avocado oil
½ tablespoon pure maple syrup
1 teaspoon light miso paste
½ teaspoon tamari sauce, coconut aminos, or soy sauce
¼ to ½ teaspoon sriracha (more or less to taste; or use your favorite hot sauce)
¼ teaspoon fish sauce (optional)
Salad:
1 medium-sized cucumber, spiralized (see Note)
½ small-medium carrot, julienned
½ small onion, thinly sliced
2 tablespoons crumbled feta
2 tablespoons crushed lightly salted peanuts
Fresh basil, mint, or cilantro
Fresh lime, to squeeze on top
Crushed red pepper flakes (optional)
Instructions
Whisk together all ingredients for the dressing and set aside for now (you can make this up to 3 days ahead and store it covered in the fridge).
Right before serving, spiralize the cucumber, and gently toss it with the carrot and onion in the dressing.
Transfer the salad to a serving bowl and top with the feta, peanuts, and fresh herbs. Sprinkle on a couple pinches of crushed red pepper flakes if desired, and serve with lime wedges to squeeze on top.
Notes
Cucumber:
I find that seedless cucumber (also called English cucumber or hothouse cucumber) work better for spiralizing.
Make It For a Crowd:
This recipe makes one serving, but it's easy to double, triple, or even quadruple if you're feeding a family.
Bump Up the Nutrition with Collagen Peptides:
I normally take my collagen peptides dissolved in my morning coffee, but another way to get your peptides in is to add it to homemade salad dressings like this one! I recently tried
Further Food Collagen Peptides
. Their products are real food-based, and are dairy-free, non-GMO, organic, gluten-free, and sugar free.
What impressed me even more about this 100% woman-owned and operated company is that their mission is to educate people on how to use food as medicine, and they are committed to giving back by supporting chronic illness and healthy eating programs. Check them out for yourself!
For a 10% discount on Further Food products
, use code ANEDIBLEMOSAIC. (Note that this is a discount code, not an affiliate code. I don't make a single penny off of anything you buy from them, I just believe in their products!)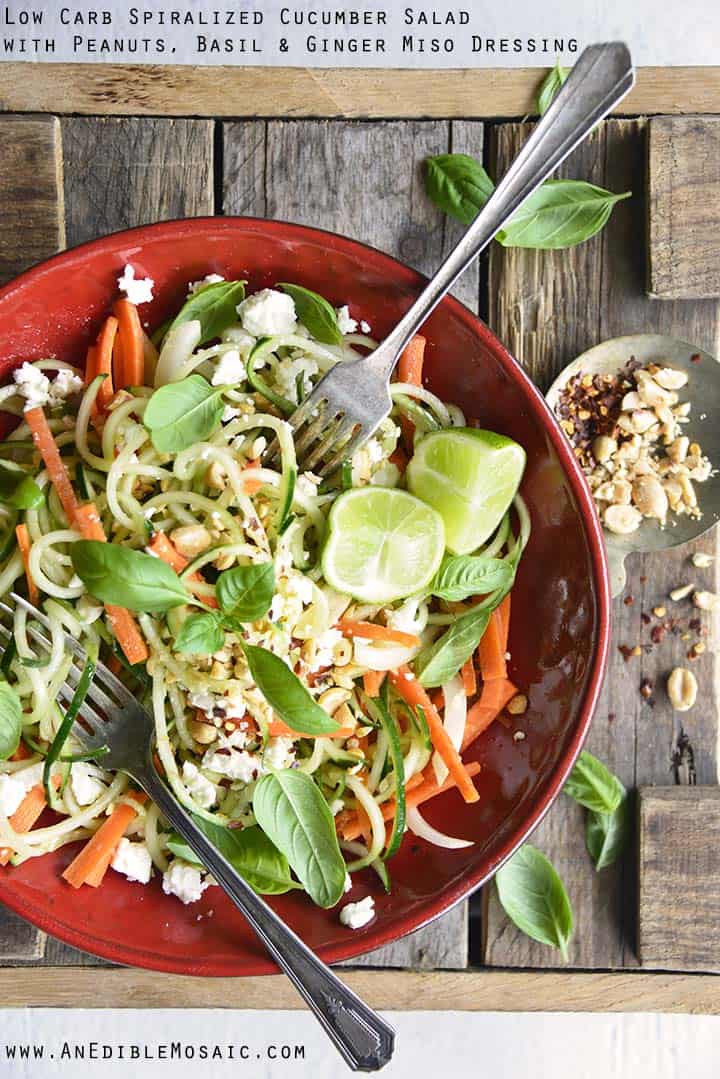 Disclosure: This post contains Amazon affiliate links to products I believe in, which means that even though it doesn't cost you anything extra, I will receive a small amount of money from the sale of these items, which helps me keep this site alive – thank you for helping to support An Edible Mosaic!