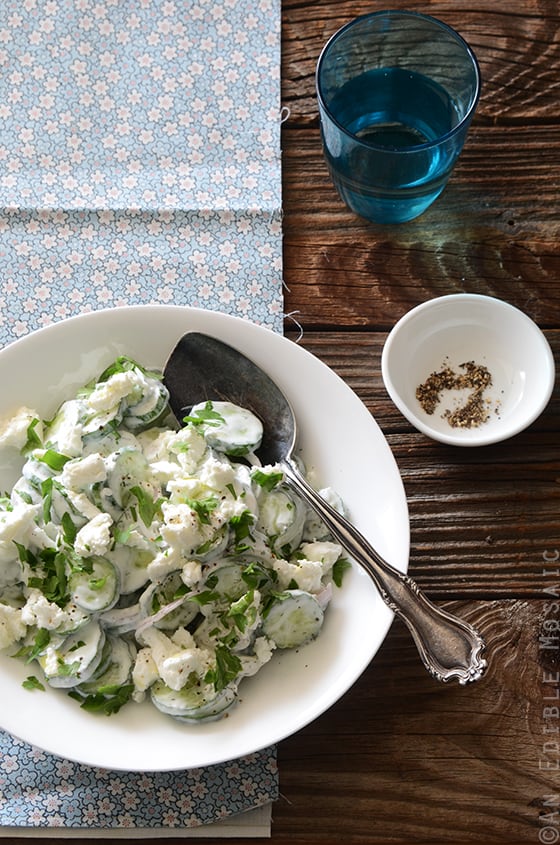 I have had more than my fair share of cucumber salads in my day…
My mom's was the first I had, and as kids we had it frequently (at least twice a week) every summer. She always made her cucumber salad into a chunky-style chopped salad; cucumber and tomato were always there, and sometimes she'd also add carrot, snow peas, or bell pepper. Italian dressing was her favorite way to dress it.
Back in college, Indian raita was my first introduction to yogurt-based cucumber salad-type dishes. Even though it's more of a sauce than a salad, the flavors are similar; with tangy yogurt, refreshing cucumber, and a plethora of herbs and/or spices, it's a classic that you can't go wrong with. (Side Note: I make our favorite raita with a little salt, fresh-crushed garlic, fresh-grated ginger, ground coriander, cumin, and fresh mint…it's such a delicious mix!)
Also during my college days, my friends and I used to love going out for Thai. If you've been reading my blog for a while now, you probably know that I'm a condiment girl through and through, so you won't be surprised that one of my favorite things about eating Thai out is the little dish of sweet and sour cucumber salad they bring out with the appetizers. It's addictive; so much so that I made my own version of it a while ago.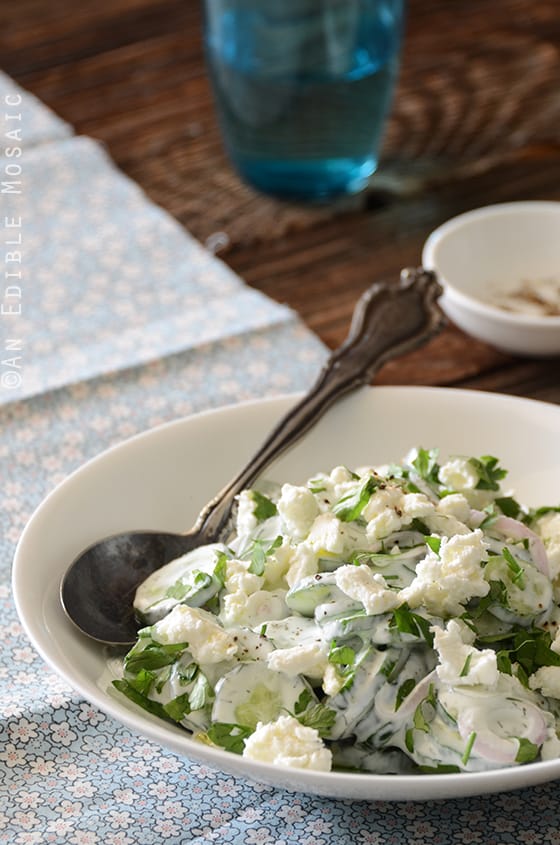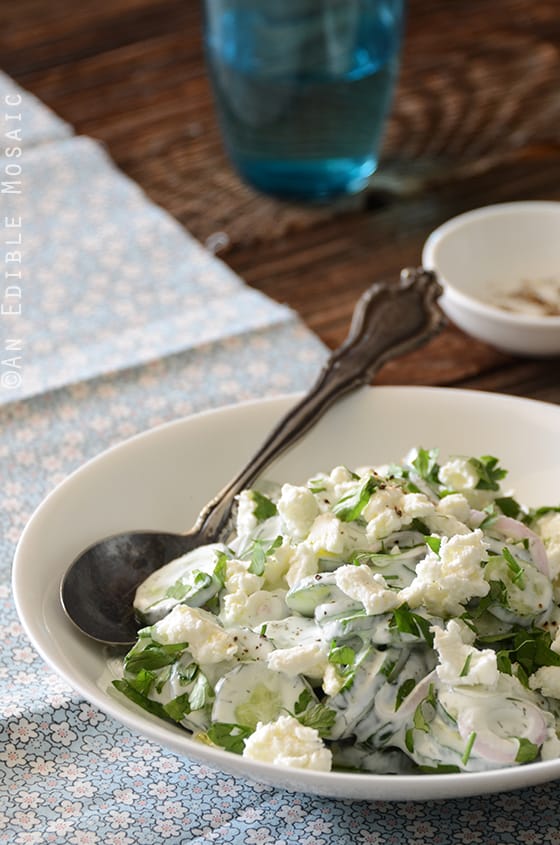 Then in law school I had a friend whose dad was Chinese and mom was Amish…and they could both cook something fierce! They'd have me over for elaborate homemade stir-fries, noodle dishes, and classic home-cooked comfort food like roast chicken and from-scratch stuffing. Her mom also made a really lovely pickled cucumber salad that had just cucumber, salt, sugar, and vinegar. It was incredibly refreshing and rehydrating for those hot Florida days we had to endure (which was really not fun, especially during finals), and went perfectly with just about any lunch.
My Syrian mother-in-law also makes a cucumber salad that she serves along with rice dishes like maqluba (a Palestinian upside-down rice casserole, the recipe for which is in my cookbook). She keeps her cucumber salad simple with cucumber, yogurt, salt, fresh-crushed garlic, and dried mint; it's the perfect tangy, refreshing addition to a heavy rice dish.
And even though I don't remember the first time I had it (although I think it was probably late-night at a Greek diner), I really enjoy a good Greek tzatziki sauce. I didn't think about it until after I made it, but I think the flavors in my Cucumber Yogurt Salad with Goat Cheese and Dill are most similar to tzatziki.
Onion and cucumber make a refreshing mix, and are simply dressing with a tangy yogurt-dill creamy dressing. They are such simple garnishes, but I think the goat cheese, sprinkling of fresh herbs, and drizzle of extra-virgin olive oil makes this salad. Even with all the cucumber salads that I've tried in my day, this delicious version is pretty high up on my list.
What is your favorite kind of cucumber salad?
Creamy Cucumber Salad with Goat Cheese and Dill
Ingredients
1 lb (450 g; about 6) Persian cucumbers (or Kirby cucumbers)
1 small red onion, thinly sliced
½ teaspoon salt
4 tablespoons plain, low-fat yogurt
2 tablespoons plain, low-fat Greek yogurt (or labneh)
2 tablespoons mayo
1 teaspoon dried dill or 1 tablespoon minced fresh dill
2 oz (57 g) goat cheese, crumbled
2 tablespoons chopped fresh parsley or mint leaves
1 teaspoon extra-virgin olive oil
Fresh-ground black pepper
Instructions
Toss the cucumber, onion, and salt together in a large bowl; cover with plastic wrap and transfer to the fridge for at least 1 hour (or up to 4 hours) so the salt can draw out the cucumber's water.
Mix together the yogurt, Greek yogurt, mayo, and dill.
When you're ready to serve, stir the yogurt mixture into the cucumber mixture.
Transfer the salad to a serving dish and sprinkle the goat cheese and parsley on top. Drizzle on the olive oil and finish it with a couple pinches of fresh-ground black pepper.
Serve.
Notes
Substitution for the Yogurt, Greek Yogurt, and Mayo: Instead of using these 3 ingredients, you can substitute ½ cup of sour cream.
Disclosure: This post contains Amazon affiliate links to products I believe in, which means that even though it doesn't cost you anything extra, I will receive a small amount of money from the sale of these items, which helps me keep this site alive – thank you for helping to support An Edible Mosaic!